Our recipe for kamut whole grain pasta spirals with fennel and mushrooms is quick and easy. It can be a hot side dish along with a main entree or served cold as a lunch-time salad. There is enough protein and nutrition to serve as a full meatless meal.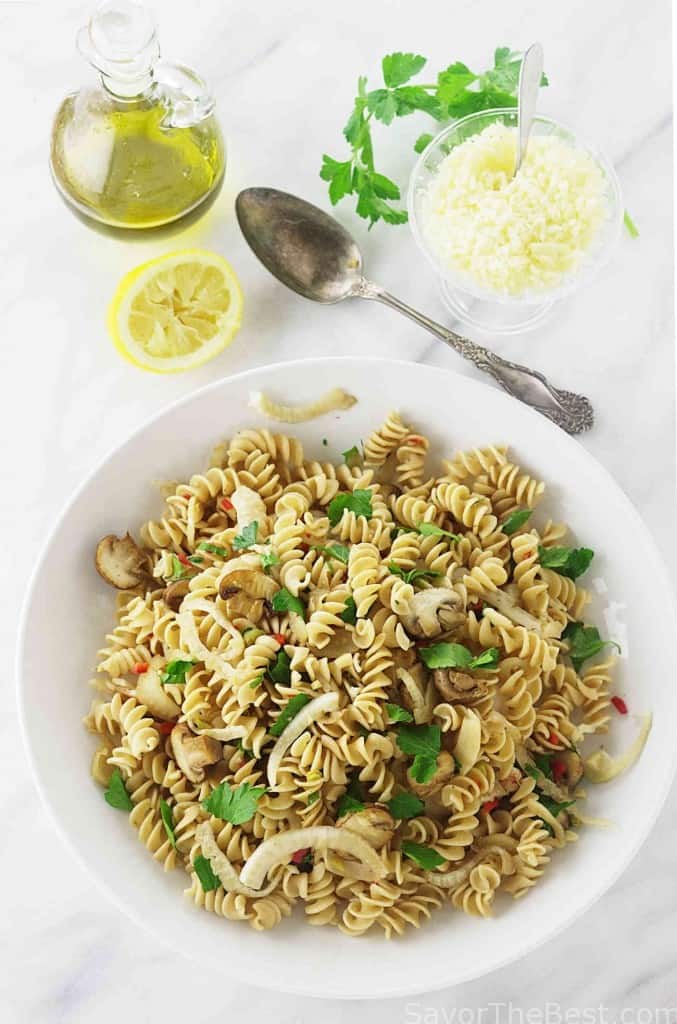 We love the chewy texture and mild earthy flavor of the kamut whole grain pasta spirals which, incidentally, are jam-packed with protein at ten grams per serving. The thin fennel slices have a slight anise taste and it contrasts well with the robust flavor of the mushrooms. Spicy bits of red chiles and the crushed garlic adds another layer of flavor while the freshly chopped parsley brings some color to the party.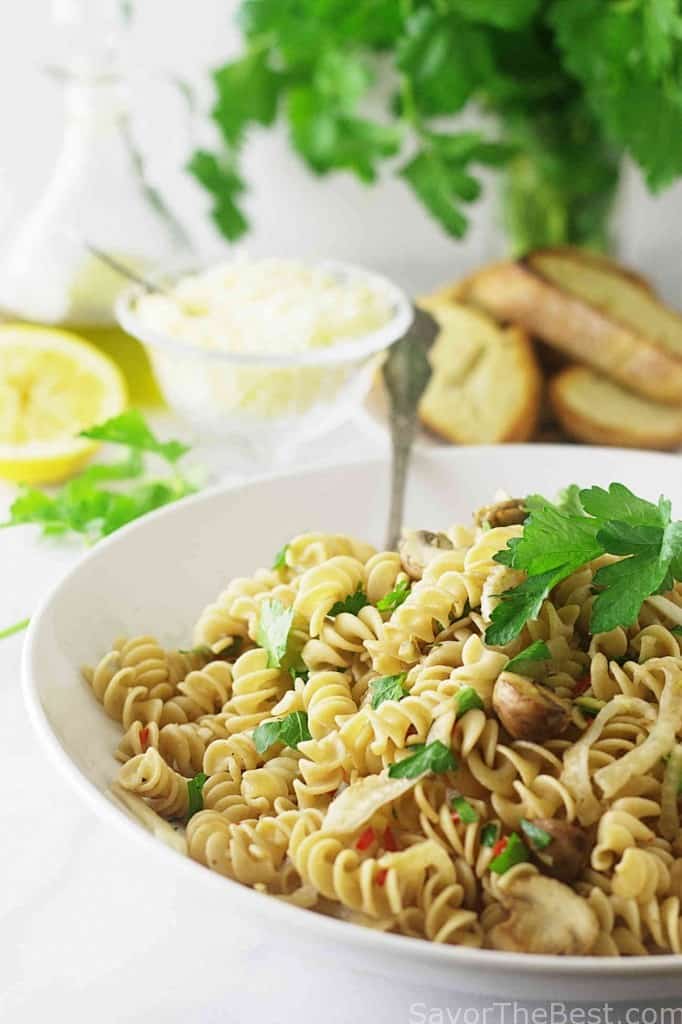 Finally, we use healthy olive oil and lemon juice for a barely-there dressing to brighten up all the flavors. Freshly grated parmesan cheese is sprinkled over the top for the crowning touch.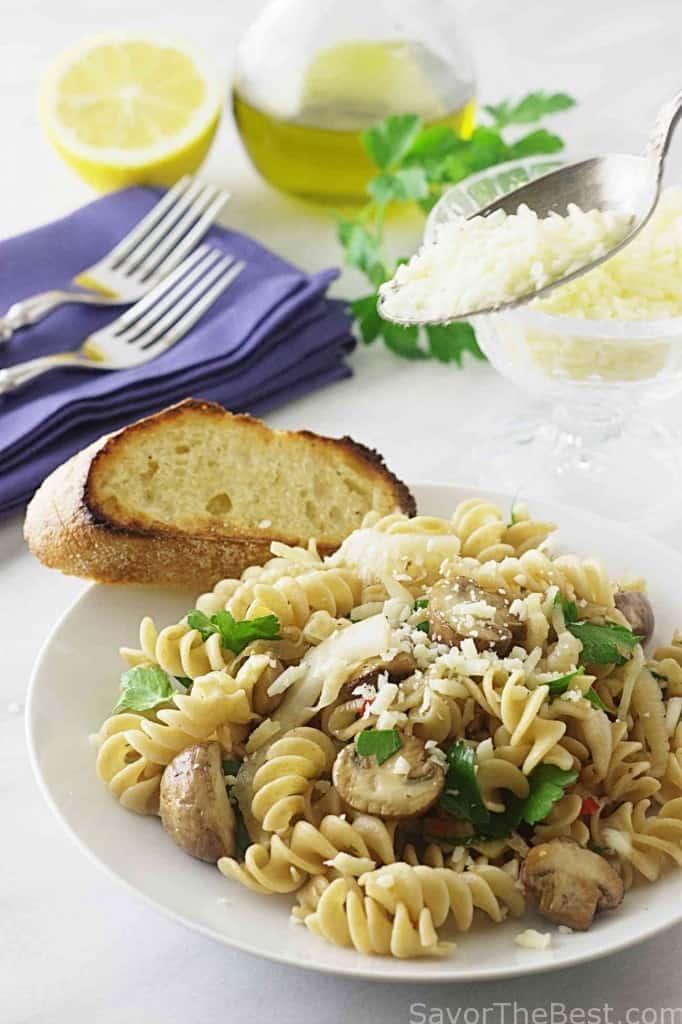 We recently posted our recipe for leeks and three cheese pasta bake that was made with einkorn 100% whole grain pasta and I am really enjoying the texture and taste of these whole grain kinds of pasta.
I grew up with the regular version of pastas that are typically made from semolina flour. Semolina flour is made from the durum wheat grain which is processed, removing much of its nutrients and resulting in granules called semolina. I find there to be a huge difference in the taste and texture of the two pasta versions.
There is also a difference in nutrition and health benefits. Products made with the whole wheat grain are much more healthy for us than products made from wheat that has been processed and stripped of its nutrients.
I am not giving up on pasta made from semolina flour though, as some habits/tastes are not easy to change. But, I do appreciate my new-found taste for pasta made with whole wheat flours. You can find kamut 100% whole grain spiral pasta in select markets in the pasta/rice section or online.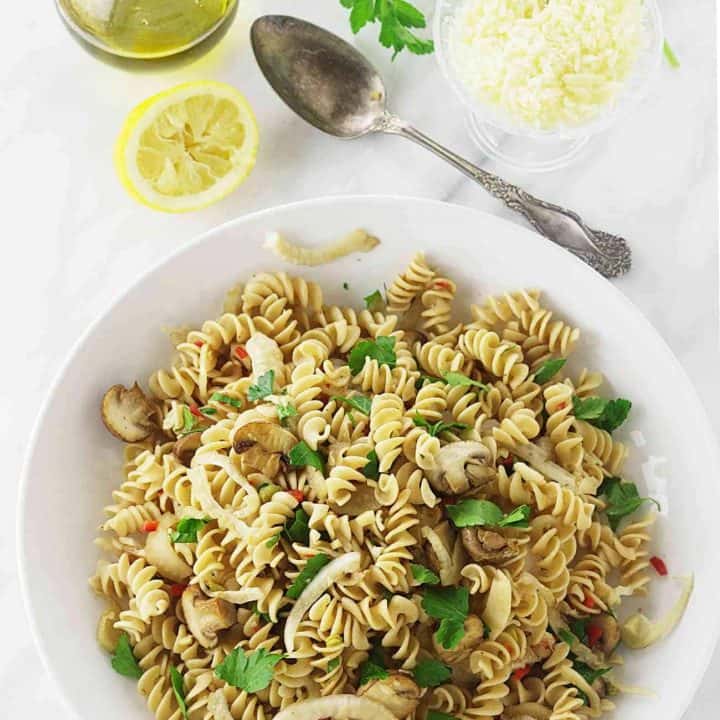 Kamut Whole Grain Pasta Spirals with Fennel and Mushrooms
Yield: 6 servings
Prep Time: 15 minutes
Cook Time: 30 minutes
Total Time: 45 minutes
This recipe for kamut whole grain pasta spirals with fennel and mushrooms is a quick side dish or a main dish for a meatless meal. The whole grain pasta has a slightly chewy texture that pairs well with the fennel slices and earthy taste of the mushrooms.
Ingredients
For the Pasta:
8 ounces Kamut Whole Grain Pasta Spirals
1 tablespoon koser salt
For the Vegetables:
1/4 cup olive oil, divided
1 large fennel bulb, trimmed, core removed and thinly sliced
8 ounces sliced crimini mushrooms
1 red chile, ribs and seeds removed and finely diced
4 garlic cloves, grated or minced
1/4 teaspoon sea salt
1/8 teaspoon freshly ground black pepper
1/2 cup coarsely chopped fresh parsley
1 tablespoon lemon zest
1 lemon
1/2 freshly grated Parmesan cheese
Instructions
Fill a large pot with water and add the kosher salt, bring to a boil over high heat. Add the kamut pasta and cook for 8 minutes, until slightly tender, while the water continues to boil. Drain the pasta, cover and reserve until needed.
While the pasta is cooking, heat 1 tablespoon of olive oil in a large skillet over medium-high, heat. Add the sliced fennel and mushrooms and cook for 2-4 minutes until tender. The time will depend on how thinly the fennel is sliced. Add the red chile, garlic, salt and pepper, cook for 30 seconds until the garlic is fragrant but not browned.
Remove the skillet from the heat, add the drained pasta, the remaining olive oil, chopped parsley and lemon zest. Toss to combine. Transfer the mixture to a serving dish and squeeze the juice from the lemon over the top. Serve with a dish of the grated Parmesan cheese.
Nutrition Information:
Yield: 6
Serving Size: 1
Amount Per Serving:
Calories: 217
Total Fat: 12g
Saturated Fat: 2g
Trans Fat: 0g
Unsaturated Fat: 9g
Cholesterol: 6mg
Sodium: 1177mg
Carbohydrates: 24g
Fiber: 4g
Sugar: 3g
Protein: 7g
Nutrition information is a guideline only, is calculated automatically by third party software, and absolute accuracy is not guaranteed.