Mornings are made better with this Rolled Spelt Cereal, a nutritious and comforting bowl of hot cereal topped with warm cinnamon apples (which make everything better)! This hot breakfast is a healthy and satisfying way to kickstart your morning. Plus, it's quick to make and is a morning meal the whole family will rave about.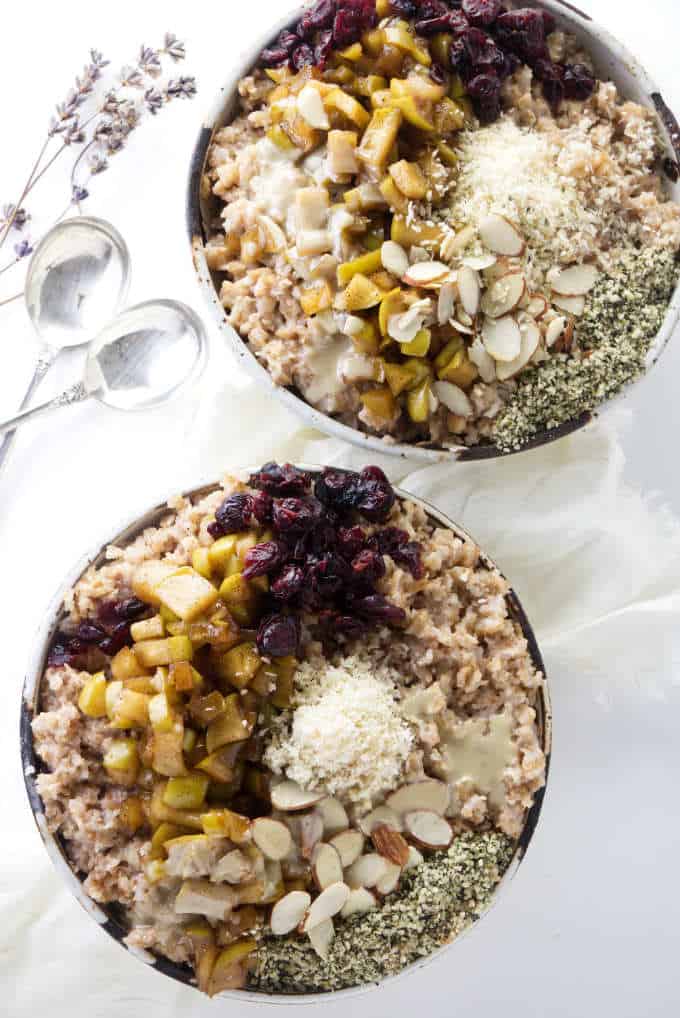 what is spelt
Spelt is a type of ancient grain that is packed with fiber and has a slightly sweet "nutty" flavor. It has a different gluten composition than regular wheat and is more easily tolerated.
Spelt packs a good serving of protein, fiber, and iron, and is one of our favorite ancient grains to work with! If you want to learn more about grain varieties, we have an entire page dedicated to ancient grains!
What is rolled spelt? Rolled spelt is simply spelt that has been rolled (like old-fashioned oatmeal). It looks similar to oats and it cooks just as quickly! You can usually find it near the oatmeal in the grocery store, or sometimes even in the bulk foods section (depending on the store). It's usually called rolled spelt or spelt flakes.
how to make rolled spelt cereal
This rolled spelt cereal recipe is SO easy and makes a delicious and healthy breakfast. The cinnamon apples pair really well with the sweet(ish) flavor of the rolled spelt, and you can rest assured that this bowl of hot cereal is a more nutritious option than traditional oatmeal. Best of all, if you have kiddos- here's a hot cereal recipe they'll approve of!
To make rolled spelt cereal with cinnamon apples, you'll need the following ingredients:
water
salt
butter or olive oil
apples, diced
apple cider
brown sugar
cinnamon
nutmeg
salt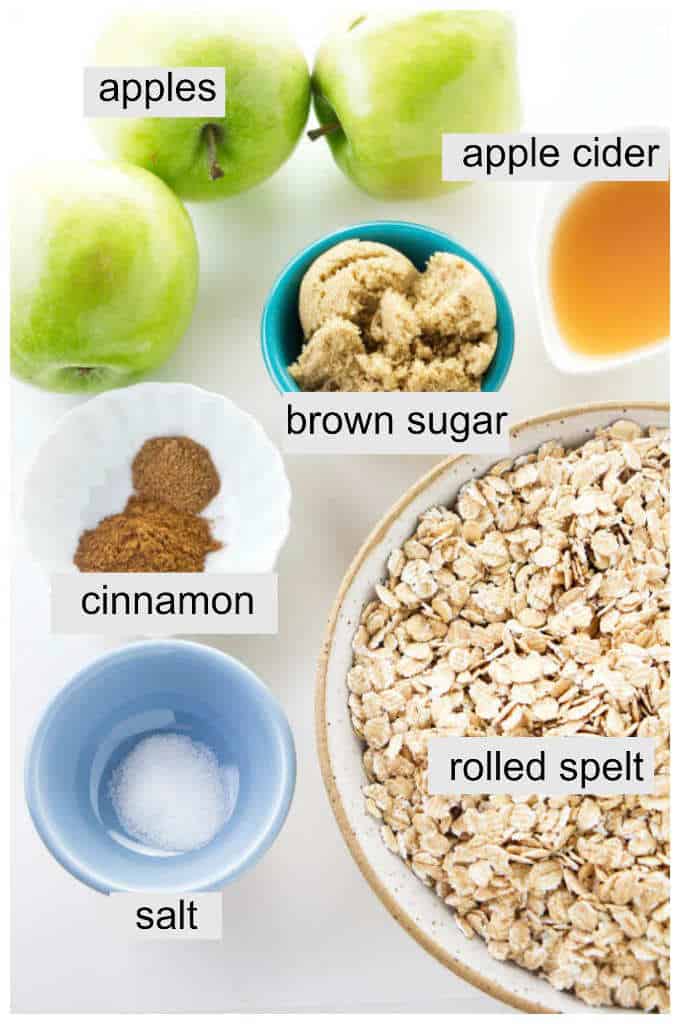 You'll make the rolled spelt cereal in two steps: first cook the spelt flakes, then cook the apples. Simple, right? And in fact, you can cook the apples while the spelt is simmering, reducing the time it takes to get this breakfast on the table!
Here's a brief summary (but check out the full recipe at the bottom of the page):
Cook the rolled spelt- Bring water to a boil in a medium saucepan, then add the rolled spelt. Reduce the heat to a simmer and cook the spelt for about 10 to 15 minutes, stirring occasionally.
Cook the cinnamon apples- While the spelt is cooking, heat butter in a saucepan and add the apples, cider, cinnamon, nutmeg, and salt. Cook the mixture for 10 to 15 minutes, stirring occasionally. You want the apples to be tender and the liquid to evaporate.
All the toppings! Serve the hot spelt cereal with a large spoonful (or two) or the cinnamon apples and your choice of other toppings. Some of our favorites for this dish include dried cranberries, coconut, toasted nuts, hemp seeds, and tahini. 🙂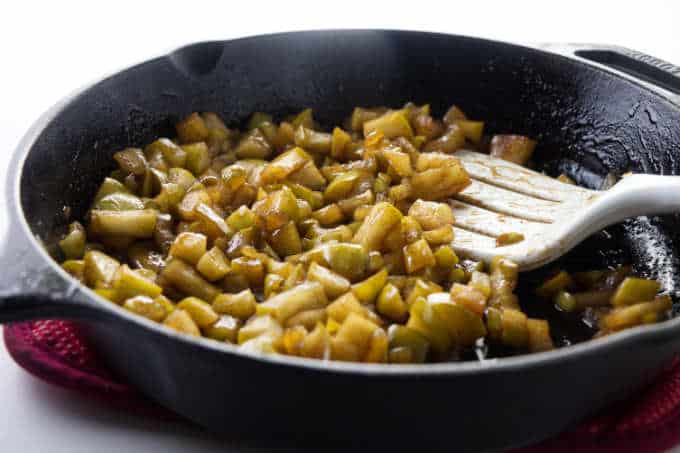 need more spelt in your life?
We love incorporating this incredibly nutritious ancient grain in our cooking and baking! There are so many ways to enjoy spelt, whether you're looking to swap it in place of regular wheat for a high-fiber (and easier to digest) substitution, or you just love the sweet, nutty flavor!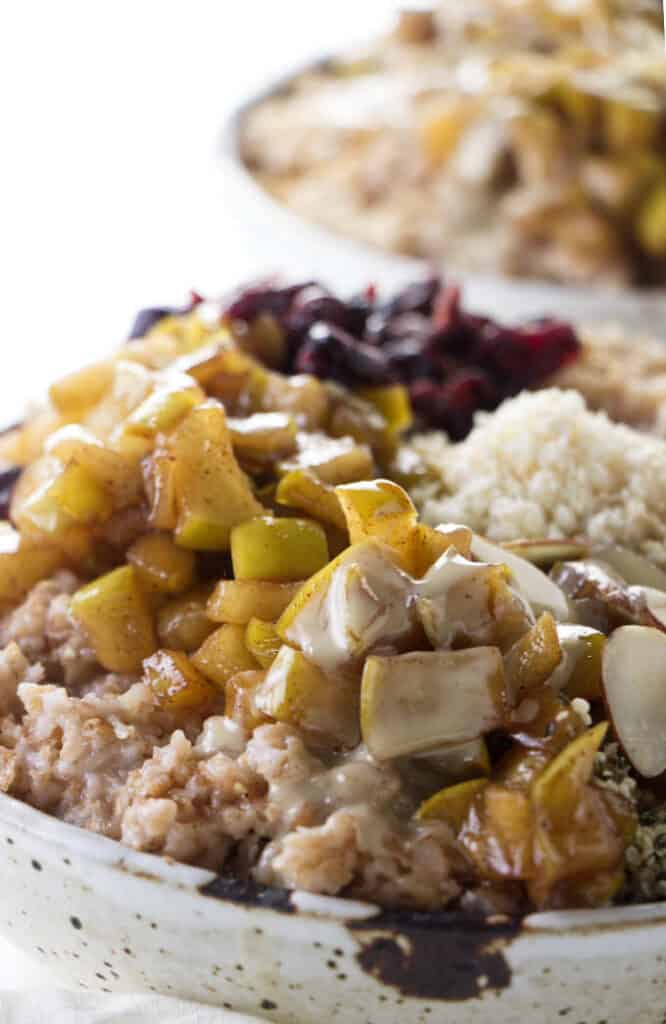 For more spelt recipe inspiration, check out some of these favorites: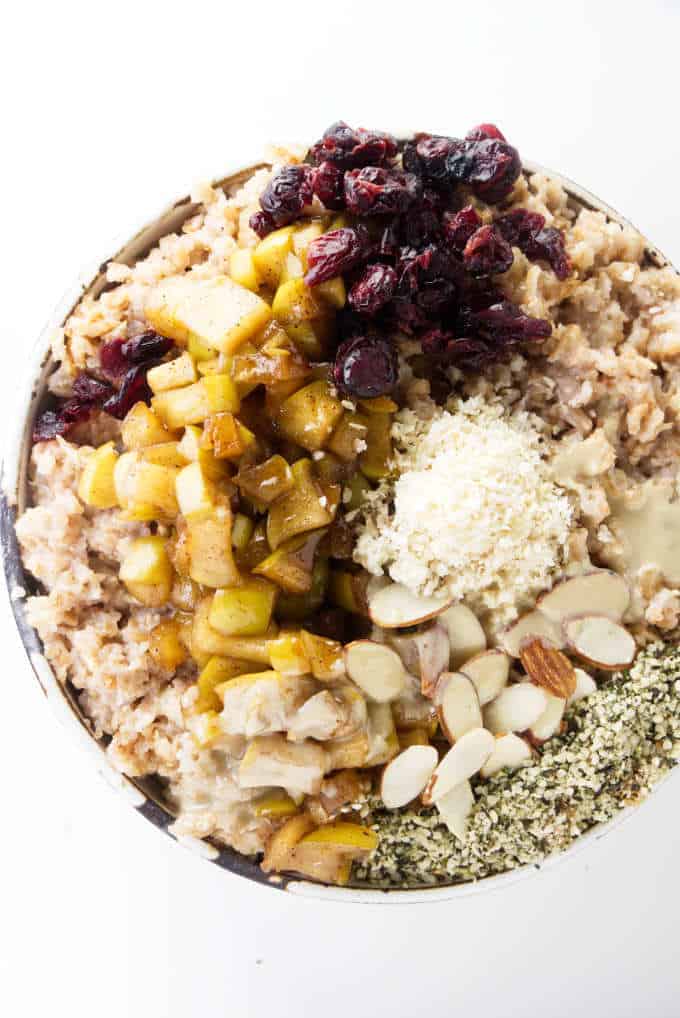 If you've never tried rolled spelt cereal, you are certainly in for a treat. It's a breakfast that's worth waking up for! Enjoy!
SOME OTHER RECIPES WE ARE SURE YOU WILL LOVE:
Chicken in Mushroom Cream Sauce is so rich in flavor, and will forever be a favorite dish of mine! Tender and meaty chicken thighs with a creamy mushroom sauce packs the perfect umami taste in every bite!
This Roasted Beet Salad with Fennel and Radish is so beautiful, vibrant, and fresh! Golden and red roasted beets pair with tangy oranges and crisp, zesty slices of watermelon radish. It's a showstopper of a salad for sure!
CONNECT WITH SAVOR THE BEST!
Be sure to follow us on our social media accounts
Facebook * Instagram * Pinterest * Twitter * Youtube
Did you make this recipe? We would love to hear from you. Drop us a comment below.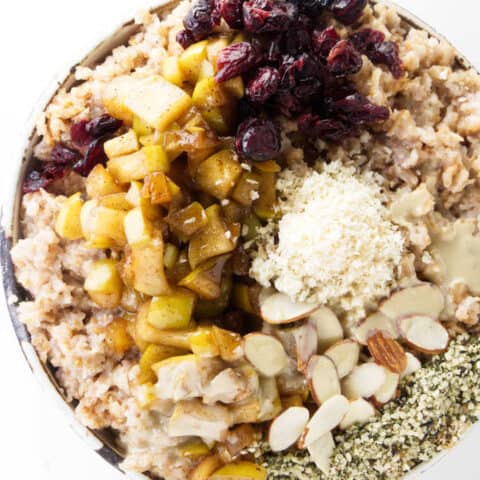 Rolled Spelt Cereal with Cinnamon Apples
Yield: 3 to 4 servings
Prep Time: 5 minutes
Cook Time: 10 minutes
Total Time: 15 minutes
Wholesome whole-grain spelt grains make a healthy and nutritious hot cereal. The spelt is rolled like old fashioned oatmeal so it cooks quickly.
Ingredients
For the Rolled Spelt Cereal
1-3/4 cups water
1 cup rolled spelt flakes
3/4 teaspoon salt
Cinnamon Apples
2 tablespoons butter or olive oil
3 large apples, diced
3 tablespoons apple cider
3 tablespoons brown sugar
3/4 teaspoon cinnamon
1/4 teaspoon nutmeg
1/4 teaspoon salt
Instructions
Bring the water to a boil in a medium saucepan.
Add the rolled spelt and salt then reduce the heat to a gentle simmer.
Cook for 10 to 15 minutes stirring occasionally.
While the spelt is cooking, heat the butter in a saucepan. Add the apples, apple cider, cinnamon, nutmeg and salt.
Cook for 10 to 15 minutes, stirring occasionally until the apples are tender and the liquid evaporates.
Serve the hot spelt cereal with cinnamon apples and your choice of other toppings. Suggested toppings: dried cranberries, coconut, toasted nuts, hemp seeds, tahini.
Recommended Products
As an Amazon Associate and member of other affiliate programs, I earn from qualifying purchases.
Nutrition Information:
Yield: 4
Serving Size: 1
Amount Per Serving:
Calories: 268
Total Fat: 10g
Saturated Fat: 4g
Trans Fat: 0g
Unsaturated Fat: 5g
Cholesterol: 15mg
Sodium: 610mg
Carbohydrates: 46g
Fiber: 6g
Sugar: 27g
Protein: 3g
Nutrition information is a guideline only, is calculated automatically by third-party software, and absolute accuracy is not guaranteed.