These mini corn waffles bake up crisp and crunchy and we topped them off with chipotle pulled pork and homemade chipotle sauce and a garnish of sliced red peppers and black olives. Add these appetizers to your party menu and your guests will love them!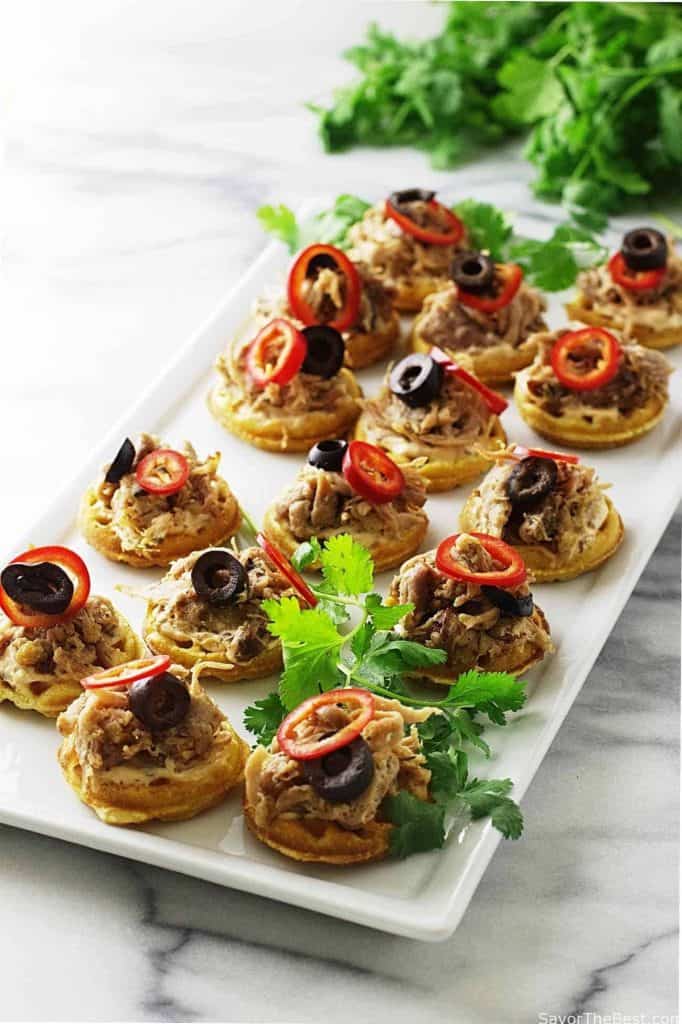 When I saw this mini-waffle baker on an outrageously discounted price, I grabbed it knowing that it would make some adorable and delicious appetizers. The mini corn waffles are crunchy and taste so yummy with the shredded pork and the creamy, spicy chipotle sauce.
These waffles are not those pre-made, frozen mini-waffles that you can buy in the supermarket. No, these are the real deal, made from scratch, corn-crunchy and delicious waffles.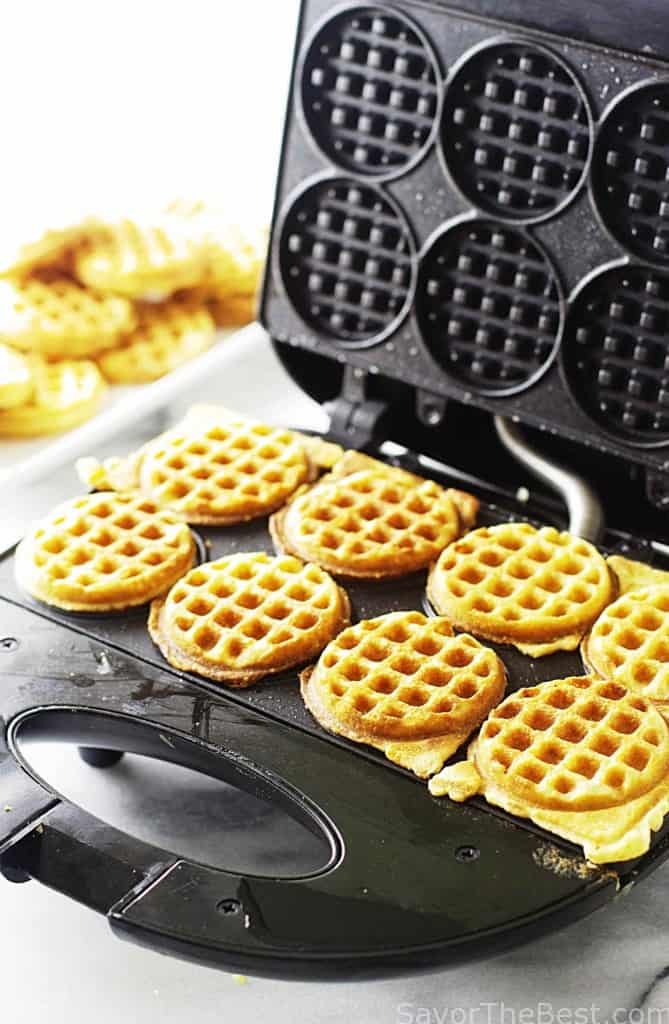 The waffle batter is made with a 50-50 blend of stone ground corn meal and spelt whole grain flour and includes some tangy buttermilk. They are baked in this mini-waffle baker for about two minutes to a crisp and golden brown. This baker produces eight waffles at a time and one batch of waffle batter will make about 60 mini-waffles. That was more than was actually needed for the appetizers but the remaining waffles became our breakfast the next day with hot maple syrup. Fun!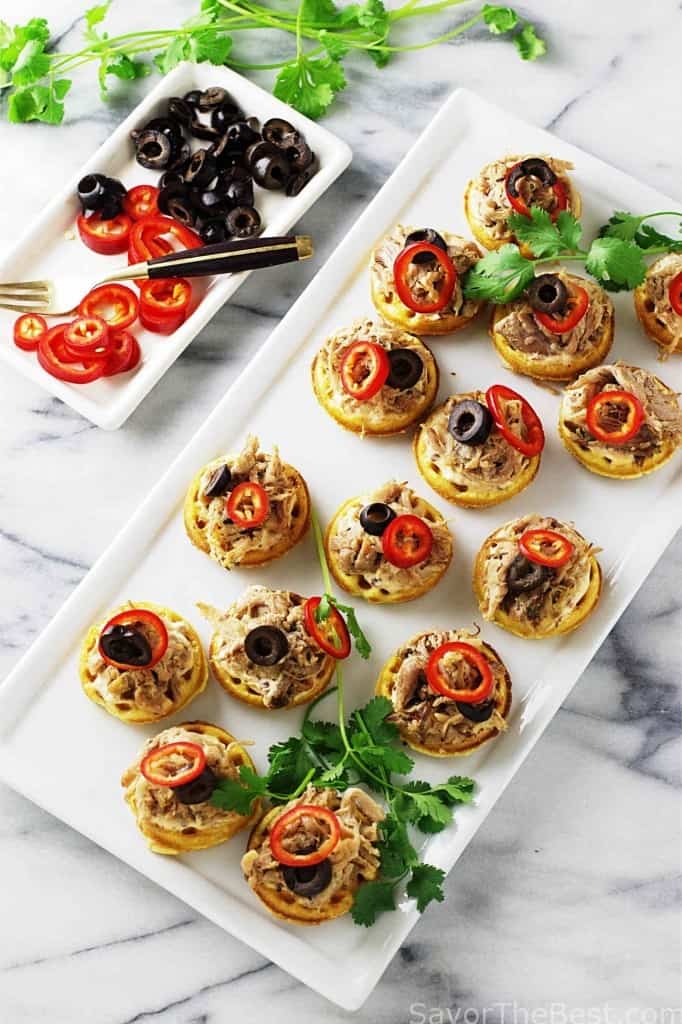 Recently, we posted a recipe for chipotle pulled pork and have it portioned out in the freezer. We used a two-cup portion of the shredded pork for the topping on the waffles. The chipotle sauce is fast and easy to whiz together in the blender and we used a dab on the waffles before adding the pork, plus another dab on top to anchor our garnishes.
The appetizers are garnished with sliced red peppers and black olives. Another bonus… the waffles can be prepared days in advance and frozen. The shredded chipotle pork can also be prepared when convenient and refrigerated. Then, place the thawed waffles on a baking sheet and re-heat in the oven at 350°F for a few minutes to crisp up, then finish them by adding the shredded pork, the sauce and garnishes.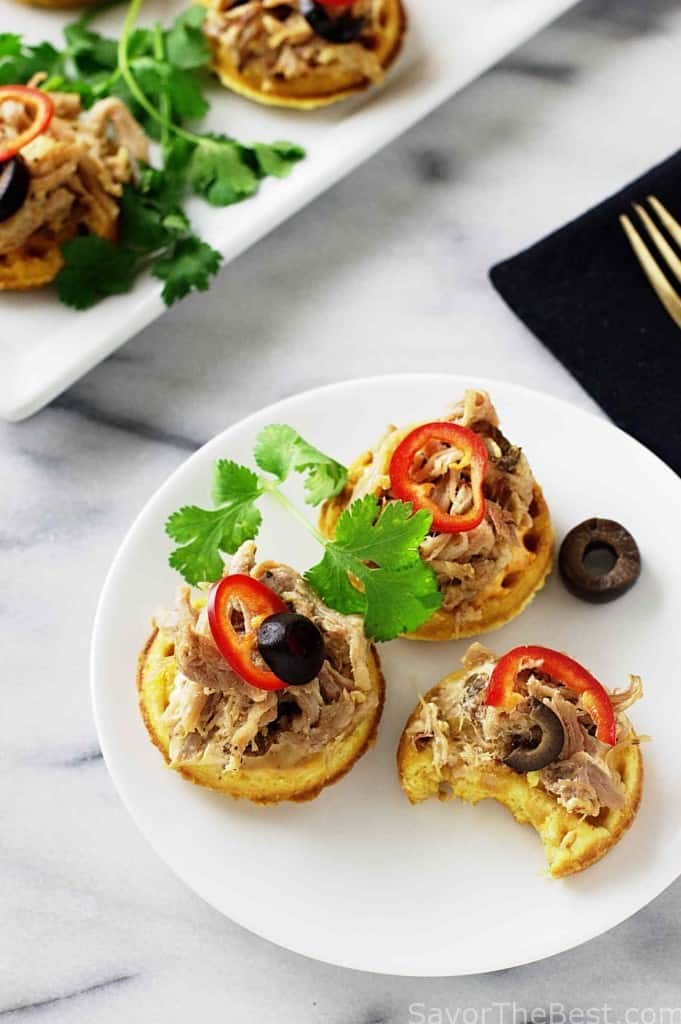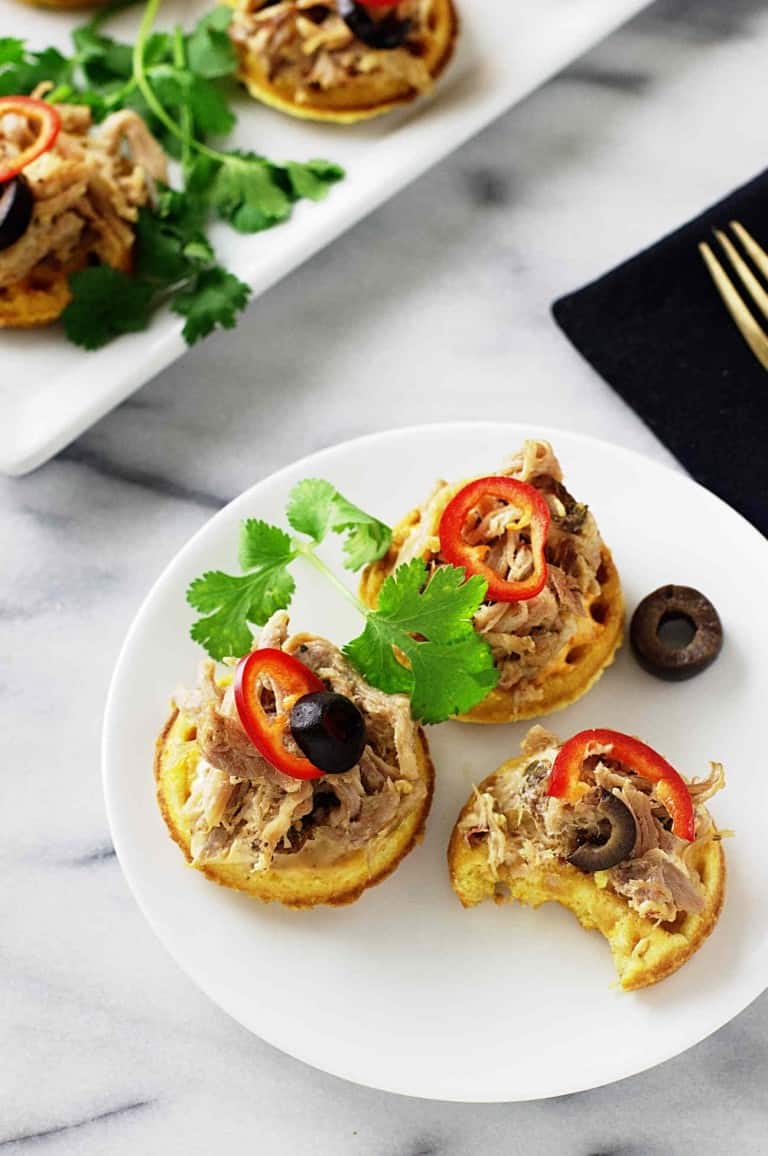 If you don't have one of these nifty mini-waffle bakers, not to worry….you can use your regular waffle baker and a small cookie cutter to cut them to size.
More appetizer recipes to consider: Kamut Chip Spicy Nachos, Firecracker Shrimp Fresh Mango Salsa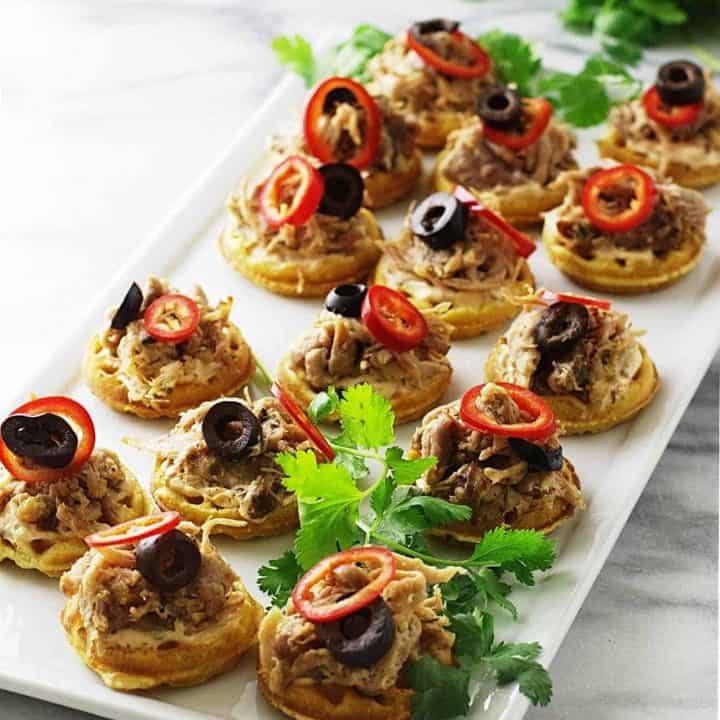 Chipotle Pulled Pork and Mini Corn Waffle Appetizers
Yield: 24
Prep Time: 30 minutes
Cook Time: 30 minutes
Total Time: 1 hour
The waffle batter is made stone ground corn meal and spelt whole grain flour and includes some tangy buttermilk. These mini corn waffles bake up crisp and crunchy. We topped them with homemade chipotle sauce and chipotle pulled pork and a garnish of sliced red peppers and black olives..
Ingredients
For the Mini-Waffles:
1 cup (130 g) medium cornmeal
1 cup (120 g) spelt whole grain flour (or traditional flour)
4 tablespoons sugar
1 teaspoon sea salt
2 teaspoons baking powder
1 teaspoon baking soda
2 eggs
1 cup buttermilk
6 tablespoons olive oil
For the Mini-Waffle Topping:
2 cups Chipotle Pulled Pork, thawed if frozen
For the Chipotle Sauce:
1 1/2 cup mayonnaise
1/2 cup sour cream
3-4 chipotles in adobo sauce (more or less, depending on your personal taste)
2-3 tablespoon adobo sauce
2 limes, juiced
Salt and freshly ground black pepper
Red pepper slices for garnish
Black olive slices for garnish
Instructions
For the Mini-Waffles:
Preheat the waffle baker according to manufacturer's instructions.
In a large mixing bowl, add the cornmeal, flour, sugar, salt, baking powder and baking soda. Whisk to combine.
In a separate dish, whisk the eggs, buttermilk and oil together. Make a well in the center of the flour mix and pour the buttermilk mixture in, stir to combine until there are no dry flour streaks but do not over mix.
Add batter to the waffle iron and bake until they stop steaming and are golden brown. If using a mini-waffle baker it will be about 2 minutes.
Remove from the waffle baker and place on a cooling rack and proceed with the remaining batter.
For the Chipotle Sauce:
Add the mayonnaise, sour cream, chipotles, adobo sauce and lime juice to a food processor and puree. Season to taste with salt and pepper.
To assemble the appetizers:
Spread half a teaspoon of chipotle sauce on the cooled mini-waffles. Add a tablespoon of chipotle pulled pork and garnish with slices of red pepper and olives.
Nutrition Information:
Yield: 24
Serving Size: 4 waffles
Amount Per Serving:
Calories: 395
Total Fat: 25g
Cholesterol: 121mg
Sodium: 412mg
Carbohydrates: 11g
Fiber: 1g
Sugar: 3g