Sweet and crunchy with a kick of jalapeño, this pomegranate salsa is a delicious and seasonal salsa recipe you'll love during the winter months. The distinctly sweet pomegranate flavors work well with fish, pork, or chicken, or you can grab a bag of tortilla chips and snack away!
We used it to dish up fish tacos with pomegranate salsa for an amazing dinner.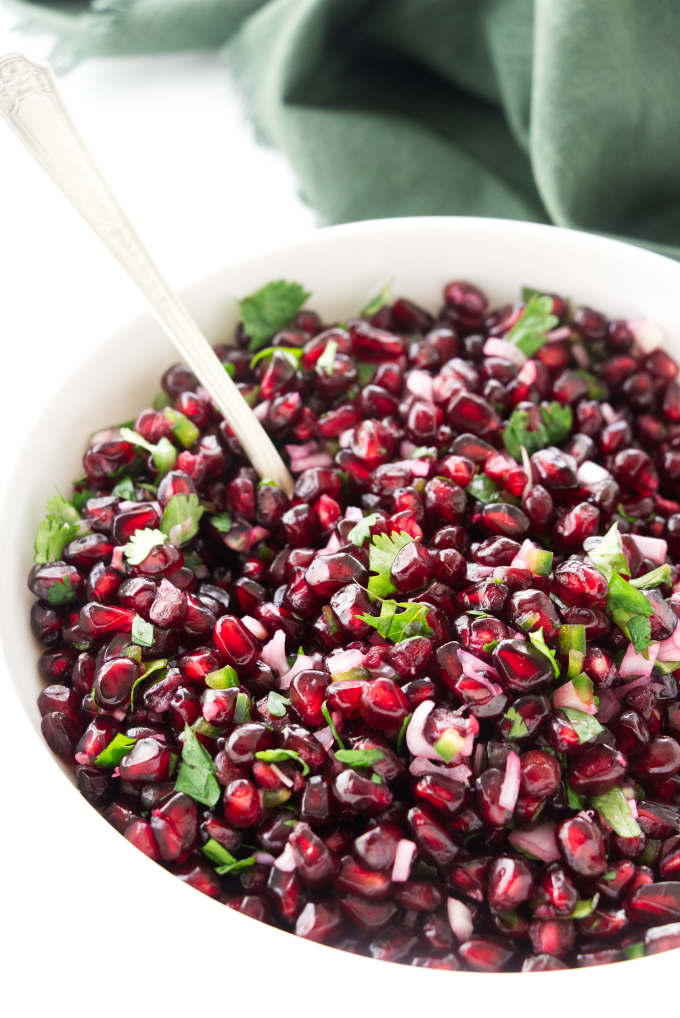 We love a good winter salsa and this spin with pomegranate hits all the right flavor notes! A zing of lime and jalapeño complement the juicy sweetness of pomegranate. And it's an incredible way to make the most of this winter fruit while it's in season.
Pomegranate salsa is delicious spooned over our fish tacos, served alongside grilled chicken, or even as a tasty side that adds zing to any meal! Try it in pulled pork sandwiches using chipotle pulled pork.
We use whole pomegranates for this recipe to get the most fresh pomegranate arils, but store-bought will work well too if you're looking to cut down on some time. However, we're sharing our method below for slicing a pomegranate so you never have to be intimidated to cut up your own.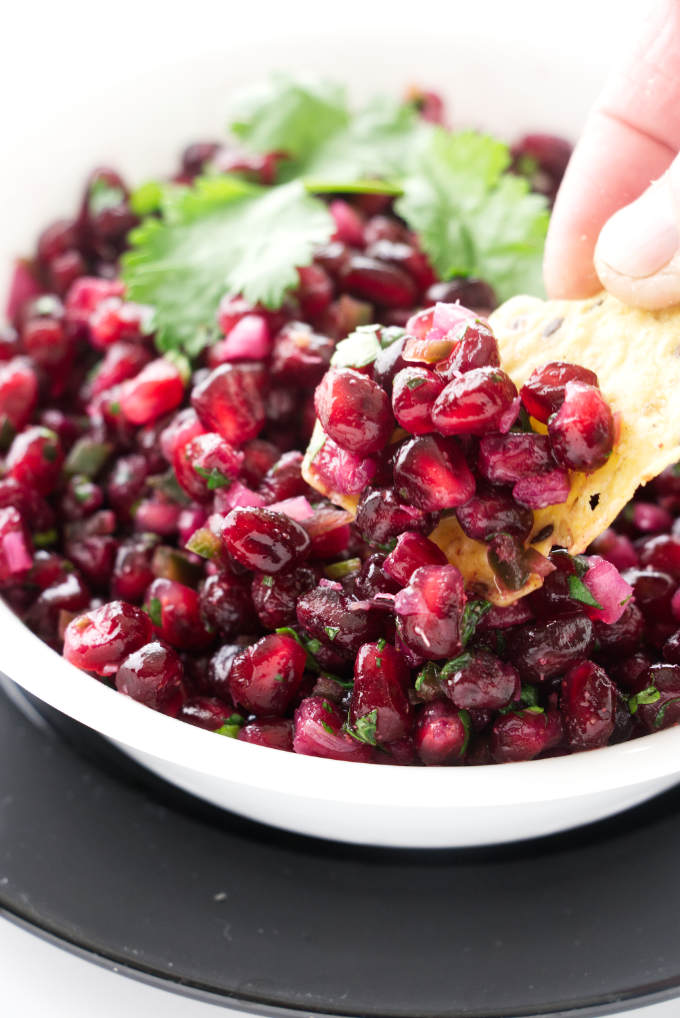 How to cut a pomegranate
First, let's walk through how to cut a pomegranate, because it's actually quite simple! Follow these easy steps for a surefire method that will come in handy every time.
Remove the crown. With a sharp paring knife angled about 1/2-inch from the crown, cut all around the crown to remove it.
Cut along the ridges. Locate the six ridges along the outside of the pomegranate. Make shallow cuts through the skin on each ridge, from the top to the bottom of the fruit. Gently pry open the pomegranate along the cut ridges to expose the pomegranate arils inside.
Break it apart. Break the pomegranate into sections. Take one section at a time, holding it over a bowl, and remove the arils with your fingers. Toss the white membrane and repeat the process with each of the sections.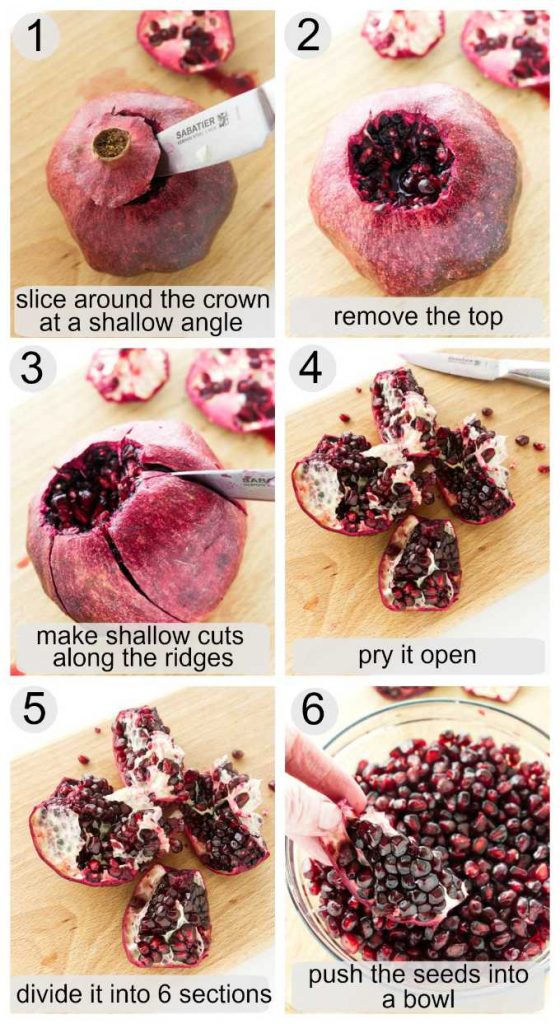 How to make pomegranate salsa
This pomegranate salsa recipe is quite simple to follow and combines fresh ingredients to make a flavorful winter salsa.
Ingredient List
You will need:
Fresh pomegranate arils. We use two large pomegranates.
Freshly-squeezed lime juice. This gives the salsa a light and tangy flavor.
Chopped cilantro. For us, this one is a must in any good salsa recipe!
Shallot. For a light onion flavor.
Jalapeño pepper. It adds just the right amount of heat! Make sure to stem, seed and finely chop the pepper.
Salt. We add it to taste.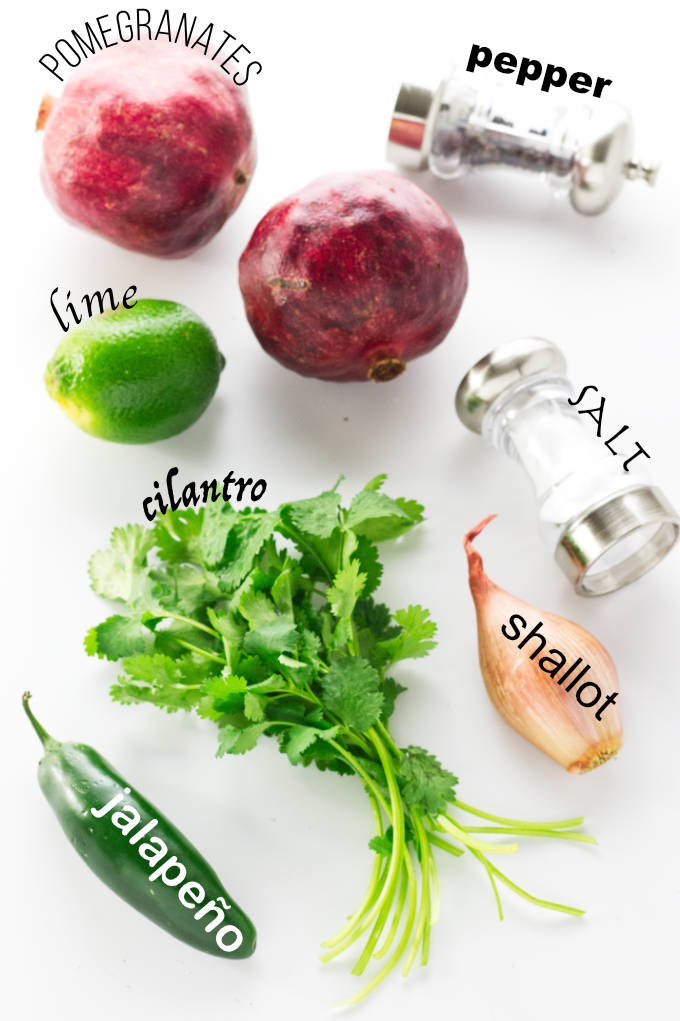 Our pomegranate salsa recipe
Remove the pomegranate arils: Follow the steps above for how to cut a pomegranate and place the arils in a small dish.
Add the other ingredients: Add the lime juice, cilantro, shallot and jalapeño. Stir to combine, taste, and then add salt as needed.
Chill: Cover the dish with plastic wrap and refrigerate the pomegranate salsa for at least 30 minutes before serving.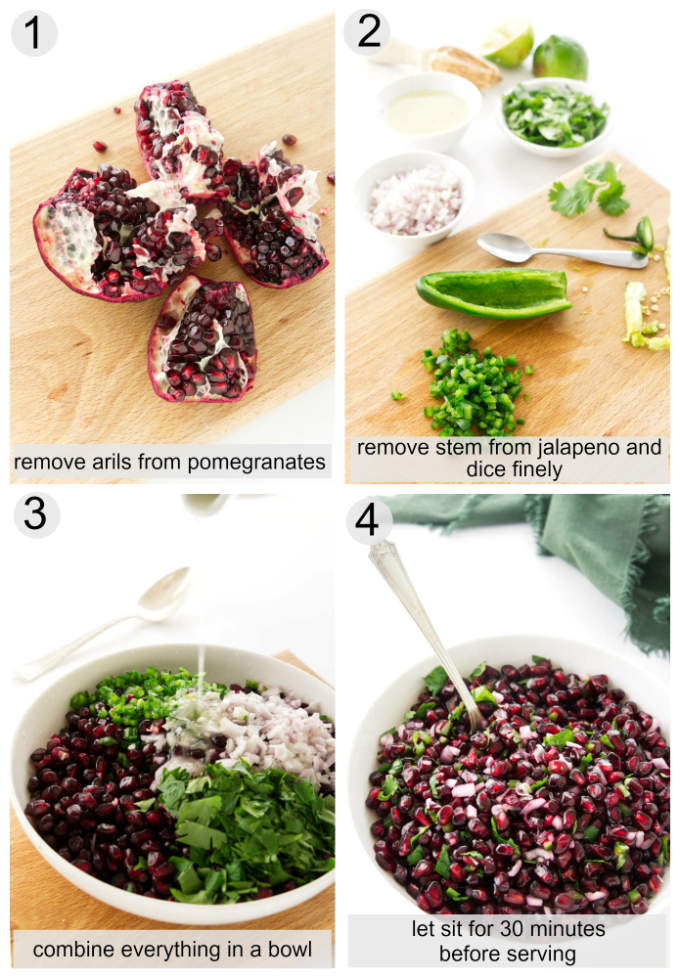 This easy winter salsa is that simple! It's a delicious way to enjoy pomegranate, and once you try it, you'll be dreaming up all the different winter dishes to serve this with.
One of the things we love about it is that this pomegranate salsa recipe is wintry, yet still fresh and seasonal- a nice change from all the cozy comfort foods we tend to gravitate toward this time of year.
What tastes good with pomegranate?
So many things! The sweet salsa goes well with spicy food like our blackened tilapia or savory food like these beef and sausage meatballs.
And if you love fresh pomegranate but you're stumped with how to use it, we have more pomegranate inspiration to help you out this winter! Here are a few of our favorite pomegranate recipes: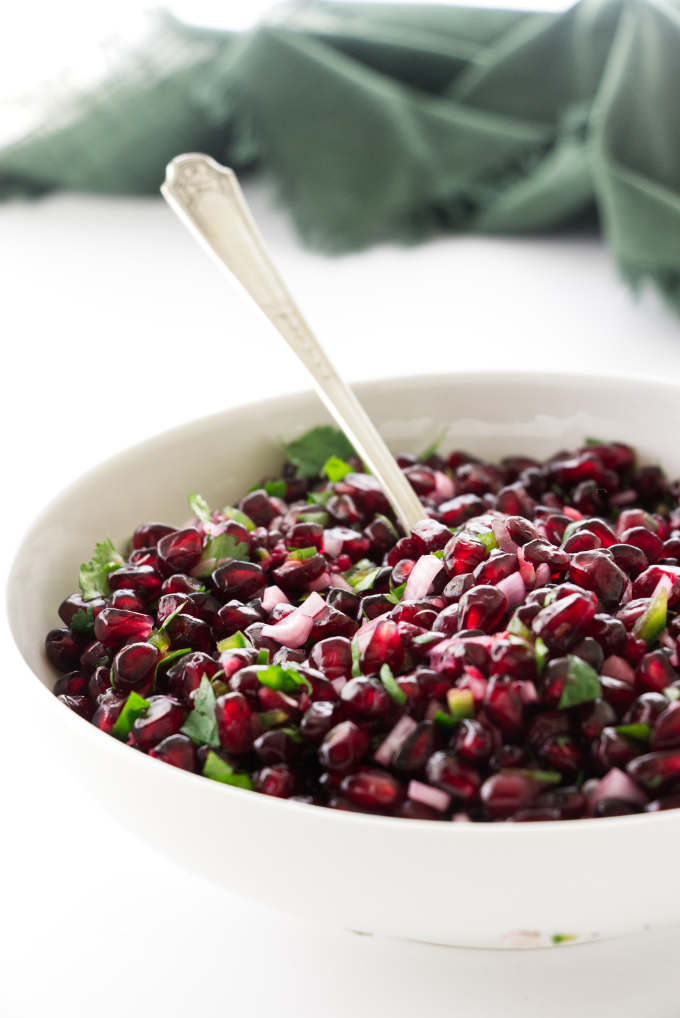 SOME OTHER RECIPES WE ARE SURE YOU WILL LOVE:
Fresh Mango Salsa: Fresh mangos and pineapple are the base for this vibrant salsa and the jalapeño and serrano chilies give it just the right amount of kick. Try this on any grilled fish or chicken.
Herbed Olive Oil Dip: This is a fast appetizer to prepare with little prep work. It is made with fresh herbs, garlic and seasoning. Crusty sourdough bread or warm, salty focaccia are perfect dippers!
Chili Relleno Dip: Who wouldn't want a taste of this dip! It is warm, oozy with cheese and all the flavors of a chili relleno. Baked in a small skillet and served hot with thick tortilla chips to scoop it up. You will love this dip!
CONNECT WITH SAVOR THE BEST!
Be sure to follow us on our social media accounts
Facebook * Instagram * Pinterest * Twitter * Youtube
Did you make this recipe? We would love to hear from you. Drop us a comment below.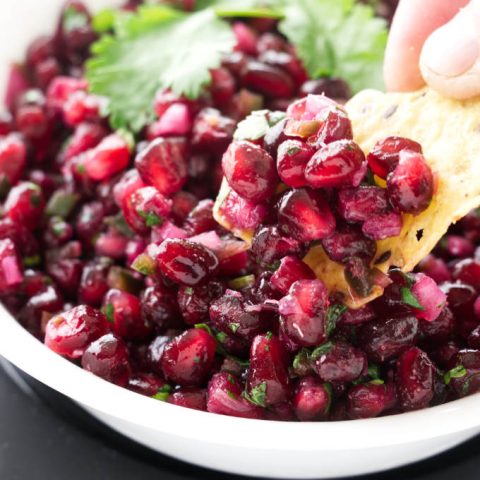 Pomegranate Salsa
Yield: 12 Servings
Prep Time: 20 minutes
Total Time: 20 minutes
This Pomegranate Salsa is your new winter salsa. Sweet, crunchy pomegranate arils, a squeeze of lime and the kick of jalepeno! Great flavors for fish tacos or tortilla chips. Try it with pork or chicken.
Ingredients
3 cups fresh pomegranate arils from 2 large pomegranates
1/4 cup freshly squeezed lime juice
2 tablespoons chopped cilantro
1 medium shallot, diced
1 jalepeno pepper, stemmed, seeded and finely chopped
Salt to taste
Instructions
Using a sharp paring knife set at an angle about 1/2-inch from the crown, make cuts all around the crown, remove the crown and discard.
Locate the six ridges on the outside of the pomegranate. Make shallow cuts through the skin on each ridge from top to bottom.
With your fingers, gently pry open the pomegranate exposing the ruby arils.
Break the pomegranate into sections and working with one section at a time, hold it over a bowl and remove the ariels with your fingers. Discard the white membrane.
Repeat the process with the remaining pomegranate.
In a small dish, add the the pomegranate arils, lime juice, cilantro, shallot and jalepeno. Stir to combine, taste and add salt as needed.
Cover the dish with plastic wrap and refrigerate for 30 minutes before serving.
Notes
The riper the pom is, the easier it will be to remove the arils and the sweeter and juicer they will be.
Pomegranate juice will stain your fingers and the cutting board. To remove the stains sprinkle with baking soda and salt and use the inside of the lime to scrub over the area.
Nutrition Information:
Yield: 12
Serving Size: 1
Amount Per Serving:
Calories: 79
Total Fat: 1g
Saturated Fat: 0g
Trans Fat: 0g
Unsaturated Fat: 0g
Cholesterol: 0mg
Sodium: 52mg
Carbohydrates: 18g
Fiber: 4g
Sugar: 13g
Protein: 2g
Nutrition information is a guideline only, is calculated automatically by third-party software, and absolute accuracy is not guaranteed.