Our homemade creamy turkey pot pie is packed with tender chunks of leftover turkey, a mix of savory vegetables, and a creamy white sauce. That rich, delicious filling is tucked perfectly inside a golden, buttery pie crust and each bite is pleasantly cozy and satisfying.
This leftover turkey pot pie is just one reason you'll be so glad you have all that holiday turkey remaining! It's an easy turkey pot pie recipe that checks all the right boxes- flaky crust, creamy filling, and an all-around crowd-pleaser.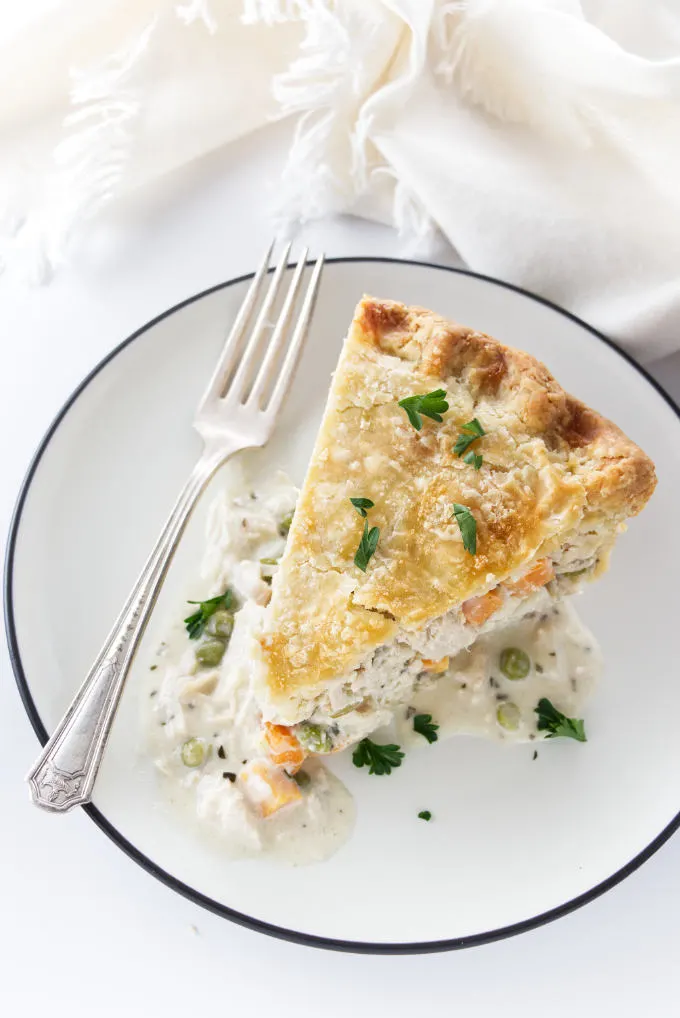 Why you will love it
Our creamy turkey pot pie is a spin on the classic Chicken Pot Pie and while there are a few slight differences, they're both comfort food deluxe.
There's no better time to enjoy a delicious pot pie dinner than a cold, chilly day and this cozy meal will warm you right up.
It is:
hearty comfort food
filling and flavorful
quick and easy to make (especially with leftover Thanksgiving turkey!)
a family-friendly meal that everyone will love
The Ingredient List
This recipe is really quite easy and quick, which is a bonus after all that Thanksgiving cooking, right?! 😉
We use our all-butter pie crust or you can use our gluten-free pie crust. The pot pie is extra simple to prep if you have a pie crust stored in the freezer, ready to use.
To make it, you will need:
double crust pie crust (store-bought or homemade).
butter
onion, potato. carrots, celery
garlic cloves
all-purpose flour
dry white wine
chicken broth
heavy cream
fresh or dried sage, rosemary, and thyme
diced cooked turkey
frozen peas
salt and pepper
egg white
If you want to keep this creamy turkey pie gluten-free, you can replace the all-purpose flour with our gluten-free flour blend or use an all-purpose gluten-free flour blend.
You don't have to wait for a holiday and leftover turkey to make this recipe. Turkey breast is easy to find all year and you can even cook a frozen turkey breast in the Instant Pot.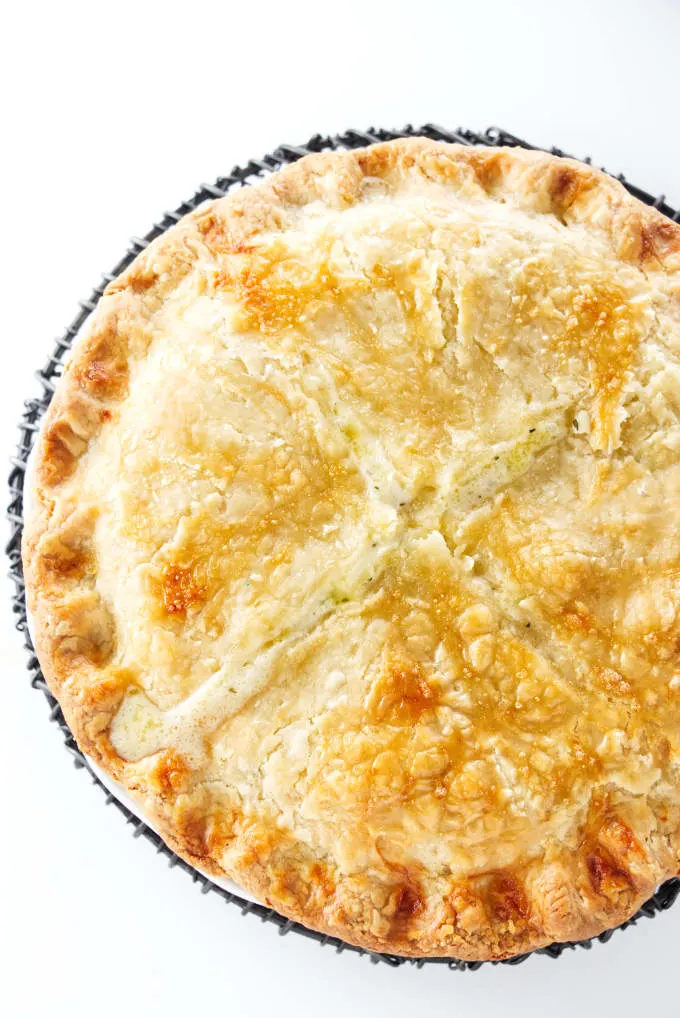 Our Leftover Turkey Pot Pie Recipe
One thing that makes this turkey pot pie with white sauce so good, is we don't skimp on the filling! It's packed with turkey meat, veggies, and fresh herbs, all smothered in a rich and creamy white wine sauce. Serve it with a crisp side salad or sweet potato soup.
Even better? This homemade turkey pot pie is really simple and non-intimidating.
Here's how it's done (scroll down to the printable recipe card for all the details):
Make the filling: This is as easy as sautéing the veggies, adding flour, white wine, chicken broth and cream. When it gets thick, fold in the herbs, turkey and peas.

Prepare the pie crust: Place the crust in the pie plate. Spoon the filling into the crust, then top it with the second pie crust. Brush the top with egg wash and cut several slits for steam to vent.

Bake the pie: Bake until the filling begins to bubble and the top is golden brown.

Cool and serve: Remove the turkey pot pie from the oven and let it cool for 15-20 minutes before serving.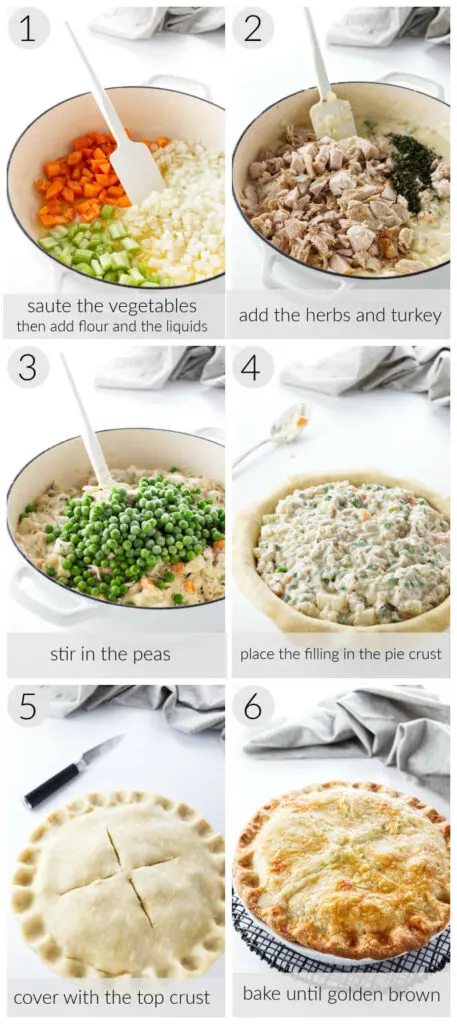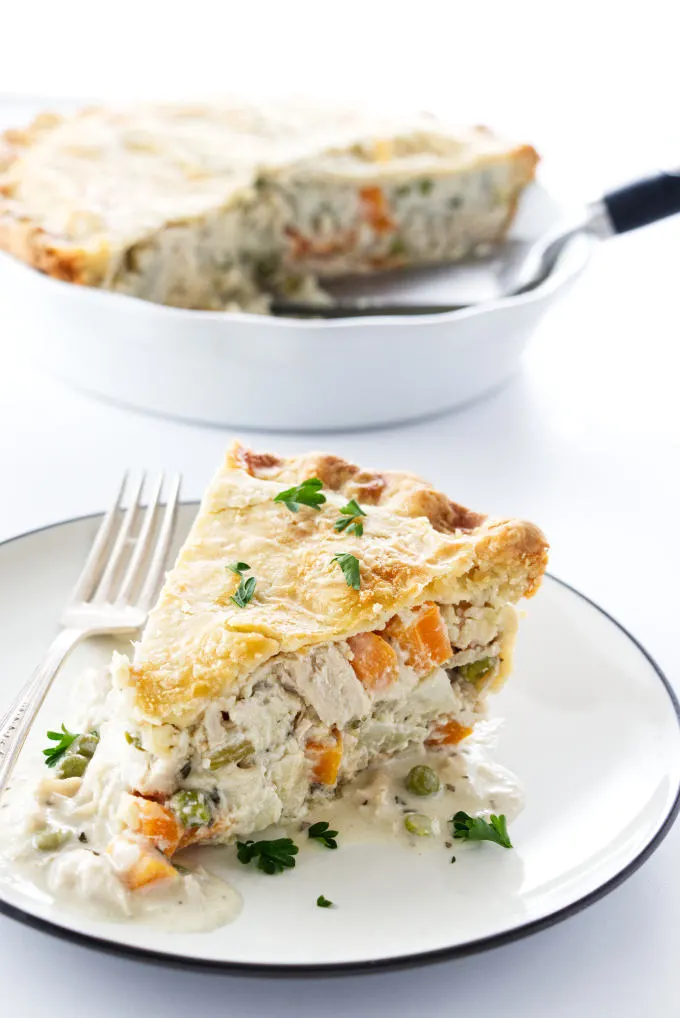 Tips for the Best Results
Coating the pie plate with oil ensures that the slices of pot pie come out easily.

We prefer using heavy cream for the turkey pot pie sauce but you can also use half-and-half or whole milk if that's what you have (just don't use reduced-fat milk). Take note- the filling won't be as rich without the cream.

The creamy turkey pot pie filling can be made two to three days ahead of time. The pie crust can be made up to three months in advance and stored in the freezer.

Brushing the crust with the egg wash is optional but it gives the turkey pot pie a shiny, golden finish.
Frequently Asked Questions

Are turkey pot pies good for you?
With "real food" ingredients and a hearty, turkey-and-veggie-packed filling, this homemade turkey pot pie is certainly much better than anything pre-made or processed. We love sharing homestyle, from-scratch recipes made with whole food ingredients, and this turkey pot pie fits the bill.
How many calories are in a turkey pot pie?
This easy turkey pot pie recipe has an estimated 462 calories per serving with a significant amount of protein (28g!) per slice. We've included the approximate nutrition information in the recipe card at the bottom of the page.
What makes a pie a "pot pie"?
Pot pie is an American term for a savory meat pie. It usually gets topped with a flaky pastry crust but you can top it with mashed potatoes just like a Shepherd's pie. You can make it in a casserole dish or in individual dishes as we did in our Irish beef and stout pies.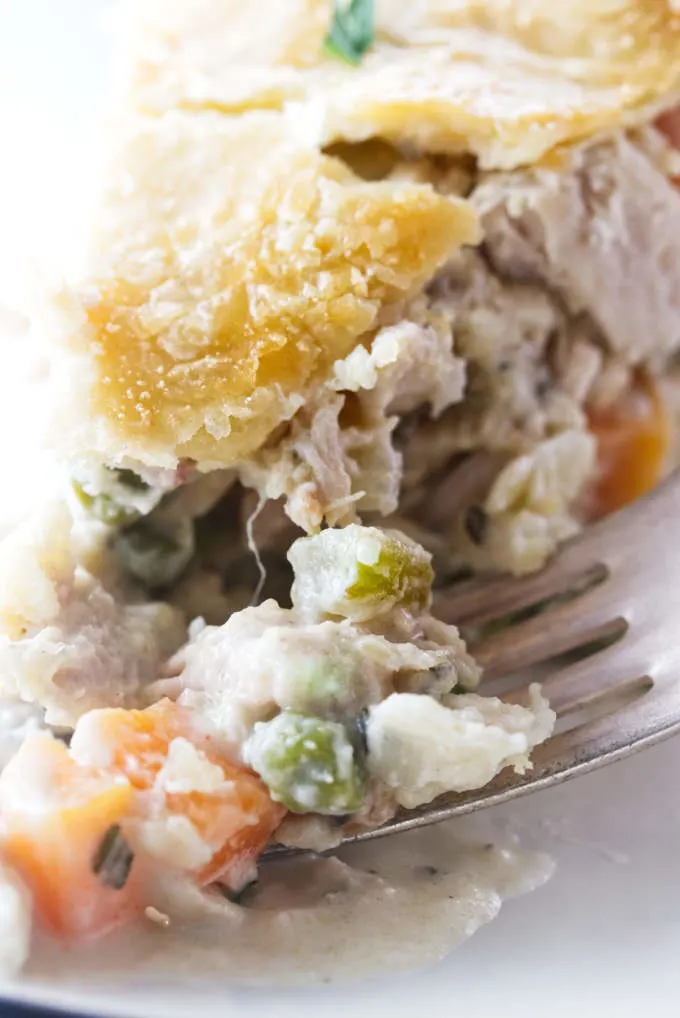 Leftover turkey pot pie is low-effort dinner magic and a wonderful way to use up an excess of turkey! We hope you enjoy this cozy recipe as much as we do. It's certainly a must this time of year- frankly, we could devour a slice of turkey pot pie any day!
Some Other Recipes We Are Sure You Will Love:
This beautiful, brine-roasted turkey will be the centerpiece on your holiday table. With the perfect "crackle" when you cut into it, you'll love how crisp it is on the outside and juicy it is on the inside.
Tender shreds of turkey, mushrooms, spinach, and a creamy cheese sauce? Say no more! This turkey casserole is another great leftover turkey dish that is non-boring in every way!
A classic go-to after Thanksgiving, and we can't argue with that! This savory, brothy turkey noodle soup is cozy, warm and is prepared with a leftover turkey carcass.
Mushrooms add a delicious earthiness to this mushroom stuffing recipe that's complemented by fresh herbs and savory aromatics. It's moist, tender and flavor-packed!
Connect With Savor the Best:
Please follow us on our social media accounts
Facebook * Instagram * Pinterest * Youtube * Twitter
Did you make this recipe? We would love to hear from you. Drop us a comment below.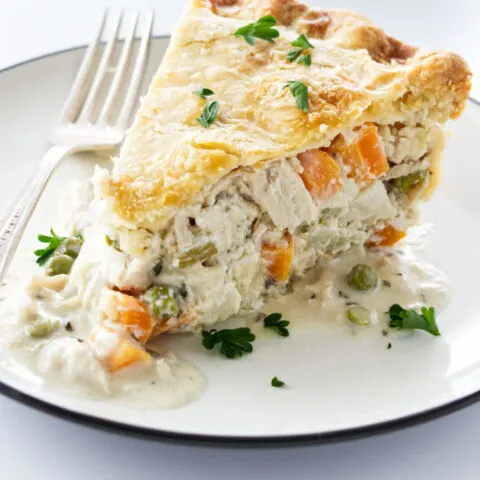 Creamy Turkey Pot Pie
Total Time:
1 hour
20 minutes
Homemade turkey pot pie loaded with leftover turkey and vegetables. A creamy white wine sauce coats the filling inside a buttery, flakey crust.
Ingredients
5 tablespoons unsalted butter
1 medium onion, chopped
1 medium potato, peeled and cubed
2 medium carrots, diced
2 celery stalks, diced
3 garlic cloves, minced
1/3 cup all-purpose flour
3/4 cup dry white wine
1-1/2 cups chicken broth
1 cup heavy cream
2 tablespoons chopped fresh sage (or 2 teaspoons dried)
1 tablespoon chopped fresh rosemary (or 1 teaspoon dried)
1 tablespoon fresh thyme leaves (or 1 teaspoon dried)
3 cups diced cooked turkey
10 ounces frozen peas
1/2 teaspoon salt
1/4 teaspoon pepper
1 egg white whisked with 1 tablespoon of water
Instructions
Preheat the oven to 375°F and coat a 9-inch pie plate with non-stick oil spray.
Melt the butter in a large skillet over medium heat. Add the onion, potato, carrots, and celery. Sauté until the onion is translucent, about 3 minutes. Add the garlic and cook briefly until fragrant, about 30 seconds.
Sprinkle the vegetables with the flour, stir to coat evenly, and cook until lightly golden, 2-3 minutes.
Gradually stir in the white wine and cook until the alcohol burns off, about 1-2 minutes. Pour in the chicken broth and the cream, stirring to combine until the mixture begins to thicken.
Remove from the heat and fold in the fresh herbs, diced turkey, and green peas.
Set the mixture aside and allow it to cool while you roll out the pie crust.
To Assemble:
Roll out the bottom pie crust and place it in the pie plate. Spoon the cooled filling into the pie dish.
Brush the overhanging pastry with the egg wash.
Roll out the top pie crust and place on top of the filling. Trim and crimp the edge of the pie crust.
Brush the top with the egg wash and cut several slits for steam to vent.
Transfer to the oven and bake until the filling begins to bubble and the top is golden brown, about 35 to 40 minutes.
Remove from the oven and cool for 15-20 minutes before serving.

Notes
Coating the pie plate with oil will ensure that the slices of pot pie come out easily.
You can use half and half or whole milk in place of the cream but the sauce won't be as rich. We don't recommend using reduced-fat milk.
You can make the filling two to three days ahead of time and you can make the pie crust three months in advance if you freeze it.
The egg wash is optional but gives the pie crust a shiny, golden finish.
If the crust starts to brown before the pot pie is finished, cover the top of the pie with aluminum foil. If it doesn't get brown enough after 40 minutes, let it bake a bit longer until the crust looks golden.
Recommended Products
As an Amazon Associate and member of other affiliate programs, I earn from qualifying purchases.
Nutrition Information:
Yield:

6
Serving Size:

1
Amount Per Serving:
Calories:

462
Total Fat:

18g
Saturated Fat:

9g
Trans Fat:

0g
Unsaturated Fat:

7g
Cholesterol:

108mg
Sodium:

877mg
Carbohydrates:

44g
Fiber:

4g
Sugar:

8g
Protein:

28g
Nutrition information is a guideline only, is calculated automatically by third-party software, and absolute accuracy is not guaranteed.
This recipe was originally published on November 26, 2014. We updated the post with new photos.