Turkey pot pie is really quite easy and quick to make, especially if you're using leftover turkey from Thanksgiving dinner. Dice up some fresh vegetables, herbs and garlic, then cook them in a pot and mix in some flour, which will help thicken the sauce. Stir in the liquid, cook for a bit, then add frozen veggies and leftover turkey. Voila! Quick and easy.
This is even quicker if you use store bought pastry dough but if you have a few spare moments you can throw together some flour, butter, salt and water for an incredible and flakey pastry dough. The ingredients are the same in just about any butter-based pie crust but it is the technique that makes this crust so flaky. Kneading the dough will make it tough and blend the butter in too much. I leave larger chunks of butter in my dough and instead of kneading it, I roll it out, fold it over and repeat until the dough comes together and forms a solid mass. This leaves flakes of butter in layers, which will create a flaky, tender pie crust.
Yield: 6 servings
Turkey Pot Pie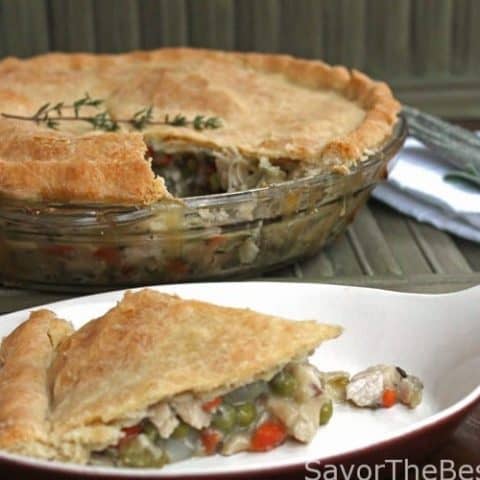 Full of flavor and easy to make, this turkey pot pie is a great way to use leftover turkey.
Prep Time 30 minutes
Cook Time 50 minutes
Total Time 1 hour 20 minutes
Ingredients
For the Crust
1 1/4 cups (175 grams) all-purpose flour
1/2 teaspoon salt
1/2 cup (1 stick) cold unsalted butter, cut into 1 to 2 inch pieces
¼ cup ice cold water
For the Filling
5 tablespoons unsalted butter
2 medium carrots, diced
2 celery stalks, diced
2 garlic cloves, minced
2 tablespoons chopped fresh sage
1 tablespoon chopped fresh rosemary
1 tablespoon chopped fresh thyme
½ teaspoon salt
1/2 cup all-purpose flour (spooned and leveled)
2 ½ cups chicken broth
½ cup white wine
1 cup whole milk
1 sweet potato, peeled and diced into ½ inch cubes
1 cup frozen pearl onions
1 cup frozen peas
3 cups diced cooked turkey
Instructions
For Pastry Dough ** The secret to this flaky pastry dough is to create layers by folding, rolling and folding again. Do not kneed the dough or add more water, it will start to come together with each fold.
In a large bowl combine the flour and salt then add the cold butter. Use a pastry blender or two forks to cut the butter into the flour. Do not over blend; leave large chunks of butter (about ½-inch pieces). Add ½ cup ice water and toss with a fork. The mixture should start to hold together in places but still seem dry and under- mixed.
Lay a large piece of plastic wrap out on the counter then pour the mixture onto the plastic wrap. Push the mixture into a rough rectangle, the edges will be dry and won't cling to the dough, this is ok. Sprinkle some flour onto the dough and use a rolling pin to roll it out into a larger rectangle (edges will be dry and crumbly). Use the plastic wrap to fold each of the short ends of the rectangle toward the middle (it is ok if it cracks, it will eventually start to come together). Roll the dough out again then fold the opposite ends toward the middle and roll out into another rectangle. If there are still loose, crumbly edges then fold and roll one more time. The dough will be spotted with flecks of butter, which is what you want, those flecks of butter will make a flaky, tender crust.
Wrap the dough in plastic wrap and refrigerate for at least 1 hour. (The dough can be made ahead of time and frozen for up to 3 months)
Filling and Assembly
Preheat oven to 375 degrees.
In a large pot or dutch oven, melt the butter over medium heat. Add the carrots and celery and cook for 6 to 8 minutes. Add garlic, sage, rosemary, thyme and salt and cook 1 to 2 minutes. Add flour and stir to coat vegetables.
Slowly stir in the chicken broth, whisking until the sauce is smooth. Simmer over medium high until thickened, 5 to 7 minutes. Stir in pearl onions, peas and diced turkey. Pour filling into a pie dish.
On a floured work surface, roll the dough into a circle slightly larger than the pie dish. Place dough over dish and tuck the edges under. Cut slits in the dough to vent it. Place the dish on a rimmed baking sheet to catch any drips that will bubble out while baking. Bake until the crust is golden brown, about 45 to 50 minutes.