Few things compare to the soul-warming comfort of a hot bowl of soup on a cold, blustery, winter night. Enjoy this thick, Creamy Roasted Red Kuri Bisque for a 'soup night' dinner the next cold, winter night.
If you have never incorporated the Red Kuri squash into your meals, this recipe is a great opportunity to give it a try. Red Kuri squash is a short-season vegetable that is available from early fall to mid-winter.
You will love the flavors in this Creamy Roasted Red Kuri Bisque! Smooth and creamy, with a touch of sweetness and the unique flavor of fresh sage. This is a no-fuss soup almost totally prepared in the oven. All except the garnish of crispy fried fresh sage leaves.
Have you noticed how roasting vegetables brings out such delicious flavors? It can change a ho-hum vegetable into extra ordinary with a depth of savory deliciousness. I roasted the ingredients for this creamy Red Kuri bisque, giving them a nice char which adds just a touch of smokiness.
Red Kuri Trivia:
The Red Kuri squash is a native of Japan where it was developed from the Hubbard squash. However, where the Hubbard squash grows to be fairly large, the Red Kuri is a small three to four pounder.
You have probably noticed those pretty Red Kuri squash in the produce section. They are the vibrant orange-colored squash in a fat tubby shape and a little top-knot. The skin is thin, often with a few yellow streaks and spots. It is easy to peel or, the peel can be left on and eaten after cooked.
The flesh of the Red Kuri is smooth, orange or yellow and tastes a little nutty. Nutty like as a chestnut. The Japanese word for 'kuri' just happens to translate to 'chestnut'.
Equipment used to make this Creamy Roasted Red Kuri Bisque:
Baking Sheet
Food Blender
Fine Mesh Strainer
Small S

auté Pan (for the garnish)
How to make Creamy Roasted Red Kuri Bisque:
Although the Red Kuri is the main player in this savory bisque, the supporting cast of onions, sweet Gala apples and garlic bring the show together. They are all roasted together in a hot oven, getting a little char to enhance the smoky flavor.
Next, I blended them in the food processor with chicken broth until smooth. This delicious concoction was then poured through a fine-mesh strainer into my soup pot, seasoned and reheated.
We all know that a creamy soup has to have cream in it, besides, I just can't help myself….I added one-half cup of heavy cream to the pot then stirred in two tablespoons of finely chopped fresh sage. Finally, I ladled this bisque into shallow soup plates, garnished each serving with fried fresh sage leaves and served it with crusty sourdough bread.
Oh, how awesome this creamy Roasted Red Kuri Bisque tastes! You just have to make this and try it for yourself!
Check out these soup recipes: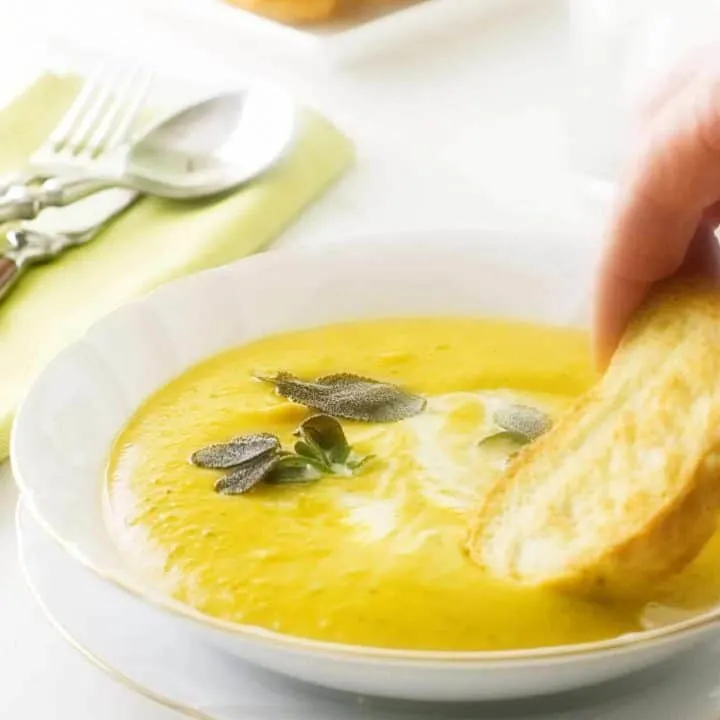 Creamy Roasted Red Kuri Bisque
Few things compare to the soul-warming comfort of a hot bowl of soup on a cold, blustery, winter night. Enjoy this thick, Creamy Roasted Red Kuri Bisque for a 'soup night' dinner the next cold, winter night. This smooth and creamy bisque has a touch of sweetness from the apples and onions with the unique flavor of fresh sage.
Ingredients
To Make the Creamy Roasted Red Kuri Bisque:
1 Red Kuri squash, about 2 1/2 pounds
1 large yellow onion, peeled and cut in wedges
2 large apples, quartered and cored
1 tablespoon olive oil
1 teaspoon salt
1/2 teaspoon freshly ground white or black pepper
1 large head of garlic
4 cups low-sodium chicken broth
1/2 cup heavy cream
2 tablespoons finely chopped fresh sage
For the Fried Sage Leaves:
15-20 small fresh sage leaves
1/4 cup high-heat oil such as avocado or canola (see note 1)
Instructions
Preheat the oven to 425°F coat a baking sheet with oil spray
Wash the outside of the squash under cold water, cut it in half, scoop out and discard the seeds and membrane. Place the squash, onion wedges and apple quarters the baking sheet and drizzle or brush with olive oil. Sprinkle with salt and pepper.
Slice off the top of the garlic head to expose the garlic cloves. Drizzle 1/4 teaspoon of olive oil into the exposed area, wrap the head in foil and place onto the baking sheet.
Transfer the baking sheet to the oven and roast for 35-40 minutes, or until the squash flesh is tender and the vegetables have some char on them. Remove from the oven and allow to cool enough to handle.
While the vegetables are in the oven make the fried sage leaves:
In a small sauté pan, heat the oil over medium high heat (see note 1). Once the oil is very hot, drop about 8 to 10 sage leaves in at a time, being careful for splattering oil. Cook the leaves in the hot oil for 25 to 30 seconds then remove them with a fork or slotted spoon to a paper towel. Repeat with the rest of the leaves. They will get crispy when they cool. (see note 2)
When the roasted vegetables have cooled scoop out as much of the flesh from the squash as possible and add to a food processor or blender (See Notes 3 and 4). Add a portion of the chicken broth and purée. With a small appetizer fork or sharp knife tip, remove the garlic cloves and add to the blender. Add the remaining apples and onions and blend until smooth, adding additional chicken stock as needed.
Optional step: Set a fine-mesh strainer over a large soup pot and pour the puréed mixture through, stirring to mash any small lumps.
Stir in the remaining chicken broth and cook over medium heat until piping hot. If the mixture appears too thick for your preference add additional chicken broth. Stir in the half-cup of cream and the chopped sage.
Ladle the soup into individual soup plates and garnish each serving with a swirl of cream and some of the crispy fried sage leaves.
Notes
If you use an oil with a lower smoke point such as olive oil then heat it just to it's smoke point, if you start to see it smoke, remove it from the heat for a few seconds.
The fresher your sage leaves are, the more water they will release when dropped in the hot oil so use caution and watch for oil splatter. If you wash the leaves in water, make sure you dry them completely before frying them.
Alternatively to scooping the flesh from the squash, it can be cut into sections and pureed.
I used my Vita Mix food blender to purée the vegetables, a food processor, blender or stick blender should also work.
Pouring the puréed mixture through a strainer is optional.
Nutrition Information:
Yield:

6
Serving Size:

1-1/2 cups
Amount Per Serving:
Calories:

290
Total Fat:

24g
Saturated Fat:

6g
Trans Fat:

0g
Unsaturated Fat:

16g
Cholesterol:

22mg
Sodium:

410mg
Carbohydrates:

18g
Fiber:

4g
Sugar:

10g
Protein:

5g
Nutrition information is a guideline only, is calculated automatically by third party software, and absolute accuracy is not guaranteed.
Have you made this recipe? We would love to see a picture. Tag us on
Instagram.