Start your day off with a nutritious and healthy breakfast with this Avocado Toast with Poached Egg. A simple no-frills avocado mash-up spread on a slice of toasted whole-grain bread and topped with a poached egg. Delicious!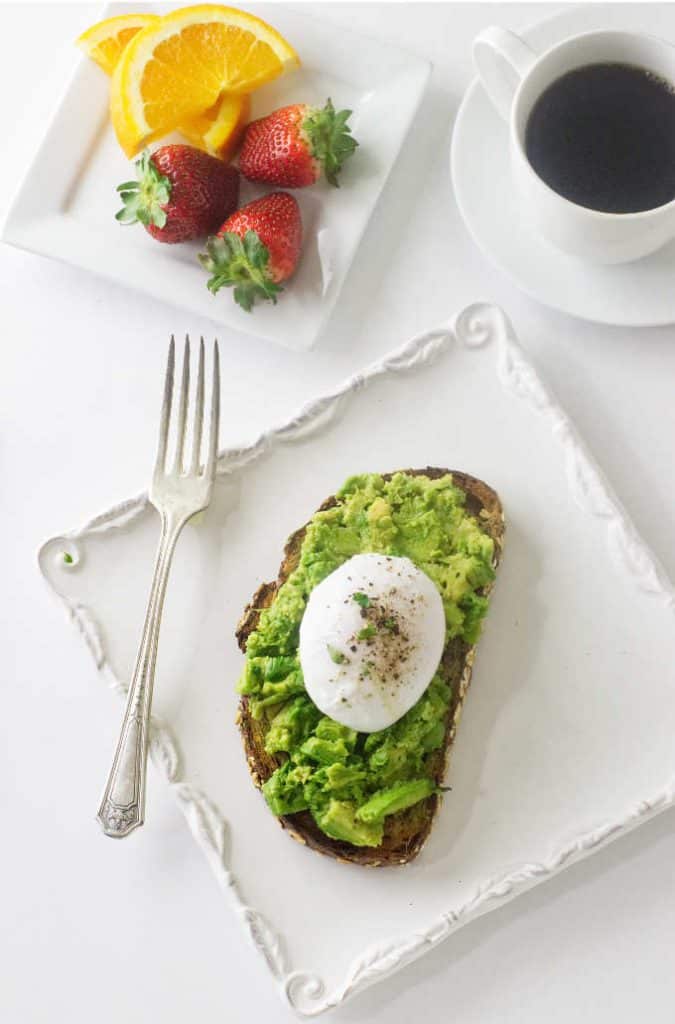 This open-faced breakfast sandwich has the smooth texture of fresh avocado, crunchy toast and creamy poached egg. It's simple! It's delicious! This just may become a regular item on your breakfast menu.
What goes on avocado toast?
Choices abound when it comes to avocado toast. First and foremost, you need a beautifully ripe avocado and a nice thick slice of fresh bread to toast. Since avocados turn brown when the fruit is exposed to the air, mash it up with a little lemon juice then sprinkle some salt in to bring out the flavor.
Once you have the mashed avocado slathered on a slice of toast, you can choose any assortment of toppings. We are putting a poached egg on this beauty and we have some tips below for poaching your egg. However, you don't have to stop with a poached egg. Let your imagination run wild with ideas for toppings. Here are some suggestions for other things to put on avocado toast.
Sriracha or chili pepper flakes for a little heat
Bacon, bacon, bacon. .. or bacon and a poached egg
A drizzle of balsamic reduction and olive oil
Cheese!! Try goat cheese or feta cheese.
Smoked salmon, dill, and a squeeze of lemon
Salsa or pico de gallo
Pinto beans and a sprinkle of cumin
Fresh mozzarella, tomatoes, and basil for a Caprese theme
Pickled red onions and baby kale
You can see that what goes on avocado toast is only limited by your imagination. A poached egg is our usual starting point and then sometimes we have fun with some of the options above. We would love to hear what you like to add to avocado toast with poached eggs.
Avocado Facts:
Technically, avocados are a fruit. I love avocados but would never consider a dish of Greek yogurt with avocado slices and honey. For some reason, they seem to be treated as a vegetable the same as a tomato which is also a fruit.
We love avocados in guacamole, salads and a BLT sandwich with avocado is fantastic! When added to a smoothie you will get the creamiest smoothie ever! Did you know that avocados can also be substituted for the butter in baking? That should be great for all you readers on a non-dairy diet.
Avocados are full of health benefits, they are nutritionally dense with nearly 20 vitamins plus they are high in fiber. The pure flavor of an avocado is creamy in texture and packed with nutrition.
They are also packed full of fat calories. But it is the good monounsaturated fat! This is the good fat that helps lower the bad cholesterol….as long as you don't pig out on them. Learn more about avocadoes and how to grow them.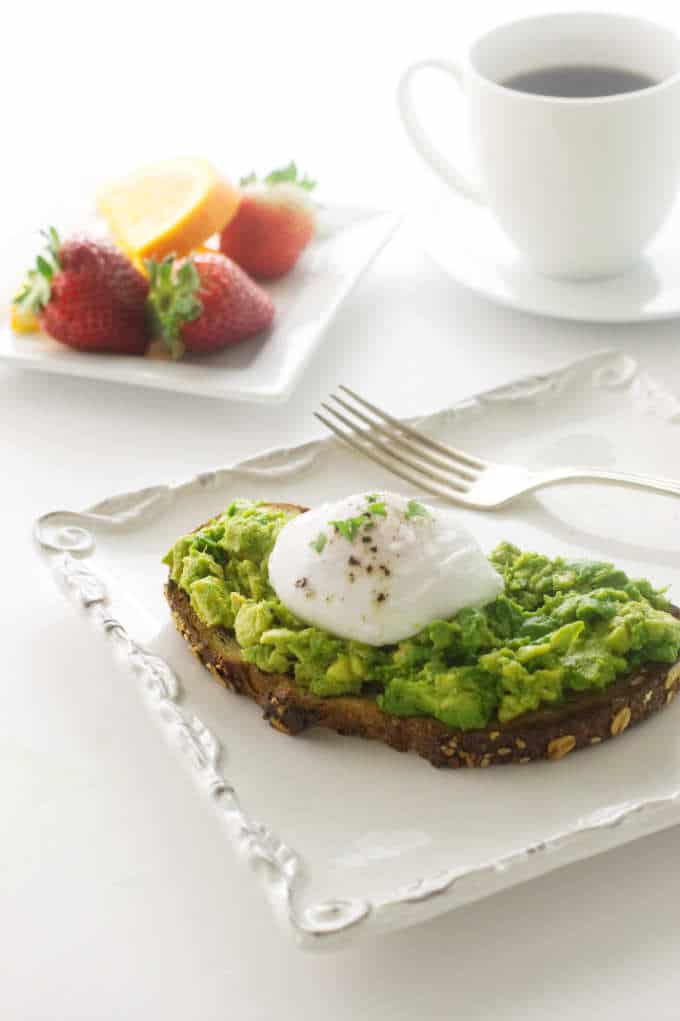 How much avocado should you eat?
We consider a serving of one-quarter to one-half of a medium-size avocado, two to four times per week as ideal. Nutritionists advise that 15 to 30 percent of your diet should come from whole-food sources of fat such as the avocado, nuts, and good healthy oils.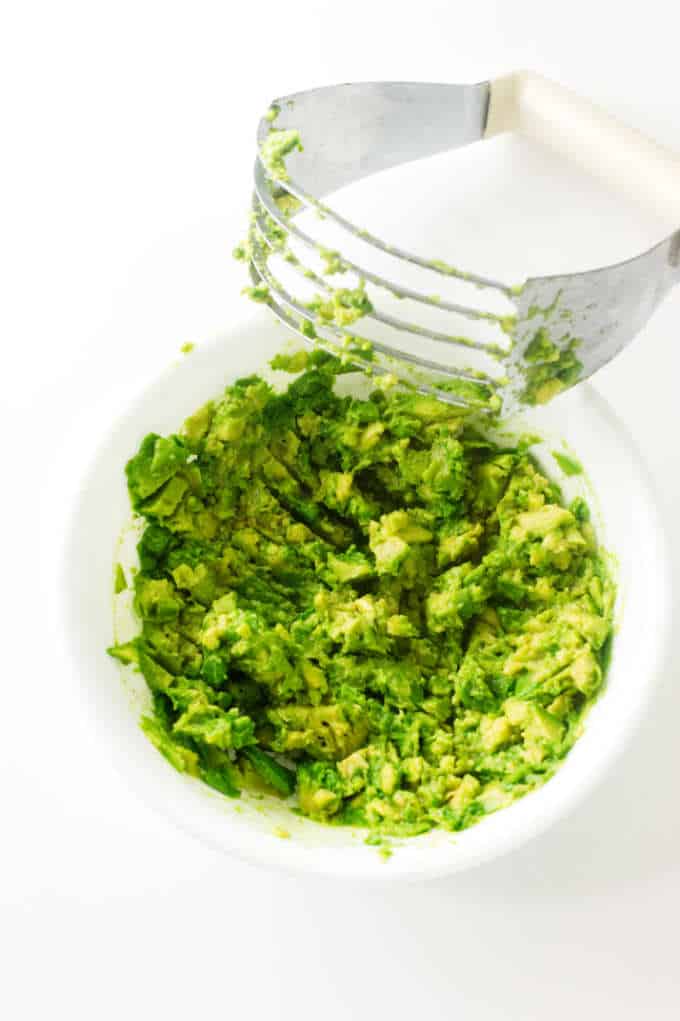 Avocado Mash-up
How to make Avocado toast with poached egg:
This is so simple you will have a nutritious, healthy breakfast in a flash. Well, it will probably take….maybe ten minutes.
First off, heat a saucepan with about three inches of water. Bring it to a boil then turn off the heat. If you have a glass cooktop scoot the pan off the hot burner.
Crack the eggs into separate small dishes. We use those little plastic half-cup containers that applesauce comes in. Carefully, tip each egg into the hot water, put a lid on the pan and let it sit for five minutes. Pop four slices of toast into the toaster.
Avocado Mashing Tip:
A pastry blender does an excellent job of mashing the avocado.
Cut the avocado in half and remove the seed. Scoop out the good stuff and place in a bowl, then mash it up with a fork to the consistency you like. Add a squeeze of lemon juice, a touch of sea salt and pepper to taste.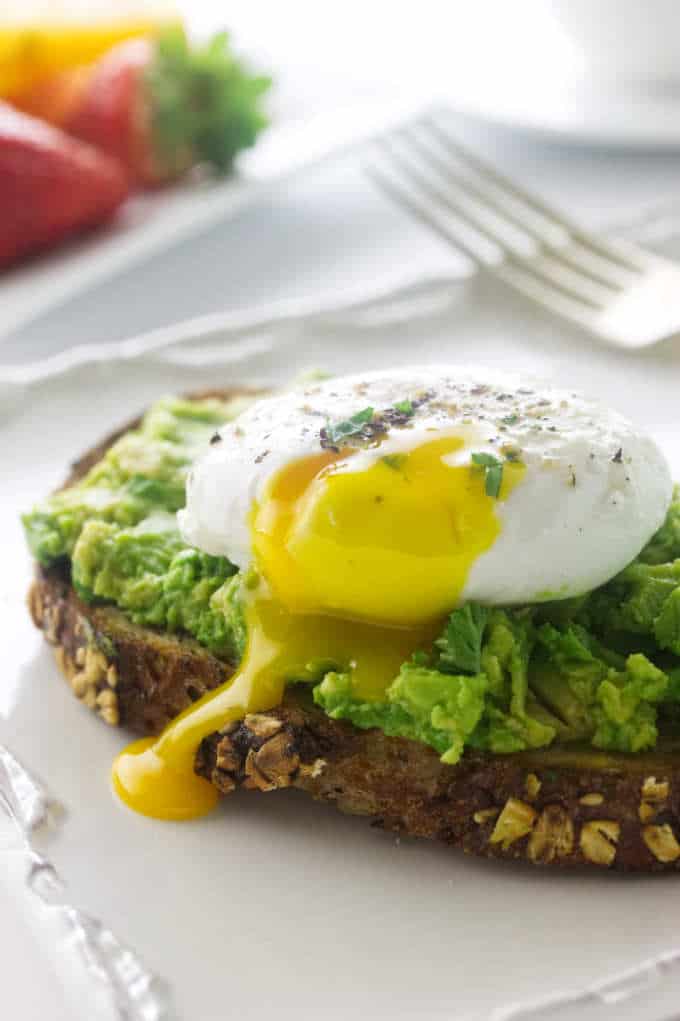 Spread the avocado mash-up equally on four slices of toast and add a poached egg to each portion, garnish with chopped fresh parsley. Voilà!
SOME OTHER RECIPES WE ARE SURE YOU WILL LOVE:
CONNECT WITH SAVOR THE BEST!
Be sure to follow us on our social media accounts
Facebook * Instagram * Pinterest * Twitter * Youtube
Did you make this recipe? We would love to hear from you. Drop us a comment below.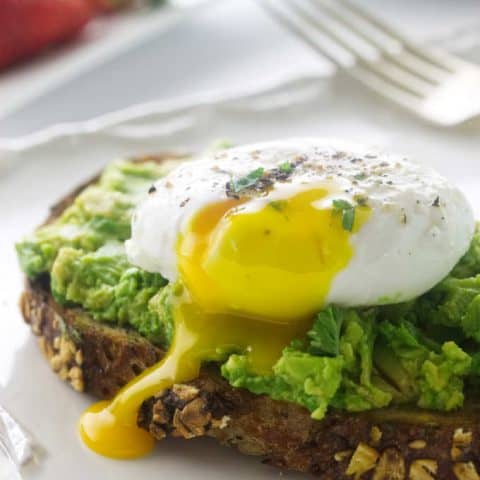 Avocado Toast with Poached Egg
Avocado Toast with Poached Egg breakfast sandwich. A simple no-frills avocado mash-up spread on a slice of toasted whole-grain bread and topped with a poached egg.
Ingredients
4 eggs
4 slices whole grain bread
1 avocado
1 tablespoon fresh lemon juice
Salt and pepper
2 tablespoons chopped fresh parsley
Instructions
Crack the eggs into individual small dishes and set aside while the water is heating. (see note)
Bring a pot of water to boil, turn off the heat and carefully tip the eggs into the water. Cover the pot and poach for 3 to 5 minutes, depending on your preference.
While the eggs are cooking, toast the bread and mash up the avocado, add the lemon juice and salt/pepper. Plate the toast and spread the mashed avocado equally on each slice.
When the eggs are cooked, lift them out of the water with a slotted spoon. Place a poached egg on each portion of the toast. Add a grinding of salt and pepper and chopped parsley.
Notes
Mash the avocado with a pastry blender or a fork.
Eggs have three parts, the yolk, tight white and a loose white. It is the watery loose white that will make the poaching water foggy.
If you want to eliminate the unappetizing foggy mess in the poaching water….crack the egg into a fine-meshed strainer and swirl it around for a second. The thin watery part of the egg will drain off. Then proceed to poach the egg.
Use a slotted spoon to lift the eggs from the poaching water. Blot the bottom of the spoon with a dish towel to remove any excess water before adding the egg to the avocado mash.
Nutrition Information:
Yield:

4
Serving Size:

1 Avocado Toast with Poached Egg
Amount Per Serving:
Calories:

211
Total Fat:

11g
Saturated Fat:

3g
Trans Fat:

0g
Unsaturated Fat:

7g
Cholesterol:

186mg
Sodium:

294mg
Carbohydrates:

17g
Fiber:

4g
Sugar:

2g
Protein:

11g
Nutrition information is a guideline only, is calculated automatically by third party software, and absolute accuracy is not guaranteed.