Wow! Dragon tongue beans! We just picked a lovely basket of these long, purple-striped beans from our garden and created the best side dish of Dragon Tongue Beans with Pancetta and farro.
Do you have trouble getting your kids to eat their green beans? Well, bring on those little dragon- slayers and they will devour these Dragon Tongue Beans with Pancetta and Farro.
These beans are not usually found in the produce of your standard grocery store but they are easy to grow in your back yard garden and can also be found in local farmers markets.
Dragon tongue beans are an heirloom French bean that have purple streaks and creamy yellow flesh. They are tender, sweet and meaty beans that do not have any tough fibrous strings. This makes them great for snacking on raw and the beautiful purple striations make a stunning presentation on a raw vegetable tray.
Sadly, once cooked, the purple streaks fade away and you are left with a pale yellow bean. Not that there is anything wrong with a yellow bean but if your expecting to have that vibrant purple on your plate, it just wont happen once you cook the beans. The flavor however, does not fade. These are incredibly delicious beans. We have combined them with some crispy pancetta, shallots and nutty einkorn wheat berries for a flavor explosion.
(Below photo shows uncooked dragon tongue beans next to a dish of dragon tongue beans with pancetta and farro)
This recipe is fast and easy. You can cook the wheat berries and blanch the beans up to three days in advance then quickly throw this dish together 15 minutes before serving dinner.
Farro is a term that refers to three different ancient wheat species: spelt, emmer and einkorn. We used einkorn wheat berries in this recipe. Einkorn is the most ancient wheat and is considered the "mother of wheat". It's chromosomal structure has remained unchanged and has survived history in it's original form. Check out this article for the nutrition values of einkorn and this article about the reasons einkorn is easier to digest than regular wheat.
Check out these recipes: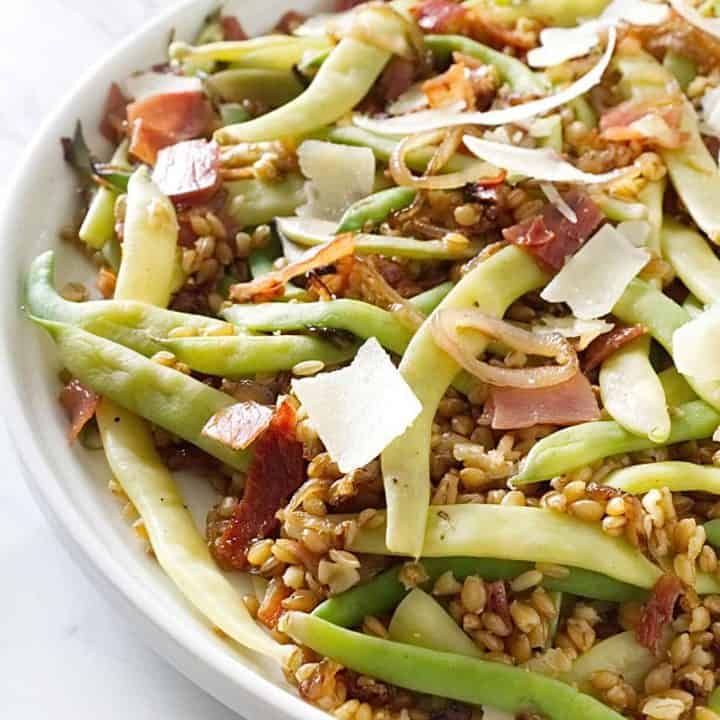 Dragon Tongue Beans with Pancetta and Farro
Yield: 4 servings
Prep Time: 10 minutes
Cook Time: 25 minutes
Total Time: 35 minutes
Heirloom Dragon Tongue beans combine with pancetta and farro for a hearty side dish. The tender meaty Dragon Tongue beans have a sweetness that compliments the chewy ancient farro and the salty pancetta.
Ingredients
For the Farro
1 cup water
1/2 cup farro wheat berries (we used einkorn wheat berries)
pinch of salt
For the beans
10 to 12 ounces Dragon Tongue Beans (or you could use green beans)
3 ounces pancetta, chopped
2 teaspoons butter
2 shallots, thinly sliced
Shaved parmesan cheese for finishing
Instructions
Cook the farro
Bring the water to a boil then add the wheat berries and salt. Reduce the heat to a simmer and cook for 30 minutes
Blanch the beans
bring 2 quarts of water to a boil. Add a pinch of salt and the beans then bring back to a boil and cook for 1 to 3 minutes. (We like our beans with a little crunch and only blanch them for 1 minute).
While the beans are blanching, get a bowl of ice water ready. Once the beans are done blanching, drain them in a colander then transfer them to the bowl of ice water. This will prevent them from overcooking. Once the beans have cooled down, drain them and let them dry on paper towels.
Finish the recipe
Heat a large skillet over medium heat. Add the chopped pancetta and cook until crispy, about 2 to 3 minutes. Transfer the pancetta to a plate.
Add the butter to the skillet then add the shallots and cook until golden brown, about 5 to 6 minutes.
Return the pancetta to the skillet and add the beans and cooked farro. Stir until the beans are hot. Season with salt and pepper and transfer to a serving platter.
Garnish with shaved parmesan cheese.
Notes
You can cook the wheat berries and blanch the beans up to three days in advance then finish the recipe quickly when it is time to make your meal.
Nutrition Information:
Yield: 4
Serving Size: 1
Amount Per Serving:
Calories: 240
Total Fat: 11g
Saturated Fat: 4g
Cholesterol: 28mg
Sodium: 500mg
Fiber: 5g
Protein: 3g
#savorthebest recipe for dragon tongue beans with pancetta and farro