Our chicken fajitas are a fantastic way to make a quick, healthy dinner with plenty of vegetables. You can use our homemade fajita seasoning or grab a packet of store-bought seasoning. The seasoning gets blended with olive oil and lime juice to make a quick and easy marinade that boosts the flavor of the chicken and veggies. This is dinner perfection.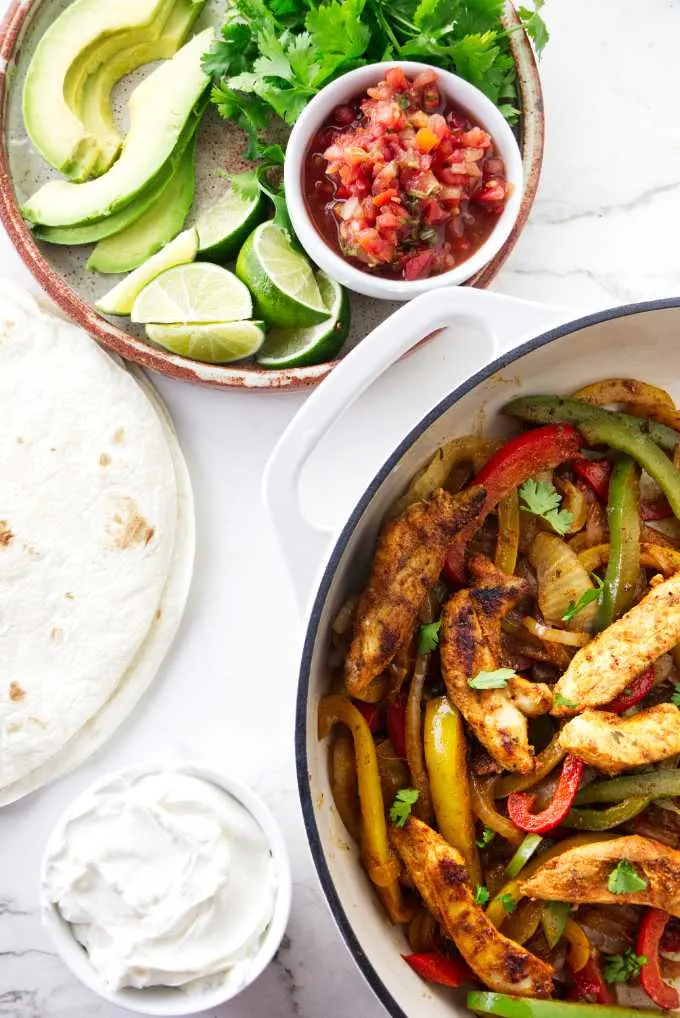 The Best Chicken Fajitas
You can't go wrong with this dinner.
Easy and quick to make.
A family favorite.
The perfect way to sneak in crunchy, colorful veggies.
Kid-friendly dinner.
Leftovers make a great lunch.
For more great fajita recipes, try our tri tip fajitas, sheet pan chicken fajita bowls, or our flank steak fajitas.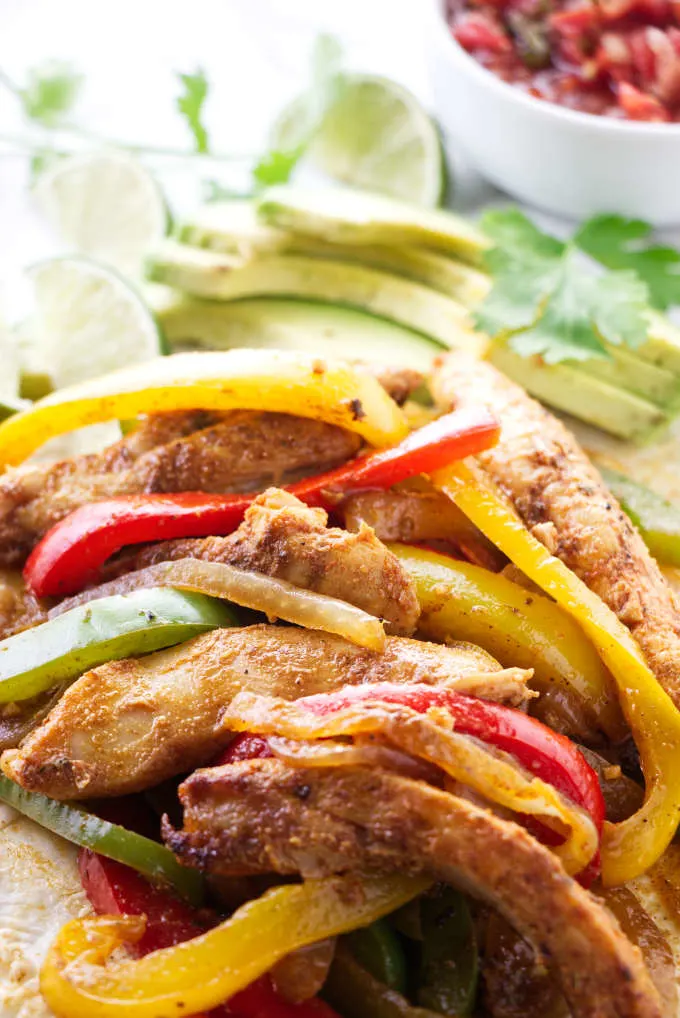 The Tip to Amazing Fajitas
The best chicken fajitas start with an amazing fajita seasoning. We mixed up all the spices into a zesty fajita seasoning blend that adds a ton of flavor and just enough heat to give a touch of Southwest flavors. If you like a lot of spicy heat then you can add more of the cayenne.
Combine the seasoning with some oil and lime juice to make an incredible marinade that infuses flavor into the chicken. If you slice the chicken into strips before you add it to the marinade, it will speed up the process. The smaller slices of chicken will marinate much faster.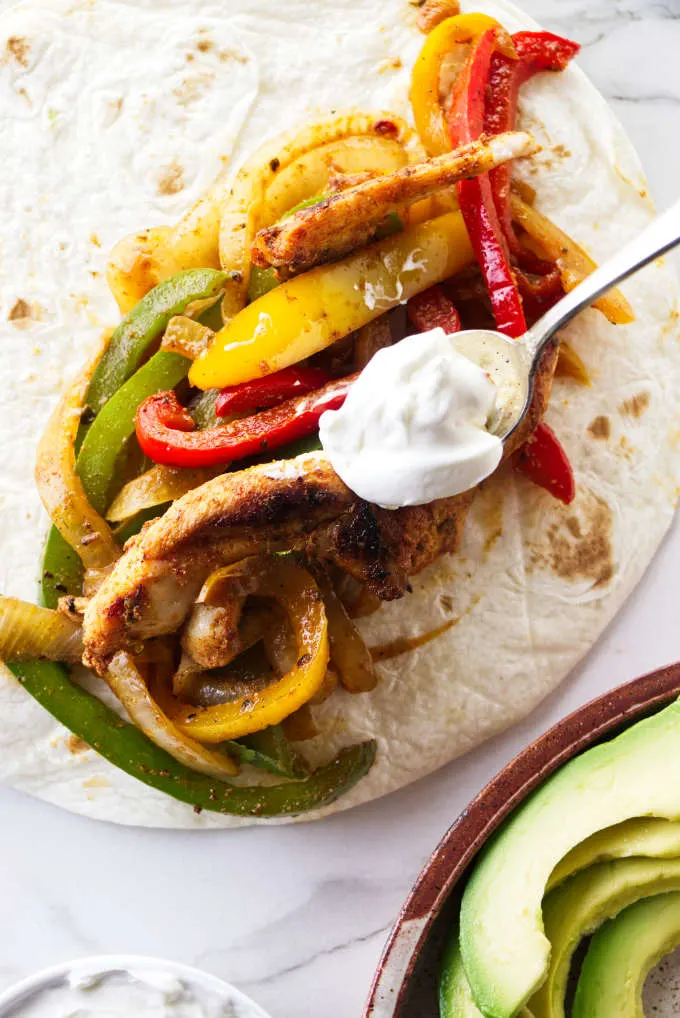 The Ingredients
Along with the fajita seasoning you will need the following ingredients for your chicken fajitas.
Chicken
Olive oil
Lime juice
Three bell peppers (any color will do)
A large, sweet onion.
We love to have plenty of condiments on the side. Our favorites are avocado, salsa, sour cream, guacamole, and even cheese.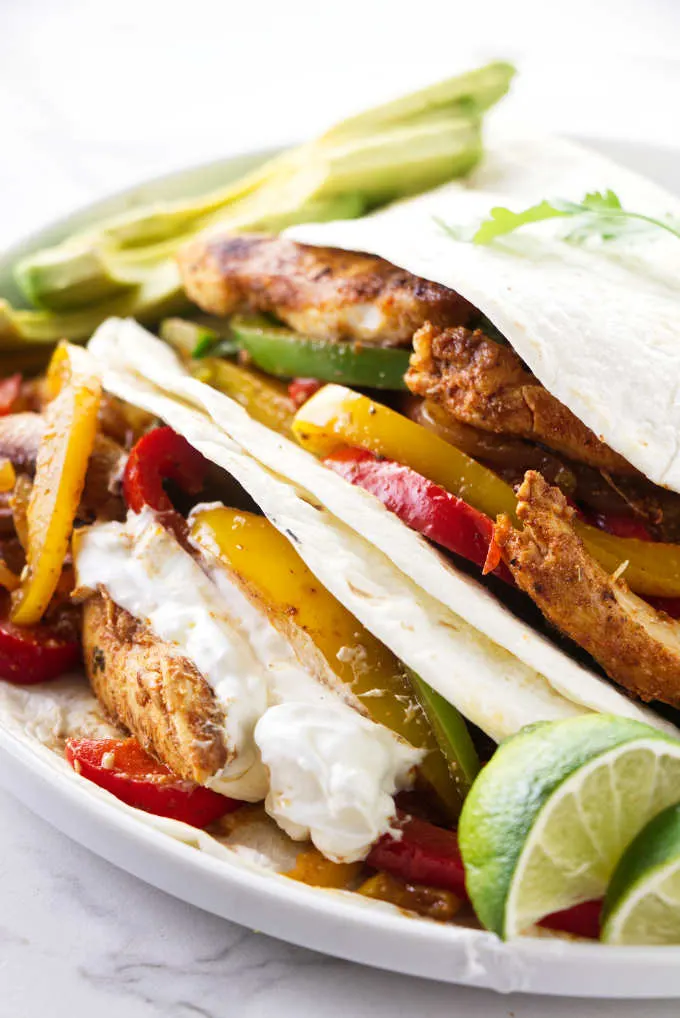 How to Make the Fajitas
Here is a quick overview of the process for these chicken fajitas. Make sure to scroll down to the printable recipe card for all the details.
Blend the spices and reserve 2 teaspoons to toss with the veggies.
Toss the spices in a bag (all but 2 teaspoons) with the chicken, olive oil, and lime juice. Let the chicken marinate.
Slice the onion and bell peppers then toss the remaining spice blend with the veggies.
Saute the chicken and set aside on a plate.
Saute the veggies until tender-crisp.
Toss the chicken back in with the veggies and stir until completely warm.
Serve on flour tortillas.
For more fajita recipes, check these out:
Helpful Tools
Some of the following links are affiliates. If you click on these links and purchase something, we may receive a small commission. You don't pay any extra but it will help us keep the lights on.
Some Other Recipes We Are Sure You Will Love:
If you are a fan of chicken recipes then you will love our oven baked chicken thighs. They are quick, easy, and full of flavor.
If you want to up-level your chicken game, try these fig and brie stuffed chicken breasts. They add a gourmet flavor to a simple chicken breast.
This chicken tortilla chip casserole is a family favorite and a great weeknight dinner. Serve it with all your favorite taco toppings.
Connect With Savor the Best:
Please follow us on our social media accounts
Facebook * Instagram * Pinterest * Youtube * Twitter
Did you make this recipe? We would love to hear from you. Drop us a comment below.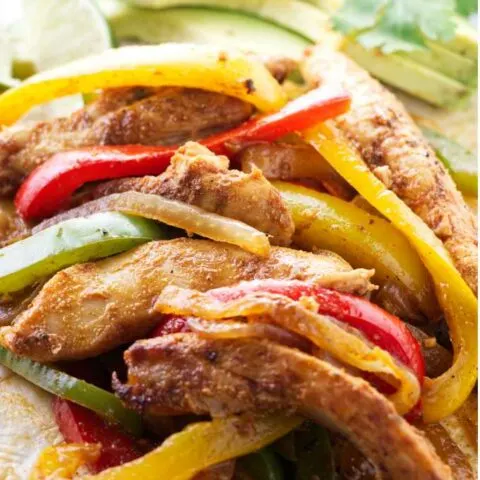 Chicken Fajitas
Zesty chicken fajitas stuffed full of onions and peppers for a quick and easy dinner
Ingredients
Fajita Seasoning
2 ½ teaspoons dried oregano
2 teaspoons paprika
2 teaspoons ground cumin
1 ½ teaspoon garlic powder
1 ½ teaspoon onion powder
1 ½ teaspoons salt
1 teaspoon chili powder
1 teaspoon sugar
¼ teaspoon cayenne pepper
For the Chicken Fajitas
1-1/2 pounds boneless skinless chicken breast, cut into thin strips
2 tablespoons olive oil, divided
1 lime
3 bell peppers (any color), cut into strips
2 large onions thinly sliced
To Assemble the Fajitas
6 flour tortillas (8 inches), warmed
shredded cheddar cheese
salsa
guacamole or avocado
sour cream
Instructions
In a large bowl, combine the ingredients for the fajita seasoning. Set aside 2 teaspoons of the seasoning and save for the veggies. Add the chicken to the bowl. Add 1 tablespoon of olive oil to the chicken and squeeze in the juice of 1 lime. Toss to coat the chicken with the spice mixture. Refrigerate for 15 to 30 minutes to let the spice mixture marinate the chicken.
Set a large skillet over high heat. Add the chicken and cook for 6 to 8 minutes until the chicken is browned (work in batches if there is not enough room in the skillet. If you overcrowd the skillet the chicken will just steam). When the chicken is well browned, remove it from the skillet and set aside on a plate.
Sprinkle the reserved 2 teaspoons of fajita seasoning over the veggies. Add another tablespoon of olive oil to the skillet. Toss in the veggies (work in batches if your skillet is small). Saute until tender but still slightly crisp, about 4 to 5 minutes.
Warm the tortillas in a microwave or in a skillet over medium heat.
Serve the fajita mixture with the warmed tortillas, shredded cheddar cheese, salsa, guacamole or avocado and sour cream.
Nutrition Information:
Yield:

6
Serving Size:

1
Amount Per Serving:
Calories:

225
Total Fat:

7g
Carbohydrates:

16g
Protein:

24g
This post was originally published on August 15, 2014. We updated the photos for the recipe and added some relevant content about the chicken fajitas. The original post discussed a bicycle ride. I left some of that narrative below for anyone that is interested.
Last weekend I went with my son and a dear friend on a 55-mile bike ride. We went up a national Forrest road on Mt. Saint Helens where we reached an elevation of 4,146 feet and had a total gain of 6,742 feet. It was such a great ride with a fairly narrow road and no cars to breeze by us. The climb up had a few sections that dipped downhill then brought us back up a steep, tough climb. It was a rollercoaster with the ride ending down the hill around tight corners at 38mph.
Yesterday my friend and I took another ride up to Hurricane Ridge. The average grade was about 5% and the climb was pretty constant for almost 18 miles. We reached a maximum elevation of 5,242 feet and a total gain of 5,777 feet. I am having such an incredible time with the bicycle riding and can't wait for our next adventure.