There is an exotic aroma in our kitchen! It is from the Slow Cooked Moroccan Lamb Shanks with Lemon-Garlic Orzo! This dish is a kaleidoscope of flavors! Big, bold, flavors! The lamb shanks braise for hours in a spicy, herby, Moroccan sauce resulting in melt-in-the-mouth, deliciously tender lamb shanks.
Tender lamb shanks, drenched in their silky-smooth cooking sauce and served over a mound of lemon-garlic orzo.
What is Lemon-Garlic Orzo:
Orzo is a quick-cooking pasta in a grain-shape that resembles a large grain of rice.
This is a packaged dry pasta and cooks in four to eight minutes the same as a regular dry orzo pasta. Lemon juice, lemon zest and garlic are the flavor ingredients of this delicious orzo pasta.
Where do I buy lemon-garlic orzo?
Lemon-garlic orzo is available in some bulk sections of grocery stores or online. There is also a gluten-free variety made with brown rice.
Semolina flour, with its natural yellow-hue is what gives the lemon-garlic orzo the beautiful lemon-y color. Orzo is a quick cooking dry pasta in the shape of a large grain of rice. This lemon-garlic orzo pairs well with the Moroccan spice blend called ras el hanout.
What is Ras El Hanout?
The spice mix, ras el hanout, is a North Africa spice blend used in Moroccan cooking. It is a complex blend and has many variations and can include as many as 30 ingredients of spices, roots and leaves. A basic ras el hanout mixes include:
Cardamom

Nutmeg

Anise

Mace

Cinnamon

Ginger

Dried Chills

Turmeric

Paprika

Cayenne pepper
Ras el hanout is not a one-for-all recipe. Most Moroccan households will mix the spices according to their own particular tastes.
Some Moroccan cooks will use a basic blend. Other cooks will add unique flavors of dried mint, fenugreek, culinary lavender buds and rose petals.
If you would like to mix your own special ras el hanout spice, check out Kevin's recipe.
Where Can I Buy Ras El Hanout?
You can buy Ras El Hanout at high-end specialty shops like Williams and Sonoma as well as Amazon.
Some grocery stores have a large selection of spices in their bulk foods section. When purchasing it, give the spice a sniff first. A good indicator of its freshness is a strong, pungent fragrance.
I purchased my supply from the bulk foods section of the local grocery store. I don't know exactly what spices are in this blend but it is spicy.
It adds a zesty flavor to our Slow Cooked Moroccan Lamb Shanks with Lemon-Garlic Orzo
How to Prepare Slow Cooked Moroccan Lamb Shanks with Lemon-Garlic Orzo:
If there is another method of cooking tough, meaty lamb shanks other than a long, slow oven-braise or slow-cooker, we want to hear it! Oh, I take that back, I hear the sous vide does do a fantastic trick with lamb shanks. That may be a recipe for another day!
This is how to make the flavor-packed, succulent lamb shanks. We first gave the shanks a good browning in a little olive oil. Then, onion, carrots, celery, and garlic were sautéed and added to the pot.
We added our spice blend of ras el handout in there, along with fresh herbs, broth and a little wine. You can use water, chicken or beef broth instead, if you are not into wine.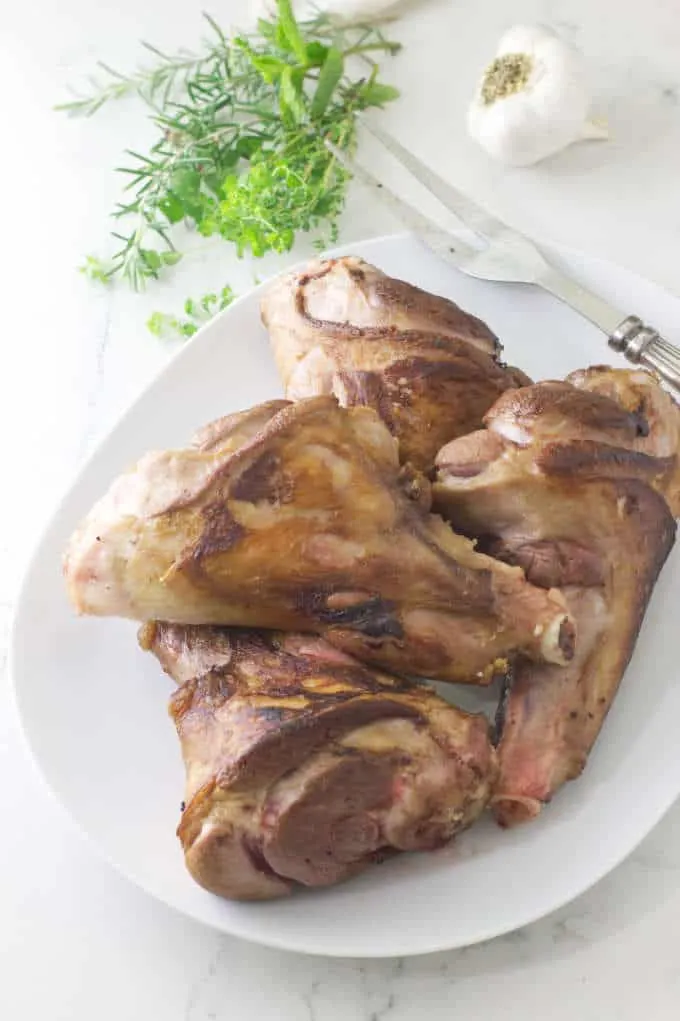 We snuggled those browned lamb shanks down into this flavorful liquid and the oven did the rest of the work. The lamb shanks cooked long and slow in a 275° oven temperature for two-plus hours.
The finished shanks were very tender, almost to the falling-off-the bone doneness. The meat was juicy and flavor-packed with that unique spice blend of ras el hanout. It was soooo delicious.
Cooking the lemon-garlic orzo:
Dried lemon-garlic orzo cooks the same as regular orzo. Add it to a pot of salted boiling water and it will be tender in four to eight minutes. We drained the orzo and kept it warm while we made a sauce from pot liquids of the lamb shanks.
We wanted a smooth, rich sauce to pour over our lamb shanks and orzo and straining out the vegetables is the way to go. A layer of fat was floating on top of the strained liquid which we spooned off.
The remaining delicious liquid was made into a light sauce for the spicy braised lamb shanks and lemon-garlic orzo.
To serve this dish, we mounded a portion of the lemon-garlic orzo in four shallow bowls. A lamb shank was positioned on each mound of orzo.
Then we poured sauce over the lamb shanks and the orzo. Fresh mint was added to garnish the lamb shanks.
Other Main Meal Recipes You Will Love:
CONNECT WITH SAVOR THE BEST!
Be sure to follow us on our social media accounts
Facebook | Twitter | Youtube | Pinterest | Instagram
If you make one of our recipes, snap a photo and tag it @savorthebest on Instagram and hashtag it #savorthebest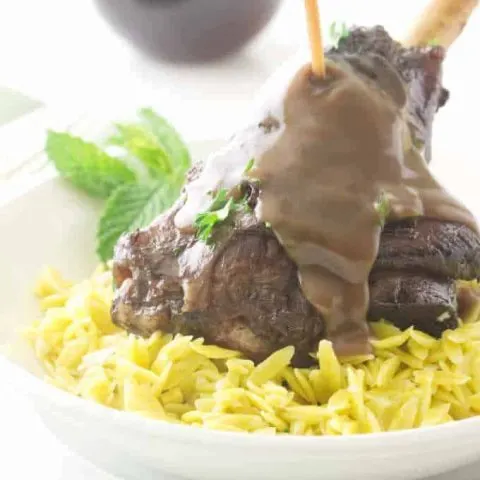 Slow Cooked Moroccan Lamb Shanks with Lemon-Garlic Orzo
Cook Time:
3 hours
30 minutes
Slow Cooked Moroccan Lamb Shanks with Lemon-Garlic Orzo! The lamb shanks braise for hours in a spicy, herby, Moroccan sauce. The result is melt-in-the-mouth tender lamb shanks served over lemon-garlic orzo and drenched in a silky smooth sauce.
Ingredients
4 lamb shanks, about 1.25 pounds each
Salt and pepper
3 tablespoons olive oil
1 medium onion, chopped
2 medium carrots, chopped
1/2 cup celery, chopped
4 cloves garlic, chopped or crushed
1 tablespoon ras el hanout (see notes)
3 tablespoons chopped fresh rosemary
2 tablespoons chopped fresh parsley
1/2 cup chopped fresh mint leaves
1 tablespoon fresh thyme leaves
2 cups beef broth
1 cup red wine
3 tablespoons tomato paste
1/2 cup warm tap water
2 or 3 bay leaves
Fresh mint sprigs for garnish
4 tablespoons flour (for the sauce)
Salt and pepper to taste
8 ounces dry Lemon-Garlic Orzo
Instructions
For the Lamb Shanks:
Preheat oven to 300˚F
In a Dutch oven or large heavy-bottomed pot with a lid, heat the oil over medium heat and add the seasoned lamb shanks. Sear in batches of 2, and when they are brown on all sides set them aside on a paper towel-lined plate.
Drain off all but 2 tablespoons of the oil in the pot and add the onion and sauté until translucent. Add the carrot and celery, sauté for 2-3 minutes then add the garlic, cook 30 seconds until just fragrant. Add the ras el hanout and the chopped herbs. Pour in the beef broth and the red wine.
In a small dish, whisk the tomato paste with the 1/2 cup tap water and stir into the mixture. Bring the mixture to a boil, add the seared lamb shanks and snuggle them down into the liquid. The liquid should be about 1/2 way up the shanks. If more liquid is needed add additional broth or water. Do not submerge the shanks more than 1/2 way.
Cover the pot with it's lid and transfer to the middle of the oven and slow cook (braise) for 2 to 2-1/2 hours. The lamb shanks should be very tender but not falling apart.
Transfer the lamb shanks from the cooking pot to a platter and cover with foil to rest and keep warm while making the sauce and cooking the orzo.
For the sauce:
Pour the pot juices through a fine-mesh strainer, set over a bowl, and strain the vegetables, pressing down with a spoon, discard the mashed vegetables. You should have 2 cups of juices for the sauce, if less add additional liquid such as beef broth, water or wine.
Spoon off 4 tablespoons of the fat floating on top of the juices and add to the cooking pot. Spoon off and discard as much as possible of the remaining fat floating on top of the juices, reserve. (See notes)
Set the cooking pot over medium-high heat and sprinkle the fat with 4 tablespoons of flour. Cook and stir for 2 minutes, then while whisking continually, slowly add the reserved pot juices. Cook the sauce until it becomes smooth and thickened.
For the Lemon-Garlic Orzo:
Bring a salted pot of water to boil and add the orzo. Cook according to the manufacture's instructions. We cooked ours for 8 minutes, to the al-dente stage, firm to the bite. Drain the pasta and return to the pot. Stir in 1 tablespoon of olive oil, cover to keep warm until ready to plate.
To serve: Portion 1 cup of the lemon-garlic orzo in a shallow dish, add one lamb shank on the orzo and drizzle 1/2 cup of the sauce over the lamb shank. Garnish with chopped fresh mint and mint sprigs.
Notes
To get a good browning on the lamb shanks begin by patting the shanks dry with paper towels.
For the vegetables, a rough chop is fine as they are for flavor enhancement and not part of the meal.
The Moroccan spice, ras el hanout, is rather spicy, add half the measurement, taste and add more accordingly.
Check the lamb shank for doneness after 2-1/2 hours, they should be really tender when pierced with a fork but not so tender as to be falling off the bone.
This sauce will be medium-thin. If a thicker sauce is desired, increase the flour by 1 tablespoon.
When cooking the lemon-garlic orzo, follow manufactures' instructions but taste-test before the cooking time has expired. Different manufactures instructions may vary in cooking times. Do not over-cook the orzo..
Nutrition assumes 1 cup cooked orzo and 1/2 cup of sauce per serving
Recommended Products
As an Amazon Associate and member of other affiliate programs, I earn from qualifying purchases.
Nutrition Information:
Yield:

4
Serving Size:

1 lamb shank, 1 cup orzo, 1/2 cup of sauce
Amount Per Serving:
Calories:

844
Total Fat:

29g
Saturated Fat:

7.7g
Cholesterol:

204mg
Sodium:

601mg
Carbohydrates:

56g
Fiber:

4.2g
Sugar:

6.8g
Protein:

74.9g