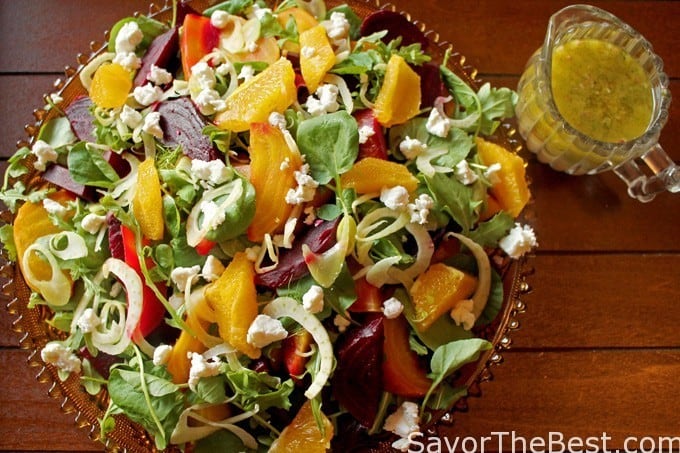 Watercress and arugula have a sharp peppery flavor that provides a spicy bite to this salad and compliments the sweet roasted beets incredibly well. The flavor of these two greens is similar to a radish-like flavor, however, younger arugula leaves are much more mild and almost sweet.
These two greens are extraordinarily dense in nutrition and antioxidants. They are also rich in phytochemicals called isothiocyanates, which help protect against the toxic effect of cancer cells. Isothiocyanates help keep carcinogens from targeting the DNA of healthy cells and counteract their toxic effects.
Another star in this salad are the roasted beets. Among the many health benefits of beets, a fun and unexpected reward is that it is a natural aphrodisiac.
Beets contain high amounts of boron that increases the level of sex hormones in the human body. Who can argue over an improved libido?
It makes a good excuse to start your meal with a nutrient-rich, healthy salad.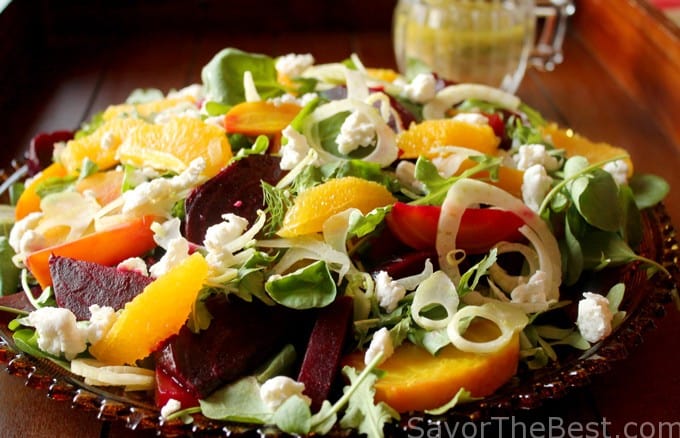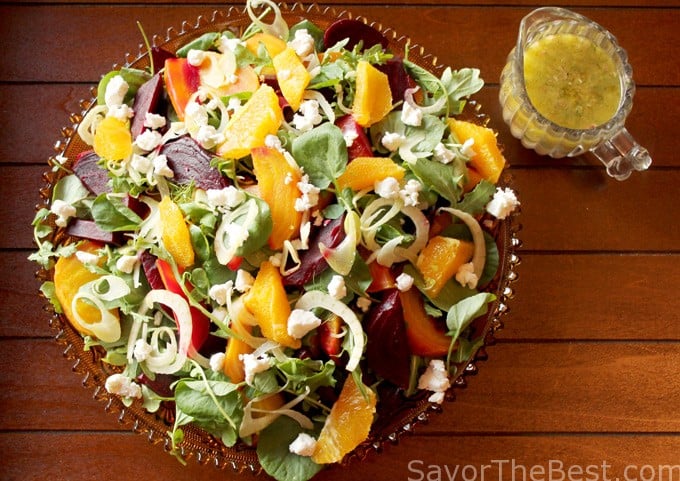 CONNECT WITH SAVOR THE BEST!
Be sure to follow us on our social media accounts
Facebook * Instagram * Pinterest * Twitter * Youtube
Did you make this recipe? We would love to hear from you. Drop us a comment below.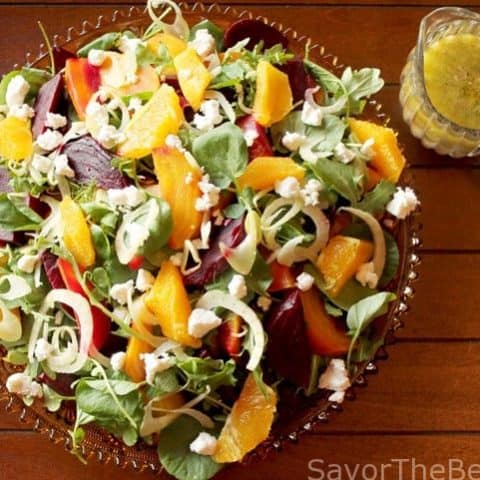 Beet Watercress and Arugula Salad
Yield: 4 servings
Prep Time: 20 minutes
Cook Time: 50 minutes
Total Time: 1 hour 10 minutes
Sweet, earthy roasted beets blend with spicy watercress and arugula then topped with fennel, oranges and goat cheese for an incredible salad.
Ingredients
Salad
3 red beets
3 yellow beets
1 large bush of watercress, washed and stems removed
3 to 4 handfuls of arugula leaves
1 fennel bulb, thinly sliced (reserve fennel fronds for vinaigrette)
2 oranges, peeled and sliced
4 ounces soft goat cheese, crumbled
Vinaigrette
¼ cup lemon juice
3 tablespoons olive oil
3 garlic cloves, finely minced
½ shallot finely minced (about 2 tablespoons)
2 tablespoons honey
1 tablespoon finely chopped fennel fronds
zest of 1 lemon
salt and pepper to taste
Instructions
Preheat the oven to 400 degrees Fahrenheit. Trim the leaves and scrub the dirt off the beets, you don't need to peel them yet; the skins slide off easily after they are baked. Wrap the beets in tin foil and place them on a baking sheet. Bake for 30-50 minutes or until soft when pierced with a knife (cook time depends on the size of the beets). Remove from heat and let cool for 10 minutes until they can be handled. Peel the beets by slipping the skins off. If you do this under running water it will prevent your hands from being stained with red beet juice.
Toss the watercress, arugula and sliced fennel. Slice the beets into wedges. On a large serving platter, layer the watercress mix with the beets, top with the sliced oranges and crumbled cheese.
Vinaigrette
To prepare the vinaigrette, whisk all of the ingredients together until well blended
When ready to serve, drizzle the vinaigrette over the salad and enjoy.
Nutrition Information:
Yield: 4
Serving Size: 1
Amount Per Serving:
Calories: 309
Total Fat: 17g
Saturated Fat: 6g
Trans Fat: 0g
Unsaturated Fat: 10g
Cholesterol: 13mg
Sodium: 310mg
Carbohydrates: 35g
Fiber: 6g
Sugar: 25g
Protein: 10g
Nutrition information is a guideline only, is calculated automatically by third party software, and absolute accuracy is not guaranteed.