Bold. Decadent. Velvety smooth. That's everything you want in chocolate syrup. And this homemade version does not disappoint – it delivers that perfect, intense chocolate flavor your sweet tooth craves. This recipe for homemade chocolate syrup is similar to the stuff you buy in a squeeze bottle but it has a more pronounced chocolate flavor. We used two types of chocolate for extra impact and REAL chocolate flavor.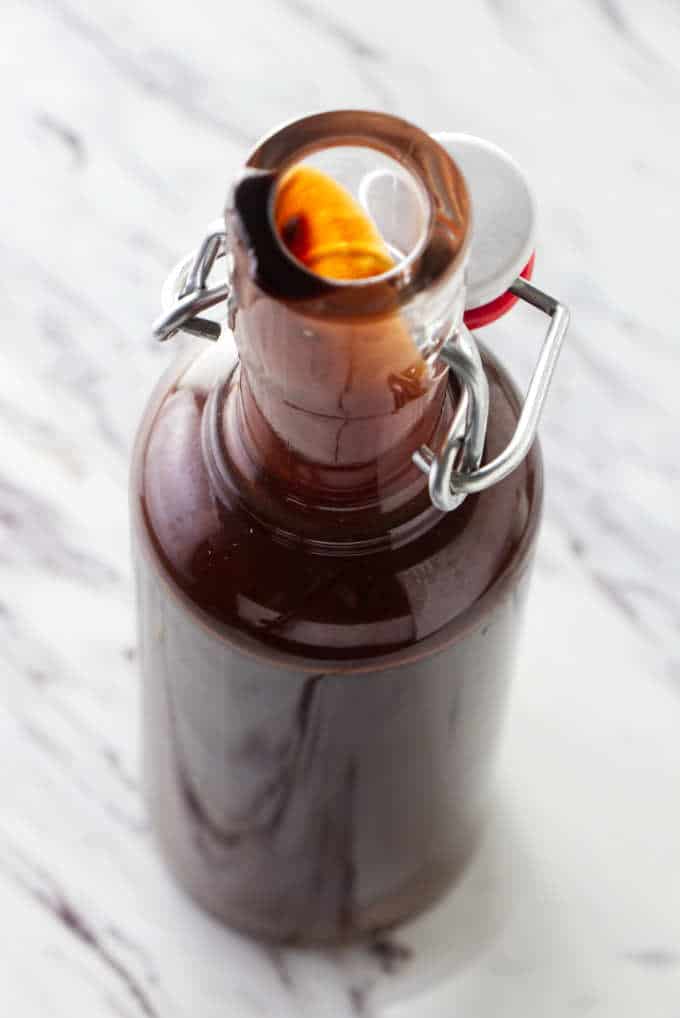 Chocolate syrup has reigned in the cupboards of almost all American kitchens. A staple in every chocolate connoisseur's home, it's a versatile, easy way to add extra gooey sweetness to your already-baked goods and sweet treats.
This year, we dare you to kick it up a notch with our tried and tested homemade chocolate syrup. It's seriously too good not to share. Not only does it knock the socks off of store-bought, commercially-made syrups, but it's also a minimal-effort recipe that you can make within minutes. Try dipping these decadent Classic Almond Biscotti into the syrup and we're certain you'll become a converted believer. You'll realize the grocery store version just won't cut it.
Real chocolate flavor:
This homemade chocolate syrup uses bittersweet chocolate for an incredibly intense and rich chocolate flavor; the robust chocolate-y profile with subtle hints of molasses is everything that's missing in Hershey's chocolate syrup. Combined with vanilla, brown sugar, and cocoa powder, you'll get a truly unique and bold taste that your family will crave over and over. And make sure you don't skip the salt; it helps balance the sweet and bitter flavors.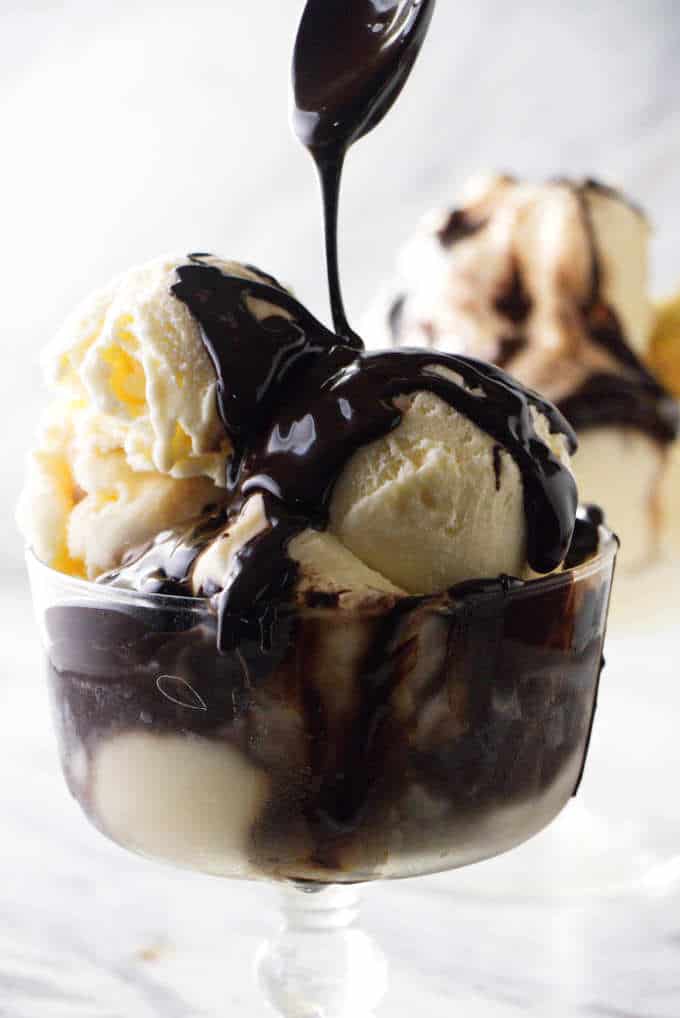 Ways to use chocolate syrup:
We especially like using this chocolate syrup to make the perfect cup of hot chocolate (especially when combined with this homemade marshmallow fluff). Most hot chocolate drinks are often too sugary, but the bittersweet chocolate in this syrup lets us drink to the last drop without any nasty aftertaste.
Here are some other uses for this chocolate syrup
Fruit dip. Strawberries, bananas, and apples to name a few.
Drizzle over ice cream. Try it on strawberry basil ice cream or chocolate stout ice cream.
Whisk into milk for some quick chocolate milk. Just 2 to 3 tablespoons stirred into some milk.
Pour some over a slice of pound cake.
Stir into coffee for a quick mocha.
Fold into whipped cream.
Stir into yogurt.
Slather over cheesecake.
Whatever you choose to do with this recipe, we're certain it'll make anything taste that much better. Whether you're serving it with fresh fruit, drizzling it on ice cream, dressing up your pancakes, making a simple chocolate milk (oh how we reminisce), or using it as a base for hot chocolate like us – you'll love having this sinfully sweet addition on hand to pour, drizzle, and devour.
Ingredients needed for homemade chocolate syrup.
Cocoa powder. Purchase unsweetened cocoa powder.
Brown sugar. Brown sugar gives the chocolate syrup a more complex flavor. We prefer light brown sugar. Dark brown sugar seemed to overwhelm the chocolate.
Dark chocolate. Use a good bar chocolate. Do not use chocolate chips which have additives that prevent them from melting well.
Vanilla extract. Use real vanilla. Not the imitation stuff.
Salt. The salt helps balance the sweetness.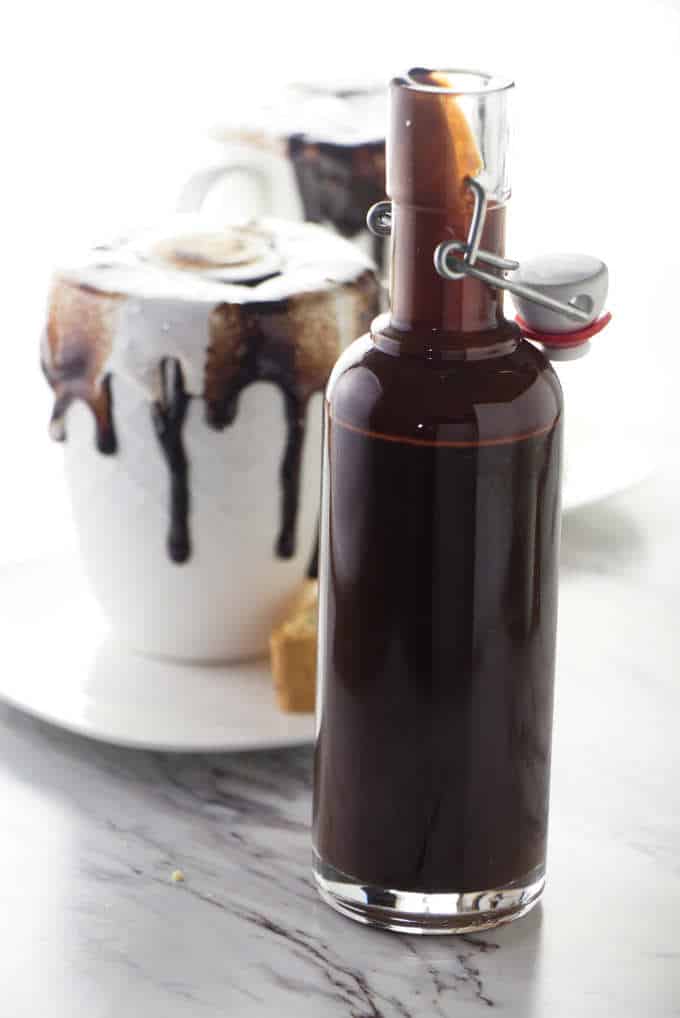 How to make homemade chocolate syrup.
You can make this syrup in 3 easy steps. Make sure you scroll down to the recipe card for complete instructions.
Heat the sugar, water and salt over medium heat until the sugar dissolves.
Remove the saucepan from the heat and whisk the cocoa powder until smooth.
Stir in the dark chocolate and vanilla extract until the chocolate melts.
Why add the chopped chocolate bar and vanilla extract at the end?
You should take the mixture off the heat before you stir in the chopped chocolate and vanilla. That way they won't get too hot. If the chocolate gets too hot it can separate or burn. And if the vanilla extract gets too hot some of the extract will evaporate.
How to store homemade chocolate syrup.
Store this syrup in a sealed container in the fridge. It will last for up to 1 month in the fridge. I have actually kept it for much longer than that knowing that sugar inhibits microbial growth. However, the safest bet is to store it in the freezer if you want to keep it for longer than 1 month. It will keep for up to 6 months in the freezer.
So go ahead and whip up a jar of this ridiculously easy chocolate syrup. It's better than the ready-made bottled version in all aspects. With ingredients that you probably have on hand (and can pronounce too), you know exactly what you're giving your family. And that's pure chocolate goodness.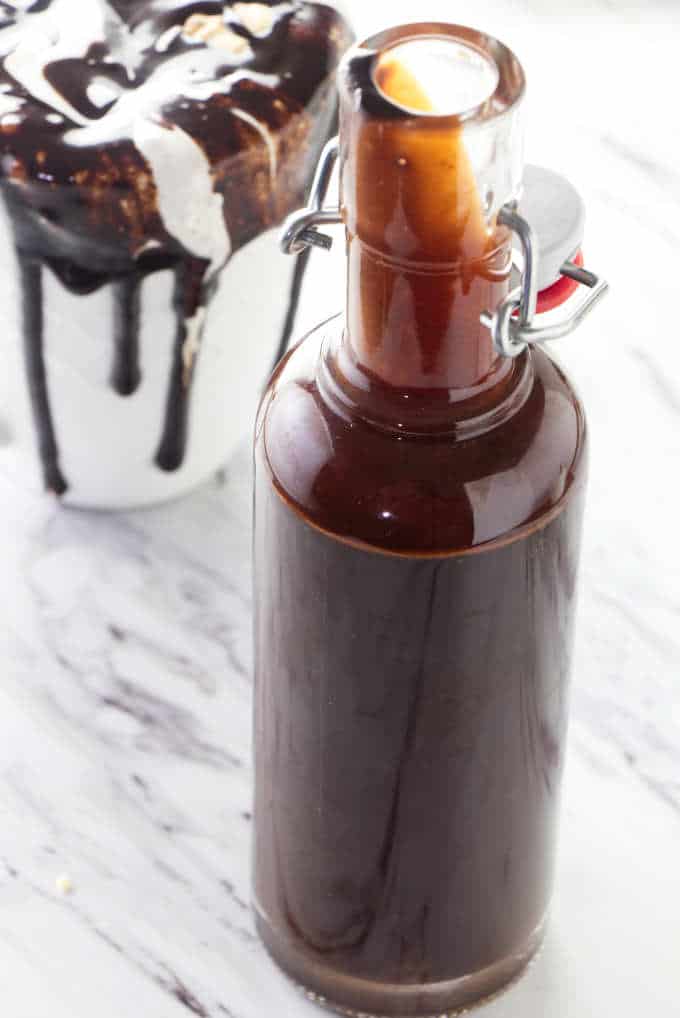 SOME OTHER RECIPES WE ARE SURE YOU WILL LOVE:
Our decadent hot chocolate is like drinking a chocolate bar. Seriously, this stuff is meant for sipping, not chugging. It is incredibly rich, thick and creamy.
When you slice into these molten lava cakes a rich, thick chocolate sauce pours out from the center. They make stunning desserts and they only take about 10 minutes to bake.
This velvety, smooth and rich chocolate sauce only has two ingredients. It is actually a chocolate ganache that has just the right amount of cream to make it a pourable sauce.
CONNECT WITH SAVOR THE BEST!
Be sure to follow us on our social media accounts
Facebook * Instagram * Pinterest * Twitter * Youtube
Did you make this recipe? We would love to hear from you. Drop us a comment below.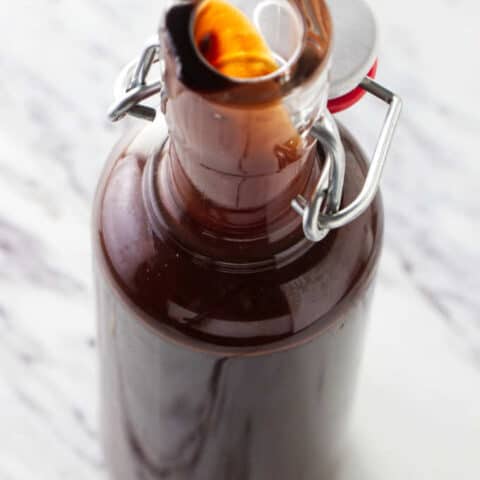 Homemade Chocolate Syrup
Yield: 2-1/2 cups
Prep Time: 5 minutes
Cook Time: 5 minutes
Total Time: 10 minutes
This homemade chocolate syrup recipe has an extra dose of chocolate and is meant for REAL chocolate lovers. It is a rich, decadent sauce and it is incredibly easy to make. You will never buy ready-made chocolate sauce again.
Ingredients
1-1/4 cups brown sugar
1-1/4 cups water
1/2 teaspoon salt
1 cup unsweetened cocoa powder
4 ounces dark chocolate, chopped
2 teaspoons vanilla extract
Instructions
Combine sugar, water, and salt in a saucepan. Bring to a simmer and stir until the sugar dissolves.
Remove from heat and add the cocoa powder. Whisk until smooth.
Add the chopped chocolate and vanilla extract and stir until the chocolate melts.
Store in the refrigerator in a sealed container.
Notes
This is similar to the squeeze bottle of Hershey's syrup but better and with a more pronounced chocolate flavor.
Adding bittersweet chocolate gives this syrup an extra dose of chocolate flavor. For best results use at least 60% bittersweet chocolate.
The chocolate syrup will store well in the refrigerator for up to 2 months.
The sauce will thicken as it cools. To thin it back out and make it pourable, you can either heat it up or stir in 1/4 cup hot water.
Recommended Products
As an Amazon Associate and member of other affiliate programs, I earn from qualifying purchases.
Nutrition Information:
Yield: 34
Serving Size: 2 tablespoons
Amount Per Serving:
Calories: 103
Total Fat: 2g
Saturated Fat: 1g
Trans Fat: 0g
Unsaturated Fat: 1g
Cholesterol: 0mg
Sodium: 20mg
Carbohydrates: 23g
Fiber: 1g
Sugar: 21g
Protein: 1g
Nutrition information is a guideline only, is calculated automatically by third-party software, and absolute accuracy is not guaranteed.