Our black garlic aioli has a sweet, rich, umami flavor. It's the ultimate secret sauce that turns any recipe into a gourmet meal.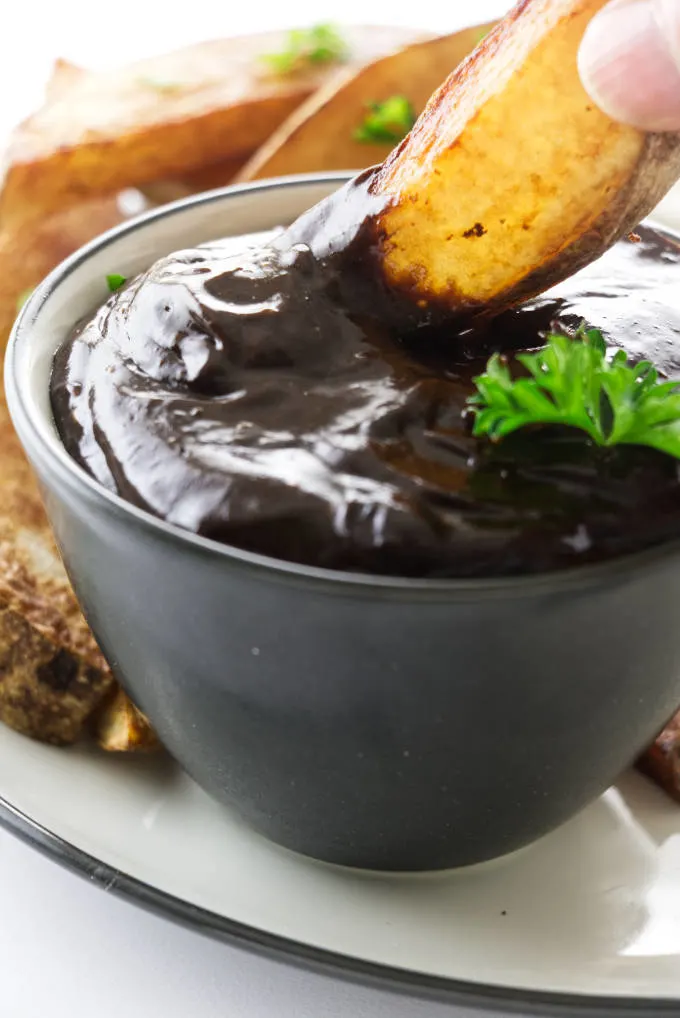 Garlic is a master flavor agent and can be used in many ways to add depth of flavor. Even a simple garlic butter sauce will elevate a meal. You can turn it into soft mashable roasted garlic spread for bread or use in recipes like fried rice for an umami boost that will make your taste buds sing.
But black garlic is unique. It brings something entirely different to the table.
What is Black Garlic?
Black garlic is a type of garlic that undergoes an aging process, which causes the cloves to turn black. The process completely transforms the garlic into a jammy, fudge-like consistency with a deep, sweet, umami flavor.
Black garlic does not taste anything like fresh garlic.. .not even close. It doesn't even taste like roasted garlic. It has a complex flavor profile of savory, sweet, smoky, and warm spices.
The first thing I think of when I bite into black garlic is aged balsamic. Some people say they detect a sour flavor similar to tamarind, but I get more hints of cardamom spice, smokiness, and fruity chocolate.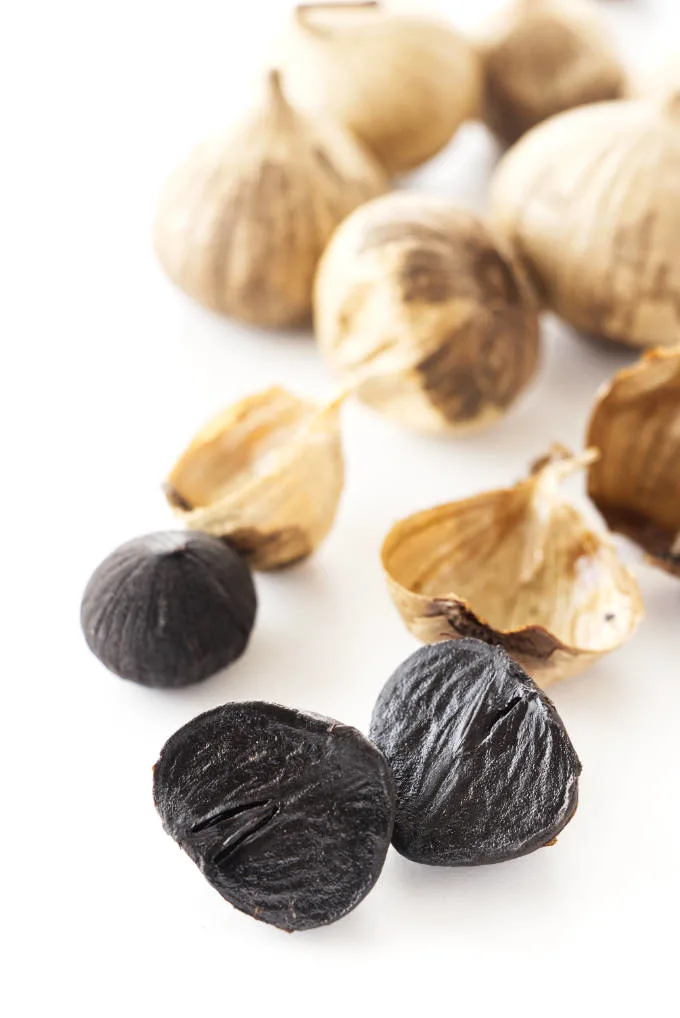 Mayonnaise or Aioli?
Technically, this black garlic spread is mayonnaise since it has an egg yolk in the emulsion. We tend to use the words aioli and mayonnaise interchangeably, and aioli just seems to fit here. It sounds…. fancy.
If you like flavored mayonnaise and aioli spreads, check out our chipotle aioli, horseradish aioli sauce, or our recipe for lemon dill aioli.
The Ingredients:
Here is the list of ingredients you will need for this black garlic aioli recipe. Scroll down to the printable recipe card for all the details and amounts.
Black garlic. You can purchase black garlic online or in grocery stores. Surprisingly, I have found it at Walmart as well as Whole Foods.
Fresh garlic. Fresh garlic adds an extra dimension of flavor to the recipe.
Egg yolk. The egg yolk acts as a natural emulsifier that brings the mayonnaise together into a creamy spread.
Balsamic vinegar. Balsamic vinegar plays to the flavor profile in the black garlic. You can experiment with different vinegar flavors if you want.
Salt. Salt is essential and enhances the flavors. Without the salt, this recipe will taste a bit one-dimensional.
Oil. Use an oil with a neutral flavor like safflower oil.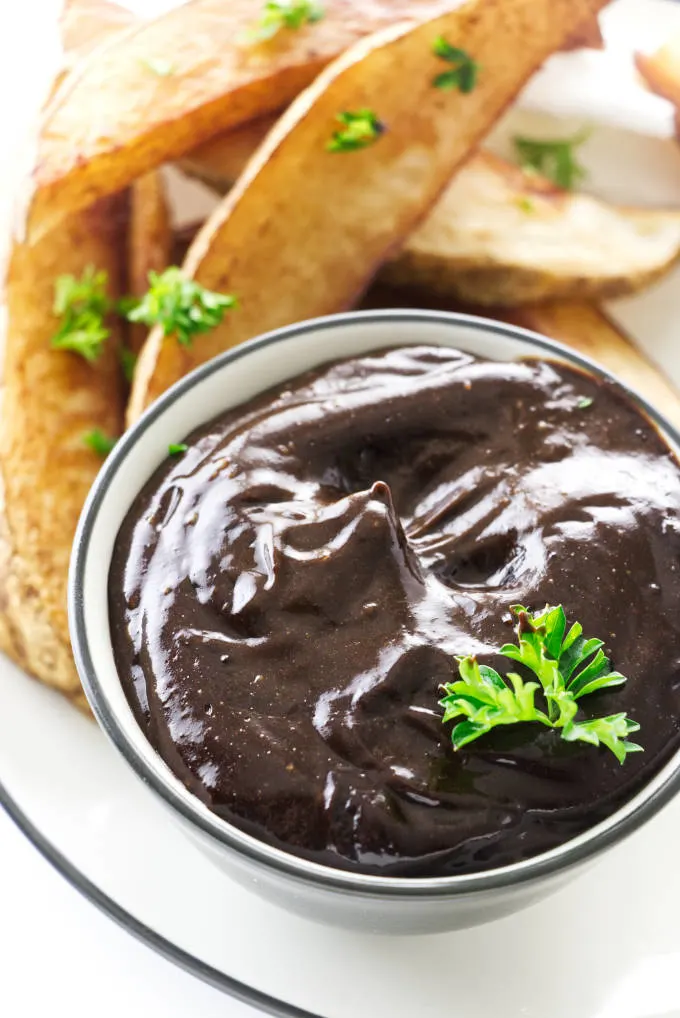 How to Make Black Garlic Aioli:
This is a quick overview of the recipe so you can see how easy it is to make.. just three basic steps. Check out our tips below and scroll down to the printable recipe card for all the details.
Use a food processor to purée the black garlic into a smooth paste.
Add the fresh garlic, yolk, salt, and vinegar.
While the food processor runs, slowly drizzle in the oil until it forms a smooth, black mayonnaise spread.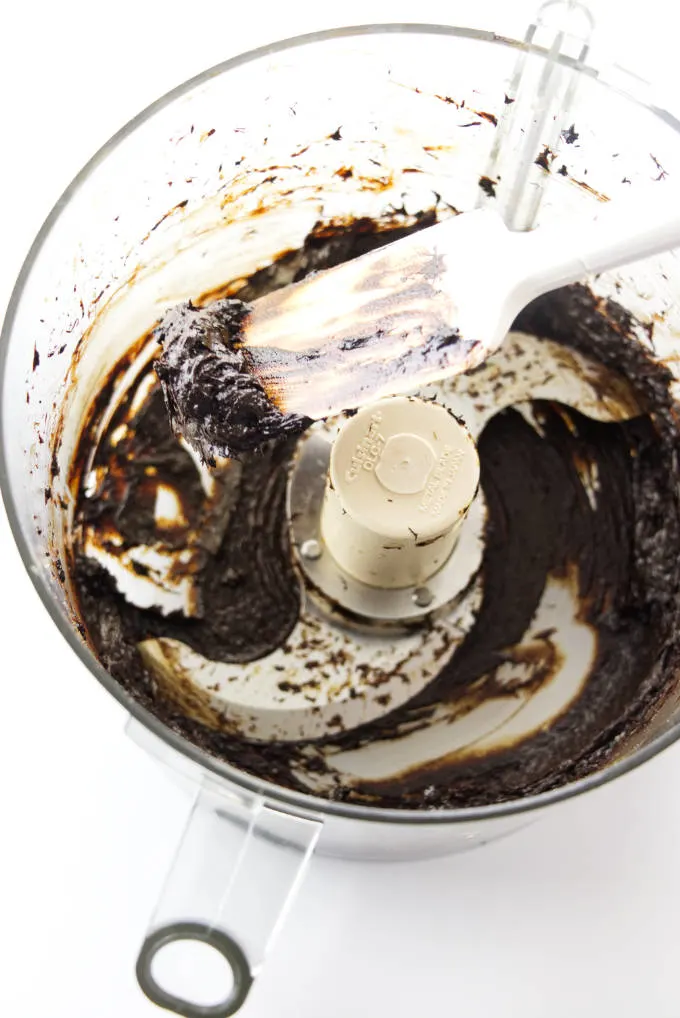 The picture above shows how thick and tar-like the black garlic looks when it gets puréed. Make sure you scrape the sides down frequently until it turns into a smooth paste.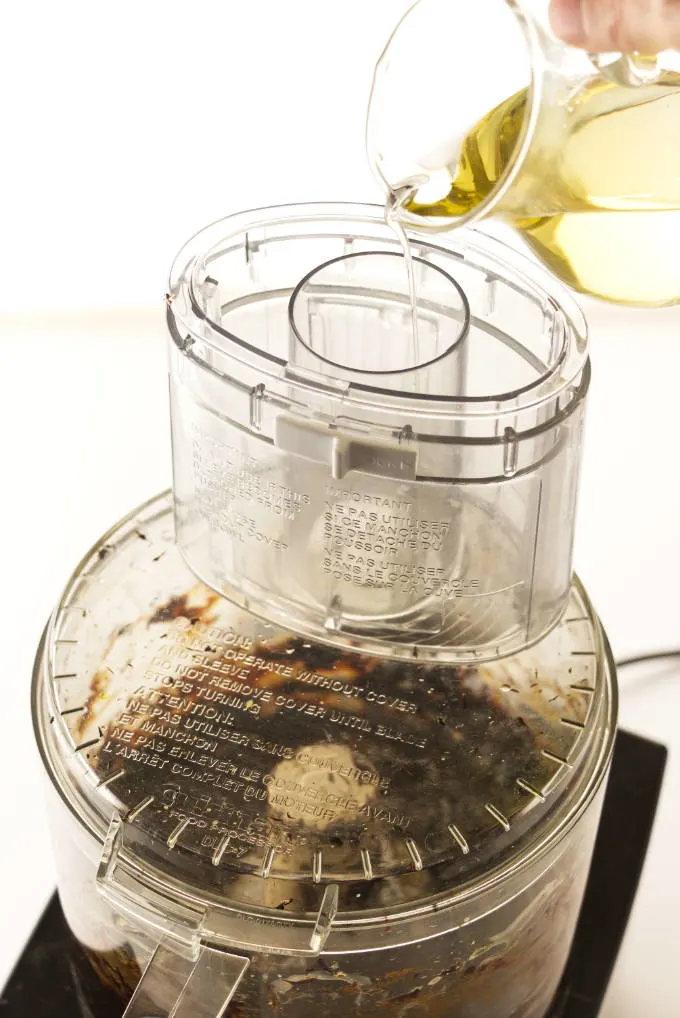 In the above photo, we are slowly drizzling in the oil while the food processor blends the mixture.
More Condiment Recipes
Tips for Success:
Purée the black garlic into a paste first. Stop the food processor several times and scrape it down off the sides. It will be sticky, thick, and look kind of like tar.
When we didn't puree the black garlic first, we had small lumps that did not incorporate into the mixture.
Pour the oil very slowly. If you pour too fast, the emulsion will break.
If the emulsion breaks, don't fret. You can fix it with a few tricks (see our tips below).
How to Fix the Aioli if the Emulsion Breaks:
When we tested this recipe, we noticed that adding fresh garlic helped keep the emulsion from breaking. We simply added an extra garlic clove in one of our trials, and the emulsion came together.
If that doesn't work, we have a couple of additional tricks.
Option 1: Add a tablespoon of tomato paste or Dijon mustard to the broken aioli and blitz it in the food processor. Either of these ingredients will help hold the emulsion.
Option 2: Whisk an egg yolk in a separate bowl. Next, slowly drizzle the broken aioli into the yolk while you whisk it constantly.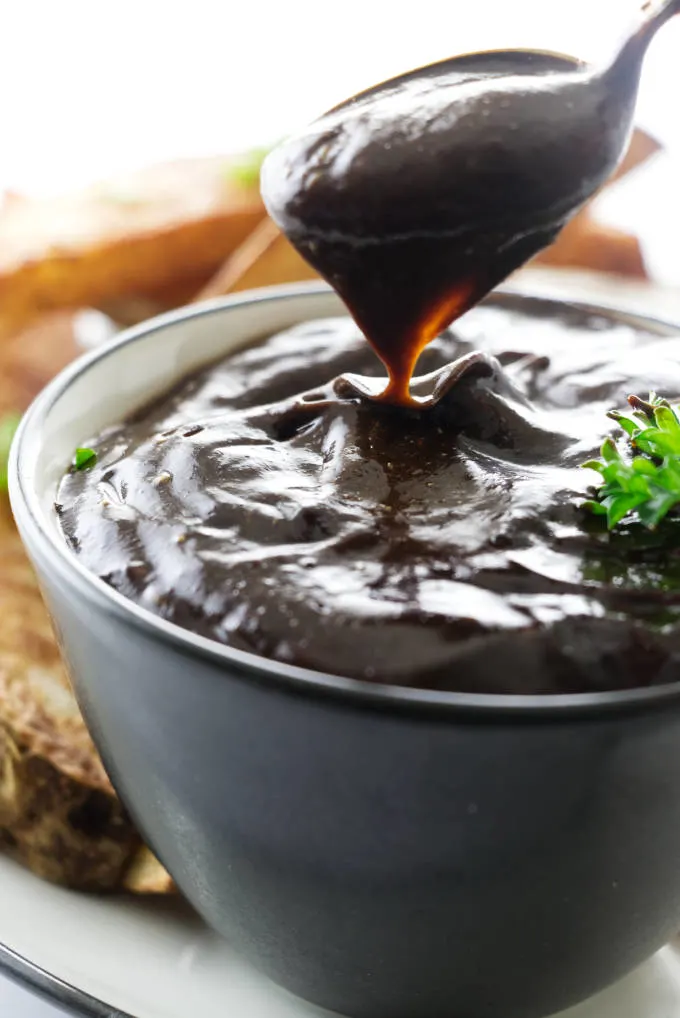 How to Use This Aioli:
There's nothing like a tasty aioli to top your french fries, sandwiches, or burgers. It brings out a sweet, salty taste like nothing else and gives your meal that extra pizazz.
Here are some other ideas.
Helpful Tools:
Some of the following links are affiliates. If you click on these links and purchase something, we may receive a small commission. You don't pay any extra but it will help us keep the lights on.
Some Other Recipes We Are Sure You Will Love:
For anybody who likes sashimi, this bright Ahi Tuna Sashimi Salad is a delicious whole meal salad. The wasabi emulsion makes the salad extra special.
This silky, creamy lemon butter sauce goes well with pasta, seafood, vegetables, or as a bread dip. Lemon and garlic is such a great combination.
Add a touch of our black garlic aioli to this mushroom pizza for an amazing flavor.
Connect With Savor the Best:
Please follow us on our social media accounts
Facebook * Instagram * Pinterest * Youtube * Twitter
Did you make this recipe? We would love to hear from you. Drop us a comment below.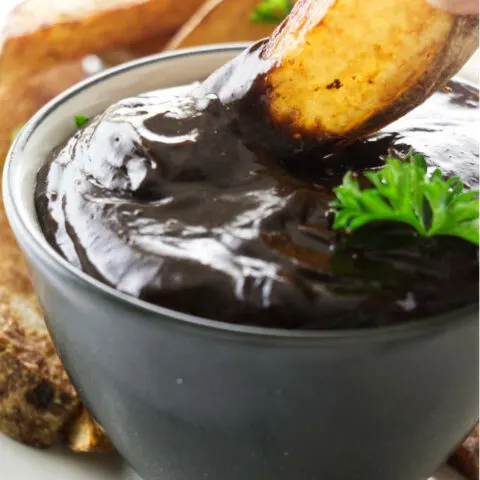 Black Garlic Aioli
Black garlic has a rich, sweet flavor that makes anything just a bit more gourmet. We used balsamic vinegar to bring out the flavor of balsamic that the black garlic has.
Due to the black garlic, this aioli tends to break a bit easier than traditional aioli. Read the notes if you need to troubleshoot.
Ingredients
6 to 8 black garlic cloves
2 to 4 fresh garlic cloves
1 egg yolk, room temperature
2 tablespoons balsamic vinegar
1/2 teaspoon salt
3/4 cup safflower oil or any neutral oil
Instructions
Place the black garlic in a food processor. Process until the garlic is a smooth, thick paste. You will need to stop the food processor several times and scrape down the sides of the bowl.
Add the fresh garlic, egg yolk, balsamic vinegar, and salt to the food processor. Process until the ingredients are well blended. Stop the motor and scrape the sides of the bowl down a couple of times.
With the motor running, slowly add the oil in a thin stream. It should take about 2 minutes to add all the oil. Stop the motor halfway through and scrape the sides of the bowl down. Continue processing the aioli until it is thick and creamy.
Store in the refrigerator for 5 to 7 days.
Notes
The black garlic will look like thick tar when you finish blending it into a puree. Since it is so thick and sticky, we found that we had to stop the motor several times and scrape the sides of the bowl.
Make sure you pour the oil into the blender or food processor very slowly, especially during the first 30 seconds. Don't add more than 1/4 cup of oil in the first 30 seconds.
If the aioli breaks you can whisk an egg yolk in a bowl then slowly pour in the broken aioli while you whisk continuously.
Another way to fix broken aioli is to add a tablespoon of tomato paste or Dijon mustard to the mixtures and give it a blitz in the food processor.
We recommend using a neutral, flavorless oil for this recipe. Canola oil and avocado oil are good choices if you don't have safflower oil. We don't recommend olive oil for this recipe. Olive oil tends to get bitter when it is blended.
Recommended Products
As an Amazon Associate and member of other affiliate programs, I earn from qualifying purchases.
Nutrition Information:
Yield:

16
Serving Size:

1
Amount Per Serving:
Calories:

106
Total Fat:

11g
Saturated Fat:

1g
Trans Fat:

0g
Unsaturated Fat:

10g
Cholesterol:

12mg
Sodium:

67mg
Carbohydrates:

1g
Fiber:

0g
Sugar:

0g
Protein:

0g
Nutrition information is a guideline only, is calculated automatically by third-party software, and absolute accuracy is not guaranteed.