We have a brand-new great-grandbaby, born August 2, 2014! Our granddaughter, and her husband are the proud new parents of a beautiful baby boy. They have been blessed! I baked this lovely Coconut Cake with Awesome Coconut Butter-Cream Frosting to commemorate the occasion and coconut cake just makes a wonderful 'Happy Birthday' cake. It is filled and covered completely with butter-cream frosting and smothered in coconut.
Our son and his wife will be arriving at our house on August 19th from North Dakota and will be visiting with us for a week. I'm not sure how much of them I will be seeing though, as this is their first grandchild and they will probably be hanging out with the new parents and that little baby boy. This is our third great-grandchild but it is the only one living close enough that I can cuddle as the other two live too far away.
This is an incredibly delicious cake and just looking at the pictures and recipes is going to tickle your tastebuds.
HOW TO MAKE COCONUT CAKE:
We adapted this cake recipe from King Arthur's, tender white cake and I switched the milk for coconut milk. I made two recipes of the cake so I could have four layers but you can also make it with one cake recipe and torting the two cakes for the four layers.
The Awesome Coconut Butter-Cream Frosting:
And the icing…..you are not going to believe how wonderful and awesome it tastes!
I was watching a Food Network show of The Pioneer Woman and she was making a frosting for the chocolate cake that she just baked. I was so surprised to see the ingredients. Flour in the frosting? Out of curiosity, I made a small sample batch of her frosting and it was sooooo good!
After that little trial batch I decided to scrap the idea of my regular butter-cream frosting on my coconut cake and I used Ree's recipe with a little change from regular milk to coconut cream. The result was just so amazing and awesome that it is difficult to imagine anything else for a coconut cake!
Can you think of a more fitting "Happy Birthday" cake to celebrate the birth of this beautiful baby boy?
Our new Great-Grandbaby ….He is 11 days old here….
Yield: 12
Coconut Cake with Awesome Coconut Butter-Cream Frosting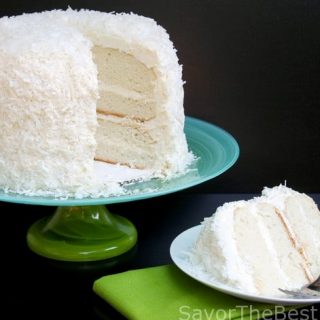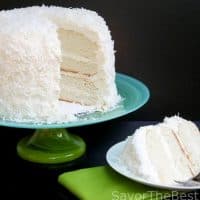 A moist white cake with a wonderful creamy, coconut flavored frosting which is smothered with shredded coconut.
Prep Time 30 minutes
Cook Time 30 minutes
Total Time 1 hour
Ingredients
For the White Cake: (See Notes)
2-3/4 cups cake flour (303 grams)
1-2/3 cups sugar, superfine is best (330 grams)
1 Tablespoon baking powder
3/4 teaspoon salt
3/4 cup butter, softened (12 tablespoons)
4 large egg whites
1 whole large egg
1 cup coconut milk (not coconut cream)
2 teaspoons vanilla extract
For the Frosting:
5 Tablespoons Flour
1 cup coconut cream (not coconut milk here)
1 cup butter
1 cup super Superfine sugar or Bakers sugar works best
2 cups shredded coconut for the garnish
Instructions
Preheat the oven to 350°F
Prepare two 9"x2" round pans by lining them with parchment paper and then spray the paper with non-stick spray.
Mix the dry ingredients on slow speed to blend. Add the soft butter and mix until evenly crumbly, it should resemble damp sand.
Add the egg whites one at a time, then add the whole egg, beating well after each addition to begin building the structure of the cake. Scrape down the sides of the bowl with each egg addition.
In a small bowl, whisk the milk with the vanilla and add this mix 1/3 at a time, to the batter. Beat 1 to 2 minutes after each addition, until fluffy. Scrape down the sides and bottom of the bowl.
Pour the batter into the prepared pans and bake for 25 to 30 minutes or until a toothpick inserted into the center comes out clean. Remove from the oven and cool completely on a wire rack.
For the Frosting:
In a small saucepan, whisk flour into the coconut cream and heat, stirring constantly, until it thickens. This should be very thick, it will look like school house paste. Remove from heat and let it cool to room temperature. I put the pan into the freezer for a few minutes to get it really cold. It must be completely cool before you use it in the next step.
While the mixture is cooling, cream the butter and sugar together until light and fluffy. You don't want any sugar graininess left. Then add the completely cooled coconut cream/flour mixture and whip it until it looks like whipped cream.
To assemble:
When the cake is cool, place one layer on a plate and spread icing on it then sprinkle with 1/4 cup of shredded coconut. Repeat with each of the cake layers. Spread the icing on the outside of the cake and over the top, then use the remaining shredded coconut to garnish/cover the cake completely.
Refrigerate until ready to serve.
Notes
I made two cake recipes for the four-layer cake in the photos. If you want a tall cake like the photo then double the cake recipe as well as the frosting recipe.
You could also get four layers with only one recipe if you slice the individual cake layers in half. It wouldn't be quite as tall though.
Recommended Products
As an Amazon Associate and member of other affiliate programs, I earn from qualifying purchases.