This is an extraordinary, yet simple coconut cake. It has a tender, soft, velvety crumb and it keeps well for several days. It is filled and covered completely with coconut buttercream frosting and smothered in coconut.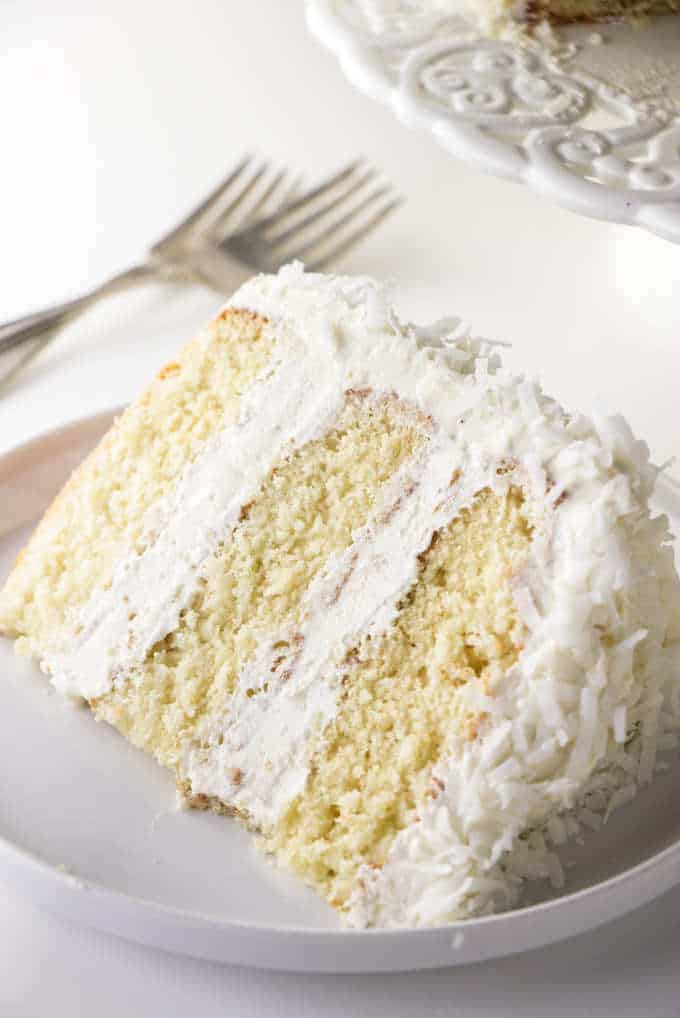 Baking a cake from scratch is completely doable. This recipe uses the reverse creaming method which coats the flour in butter before adding the liquid. It helps prevent gluten formation and ensures a soft and tender cake.
Coconut Cake
This is an incredibly delicious cake and just looking at the pictures and recipes is going to tickle your tastebuds. Here is why you will love this cake.
It is moist, tender, and buttery.
It is not too sweet. The coconut flavor stands out.
The buttercream is smooth, creamy and coconutty. Plus there is plenty to coat all the layers!
The sweetened, dried coconut gives a delicious and delightful contrast in textures.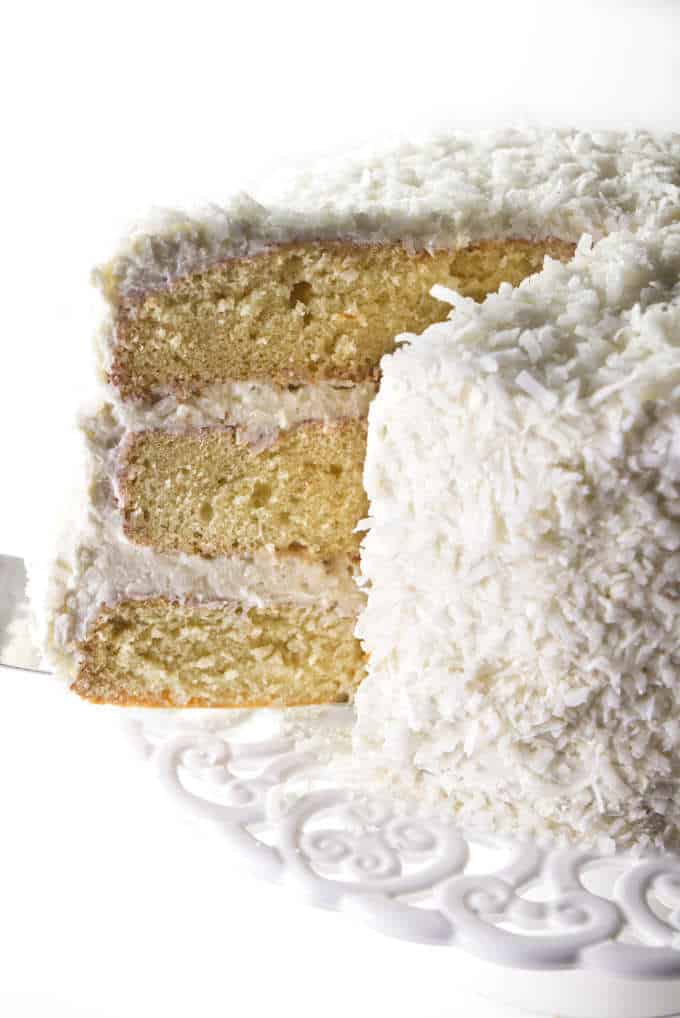 HOW TO MAKE THIS CAKE:
There are a few components to the cake but this is an easy cake to prepare. Here are the basic steps but make sure you scroll down to the printable recipe card for detailed instructions.
Mix the dry ingredients until they are combined then toss in the butter and blend until the flour and butter look like damp sand. It may seem strange to start a cake this way but this is how to make a cake using the reverse creaming method. Keep reading to learn about this method.
Add the egg whites and whole eggs one at a time then beat the batter well to build up the structure.
Beat in the sour cream, vanilla, and coconut milk a little at a time.
Mix the batter well then pour it into greased cake pans and bake.
Make the amazing coconut buttercream frosting.
When the cake cools, cover it in the buttercream and shredded coconut.
ENJOY!!
Reverse creaming method.
I mentioned above that we are using the reverse creaming method for this cake. If you have never used this method before, you might think it seems strange. It isn't how your grandma baked a cake.
Instead of creaming the butter and sugar together, you add the butter to the dry ingredients. The fat particles in the butter coat the flour and protect the cake from developing too much gluten. It's a great method that helps prevent the cake from getting tough.
Tips for making this cake.
Have your ingredients at room temperature. If your ingredients are too cold, they will not emulsify well. Room temperature ingredients are KEY to a light and fluffy texture.
Use cake flour for the lightest texture. We have made this recipe with all-purpose flour and it comes out just fine. But when we use cake flour it has a much softer texture.
Use coconut milk for the cake and coconut cream for the buttercream. Make sure you use the kind of coconut milk that comes in a can and not the stuff in cartons that are meant for drinking.
Allow the cake to cool completely before frosting it. If the cake is even slightly warm, the buttercream will melt.
Serve the cake at room temperature. Since this is a butter cake, if you eat it straight from the fridge, the butter will be cold and firm. If you let the butter sit at room temperature, it will soften up which will soften the whole cake.
The Awesome Coconut Butter-Cream Frosting:
And the icing…..you are not going to believe how wonderful and awesome it tastes! It is a spin on an old-fashioned recipe called Ermine frosting or cooked frosting.
I was watching a Food Network show of The Pioneer Woman and she was making some frosting for a chocolate cake that she just baked. She used a cooked flour frosting which is also known as Ermine frosting. It is made by cooking flour and milk into a thick roux. After the roux cools, you add it to whipped butter.
The result is a creamy, light, and fluffy buttercream that is less sweet than traditional American buttercream.
I used Ree's recipe with a little change from regular milk to coconut cream. I also increased the ratios to accommodate the size of the cake. The result was just so amazing and awesome that it is difficult to imagine anything else for a coconut cake!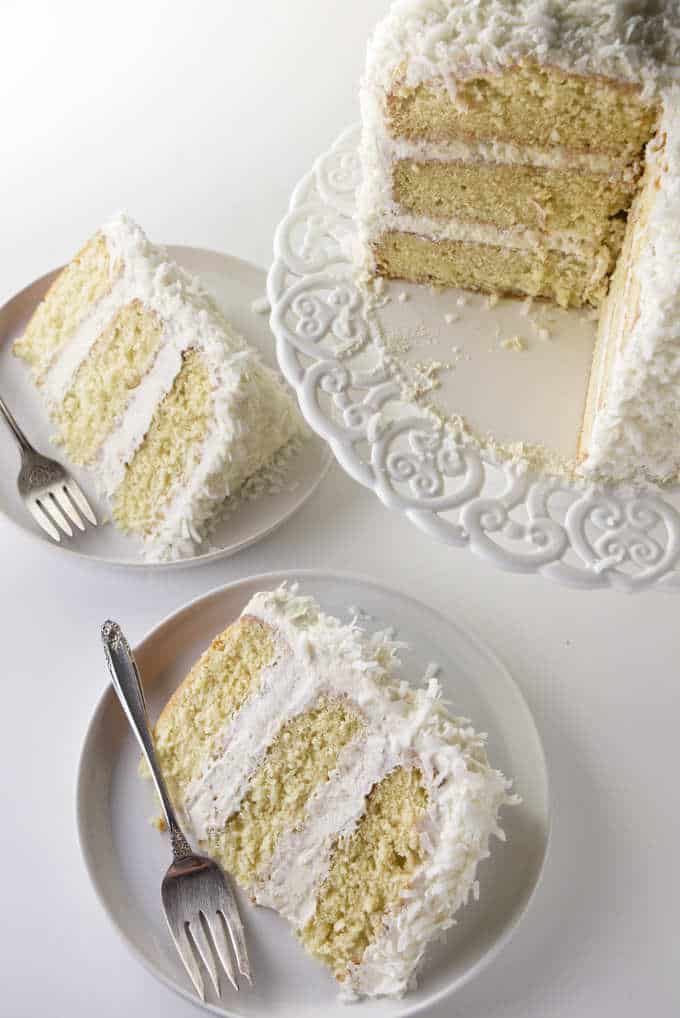 SOME OTHER RECIPES WE ARE SURE YOU WILL LOVE:
This tropical carrot cake isn't your standard carrot cake. It has pineapple and coconut in it to give it a taste of the tropics. The cake is exceptionally moist and tender.
Everyone needs a perfect, no-fail chocolate cake recipe. This is the one! Keep this recipe in your back pocket for dessert emergencies. ?
This chocolate peanut butter layer cake has 4 layers and makes an impressive presentation. This is a combination that everyone loves!
Connect With Savor the Best:
Please follow us on our social media accounts
Facebook * Instagram * Pinterest * Youtube * Twitter
Did you make this recipe? We would love to hear from you. Drop us a comment below.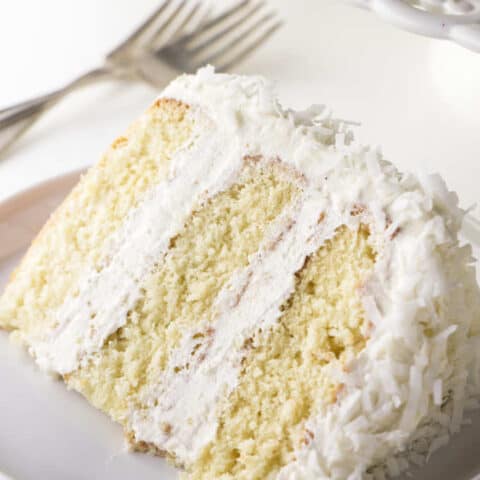 Coconut Cake with Awesome Coconut Butter-Cream Frosting
A moist white cake with a wonderful creamy, coconut flavored frosting which is smothered with shredded coconut.
Ingredients
For the White Cake: (See Notes)
4 cups cake flour
2-1/2 cups sugar, superfine is best
1 Tablespoon baking powder
1 teaspoon baking soda
1 teaspoon salt
1 cup butter, softened (16 tablespoons)
4 large egg whites
2 whole large eggs
1 cup coconut milk (not coconut cream)
1/2 cup sour cream
1 tablespoon vanilla extract
For the Frosting:
2/3 cup All-purpose flour
2 cups coconut cream (not coconut milk here)
2 cups butter
2 cups extra-fine sugar
2 teaspoon vanilla extract
1 teaspoon coconut extract
1-1/2 cups shredded coconut for the garnish
Instructions
Preheat the oven to 350°F
Prepare three 8"x2" round pans by lining them with parchment paper and then spray the paper with non-stick spray.
Mix the dry ingredients on slow speed to blend. Add the soft butter and mix until evenly crumbly, it should resemble damp sand.
Add the egg whites one at a time, then add the whole eggs, beating well after each addition to begin building the structure of the cake. Scrape down the sides of the bowl with each egg addition.
Beat in the sour cream.
In a small bowl, whisk the milk with the vanilla and add this mix 1/3 at a time, to the batter. Beat 1 to 2 minutes after each addition, until fluffy. Scrape down the sides and bottom of the bowl.
Pour the batter into the prepared pans and bake for 26 to 32 minutes or until a toothpick inserted into the center comes out clean. Remove from the oven and cool completely on a wire rack.
For the Frosting:
In a small saucepan, whisk flour into the coconut cream and heat over medium heat, stirring constantly, until it thickens. This should be very thick, it will look like white school paste. Remove from heat and let it cool to room temperature. I put the pan into the freezer for a few minutes to get it really cold. It must be completely cool before you use it in the next step.
While the mixture is cooling, cream the butter and sugar together until light and fluffy. (See Notes). Then add the completely cooled coconut cream/flour mixture a couple tablespoons at a time, and whip it until it looks like whipped cream.
Beat in the vanilla and coconut extracts.
To assemble:

When the cake is cool, place one layer on a plate and spread icing on it then sprinkle with some of the shredded coconut. Repeat with each of the cake layers. Spread the icing on the outside of the cake and over the top, then use the remaining shredded coconut to garnish/cover the cake completely.
Refrigerate until ready to serve.
Notes
Cream the butter and sugar until light and fluffy, the sugar will not dissolve in the butter but the mixture smooths out and becomes creamy when the flour mixture is whipped into it.
You will need coconut milk for the cake and coconut cream for the frosting. Purchase the canned variety of coconut milk, not the kind that comes in cartons for drinking.
You can also bake this cake in four cake pans. The layers will not be as thick so you will want to decrease the baking time to 24 to 28 minutes.
Recommended Products
As an Amazon Associate and member of other affiliate programs, I earn from qualifying purchases.
Nutrition Information:
Yield:

22
Serving Size:

1
Amount Per Serving:
Calories:

642
Total Fat:

36g
Saturated Fat:

25g
Trans Fat:

1g
Unsaturated Fat:

9g
Cholesterol:

87mg
Sodium:

471mg
Carbohydrates:

78g
Fiber:

1g
Sugar:

54g
Protein:

5g
Nutrition information is a guideline only, is calculated automatically by third-party software, and absolute accuracy is not guaranteed.
This recipe was first published on August 25, 2014. We have updated the photos and added a video. The photo below is from the original post. It has four layers instead of two. See the notes in the recipe card if you want to make a 4 layer cake.