Whether you're hosting a backyard BBQ for friends and family or just want to whip up some crowd-pleasing dishes, these Labor Day cookout ideas have something everyone will enjoy.
From juicy burgers and flavorful brats to colorful side dishes, salads, desserts, and drinks that'll make your day shine with gorgeous colors, this round up has all of the ideas you need for an unforgettable Labor Day celebration.
So don your chef hats, fire up those grills, kick back with some refreshing beverages in hand – it's time for an epic Labor Day Cookout!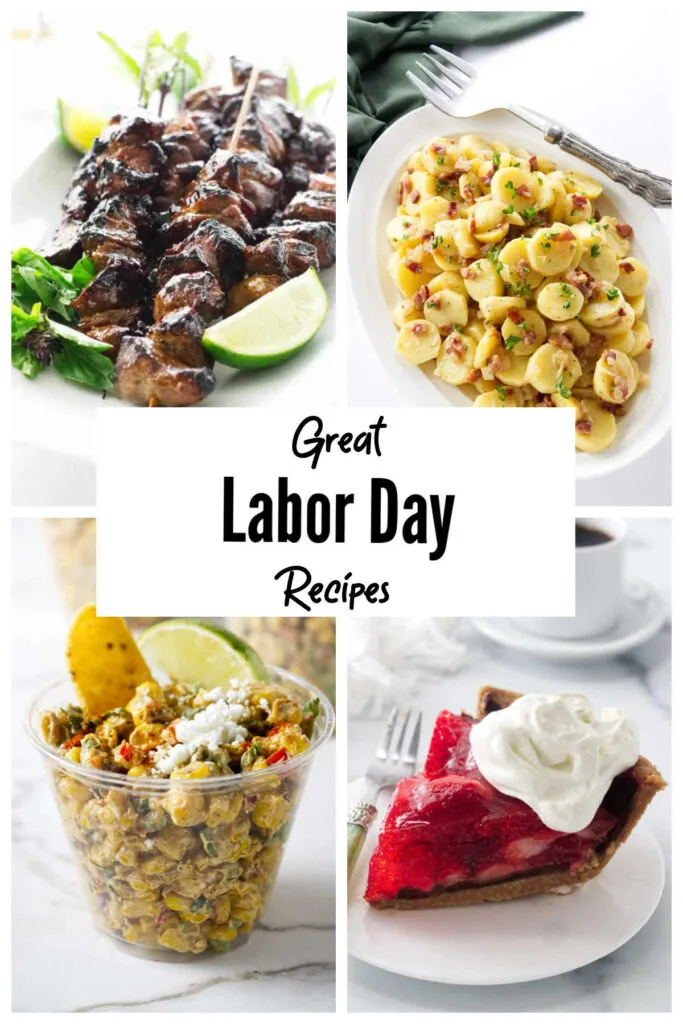 Why You'll Want To Try These Recipes
Labor Day is the perfect time to fire up the grill and celebrate the end of summer with friends and family. We've rounded up some delicious recipes that will leave your guests happily satisfied after their visit.
From mouthwatering mains like smoky chicken sandwiches and picnic salads to tasty sides, there is something for everyone on this menu. So grab those tongs, break out the lawn chairs, and fire up the grill – it's time for a fun-filled cookout!
There are many reasons why you'll want to try these easy Labor Day cookout ideas. Here are just a few:
Delicious: These ideas for Labor Day cookout recipes are all sure to please even the pickiest eaters.
Easy to make: Most of these cookout ideas are simple to follow and don't require a lot of time or effort.
Versatile: There's something for everyone on this list, whether you're looking for classic American fare or something more unique.
Seasonal: These cookout ideas are perfect for the end of summer, when fresh produce is in season.
End Of Summer Last Hurrah!
Labor Day cookouts, picnics, and family gatherings hail the ending of summer as we transition into Fall weather and kids return to school. Here are some mouthwatering ideas for labor day cookout success.
Fire Up The Grill And Get Cooking!
These are just a few of the many great recipes you can make for your Labor Day cookout. With so many delicious options to choose from, you're sure to find something everyone will enjoy.
Tips for Success
Plan ahead: Don't wait until the day of your cookout to start cooking. Make sure you have all of your ingredients and supplies ready to go.

Use fresh ingredients: Fresh ingredients will make your food taste its best. If possible, buy your ingredients from a local farmer's market.

Don't overcook your food: Overcooked food can be dry and tough. Cook your food to the correct temperature to ensure that it is juicy and flavorful.

Have fun! Cooking for a cookout should be enjoyable. Relax, take your time, and enjoy the process.
More Ideas for Labor Day
Frequently Asked Questions
Can I make labor day cookout food ideas ahead of time?
Generally yes, but check with each recipe to know the lead times and specifics for food safety for each recipe.
What food DO you eat on Labor Day?
Some of the most popular labor day cookout food ideas are burgers, grilled recipes, Patriotic themed desserts, and ordinary hot dogs.
Do people barbeque on Labor Day?
Barbecue and Labor Day have a long association, going back to the earliest years of celebrating the holiday.
⭐️ Helpful Tools
Some of the following are affiliate links. We may receive a small commission if you click on these links and purchase something. You don't pay any extra, but it will help us keep the lights on.
Food Safety