Chocolate chip Matcha Cookies have a subtle earthy flavor that is even more pronounced thanks to the rich morsels of chocolate. It's a classic culinary combination that is delicious in cookie form!
These green tea cookies are soft and chewy, with the perfect ratio of matcha green tea powder and chocolate for a subtle matcha flavor and beautiful green color.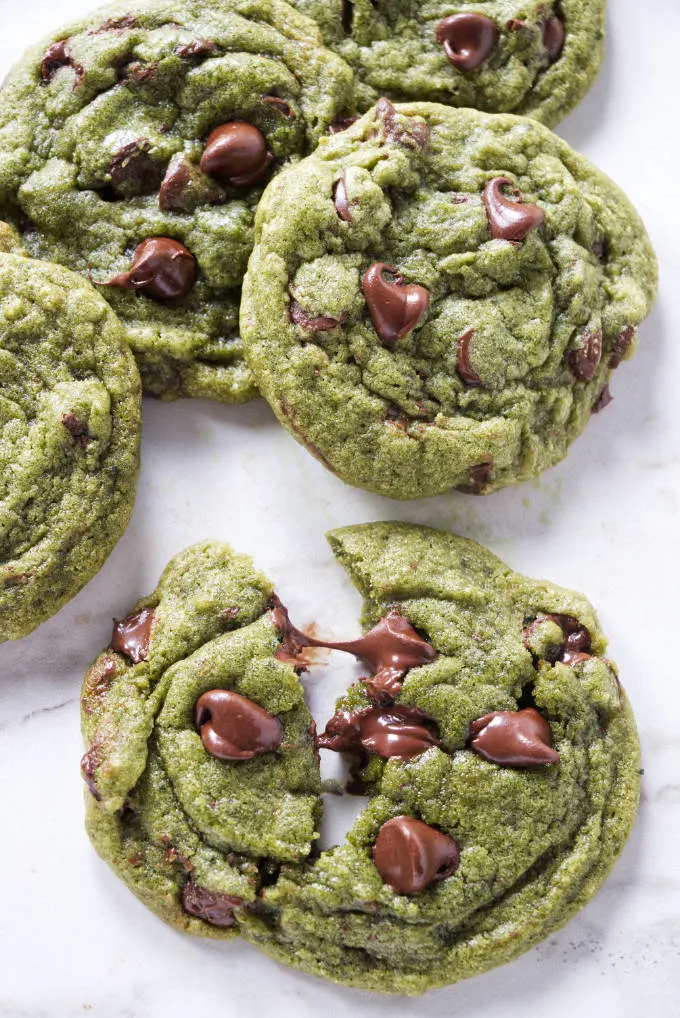 With just the right amount of crisp on the outside and a soft, chewy, cookie center, these matcha chocolate chip cookies are downright irresistible.
We love any kind of chocolate chip cookie, and this matcha cookie recipe does not disappoint! Not only is it quick and easy to make (only 10 ingredients!) and super tasty, but these matcha chocolate chip cookies are also a great way to get a nice little dose of matcha green tea powder. 😉
Why this Recipe Works
Our matcha cookies will be just the mid-day snack you need. And with a tiny amount of caffeine from the matcha, we will happily swap our afternoon cup of coffee for a cookie any day!
Here's why you'll love this matcha cookie recipe:
Using melted butter and brown sugar gives the cookies a dense, chewy texture.

The cookies are oven-ready in just 15 minutes.

Premium grade matcha powder gives the cookies a a deep, earthy flavor and beautiful green color.

Chocolate and matcha are a match made in heaven
About that matcha and chocolate combo…The flavor is earthy but subtle, enhanced by the rich chocolate chips and sweet vanilla. If you've never had a matcha-chocolate dessert, you're in for a treat!
If you love the flavor combination in these matcha cookies, you will love our spelt rosemary chocolate cookies, rosemary almond brittle, and lemon rosemary loaf.
Ingredients
To make these matcha cookies, you will need the following ingredients:
Flour. You can use all-purpose flour but if you want extra chewy cookies, go for bread flour.

Matcha green tea powder. Not all matcha tea powder is the same. Read our tips below to get the best tasting matcha for baking.

Baking soda. Make sure your baking soda is not expired.

Salt. A pinch of salt brings out the earthy matcha flavor and enhances the sweetness in the cookies.

Butter. You can use salted or unsalted butter in this recipe.

Sugar. We used granulated sugar and brown sugar.

Eggs. The eggs will encorporate into the batter better if they come to room temperature first.

Vanilla Extract. The vanilla extract enhances the flavors in these cookies.

Chocolate Chips. You can use chocolate chips or chop a bar of chocolate into large chunks.
How to Make Matcha Cookies
Our matcha chocolate chip cookies are a breeze to make! And they only bake for about 10 minutes, which means you don't have to wait long to enjoy one or two.
Here's a quick overview of how to make matcha cookies. Scroll down to the printable recipe card for all the details. :
Combine the dry ingredients. Sometimes ingredients like matcha, flour, and baking soda have small clumps. If you sift or whisk the ingredients, the clumps will break up and distribute into the batter much better.

Beat together the butter and sugars. Use an electric mixer for best results.

Mix the wet and dry ingredients and fold in the chocolate chips. You'll want to chill the dough for at least one hour before baking. This will affect how the cookies bake. (They spread less if you chll the dough but go ahead and bake them right away if you like thin cookies).

Scoop the cookie dough and bake. We line two baking sheets with parchment paper and use a tablespoon-sized cookie scoop to scoop balls of dough onto the pan.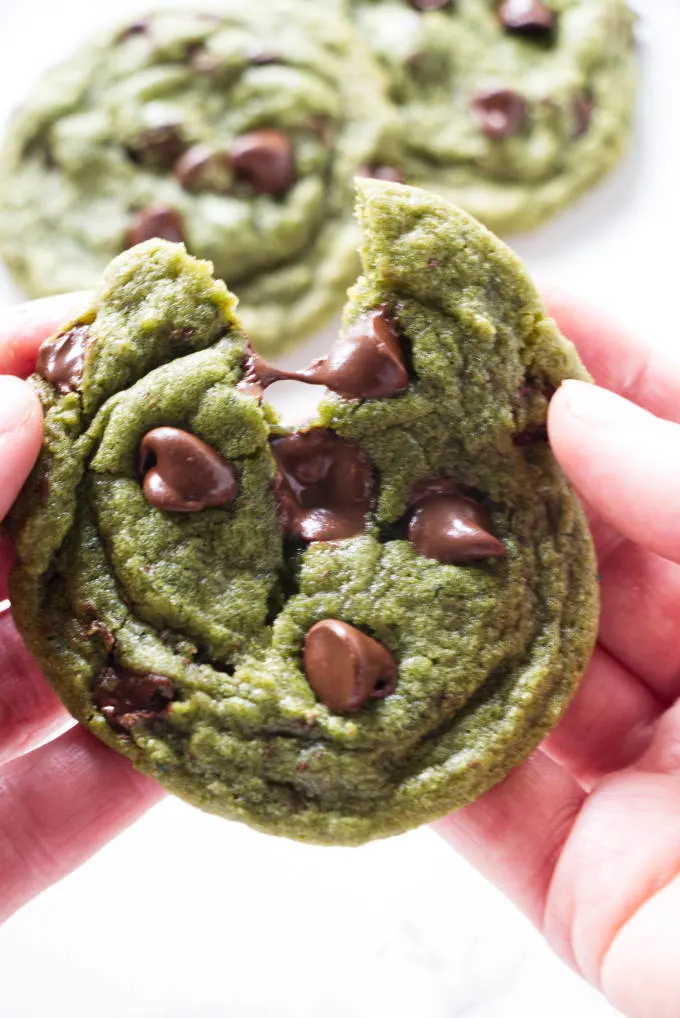 Recipe Tips for the Best Matcha Cookies
Let the matcha cookies cool on the baking sheet for a couple of minutes, that way they will firm up and won't fall apart when you transfer them to the cooling rack.

The color and flavor of the matcha cookies will depend on the quality of the matcha tea powder you choose.

Matcha powder comes in three grades: Ceremonial grade, premium grade, and culinary grade. You can't go wrong with the ceremonial grade, except for the price.

For baking, culinary grade matcha works fine if you purchase quality brand. Some brands sell matcha powder that is bitter and muddy brown. Here are some brands that we think work well:
Frequently Asked Questions
Can I use any matcha powder for baking?

Yes. We recommend using a premium or culinary-grade matcha powder, as ceremonial-grade matcha is very expensive and better suited for drinking. However, some brands of culinary matcha are bitter and have a muddy brown color.
How much matcha do I use for baking?
For these matcha cookies, 4 teaspoons of matcha powder is enough to add a subtle earthy flavor and a lovely green color.
How do you keep matcha from turning brown?
There are two components to this: the quality of matcha and the oven temperature. An oven temperature that's too high can cause what is called enzymatic browning. This is why we use an oven temperature of 325°F, a bit lower temp than what we would typically bake cookies at. Keep in mind that some matcha powders that aren't high quality can turn brown, too.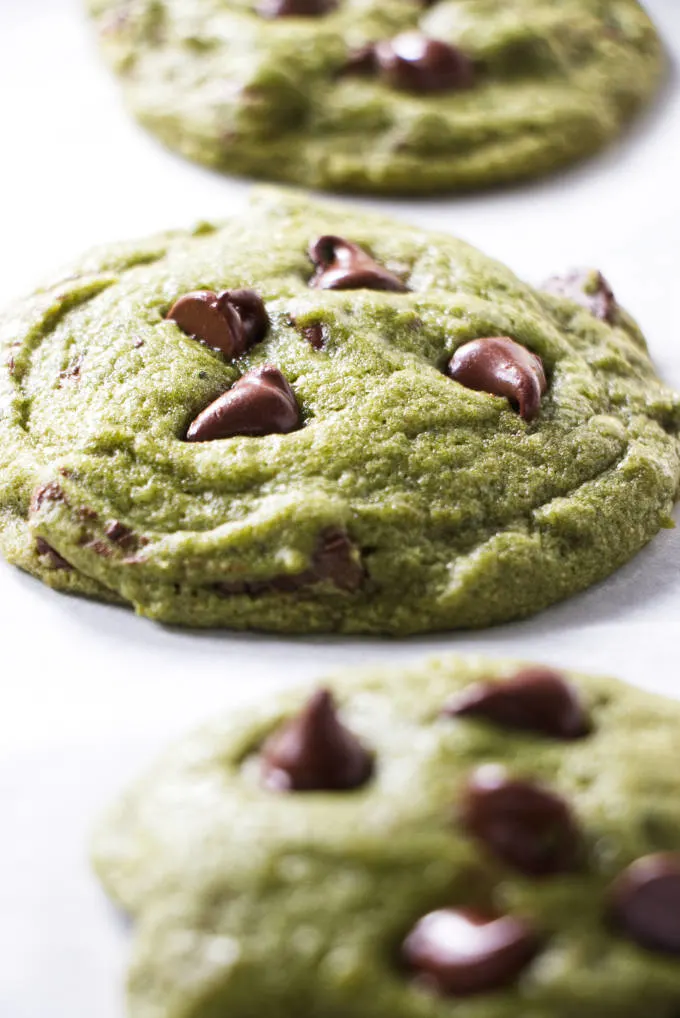 Our matcha chocolate chip cookies are unique and carry a delightfully earthy, green tea flavor that doesn't overpower the chocolate. They also prove that any variation of chocolate chip cookie is a cookie we can't pass up. Happy baking!
Helpful Tools
Some of the following are affiliate links. If you click on these links and purchase something, we may receive a small commission. You don't pay any extra but it will help us keep the lights on.
High-quality culinary grade matcha powder like Aprikalife
Some Other Recipes We Are Sure You Will Love:
This classic cookie combination has everything that a good, old-fashioned chocolate chip oatmeal cookie needs! A crisp outer layer, a soft and chewy center, and chocolate chips galore!
Toffee and chocolate come together for a yummy breakfast (or anytime) treat! These bakery-style chocolate chip muffins are tender and light, with a delightful coffee crumb streusel for extra goodness on top.
Our classic chocolate cake only requires one bowl and less than 10 minutes to make! It's the easiest chocolate cake recipe that is a family favorite and reader favorite, too!
A delicious gluten-free option, these banana cookies have a soft, cake-like texture and bold banana flavor! Toss in some chocolate chips to make them an extra special treat.
Connect With Savor the Best:
Please follow us on our social media accounts
Facebook * Instagram * Pinterest * Youtube * Twitter
Did you make this recipe? We would love to hear from you. Drop us a comment below.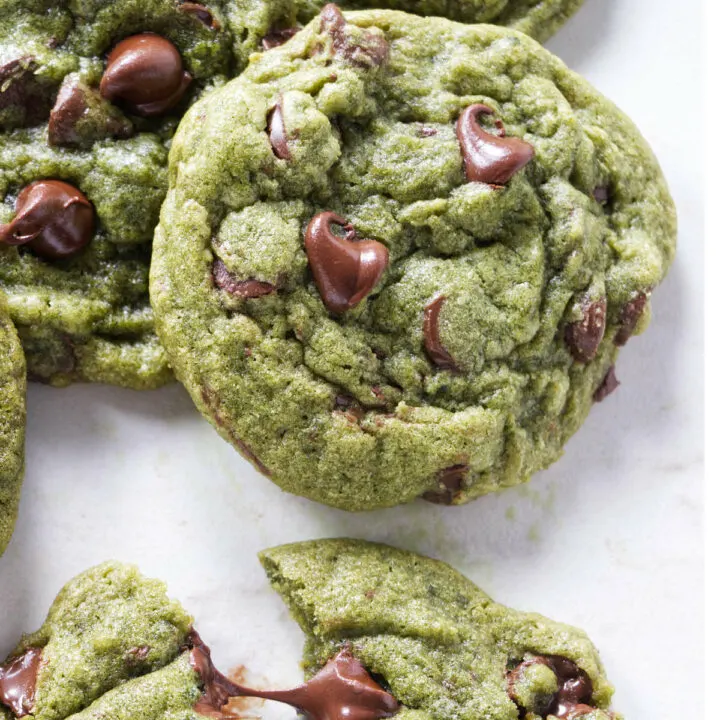 Chocolate Chip Matcha Cookies
Matching the flavor of earthy green tea with sweet chocolate is a classic culinary combination. These matcha cookies are soft and chewy, with a subtle matcha flavor that complements the chocolate chips. The matcha green tea powder gives these cookies a beautiful green color and a delicious flavor.
Ingredients
2-1/2 cups all-purpose flour (300 grams) (or use bread flour*)
4 teaspoons matcha green tea powder
1 teaspoon baking soda
1/2 teaspoon salt
1 cup butter, melted (2 sticks)
1 cup brown sugar (210 grams)
1/2 cup granulated sugar (100 grams)
2 eggs
2 teaspoons vanilla extract
1-1/2 cups chocolate chips
Instructions
Combine the flour, matcha powder, baking soda, and salt in a medium sized bowl.
In a separate bowl, beat the butter, brown sugar and granulated sugar until well blended.
Beat in the eggs, one at a time then add the vanilla and beat well.
Stir in the flour mixture and the chocolate chips.
Chill the dough for at least one hour.
Preheat the oven to 325°F and line two baking sheets with parchment paper.
Use a one tablespoon sized cookie scoop to scoop balls of dough onto the baking sheet. Space the dough balls 2 inches apart.
Bake for 8 to 10 minutes. Let the cookies cool on the baking sheet for about 2 minutes then use a pancake turner to transfer them to a cooling rack to cool completely.
Notes
If you let the cookies cool on the baking sheet for a couple of minutes, they will firm up and be easier to transfer to the cooling rack. If they are too warm when you transfer them, they will fall apart.
Using bread flour instead of all-purpose flour will give these cookies an extra dense and chewy texture.
The color and flavor of the cookies will vary depending on the quality of matcha tea powder you use.
Ceremonial-grade matcha powder will have a brighter green color and milder, sweeter flavor than culinary matcha, but it is expensive. Culinary-grade matcha powder varies in quality from brand to brand. Some brands of culinary matcha are muddy brown in color and have a bitter flavor.
A few brands of culinary matcha that have a good flavor, bright green color, and affordable price are listed below and in the post.

Recommended Products
As an Amazon Associate and member of other affiliate programs, I earn from qualifying purchases.
Nutrition Information:
Yield:

36
Serving Size:

1
Amount Per Serving:
Calories:

152
Total Fat:

8g
Saturated Fat:

5g
Trans Fat:

0g
Unsaturated Fat:

3g
Cholesterol:

24mg
Sodium:

111mg
Carbohydrates:

19g
Fiber:

1g
Sugar:

13g
Protein:

2g
Nutrition information is a guideline only, is calculated automatically by third-party software, and absolute accuracy is not guaranteed.