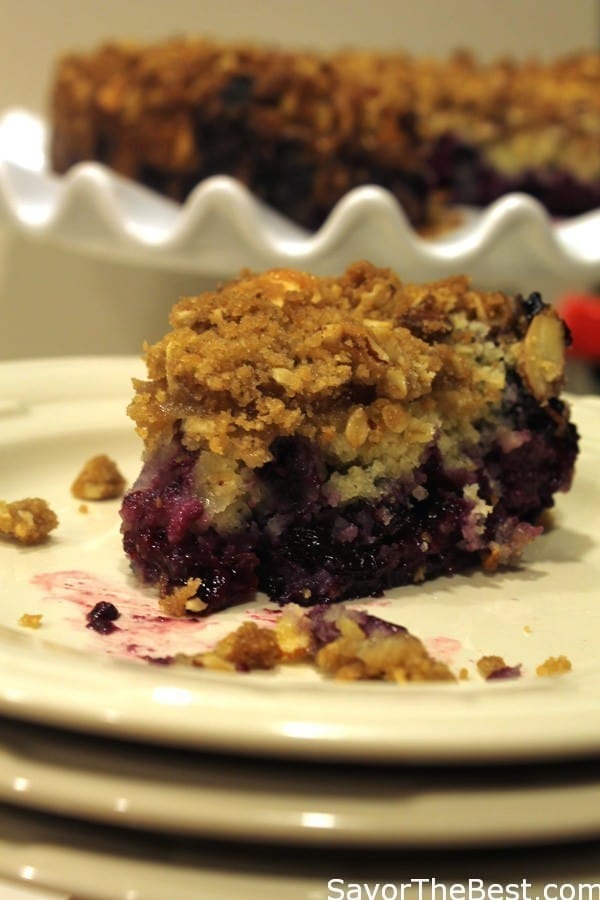 Well just last Saturday I completed the Tour de Blast bicycle ride that I have been training for all summer. The ride was just over 82 miles round trip into the blast zone of Mt. St. Helens. Our highest elevation at Johnston Ridge viewpoint was 4,314 feet however throughout the hilly course of the ride we climbed a total of 6,240 feet. I did the ride with some very dear friends and co-workers and would not have wanted to complete the ride without them.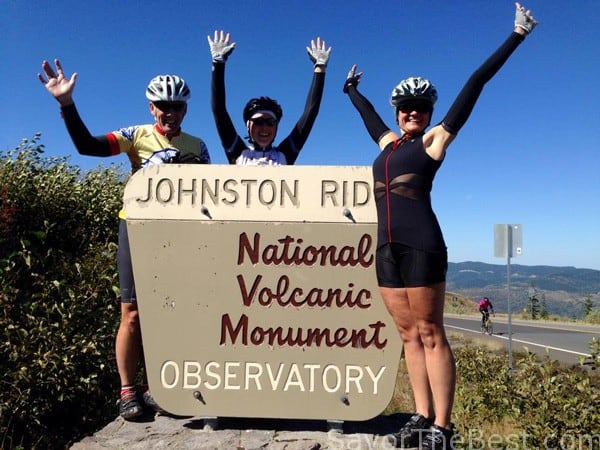 There were moments in the ride that were quite miserable and a little terrifying. We started the ride off at 7am before the weather had a chance to warm up. It was sunny and dry however the temperature was only 40°. I was wearing fingerless gloves and my fingertips were throbbing from the wind chill. I hadn't thought to put wool socks on either and my toes were beginning to throb about 5 miles into the ride. I just had not prepared for how cold it would be and about the time I was wondering how my friends were doing with the wind chill one of them mentioned how cold his fingers were. I guess there is something to be said about misery and company because as soon as I knew my friends were just as miserable as me, I felt better about persevering through the cold. Thirty minutes into the ride I began to warm up enough that my fingers were not throbbing anymore however it took an hour before my toes felt better. The next challenge that faced us was a horribly strong wind. The wind was not only pushing us backwards but also sideways. I don't know how fast the wind was blowing but it was the strongest headwind I had ever ridden against. To make matters more difficult the wind would blow in gusts from the side and make us feel like we would be blown over. The side wind became terrifying when we rode over bridges that spanned tall ravines that must have been 100 feet deep. I stayed as close to my friends back tire as I could and she was glued to our friend in front of her but it still felt like the gusts of wind just might blow us over and into the ravine. We made it through the wind, up the hill, and back down in 7 hours including about 45 to 50 minutes stopping at all the pit stops for food and water. There were times in the cold and the wind that I thought about quitting but riding into the finish line was overwhelmingly victorious and I am glad I pushed through the challenges. I am especially glad to have such great friends to help me get through the ride.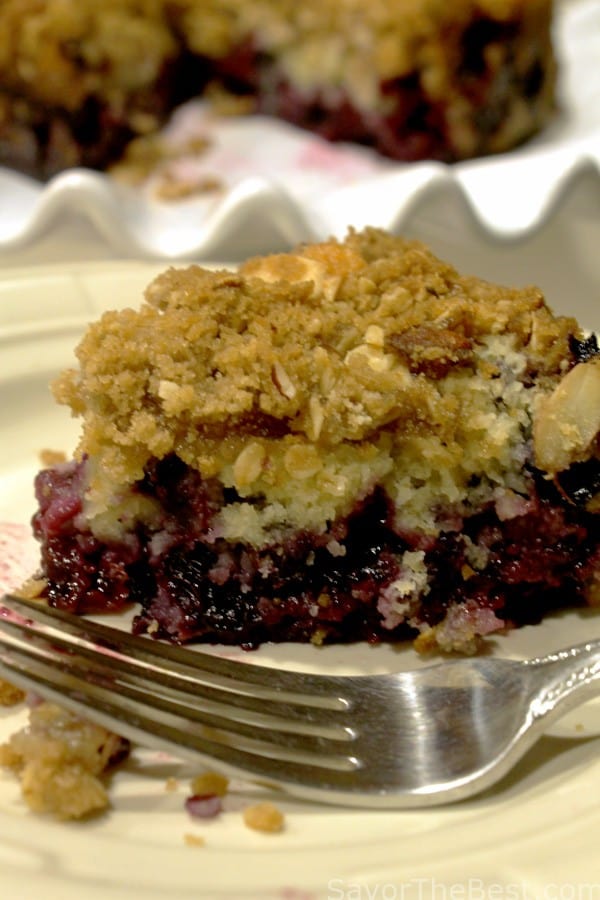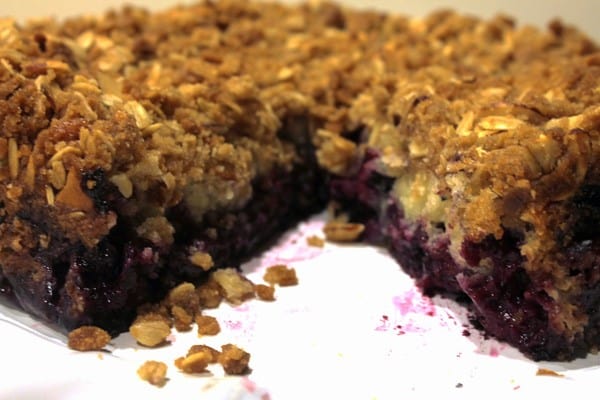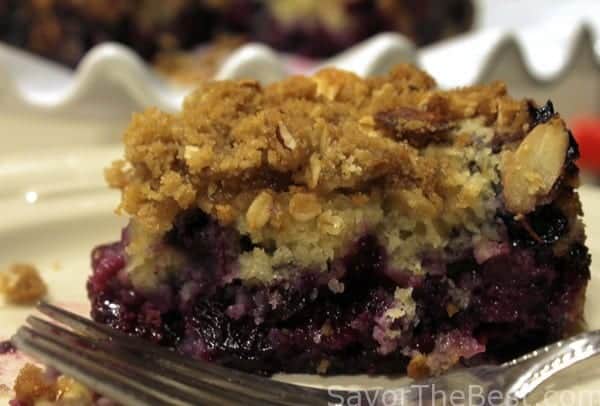 CONNECT WITH SAVOR THE BEST!
Be sure to follow us on our social media accounts
Facebook * Instagram * Pinterest * Twitter * Youtube
Did you make this recipe? We would love to hear from you. Drop us a comment below.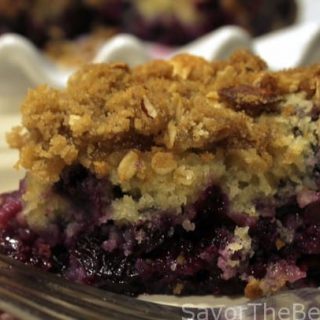 Blueberry Buckle
Yield: 10 servings
Prep Time: 20 minutes
Cook Time: 1 hour
Total Time: 1 hour 20 minutes
An incredibly delicious cake packed to the limit with blueberries and topped with an amazing streusel.
Ingredients
Streusel
1/2 cup (70 grams) all-purpose flour
1/2 cup (50 grams) oats
3/4 cup (125 grams) packed light brown sugar
1/2 teaspoon ground cinnamon
1/2 teaspoon salt
6 tablespoons chilled butter, cut into cubes
1/3 cup sliced almonds
Cake
1 cup (125grams) cake flour
1 ½ teaspoons baking powder
½ teaspoon salt
8 tablespoons butter, softened
2/3 cup (133 grams) sugar
2 teaspoons vanilla extract
Zest of one lemon
2 large eggs, room temperature
3 1/2 cups fresh blueberries (about 18 ounces)
Instructions
For the Streusel
In a large bowl combine the brown sugar, flour, oats, cinnamon and salt. Using a pastry blender or clean hands, cut in the butter until the mixture has lumps the size of peas.
For the Cake
Pre-heat the oven to 350° and Spray a 8-inch round cake pan with nonstick cooking spray and line the bottom with parchment paper.
Sift flour, baking powder and salt in small bowl and set aside. With an electric mixer, beat the butter and sugar on medium-high speed until light and fluffy, about 3-4 minutes. Scrape down the bowl with a spatula and beat in the vanilla and lemon zest until combined.
With mixer running at medium speed, add eggs one at a time; scraping down the bowl after each egg (at this stage the mixture will appear curdled)
Add the flour mixture and stir the batter with a rubber spatula, scraping the bottom and sides of the bowl until the flour is fully blended. Batter will be very heavy and thick. Using rubber spatula, gently fold in blueberries.
Transfer batter to prepared pan and spread evenly. Pour the streusel over the top of the cake batter. Bake until golden brown and toothpick inserted into center of cake comes out clean, about 55-60 minutes. Remove from oven and cool for 30 minutes before slicing (if you can't wait for it to cool, just dig in but it will be more delicate and crumbly while it is still hot).