This blueberry banana bread is super soft, tender, and moist. It is loaded with juicy blueberries and topped with a tangy lemon glaze. Grab a bite with your morning coffee or serve it for dessert. It is fast to make and disappears even faster.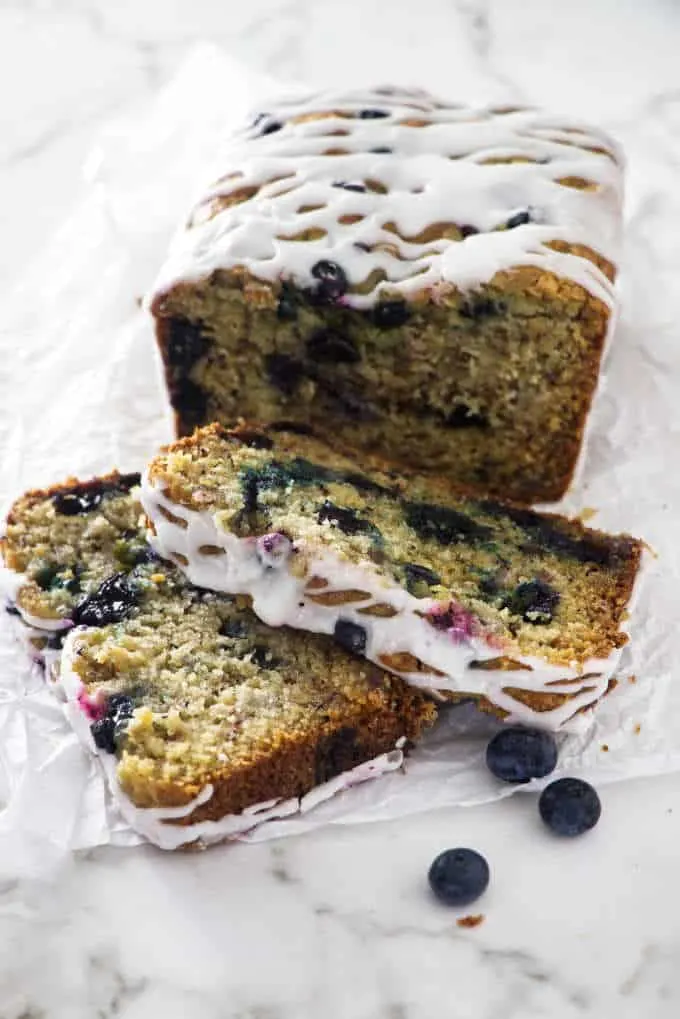 This fast and easy sweet bread will make use of your over-ripe bananas and work double duty as a breakfast or a dessert. It is a no-yeast quick bread that you can whip together in 10 minutes. The hardest part about making this is waiting for it to finish baking.
More Easy Quick Bread Recipes
Tips for success
Make sure you scroll down to our printable recipe card for complete instructions but if you want to know some tips for perfect blueberry banana bread, read this section.
Use slightly over-ripe bananas. Green and perfectly yellow bananas have too much starch and not enough sugar in them. They can make your sweet bread crumbly. On the other hand, black bananas have too much sugar and moisture in them and they will make your bread gummy and heavy. Use bananas that have plenty of dark speckles on them but haven't turned solid black.

A tip for mashing the bananas. You can use a fork to mash the bananas up but a potato masher or a pastry cutter will do the job even quicker and easier.

Don't over-mix the batter. If you stir the batter too much, it will develop gluten and turn what could have been tender sweet bread into a tough heavy blob. Fold the flour into the wet mixture with a large spoon or a spatula. Don't mix it all the way though because you will still want to fold in the blueberries. Just fold the flour until there are still a few streaks then pour in the blueberries and finish folding the batter.

Toss the blueberries in a bit of flour. This will help them stay suspended in the batter while the bread bakes.

Use the right size loaf pan. This recipe fits in a 9×5 loaf pan. If you use a smaller pan the batter will spill over the pan when it bakes. If all you have is a smaller 8×4 pan then you can fill two smaller pans but reduce the baking time. The 8×4 loaf pans will only need to bake for 45 to 55 minutes.

The color of your bread pan makes a difference. If you have a dark pan like this then you will want to turn the oven temperature down by 25°F. A light metal pan like this does the best job. It won't over-cook the edges and leave the center undercooked.

Are you using a glass pan? If you bake this bread in a glass pan you will want to reduce the oven temperature by 25°F.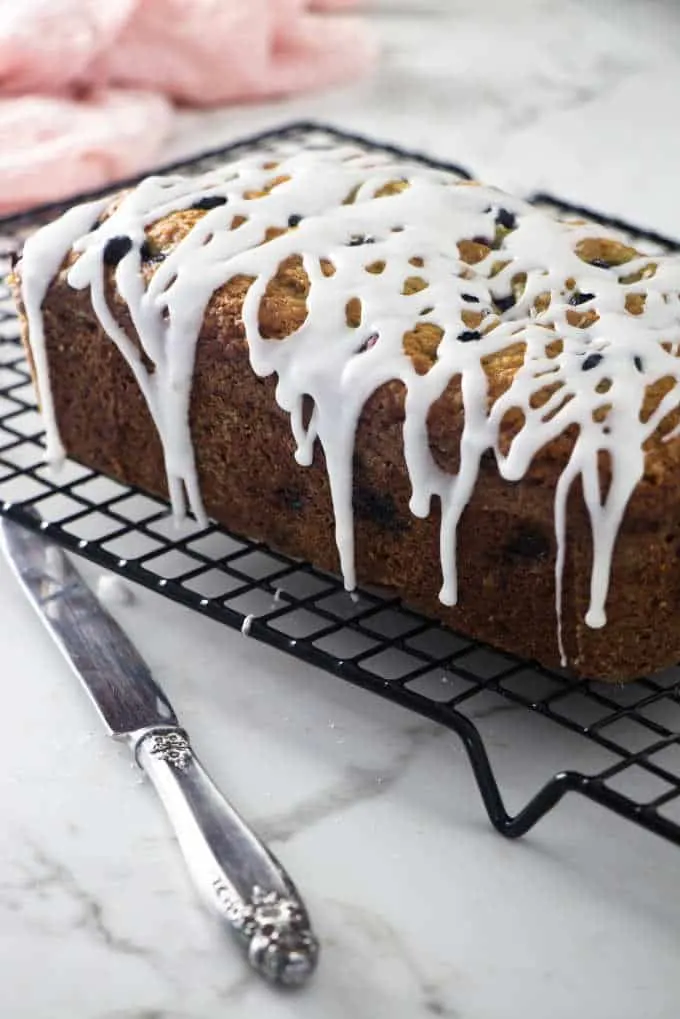 Frequently Asked Questions
Can you freeze this blueberry banana bread?
You can freeze this quick bread after it cools down completely. I like to slice individual portions and wrap them in plastic wrap then place them in a freezer-proof bag. That way if I just want one slice I don't have to thaw the whole loaf first.

Since there is a sweet lemon glaze on top of the bread, the glaze gets a bit squished and messy when you wrap it in plastic wrap. If you're ok with that then the glaze will freeze just fine but if you want it to look pretty then put the glaze on after the bread thaws.

You can also slice the bread after it cools and lay the slices on a tray then place the tray in the freezer. Once the slices are frozen they can be wrapped in plastic wrap without the glaze getting messy.
Why is my banana bread gooey in the center?
If your banana bread is gooey in the middle, it is usually because the bread did not bake long enough. The riper your bananas get, the more they will increase in sugar and moisture.

Extra sugar and moisture will affect the baking time. You may need to increase the baking time by 10 to 20 minutes longer depending on the ripeness of your bananas.
What do I do if my banana bread needs to bake longer but the top is too dark?
If you need to increase the baking time you can cover the top of the banana bread with some aluminum foil. That will prevent the bread from getting too dark.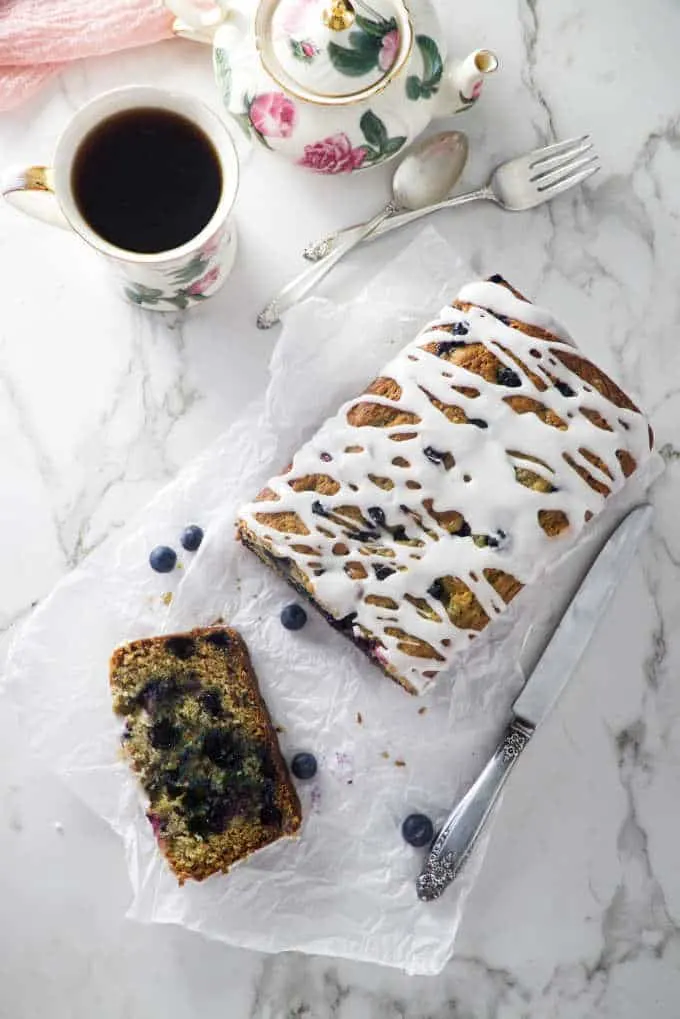 More Recipes You Will Love
If you can't get enough of bananas and blueberries then try these blueberry banana muffins. They bake up tall like a bakery-style muffin and they are topped with a sweet crumbly topping. So addictive!
We used dried blueberries in these blueberry granola cookies. Seriously, these cookies are UH-MAZING and you must make them. They are loaded with dried blueberries, toasted pecans, coconut, and white chocolate chips.
This copycat version of Starbucks banana bread tastes just like the one you find in the coffee shop. If you love their banana bread, you will love this recipe.
Connect With Savor the Best:
Please follow us on our social media accounts
Facebook * Instagram * Pinterest * Youtube * Twitter
Did you make this recipe? We would love to hear from you. Drop us a comment below.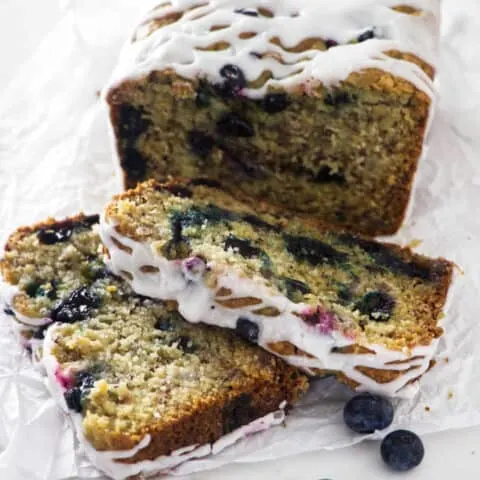 Blueberry Banana Bread
Total Time:
1 hour
15 minutes
A tender and moist banana bread loaded with juicy blueberries and topped with a lemon icing.
Ingredients
Dry ingredients:
2 cups all-purpose flour (240 grams)
2 teaspoons baking powder
1 teaspoon baking soda
1/2 teaspoon cinnamon
1/2 teaspoon salt
Wet Ingredients:
1 cup granulated sugar
1/2 cup vegetable oil
2 eggs
2 teaspoons vanilla extract
1-1/2 cups mashed bananas (about 3 to 4 bananas)
Add In:
1-1/4 cups fresh or frozen blueberries
2 tablespoons flour
Lemon Icing
1/4 cup lemon juice (about 1 lemon)
1/3 cup powdered sugar
Instructions
Preheat the oven to 350°F and grease a 9x5 inch loaf pan (or line it with parchment paper).
In a large bowl, whisk all the dry ingredients together then set aside.
In another bowl, beat the oil and sugar then add the eggs and beat until well blended. Next, add the vanilla, and mashed bananas and beat until well combined.
Gently fold the dry mixture into the wet mixture
Set aside 1/4 cup of blueberries for the top and toss the rest of the blueberries with a couple of tablespoons of flour then gently fold them into the batter.
Pour the batter into the loaf pan and bake for 55 to 60 minutes or until a toothpick comes out clean.
Let the bread cool for 20 minutes then remove it from the pan and place it on a wire rack to cool completely.
Make the lemon icing:
Combine the lemon juice and powdered sugar in a small bowl. Whisk until smooth then drizzle over the top of the bread.
Notes
If you use frozen blueberries, keep them in the freezer until it is time to add them to the batter. If you let them thaw then all their juices will seep out of them and turn your bread purple.
Tossing the blueberries in some flour will help them stay suspended in the batter so they don't sink to the bottom of the pan.
Nutrition Information:
Yield:

10
Serving Size:

1 slice
Amount Per Serving:
Calories:

343
Total Fat:

12g
Saturated Fat:

1g
Trans Fat:

0g
Unsaturated Fat:

10g
Cholesterol:

37mg
Sodium:

346mg
Carbohydrates:

55g
Fiber:

2g
Sugar:

30g
Protein:

4g
Nutrition information is a guideline only, is calculated automatically by third party software, and absolute accuracy is not guaranteed.