These mini blueberry tarts start with a pre-made puff pastry and come together in a flash. The term "easy as pie" was made for these little tarts. Not only are they easy to eat, but they are easy to make.
Who wants a perfectly sized mini blueberry tart? These little blueberry pies are just the right size and you won't feel guilty if you eat the whole thing.
Mini Blueberry tarts with puff pastry
Mini blueberry tarts are fast and easy to make. We used frozen puff pastry to make the crust which took all the work out of the process. If you haven't tried cooking with pre-made puff pastry, you don't know what your missing. It is a flaky, buttery alternative to homemade pastry dough and it is super easy to use.
We keep a package of frozen puff pastry in the freezer for fast, last-minute desserts. However, puff pastry isn't just for sweets, you can use it in savory recipes too. It is one of the most versatile things around.
One package of frozen puff pastry has two sheets of dough. You will only need one sheet of dough for this recipe so keep the other sheet in the freezer for another day.
Puff pastry does best if it thaws in the fridge for a few hours but you can thaw it on the counter in about 30 or 40 minutes. If you're in a bigger hurry than that, you can thaw it in the microwave but you need to keep a close eye on it.
When you thaw puff pastry in the microwave, use short bursts of 10 to 15 seconds and check it frequently. If you get the puff pastry too warm, it will get soft, gooey, and impossible to work with.
Baking Mini tarts in a Muffin Tin
You don't need a special tart pan for this recipe. These adorable mini blueberry pies are baked in a muffin tin. They are the perfect size for one person. And that means you can have a whole pie to yourself.
We used a standard sized, non-stick muffin tin to make these mini tarts. Since the recipe only makes 9 mini tarts, there will be three empty spaces left.
You only need 7 ingredients for this recipe and I'm willing to bet you already have most of the ingredients on hand. Here is a quick shopping list :
Frozen puff pastry
Blueberries
Sugar
Cornstarch
Flour
Salt
Lemon
After pressing small squares of puff pastry into the muffin tins, all you have to do is mix the rest of the ingredients together and scoop it into the muffin tin. Make sure you pile the blueberry mixture as high as possible because it will bake down and you will lose quite a bit of volume.
We saved a small amount of puff pastry to cut out little stars and flower shapes to go on top of the blueberries. It's only necessary if you want to make them super cute 🙂
Once the blueberries are piled high in the muffin cups, place the muffin tin in the hot oven. That's all there is to it! In 20 to 25 minutes you will have yourself a mini blueberry tart. Well, more like 35 to 40 minutes because these little tarts will be piping hot when you take them out of the oven. So give them a few minutes to cool down then spoon some ice cold vanilla ice cream on top.
You might also like these recipes:
CONNECT WITH SAVOR THE BEST!
Be sure to follow us on our social media accounts
Facebook | Twitter | Youtube | Pinterest | Instagram
If you make one of our recipes, snap a photo and tag it @savorthebest on Instagram and hashtag it #savorthebest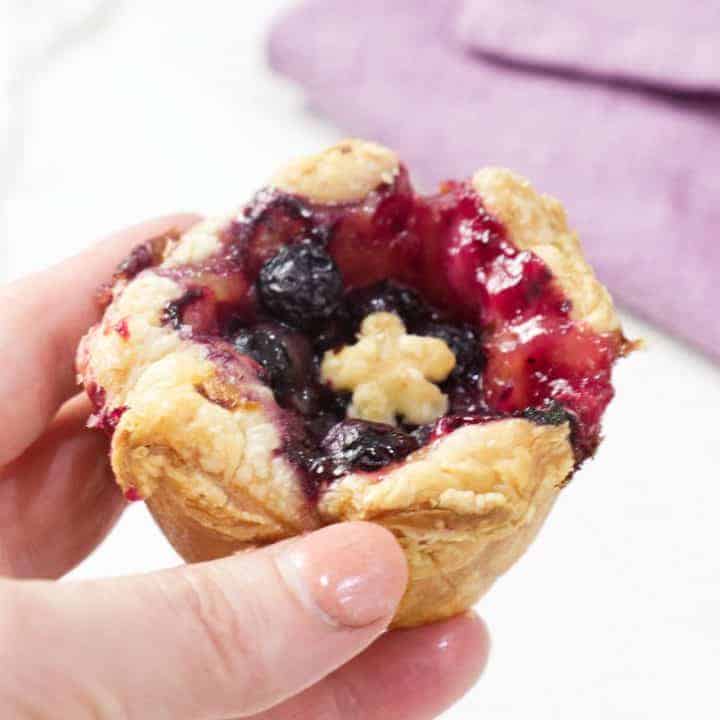 Mini Blueberry Tart
Yield: 9 tarts
Prep Time: 10 minutes
Active Time: 25 minutes
Total Time: 35 minutes
Fun sized mini blueberry tarts from a muffin tin. Using pre-made puff pastry makes these little tarts fast and easy to put together.
Ingredients
1 sheet of puff pastry dough, thawed
3 cups fresh or frozen blueberries
1/3 cup sugar
2 teaspoons cornstarch
1 teaspoon all-purpose flour
pinch of salt
grated lemon zest from 1 lemon
Instructions
Preheat the oven to 400°F.
Place the puff pastry on a floured surface and roll it into a 12-in. square then cut nine individual squares. Press the squares into the bottoms and up the sides of a muffin tin.
Mix the remaining ingredients in a bowl then pile the blueberry mixture as high as possible into the muffin tin cups.
Place in the preheated oven and bake for 20 to 25 minutes.
Recommended Products
As an Amazon Associate and member of other affiliate programs, I earn from qualifying purchases.
Nutrition Information:
Yield: 9
Serving Size: 1 mini tart
Amount Per Serving:
Calories: 163
Total Fat: 7.3g
Carbohydrates: 23.7g
Fiber: 1.5g
Sugar: 12.4g
Protein: 1.8g
Have you made these mini blueberry tarts yet? We would love to hear from you. Drop us a comment below.