If you're looking for a delicious, hearty chili that will fill you up and leave you feeling satisfied, this chili with pork and beans will hit the spot. Tender chunks of pork get simmered in a rich, flavorful chili with just the right amount of spice. Chipotle peppers add a hint of smokey heat and depth of flavor. Serve it with some homemade cornbread or tortilla chips on the side, and enjoy!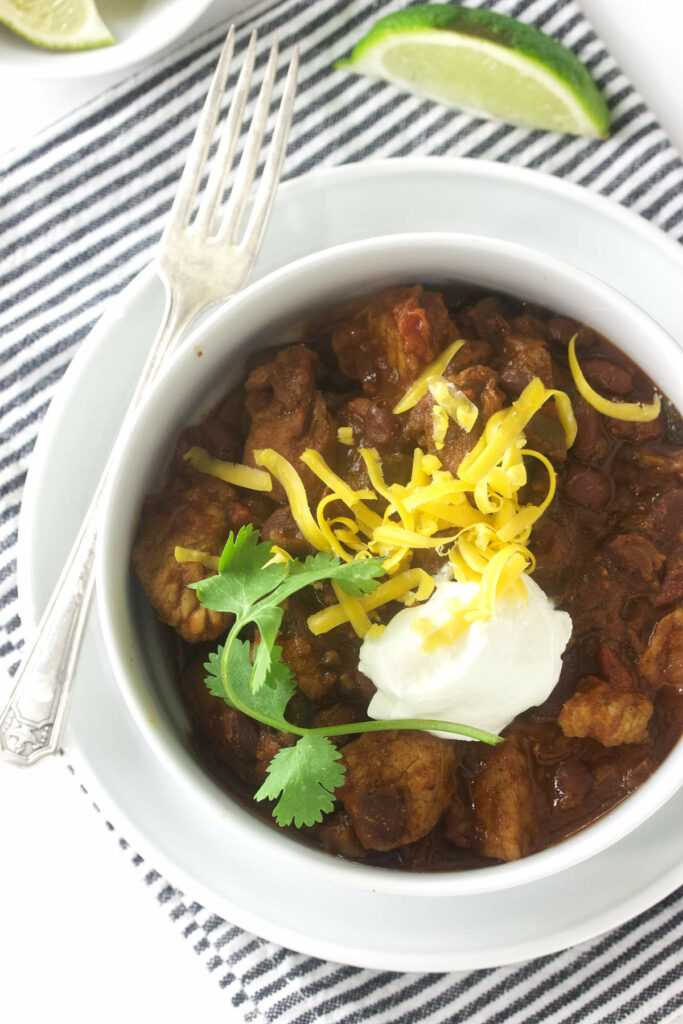 There's nothing more comforting than a bowl of hearty chili on a cold winter day. It makes a filling meal that will satisfy everyone. Serve your chili with a dollop of sour cream, grated cheese, and a side of homemade sour cream biscuits for an even heartier meal. This delicious chili with pork and beans is sure to become a family favorite!
If you love this recipe, you will love our homemade beef chili beans that uses dried beans instead of canned beans. Jalapeno cornbread or rustic barley biscuits make the perfect side.
❤️ Why This Recipe Works
This recipe for pork chili beans makes a quick and easy one-pot weeknight dinner. Throw in a tossed green salad for a quick side.

The smoky chipotle peppers add spicy heat and so much flavor to the chili.

Simmering the chili helps the chunks of pork get tender and allows the flavors to meld together.

It is easy to adjust the recipe to your own palette by adjusting the number of chipotle peppers in the chili.

This is a great recipe to make ahead, and it is freezer friendly.
👨‍🍳 How to Make Chili with Pork
Here is a brief overview to get an idea of what to expect with the recipe. Scroll down to the printable recipe card for all the details.
We used a generous portion of lean pork tenderloin as a switch-up from ground beef. Cut the pork into bite-size chunks, so it cooks quicker.
Sear the chunks of pork in a large pot then transfer them to a plate. to a plate and repeat with the remaining pork. Add more oil if needed.
Add onion to the pot and cook, stirring, until it gets soft. Add the garlic and cook just until fragrant. Stir in the tomato paste, tomatoes, cumin, chipotle, and oregano.
Return the pork to the pot and bring the mixture to a boil. Add the beans to the mixture and simmer until the pork gets fork-tender.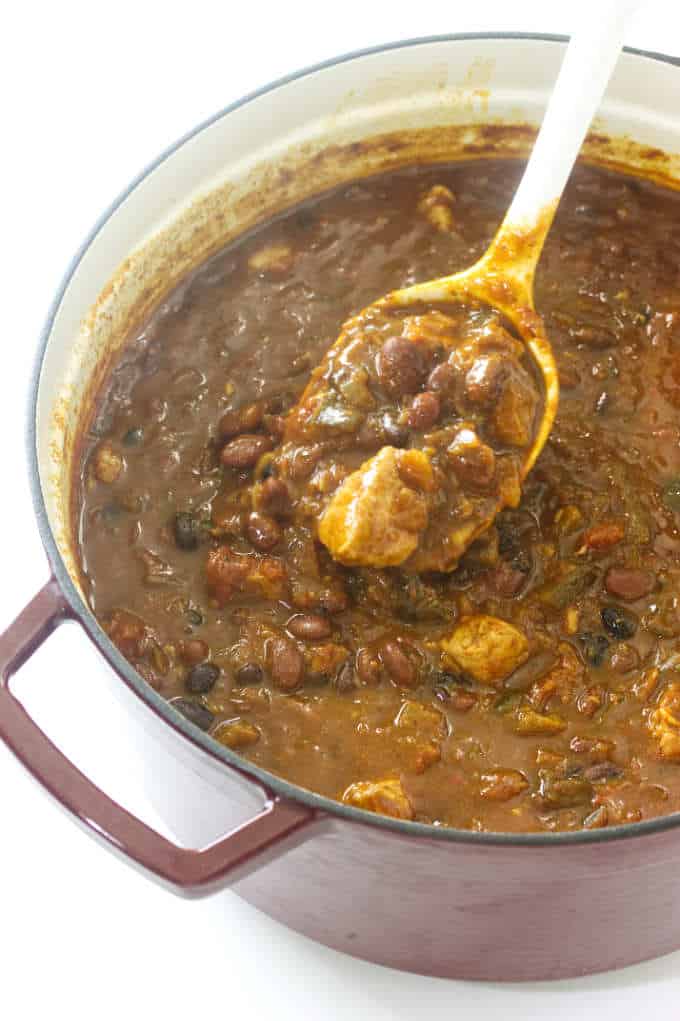 😉
Tip

s for Success
When you sear the pork, work in batches, so you don't crowd the pot. The goal is to get a caramelized brown crust on the meat, which will add extra flavor to the chili beans. If you add all the pork at once, it will steam, and you won't get a brown crust on the meat.

Don't clean the pot out after you sear the pork. Those bits of meat that stick to the bottom of the pot will loosen up when you add the onion and it will give the chili more flavor.

Stir the tomato paste with a bit of water to thin it down and help it incorporate into the chile easier.

Don't use the whole can of chipotle peppers. The recipe only calls for two peppers. You can freeze the remaining peppers and use them in future recipes like our shrimp fajitas, chipotle aioli, or chipotle pork ribs with raspberry chipotle sauce.
⏲ Storage and Reheating
Store leftovers in the fridge for 3 to 4 days or in the freezer for three months. By the way, the flavors in this pork chili are even better the next day.
Reheat the chili in the microwave or on the stovetop over medium-low heat. Stir the pot frequently, so it doesn't burn on the bottom.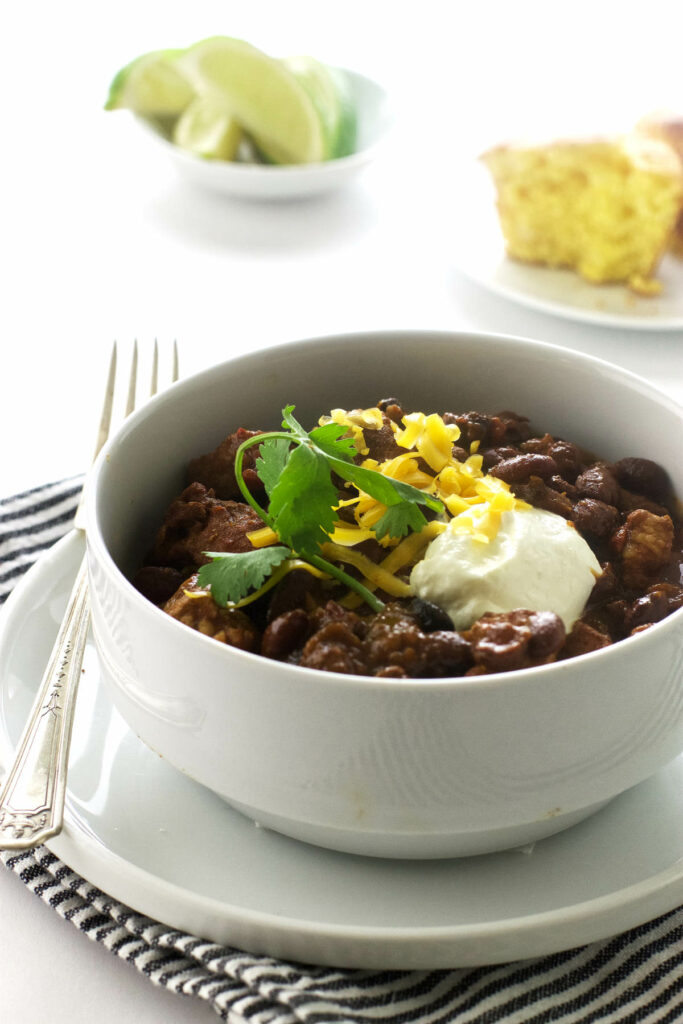 ❓
Frequently Asked Questions
Can you substitute pork and beans for kidney beans in chili?
If you are wondering about the can of Campbell's Pork n' Beans, then technically, you CAN use them, but it will change the flavor of this recipe. That can of beans is a ready-to-eat recipe that has a sweet taste.
What kind of beans are best for chili?
Kidney beans, black beans, and pinto beans are all fantastic choices for chili. They get soft and buttery but stay firm enough to hold their shape.
What are some secret ingredients for chili?
Chipotle peppers (as we used in this recipe), cinnamon, Worcestershire sauce, cocoa powder, coffee, and beer (check out our beer chili with beans).
This chili with pork and beans is sure to become a family favorite! The recipe is easy to follow and you can customize it to fit your desired spicy heat level. Leftovers freeze well, so you can enjoy this delicious dish any time you want.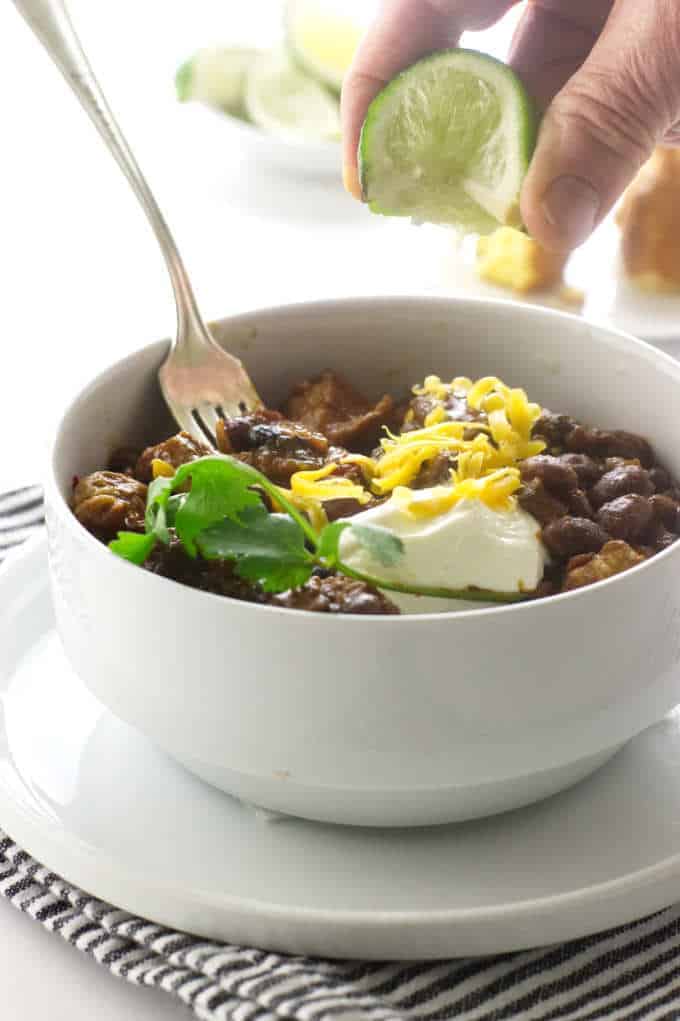 😋 Check Out These Other One-Pot Meals:
Our Chipotle Pork Chop Sheet Pan Dinner is a fast and easy meal. The prep and cleanup is a breeze with just one pan to worry about. Serve it with our spicy Korean cucumber salad or a classic wedge salad.
Our Chili Relleno Casserole is a fast way to make this classic Mexican recipe. It is perfect for weeknight dinners or feeding a crowd. Serve it with refried beans and chips with corn salsa.
Our stovetop pork chops are smothered in a delicious honey garlic glaze. Serve them with some creamy mashed potatoes to sop up the sauce.
Connect With Savor the Best:
Please follow us on our social media accounts
Facebook * Instagram * Pinterest * Youtube * Twitter
Did you make this recipe? We would love to hear from you. Drop us a comment below.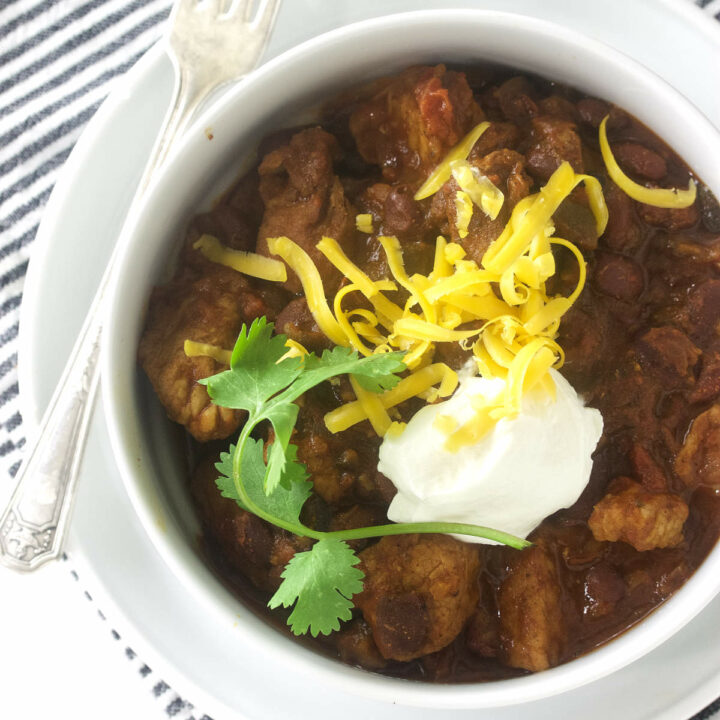 Chili with Pork and Beans
Total Time:
1 hour
40 minutes
Chipotle Pork Chili Beans with tender chunks of pork, red and black beans in a thick, spicy sauce. Serve with fresh lime, cheddar cheese and sour cream.
Ingredients
2 tablespoons olive oil
2 pounds pork tenderloin or pork chops cut into ½-inch pieces
1/2 teaspoon salt
1/4 teaspoon black pepper
1 large onion, chopped
3 cloves garlic, crushed or minced
3 tablespoons tomato paste
1 cup cold tap water
1 (15-ounce) can crushed tomatoes
2 tablespoon ground cumin
2 teaspoons dried oregano
2 chipotle peppers in adobo sauce, minced (don't use the whole can)
2 (15-ounce) cans kidney beans, rinsed
1 (15-ounce) can black beans
4 ounces cheddar cheese, grated
2 limes cut into wedges
Fresh cilantro for garnish
Instructions
Heat the oil in a Dutch oven or large heavy-bottomed pot set over medium-high heat. Add half of the pork and season with half the salt and pepper. Sear the pork until browned, transfer to a plate and repeat with the remaining pork. Add more oil if needed.
Add onion and cook, stirring,until they begin to soften. Add the garlic and cook just until fragrant. In a small dish add the tomato paste and water and blend until smooth. Stir into the onion mixture and add the tomatoes, cumin, chipotle, and oregano (do not use the whole can of chipotle peppers. The recipe only calls for two peppers).
Return the seared pork to the pot and bring the mixture to a boil, then add the kidney and black beans to the mixture, stirring to combine. Reduce the heat to low and simmer for 25-30 minutes until the pork is tender.
To serve, ladle the chili into bowls and garnish with grated cheddar, lime wedges, and cilantro.
Notes
We used a pork tenderloin, other choices are shoulder, pork roast or chops.
Save the leftover chipotle peppers for another recipe. Scoop out the remaining peppers from the can and portion them into the cavities of an ice cube tray. After freezing, transfer them into a small covered container. They will keep for months in the freezer.
Recommended Products
As an Amazon Associate and member of other affiliate programs, I earn from qualifying purchases.
Nutrition Information:
Yield:

10
Serving Size:

1-1/2 Cups
Amount Per Serving:
Calories:

419
Total Fat:

13g
Saturated Fat:

4g
Trans Fat:

0g
Unsaturated Fat:

7g
Cholesterol:

91mg
Sodium:

496mg
Carbohydrates:

35g
Fiber:

10g
Sugar:

4g
Protein:

42g
Nutritional information is provided as a courtesy and is not guaranteed to be accurate. This information is a result of online calculators. Although we attempt to provide accurate nutritional information, these figures are estimates.
This recipe was first published on February 28, 2019.