Salmon is a quick and easy entrée and a great option for either a weeknight or a special event dinner. Our recipe for Baked Salmon with Mustard Sauce fits all of these options. King salmon is a big fish and these thick fillets cook up fast to a flakey medium-rare. A creamy, whole grain mustard sauce adds a tangy taste to this simple, baked salmon. Dinner in half an hour? Absolutely!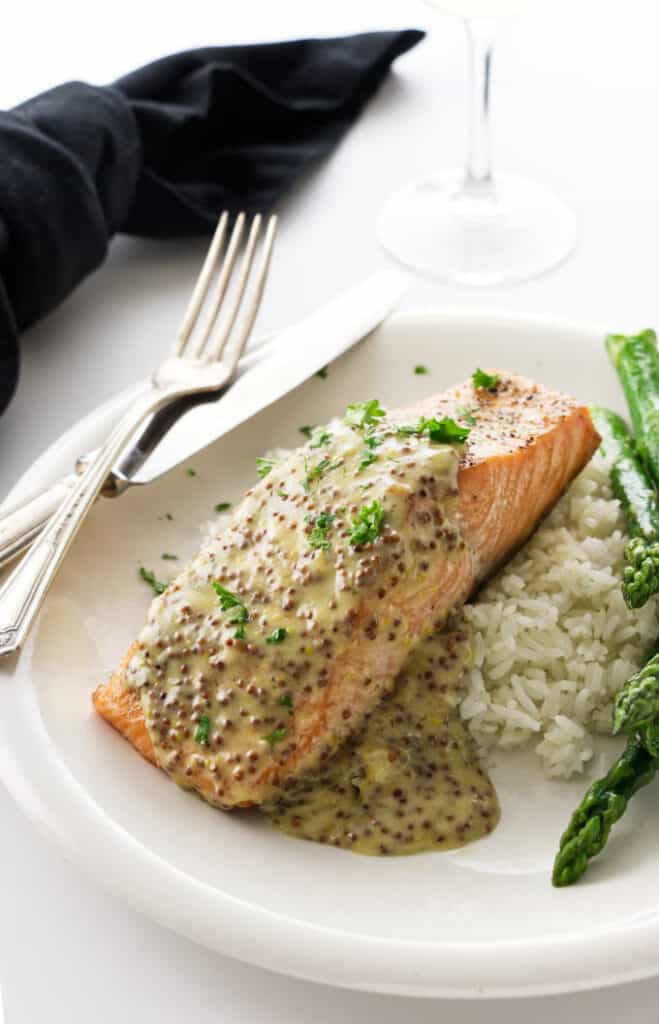 The creamy, whole grain mustard sauce brings a new dimension to a simple baked salmon and elevates it to an elegant entrée.
Living in the Pacific Northwest we have access to the best of the best when it comes salmon! These fresh wild King salmon fillets have been harvested from the cold Alaskan waters. It just doesn't get any better than this!
Can I use another species of salmon?
The answer is a definite 'yes'! We have chosen King salmon because… who can pass up these fresh fillets when then are available for a short time? You can use any species of salmon for this baked salmon with mustard sauce. If fresh is not available in your area it will be just as wonderful made from frozen salmon. Here is a list of the different salmon species to choose: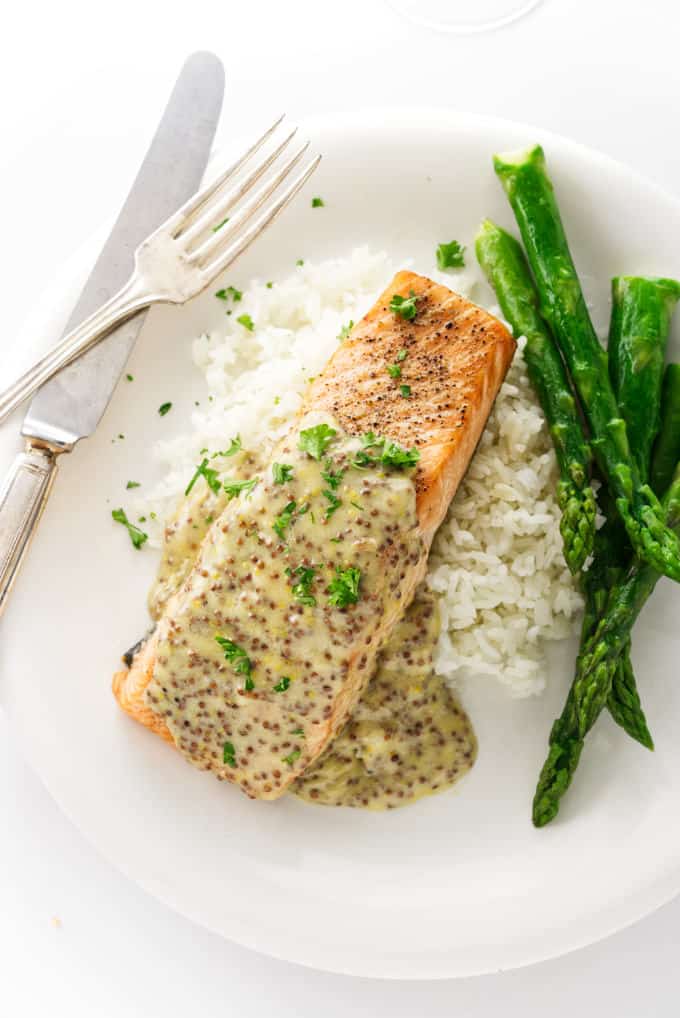 Chinook (King salmon)
Sockeye (Red Salmon
Coho (Silver Salmon)
Pink (Humpback Salmon)
Chum (Dog Salmon)
Salmon is high in fat and rich in the heart-healthy Omega-3 fatty acid. No matter the method it is cooked you can trust it to be one of the best and healthiest fish you can eat. The most important caveat is to not over-cook the salmon!
For additional recipes check out our posts for Broiled Copper River Salmon, Ginger-Miso Salmon, or Steamed Salmon for starters but there's so much more!
If you check our recipe index you will see that we love our salmon! We have all sorts of recipe ideas for appetizers like a Smoked Salmon Torta, Smoked Salmon Crostini, Smoked Salmon Spread and even how to make a homemade Salmon Gravlax.
Ingredients needed to make this baked salmon with mustard sauce:
We have limited the seasoning on the salmon to a simple blend of salt and pepper. The tantalizing taste of the creamy mustard sauce with its crunchy whole grains adds an incomparable flavor and texture.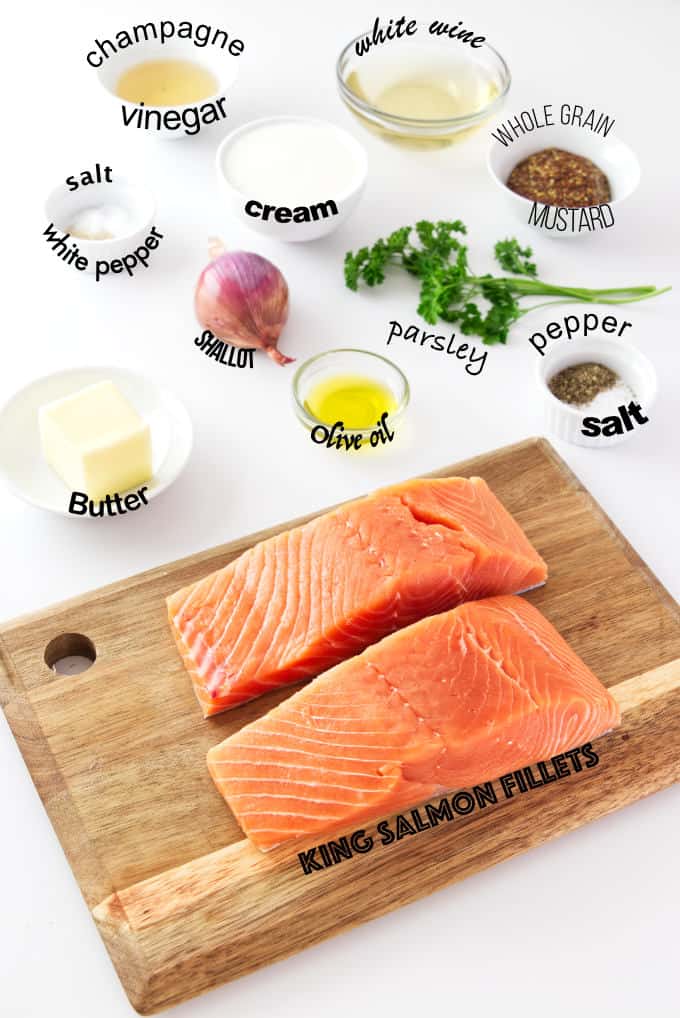 Salmon fillets
Olive oil
Kosher salt
Black pepper
Butter
Shallot
Champagne vinegar
White wine
Cream
Table salt
White pepper
Whole grain mustard
Parsley for a garnish
How to Prepare this Baked Salmon with Mustard Sauce:
The easy mustard sauce actually takes longer to cook than the salmon. With the salmon resting time it all comes together perfectly. Here is a quick run-down of the process. Be sure to scroll to the actual recipe card at the bottom of the post for the full instructions as well as tips in the note section.
Set the oven to 425°F and let it heat up.
Blot the moisture off the salmon fillets.
Season the fish. Coat the salmon with olive oil then sprinkle salt and pepper on the fillets.
Bake the salmon. Place the fillets skin-side down on the baking sheet and transfer to the preheated oven. Bake the fillets according to your preferred doneness.
Helpful Tips:
For easy cleanup, line a small baking sheet with foil and spray it with oil.
Remove any pin bones from the fillets. I used a pair of kitchen pliers for this. King salmon fillets have long, thick pin bones and you may need to tug a little to remove them.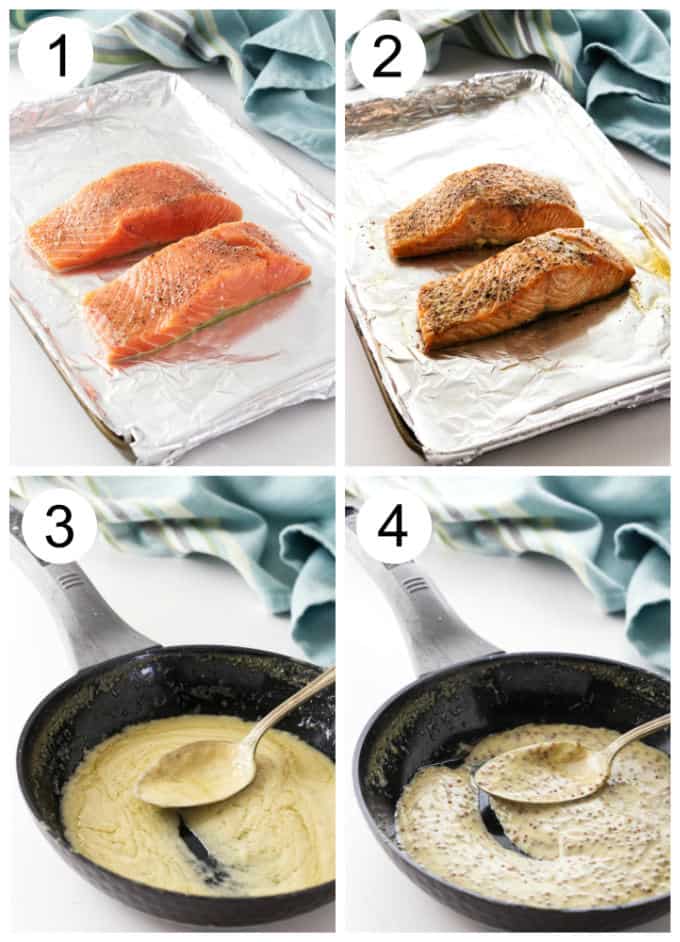 Cooking Times for Baked Salmon Fillets:
This is a guide for how long to cook the salmon fillets. Keep in mind that the USDA recommends cooking salmon to an internal temperature of 145°F for food safety purposes. We prefer our salmon cooked much less but you do what is good for you. We like our salmon cooked medium-rare to medium for a tender and moist fish. At 145° it is considered well-done and becomes quite dry.
To reach a temperature of 140° to 145°, cook the fillets for 4 to 6 minutes for every 1/2-inch thickness. The best way to determine the internal temperature of your salmon is to use a meat thermometer. We remove the salmon from the oven when it is within 5°F of our preferred doneness. A 5 to 10 minute rest time brings the residual temperature up by 5°F.
Here is the salmon temperature chart to help guide you.
| Salmon Doneness | Internal Temperature |
| --- | --- |
| Rare | 110°F |
| Medium rare | 125°F |
| Medium | 130°F |
| Medium-well | 140°F |
| Well-done | 145°F |
If you cook the salmon over 145°, you will have a very dry salmon fillet. Salmon needs a rest time just like a good steak and that residual heat will keep it cooking.
Let's Make the Mustard Sauce:
This is a great sauce for salmon and it is equally delicious with pork or chicken. It comes together in 15 to 20 minutes and if you plan accordingly it will be finished and ready to serve by the time the salmon has rested. Or you can also prepare the sauce first and keep it warm while the salmon bakes.
Heat a small skillet over medium heat and when it is hot, melt the butter and cook the shallot until it is translucent. Do not let it brown.
Pour in the wine, vinegar, and cream. Simmer the mixture gently, stirring occasionally, for 10-12 minutes reducing it by half until thickened. Stir in the salt and white pepper adjusting to your taste preference.
Remove the sauce from the heat and whisk in the whole grain mustard. To serve, plate the salmon and spoon sauce on each serving.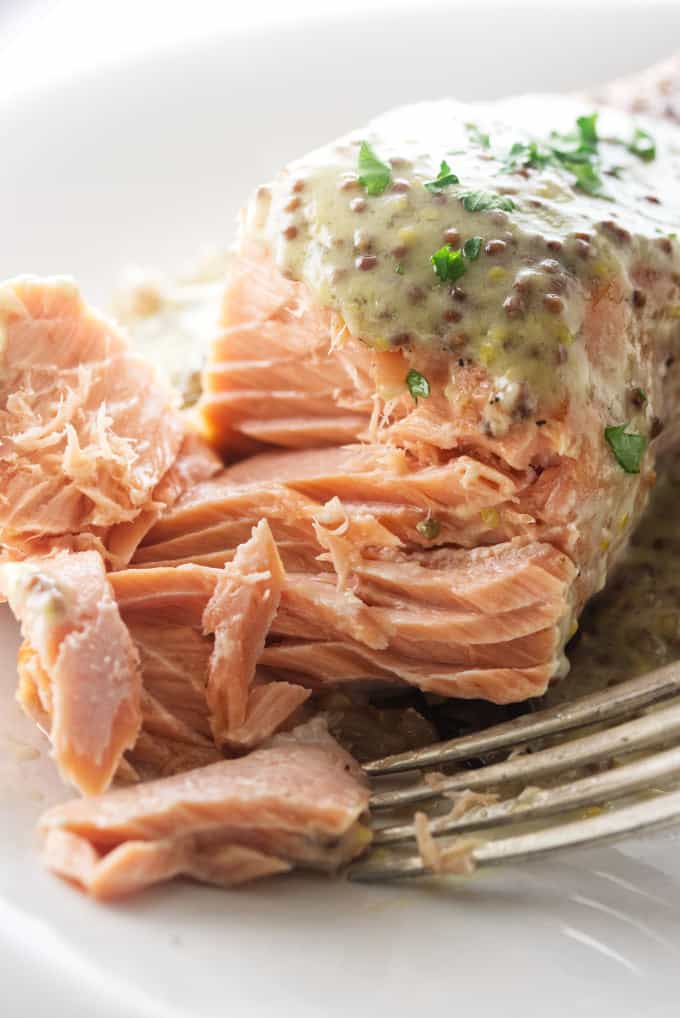 What to Serve with Baked Salmon with Mustard Sauce:
We cooked a pot of basmati rice and sautéed fresh asparagus. Steamed broccoli, steamed green beans or herbed zucchini are more options to consider along with a crisp green salad.
Don't forget dessert! Lucky for us, I still had some peach crisp left in the fridge. A quick zap in the microwave and a scoop of vanilla ice cream finished off our dinner!
CHECK OUT MORE EASY FISH RECIPES THAT WE ARE SURE YOU WILL LOVE:
Sake-Red Miso Glazed Sablefish with Wasabi Emulsion: Sablefish is a rich, delicate, fatty fish and the sweetness of the saki-miso marinade is a perfect balance and is complimented with the wasabi emulsion.
Pan-Fried Cod with Lemon-Garlic Sauce: Pan Roasted Cod with Lemon-Garlic Sauce is an easy recipe that is both delicious and Omega-3 heart-healthy. The flavor of this flaky fish is enhanced with a tangy lemon-garlic sauce spooned over a lightly crusted, pan roasted cod fillet. The savory lemon-garlic sauce adds a rich elegance to this easy entrée.
Ahi Tuna Poke Bowl: Fresh, sushi-grade tuna cut into cubes and lightly marinated in a zesty sauce. Served with sushi rice, avocado cubes and sweet-tangy pickled ginger. Yum!
CONNECT WITH SAVOR THE BEST!
Be sure to follow us on our social media accounts
Facebook * Instagram * Pinterest * Twitter * Youtube
Did you make this recipe? We would love to hear from you. Drop us a comment below.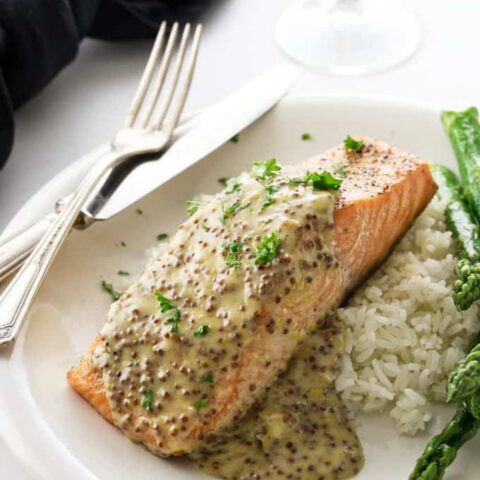 Baked Salmon with Mustard Sauce
Yield: 2 Servings
Prep Time: 5 minutes
Cook Time: 20 minutes
Total Time: 25 minutes
A creamy, whole grain mustard sauce adds a tangy taste to this simple, baked salmon with mustard sauce.
Ingredients
For the Salmon:2 (6-8 oz) Wild King salmon fillets
1 tablespoons olive oil
1 teaspoon kosher salt
1/4 teaspoon freshly ground black pepper
Mustard Cream Sauce:
2 tablespoons butter
2 tablespoons finely chopped shallot
1/4 cup champagne vinegar
1/2 cup dry white wine
1/3 cup heavy cream
1/4 teaspoon salt
1/8 teaspoon white pepper
2 tablespoons whole grain mustard
Chopped parsley for garnish
Instructions
For the Salmon:
Preheat the oven to 425°F and line a small baking sheet with foil.
Pat salmon dry with paper towels, brush with olive oil and season with salt and pepper.
Place salmon on baking sheet, skin side down and transfer to the oven.
Bake 4-6 minutes per 1/2-inch thickness or until the internal temperature of the salmon reaches 140°F on an instant-read thermometer, or to your personal taste preference. (we like salmon medium-rare and I baked ours until it reached 130°F, about 4 minutes per half inch of thickness).
Move salmon to a platter and tent with foil and let rest for 5-10 minutes.

Mustard Cream Sauce:

In a small skillet set over medium heat, add the butter to the pan and when melted, sauté the shallot until translucent. Add the vinegar, white winer and cream. Simmer until reduced and thickened, about 10-12 minutes. Stir in the salt and pepper.
Remove from heat and whisk in the mustard.
To serve, Plate the salmon and spoon sauce over each serving.
Notes
This recipe works for any salmon species
Buy salmon with skin on as it helps to insulate the fish from the hot pan
For every 1/2-inch of thickness, cook for 4-6 minutes depending on your personal taste.
For a really moist, juicy salmon fillet, cook it to medium-rare, 130°F, for medium-cook a little longer to 140°F anything over 145°F will be dry.
Remember, salmon should have a rest time, just like a good steak. During the rest time the residual heat continues to cook the fish. Our medium-rare fillet reached 135°F after the 10 minute rest.
If you do not have an instant read thermometer, pierce the thickest part of the fillet with a fork and give a slight twist. If the flesh is flakey, looks undercooked and translucent you're golden! Remove from the oven and enjoy.
It is safe to eat undercooked salmon. If you can eat salmon sushi or salmon sashimi you will enjoy your salmon fillets slightly undercooked.
Simmering the sauce will take 10-15 minutes to reduce.
Nutrition Information:
Yield: 2
Serving Size: 1
Amount Per Serving:
Calories: 367
Total Fat: 33g
Saturated Fat: 17g
Trans Fat: 1g
Unsaturated Fat: 14g
Cholesterol: 75mg
Sodium: 1598mg
Carbohydrates: 6g
Fiber: 1g
Sugar: 3g
Protein: 2g
Nutrition information is a guideline only, is calculated automatically by third-party software, and absolute accuracy is not guaranteed.