Elevate your next picnic lunch or barbecue with this cranberry chicken salad! Shredded chicken, crunchy celery, fresh chives, and red onion are tossed with roasted pecans and dried cranberries. The creamy, delicious dressing is a simple mayonnaise honey dijon mix that brings it all together into one beautiful medley of flavors.
The tart sweetness from dried cranberries makes this salad irresistible. You're going to love how easy it is to through together.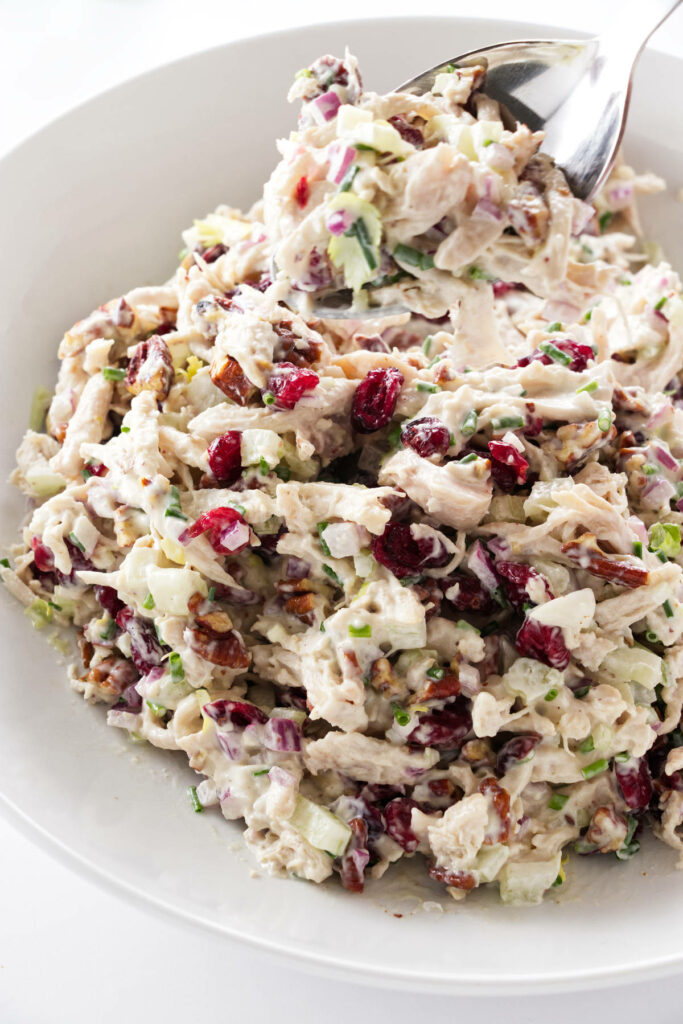 Chicken salad is a meal that always seems to hit the spot. Whether it's served on a bed of fresh greens or as a chicken salad sandwich, there's something about this easy lunch recipe that is sure to please!
We're big fans of this rosemary chicken salad sandwich and our pineapple chicken salad with curry dressing, but right now, the cranberry chicken salad is having a moment here on our site.
It feels especially appropriate in the spring or summer, served in between fresh slices of your favorite bread, but the great thing about dried cranberries is it's really an all-seasons food.
Pack it into a soft and fluffy croissant or serve it on top of a fresh spring mix of greens. Smear it onto sourdough crackers for an extra easy snack or lunch, or spoon it into a kamut tortilla to make a delicious chicken salad wrap. Anything goes- another reason we love this healthy chicken salad!
Why This Recipe Works
Using rotisserie chicken makes this recipe quick and effortless. (But you can cook your own chicken if you like).

Cranberries add a tart, sweet flavor that contrasts with the savory chicken and crunchy nuts.

Easy to make and ready in 20 minutes for a quick healthy lunch.

This recipe makes a filling and flavorful meal packed with protein and nutrients.
If you want to cook the chicken yourself instead of starting with a rotisserie chicken, try our Instant Pot frozen chicken or grilled chicken breasts.
The Ingredients
It doesn't take a lot to make a cranberry pecan chicken salad that everyone will rave about!
Here are the ingredients you will need:
Chicken. Cooked and shredded chicken meat (leftover roasted chicken is perfect for this!)
Celery. Adds a crunchy texture.
Pecans. Toasting the pecans will enhance the nutty flavor. You can substitute for walnuts if you like.
Dried cranberries. The tart, sweetness gives a delicious balance of flavors.
Red onion. If you want a milder onion, use a sweet onion like a Vidalia.
Fresh chives. You can substitute with green onions.
Mayonnaise. For a healthier option, swap the mayo for yogurt and sour cream.
Dijon mustard. Dijon adds a tangy, spicy flavor.
Honey. A bit of sweetness balances the savory and tangy flavors.
Salt and pepper.
How to Make Cranberry Pecan Chicken Salad
Toasted pecans and tart, and sweet cranberries make this a favorite recipe that everyone will love.
We also love how versatile this cranberry chicken salad is- there are endless ways to enjoy it and you can customize the add-ins based on your own personal taste.
Here's a quick look at how to make it but be sure to scroll to the bottom of the page to view the printable recipe card for all of the instructions and ingredient amounts.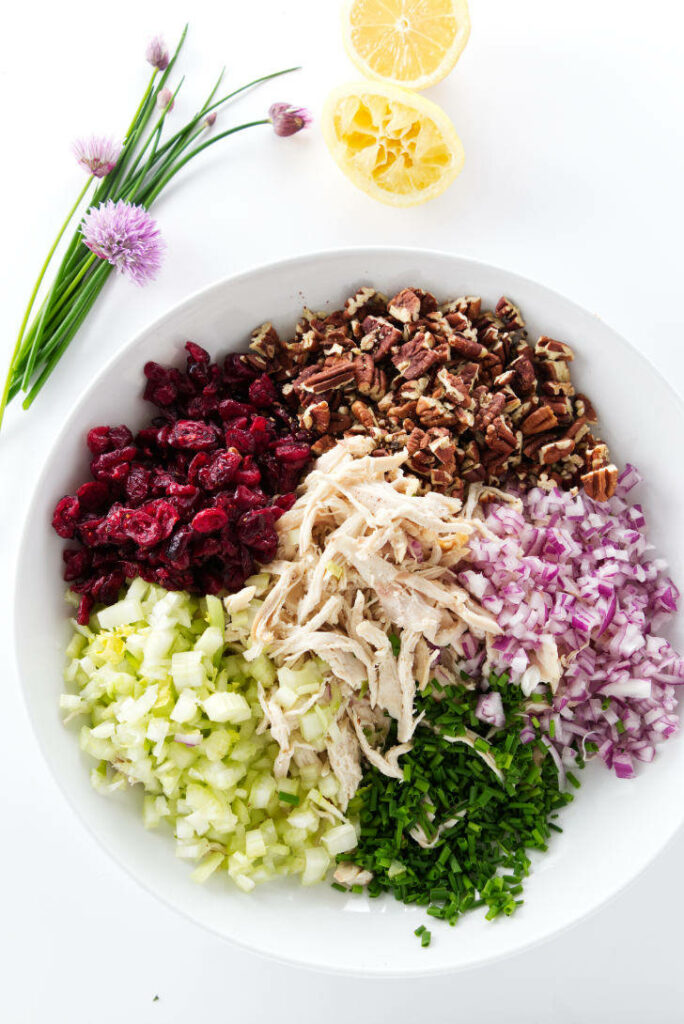 First, in a large bowl, combine the shredded chicken, celery, pecans, cranberries, onion, and chives.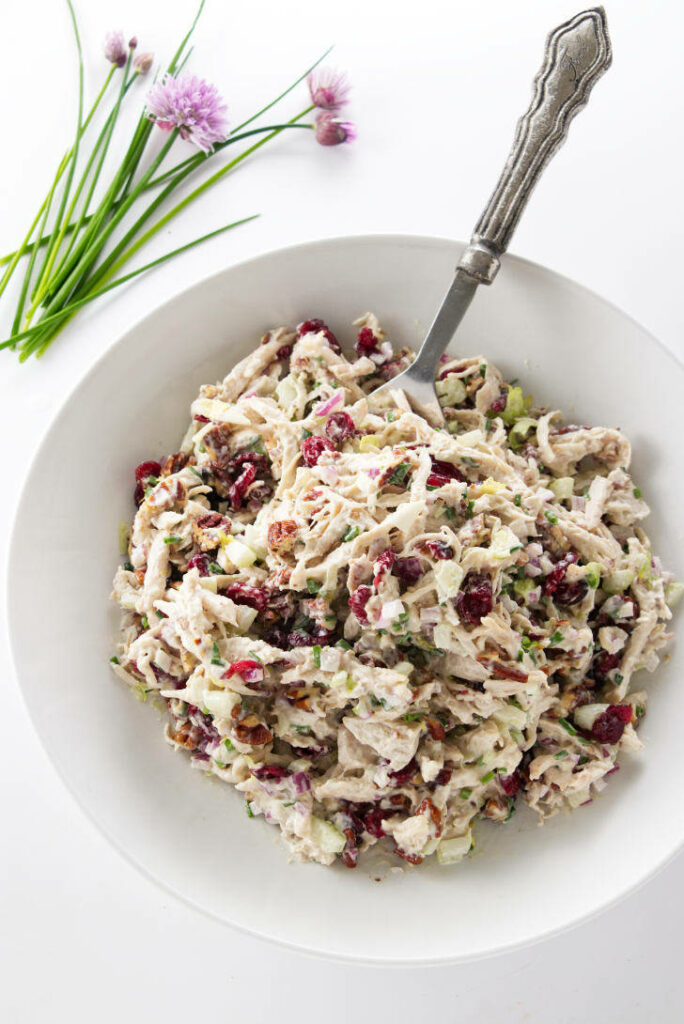 Mix the dressing in a small dish and toss the salad mixture into the dressing.
Serve the chicken salad on greens garnished with more fresh chives, or on a soft and fluffy croissant for the ultimate chicken salad sandwich.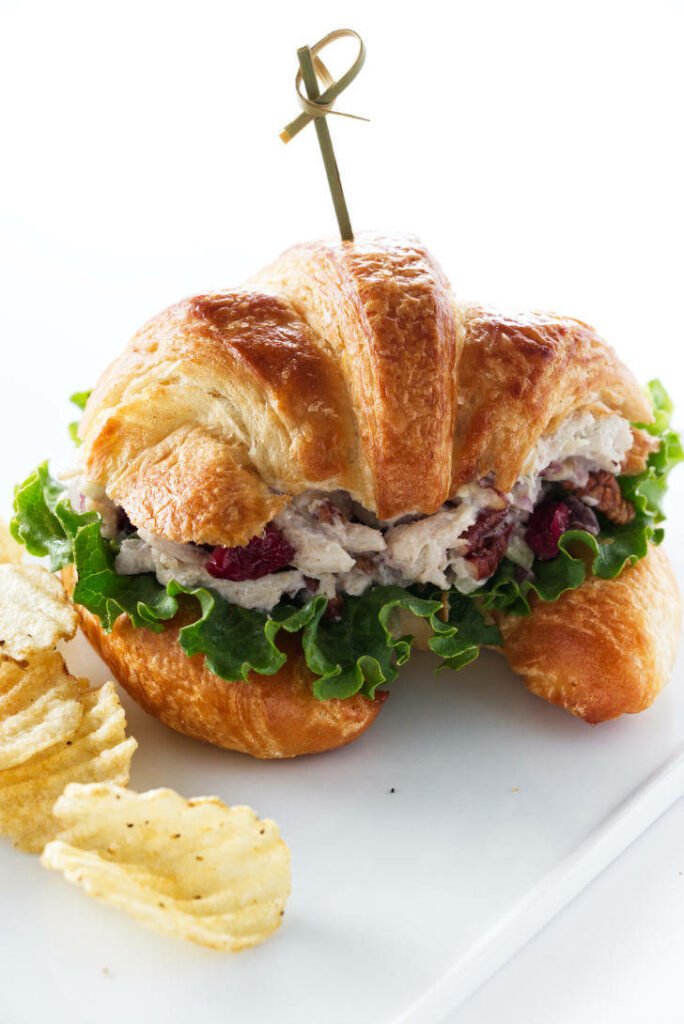 Recipe Tips
Any kind of cooked chicken will work for this salad. Leftover chicken makes it fast and easy but it doesn't take long to roast chicken thighs or bake chicken quarters.

You can also enjoy this cranberry chicken salad served on crunchy artisan crackers or in lettuce cups for a low-carb spin.

Our classic chicken salad will keep well in the refrigerator (stored in an airtight container) for up to one week. Since there is mayonnaise in the dressing, make sure to keep it chilled.

Customize this simple chicken salad recipe however you like! Try adding sliced grapes, chopped apples, or crispy bacon.

OceanSpray calls their dried cranberries 'craisins®' and we love them because they are a little bit plumper than other brands (this is NOT a sponsored post). But, any dried cranberries will work in this recipe.
For a healthier, low-fat option, swap out the mayonnaise for Greek yogurt and sour cream.
Our cranberry chicken salad recipe is a healthy, satisfying meal that you can easily whip up for a casual lunch or special occasions, too! It's perfect for brunch, bridal showers, or any kind of luncheon.
And if you're looking for a few ideas on what to serve with chicken salad, here are some suggestions: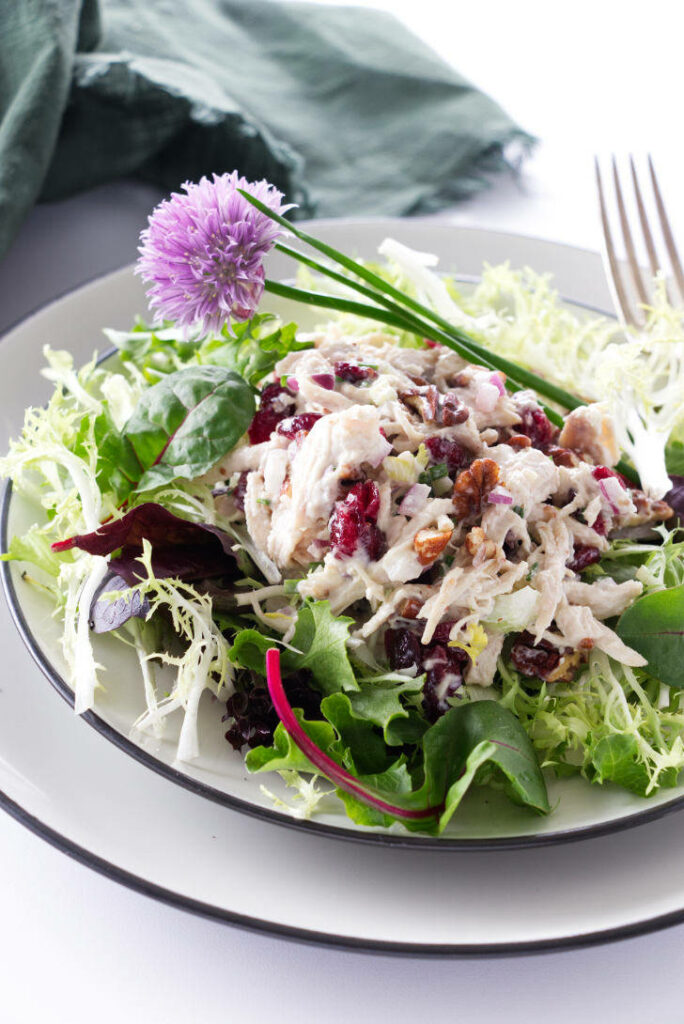 With tender shreds of chicken, crunchy pecans, and celery, plus sweet and savory mix-ins, it's impossible not to savor every bite of our cranberry chicken salad.
Some Other Recipes We Are Sure You Will Love:
This Saigon Chicken Salad features tender shredded chicken, crisp veggies, sweet mango slices and fresh herbs of Thai basil and mint. All of the flavors combine to create one epic, Vietnamese-inspired dish!
Our Thai Chicken Larb Salad is a favorite. Ground chicken, chestnuts, scallions, mint, basil and cilantro create a fusion of flavors you'll love!
You will love our Grinder Salad Sandwich. It's no wonder this TikTok-inspired sandwich recipe went viral. With a simple marinated tangy salad piled onto thick layers of cheese, meat and French bread, every bite is flavorful and hearty. We take it an extra step and pile on fresh sliced tomatoes, banana peppers, and an olive tapenade.
Make a smoked beer can chicken and use the leftovers for a chicken salad that has a hint of smokey flavor. It is a great way to use up leftovers.
Connect With Savor the Best:
Please follow us on our social media accounts
Facebook * Instagram * Pinterest * Youtube * Twitter
Did you make this recipe? We would love to hear from you. Drop us a comment below.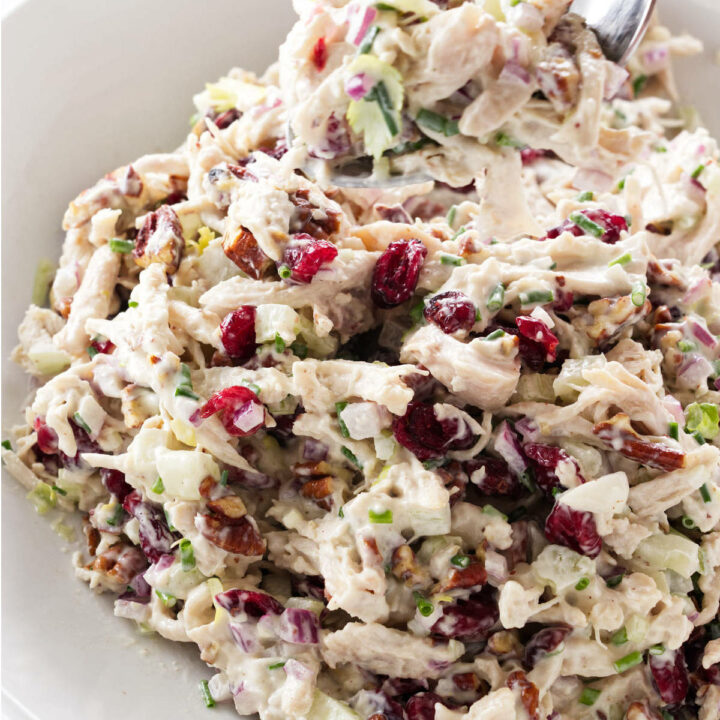 Cranberry Chicken Salad
This cranberry chicken salad is made with shredded rotisserie chicken, diced celery, snipped chives, bits of red onion, roasted pecans, and tart, dried cranberries. A simple mayonnaise honey dijon dressing brings it all together.
It is an easy and versatile recipe. Check the recipe notes for recipe variations (like adding crispy bacon)!
Ingredients
For the Chicken Salad:
1-1/2 pounds cooked and shredded chicken meat
1 cup diced celery (about 2 stalks)
1 cup chopped roasted pecans
1 cup dried cranberries
1/3 cup finely chopped red onion
1/3 cup chopped fresh chives
For the Salad Dressing:
3/4 cup mayonnaise
1 tablespoon Dijon mustard
1 tablespoon honey
1/2 teaspoon salt
1/4 teaspoon freshly ground white pepper or black
Instructions
In a large salad bowl, add the chicken, celery, pecans, cranberries, onion and chives and toss to combine.
To make the salad dressing, add the mayonnaise, mustard, honey, salt and pepper in a dish and whisk together. Mix the salad dressing with the chicken salad mixture and blend well.
Serve on salad greens garnished with fresh chives or on a croissant as a chicken salad sandwich.
Notes
Any cooked chicken will work for this salad. I used part of a rotisserie chicken. You can use chicken thighs, legs, or chicken breast meat (chopped or shredded). You can also substitute the chicken for leftover turkey.
Serve on a bed of greens as a salad or heaped into a sliced croissant for a sandwich.
This is also delicious as appetizers on crunchy crackers or in a lettuce wrap.
Recipe Variations

A few suggestions for flavorful add-ins:
Bacon crumbles
Grapes (halved)
Chopped apples
Diced radish
Green onions
Nutrition Information:
Yield:

8
Serving Size:

1
Amount Per Serving:
Calories:

529
Total Fat:

34g
Saturated Fat:

6g
Trans Fat:

0g
Unsaturated Fat:

26g
Cholesterol:

107mg
Sodium:

420mg
Carbohydrates:

22g
Fiber:

3g
Sugar:

18g
Protein:

34g
Nutrition information is a guideline only, is calculated automatically by third-party software, and absolute accuracy is not guaranteed.