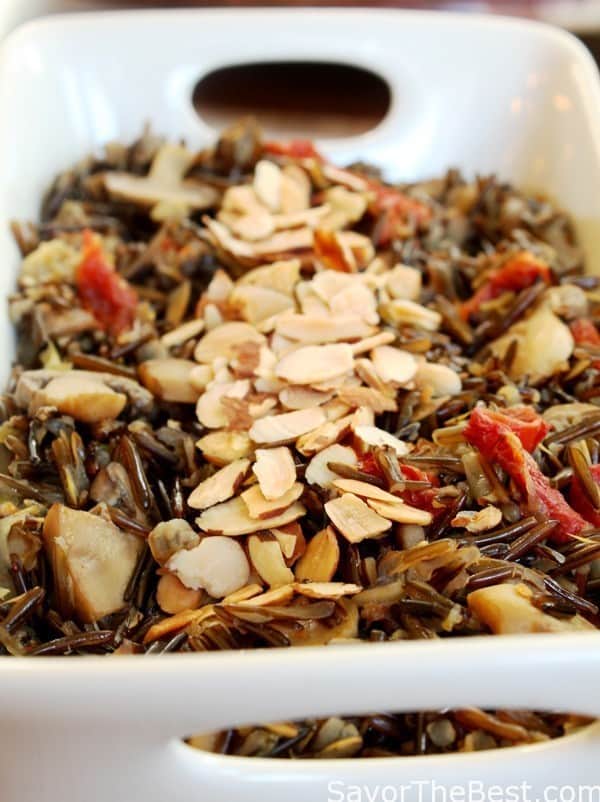 Wild rice takes quite a while to cook and by the time I get home from work I don't want to wait an hour for dinner to be ready, especially if it is already after 6pm when I get home.
To help make weeknight dinners quick and easy, I will often make a large side dish like this wild rice pilaf on the weekend and serve it with a couple of meals during the week. Once I get home from work, I can quickly grill a salmon fillet, steam some broccoli and heat up the rice pilaf all in time to have dinner on the table within 15 minutes. Easy peasy!!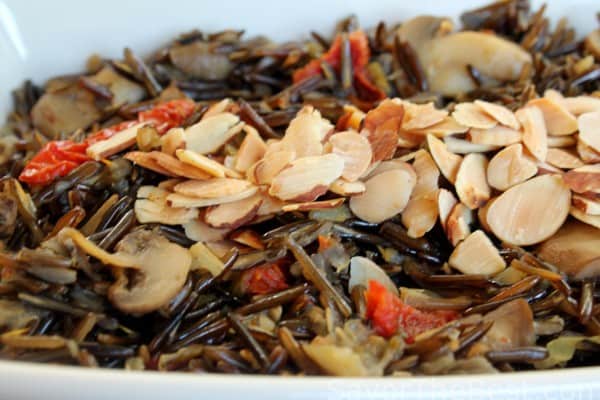 Some nights I simply don't make it home if I am on-call and covering for cardiac emergencies. If that happens I have some peace of mind that Jon will be able to heat up a bowl of rice and grill some fish or chicken for himself.
He typically won't think to make a green vegetable or salad but at least I know he wont have to order a greasy take-out meal if he has something to get him started. This rice pilaf is almost a meal all by itself. The mushrooms and sundried tomatoes give it so much substance and flavor you just might forget about making anything else.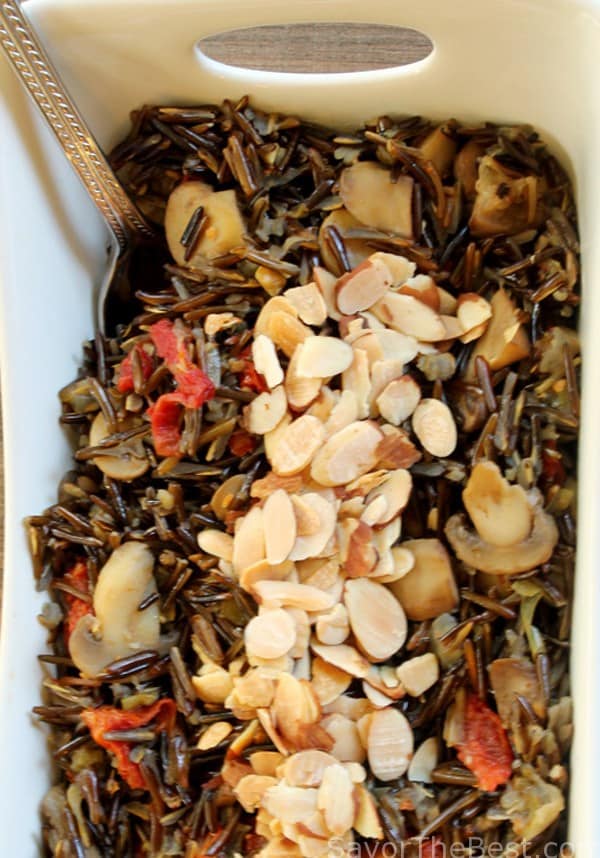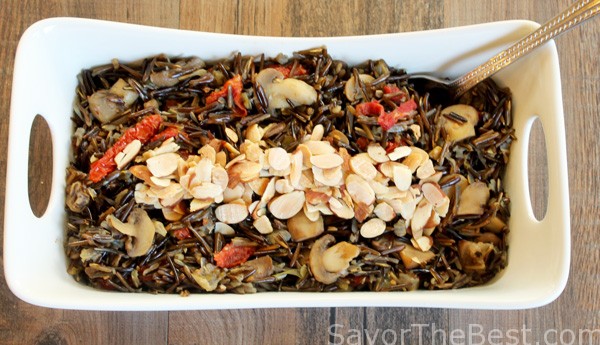 CONNECT WITH SAVOR THE BEST!
Be sure to follow us on our social media accounts
Facebook * Instagram * Pinterest * Twitter * Youtube
Did you make this recipe? We would love to hear from you. Drop us a comment below.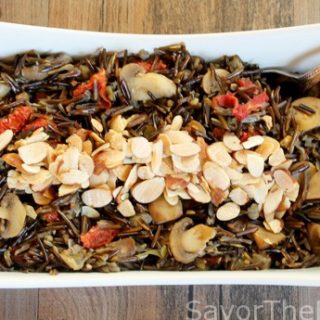 Wild Rice Pilaf with Mushrooms
Yield: 8 servings
Prep Time: 20 minutes
Cook Time: 1 hour
Total Time: 1 hour 20 minutes
A wild rice pilaf loaded with mushrooms and vegetables and full of flavor.
Ingredients
1 tablespoon olive oil
1 onion, diced
1 bell pepper diced
2 garlic cloves, chopped
8 ounces fresh mushrooms, cleaned and sliced
2 ounces sun dried tomatoes, sliced
1 teaspoon salt
1 teaspoon dried thyme
½ teaspoon freshly ground black pepper
1 ½ cups wild rice, rinsed and drained
3 ½ cups chicken broth
¼ cup slivered almonds, toasted
Instructions
In a large saucepan over medium heat, heat the olive oil. Add the onion, bell pepper and garlic and sauté until the onions are soft, about 5 minutes. Add the mushrooms, dried tomatoes, salt, thyme and pepper and sauté for 5 to 8 more minutes until the mushrooms have cooked down and sweated off their water.
Add the wild rice, and chicken broth and bring to a boil then reduce the heat to low, cover and cook until the rice is tender, about 45 to 55 minutes. Drain off any excess liquid. The wild rice is ready when the grains puff up and the inner, lighter part is visible. Top with toasted almonds before serving.
Nutrition Information:
Yield: 6
Serving Size: 1
Amount Per Serving:
Calories: 185
Total Fat: 5g
Carbohydrates: 27g
Protein: 8g