Crêpes come to us by way of France but America can produce some pretty impressive crêpes as well. Our recipe for wild rice crêpes with hazelnut pesto will make an elegant entrée for your next brunch or light dinner party. But you do not need to wait for a party, enjoy these crêpes anytime!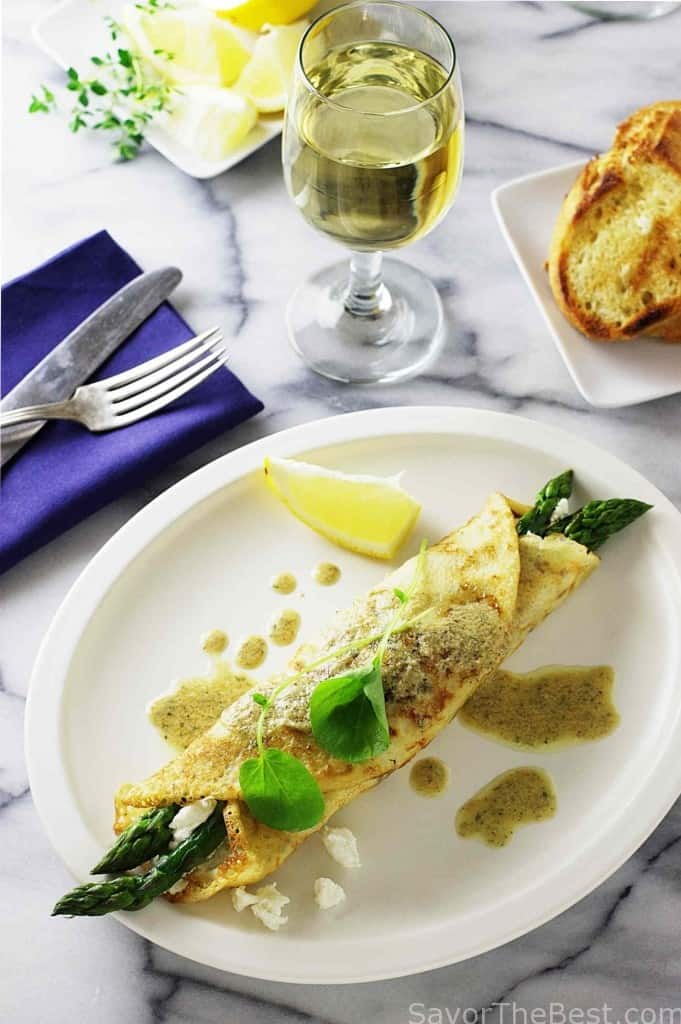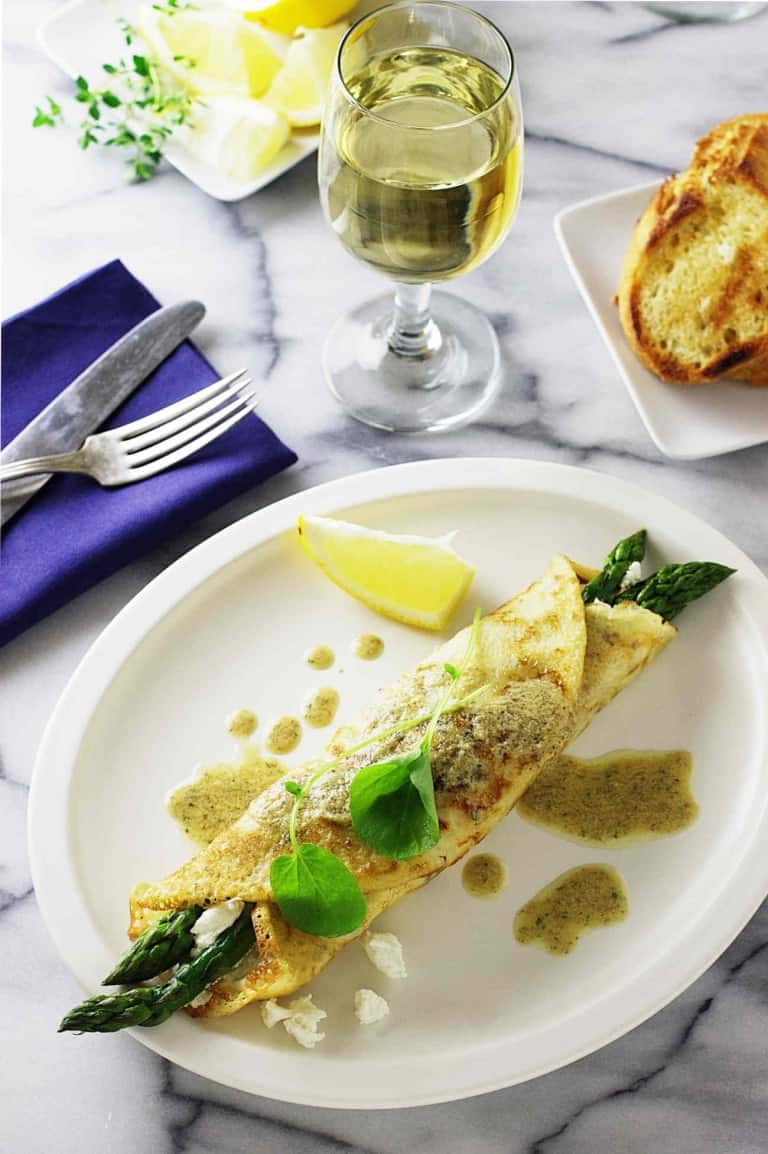 In most major U.S. cities there will be at least one crêperie restaurant where they will serve an extensive selection of delicious crêpes. Crêpes can be savory, appropriate for entrees and appetizers that are filled with meats, vegetables and cheeses or they can be sweet dessert crêpes with luscious pairings of fruits, creams, cheeses and sauces.
Crêpes are usually filled or rolled but can also be stacked or folded and sauced but all are delicious. While visiting in Whistler, Canada we enjoyed some incredibly delicious goat cheese and asparagus filled crêpes smothered in a cheesy cream sauce. It was the perfect lunch with a side salad and glass of white wine.
Our thin, moist crêpes have a sprinkling of cooked wild rice mixed into the batter giving them additional texture and flavor. After these thin pancake-like crêpes are cooked they are filled with a savory mix of soft goat cheese, crisp crumbled bacon, fresh herbs and crunchy fresh asparagus, they are folded into a cylinder and then drizzled with a delightful hazelnut pesto.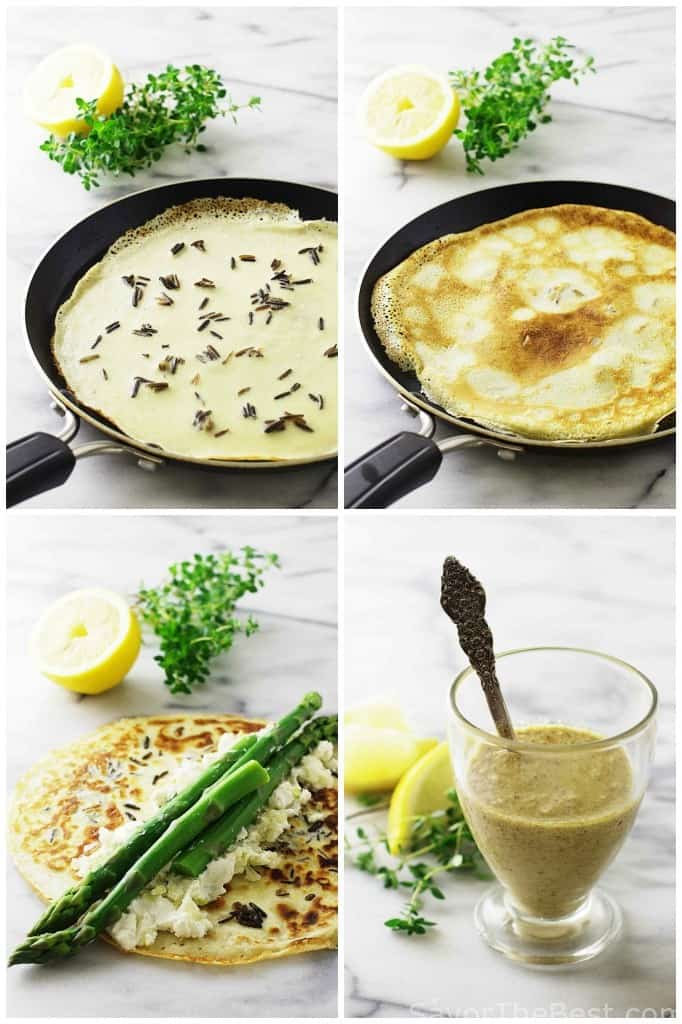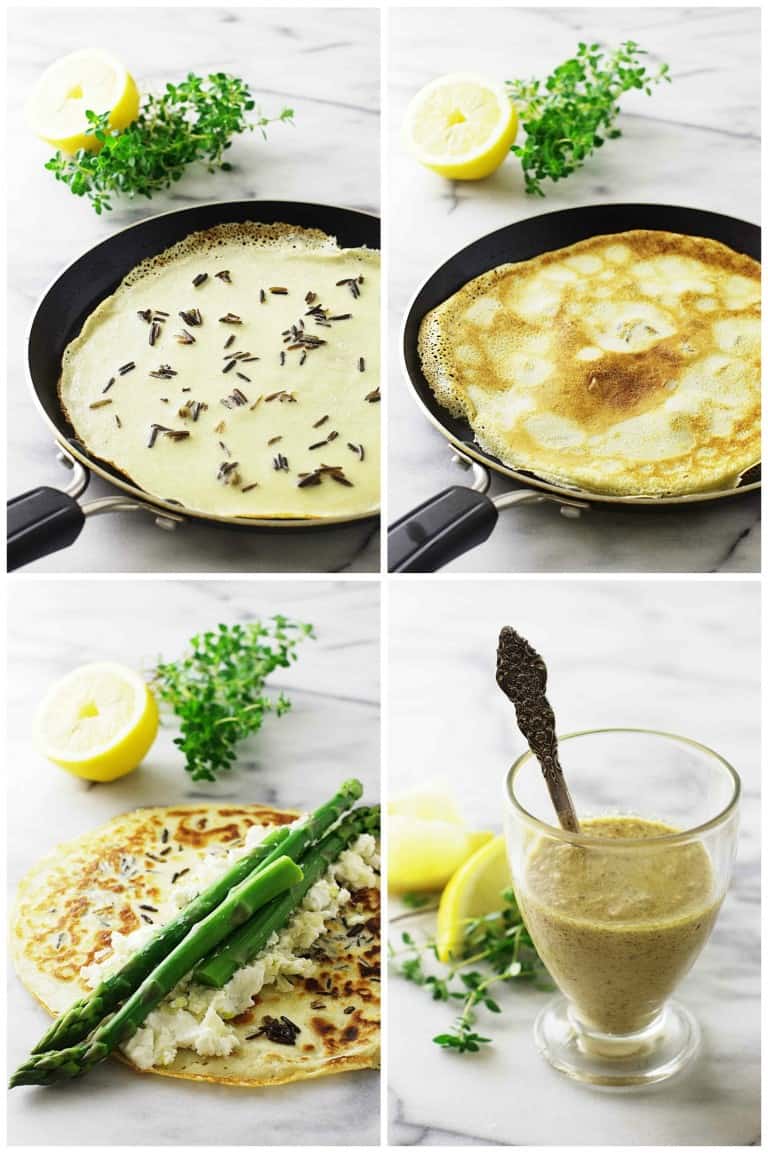 The hazelnut pesto is easy to make, with toasted hazelnuts, fresh thyme and lemon juice. The delicate flavors pair well with the freshness of the asparagus and soft goat cheese.
Serve these crêpes with a green salad, warm crusty bread and a crisp white wine. Sauvignon blanc would be perfect!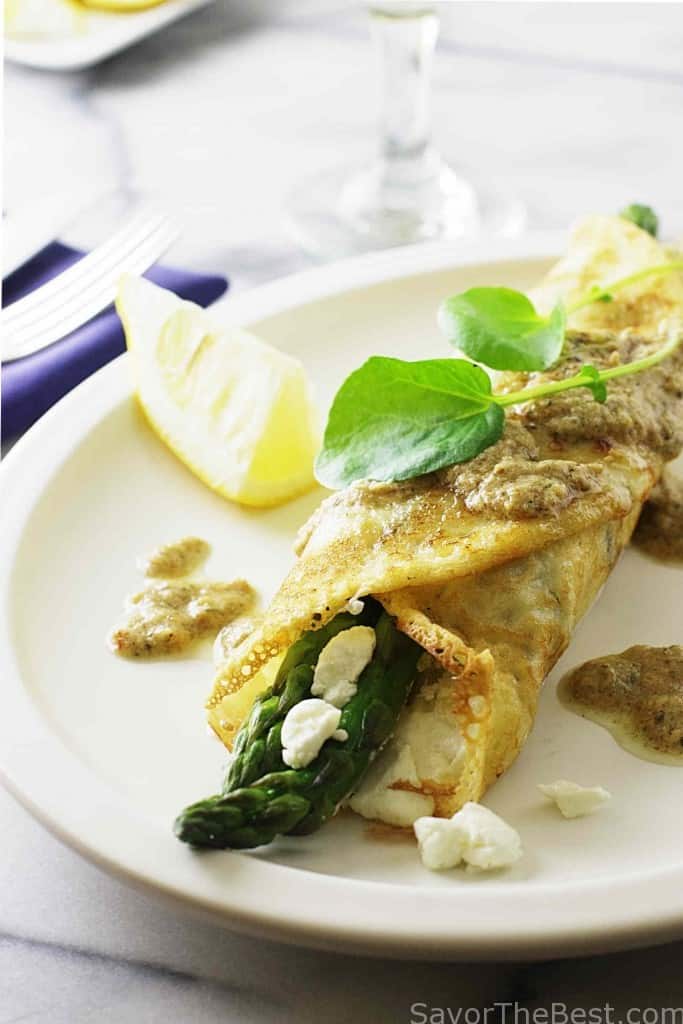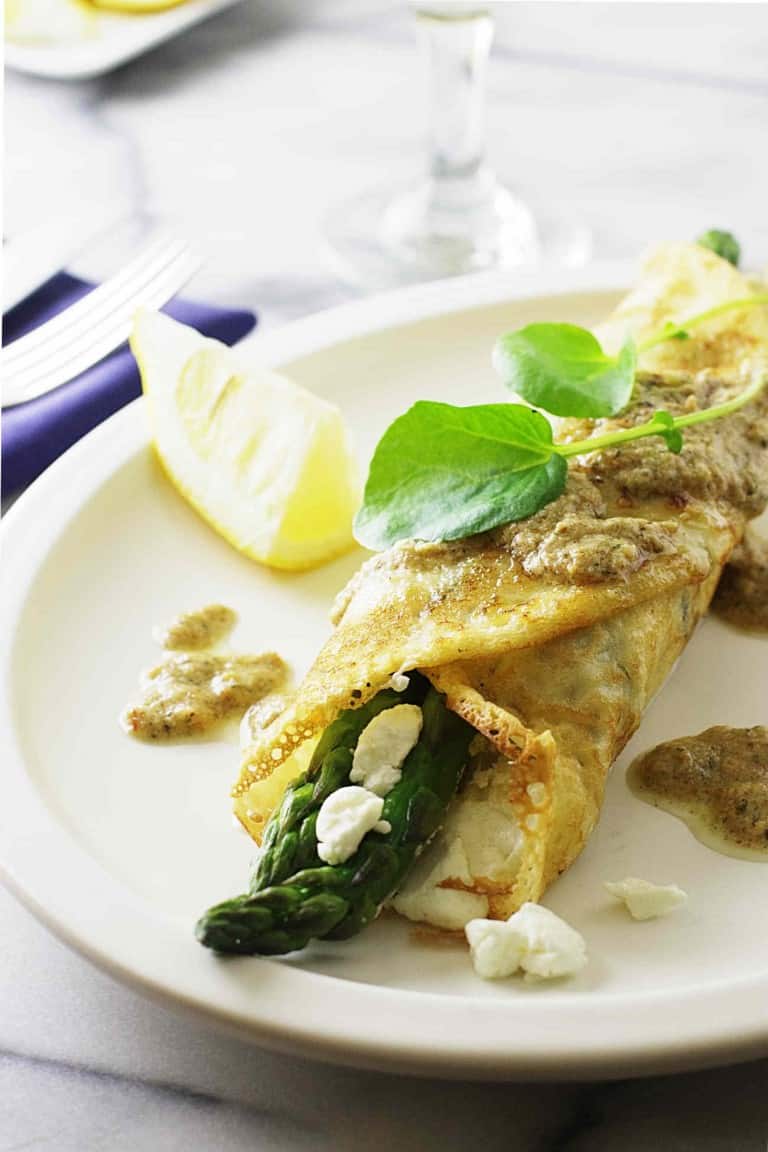 You might also like: Baked Eggplant with Goat Cheese Mushroom-Smoked Salmon Quiche with Black Rice Crust Goat Cheese-Sweet Red Pepper Bruschetta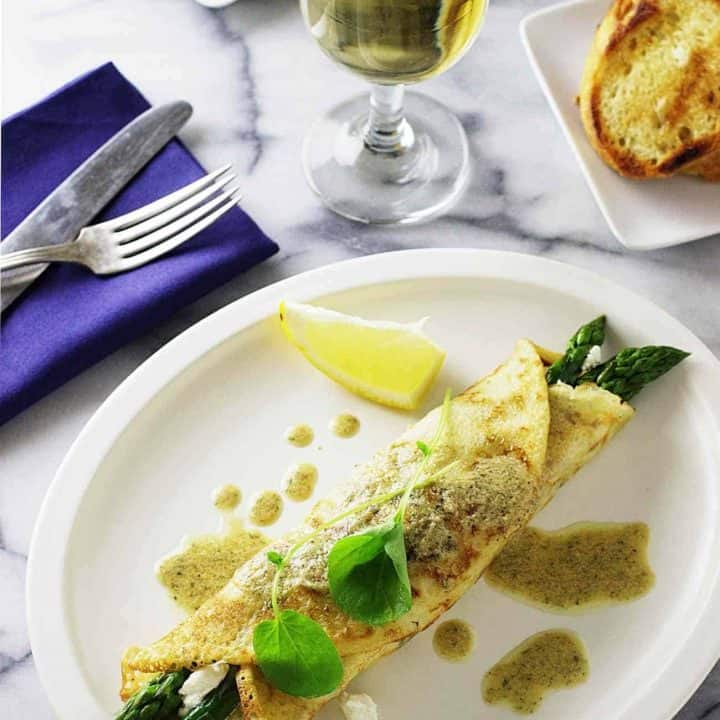 Wild Rice Crêpes with Hazelnut Pesto
Yield: 4 servings
Prep Time: 1 hour
Cook Time: 15 minutes
Total Time: 1 hour 15 minutes
Our wild rice crêpes are studded with wild rice and filled with goat cheese, bacon and fresh asparagus. They are drizzled with a delicate pesto made with hazelnuts, fresh herbs and lemon juice.
Ingredients
For the Wild Rice Crepes:
1/4 cup dry wild rice
1/2 cup white spelt flour or traditional all purpose flour
1/2 cup water
1/2 cup milk
1 egg
Pinch of salt
1 tablespoon butter
For the Filling:
16 Asparagus spears, trimmed
4 tablespoons butter
1/2 cup diced onion
4 ounces soft goat cheese, room temperature
4 slices crisp cooked bacon, crumbled or chopped
Watercress or fresh herbs for garnish
Hazelnut Pesto
1 ounce toasted and skinned hazelnuts
2 tablespoons chopped fresh thyme
1/4 cup freshly squeezed lemon juice
Pinch of sea salt and few grindings of black pepper
1/2 cup olive oil
Instructions
For the Crepes:
Add one cup of water to a small saucepan set over high heat and when it begins to boil, add the wild rice. Reduce the heat to low and simmer for 30 minutes. Drain the rice and reserve.
Combine the flour, water, milk, egg and salt in a blender and process until well blended. Add the melted butter and process just enough to blend. Transfer the mixture to a medium-size bowl, cover and refrigerate for 1 hour.
To cook the crepes:
Stir the wild rice into the crepe batter. Heat a 9-inch crepe pan or non-stick skillet over medium heat. Pour 1/4 cup of the batter into the crepe pan and swirl it around to cover the entire bottom. Cook until the crepe is no longer shiny on the surface and the edges have begun to pull away from the pan and begin to curl sightly, about 1 1/2 to 2 minutes. Flip the crepe and cook until the second side is nicely browned. Transfer to a plate and repeat with the remaining batter. Reserve 4 crepes for this recipe and any remaining crepes can be frozen for a later use.
For the Hazelnut Pesto:
Add the hazelnuts to the bowl of a food processor and pulse until they are finely chopped. add the thyme, lemon juice and salt and pepper and process to mix. While the processor is running, slowly drizzle in the olive oil. Transfer the pesto to a small dish and reserve. Makes about 3/4 cup
To make the filling:
Preheat the oven to 350°F
Prepare a large pan or bowl with ice water. Reserve
Fill a large pan or skillet with water and bring it to a boil over high heat. Add the asparagus spears and cook just until barely tender and still bright green, about 2 minutes. Drain and immediately plunge them into the ice water to stop the cooking process. When they have cooled in the ice water, transfer the spears to a kitchen towel to drain. Reserve
In a small skillet set over medium-high heat, add the butter and when it has melted add the onion and cook, stirring frequently until the onions have turned translucent but not brown. Adjust the heat if necessary. Transfer to a dish and when they have cooled add the goat cheese and the crumbled crisp bacon stirring to blend well.
To assemble and finish the crepes:
Spread 1/4 of the goat cheese mixture down the center of each crepe, add 3 or 4 asparagus spears on top then fold over the two sides of the crepe to cover the filling. Place the filled crepes on greased baking sheet and transfer to the oven and bake until the filling is hot, about 6 to 8 minutes.
Transfer the crepes to individual plates and drizzle some of the hazelnut pesto over the top, garnish with the watercress or fresh herbs and lemon wedges.
Notes
Nutrition Values exclude values in the hazelnut pesto. Each tablespoon of pesto has: 95 cals. and 10.4 fat
Nutrition Information:
Yield: 4
Serving Size: 1
Amount Per Serving:
Calories: 314
Total Fat: 23g
Sodium: 642mg
Carbohydrates: 15g
Fiber: 3g
Protein: 13g