This Mexican chicken casserole recipe will become a mainstay in your weeknight dinner rotation. A cross between a tamale pie and chicken enchiladas, this easy chicken casserole features all of the Mexican-inspired flavors we love, packed into one simple dish!
Pre-cooked shredded chicken, black beans, corn, aromatics, and red enchilada sauce come together for that delicious filling, while a buttery cornbread topping gives it the perfect crust. It's comfort food to the core. And we are here for it!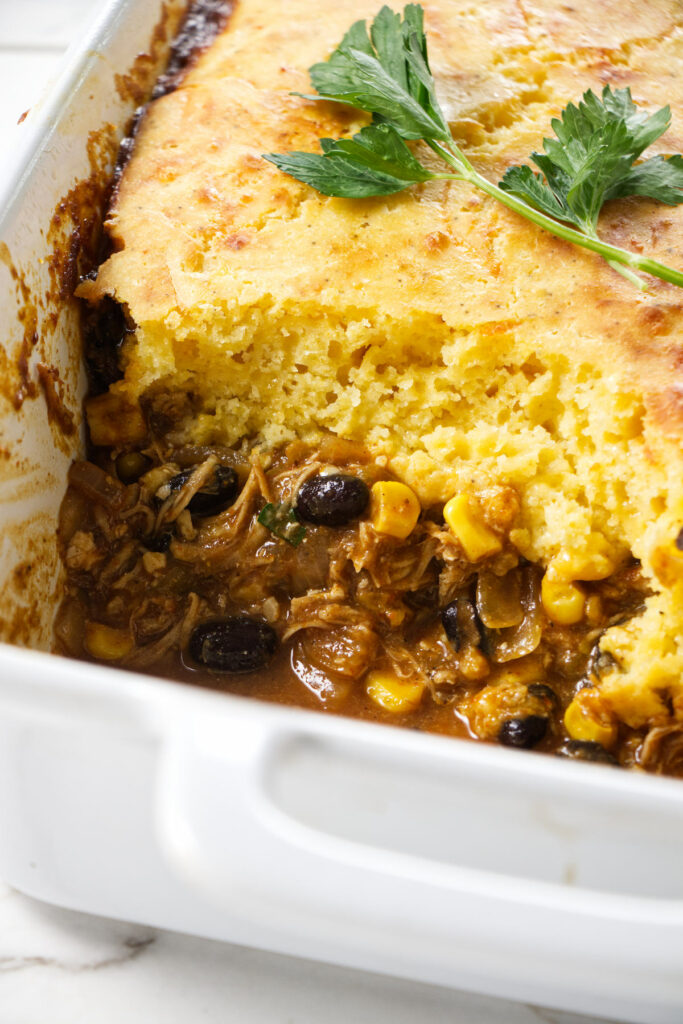 Why You'll Love this Mexican Chicken Bake
Our Mexican chicken casserole is a spinoff of our Mexican cornbread casserole. It has a similar cornbread topping and those Tex-Mex flavors we love.
But instead of the pork and smoky chipotle we used in that recipe, this casserole features a filling that uses pre-cooked chicken for convenience.
It's an "ease-meets-flavor" dish in every way, from the list of simple ingredients in the cheesy filling (like frozen corn and canned beans) to the cornbread topping that bakes into a beautiful golden crust.
Mexican chicken casserole is:
filling and flavorful
the perfect family-style dish
easy enough for a busy weeknight
hearty and satisfying comfort food
Ingredients for Mexican Chicken Casserole
To make our Mexican chicken casserole, you will need:
Onion and garlic
El Mariachi seasoning (see notes for substitutes)
Flour. Use this for the filling and the cornbread topping.
Salt. For the filling and the cornbread topping.
Enchilada sauce. Use either a can of store-bought sauce or our red chile enchilada sauce.
Cooked shredded chicken. Either a rotisserie chicken or shredded Instant Pot chicken.
Frozen corn.
Black beans. From a can or make a batch of Instant Pot black beans.
Diced green chiles. You can also use a roasted poblano pepper.
Cheddar cheese. This goes in the filling and the cornbread topping.
Cornmeal.
Sugar.
Baking powder and baking soda.
Buttermilk or milk.
Melted butter.
Eggs.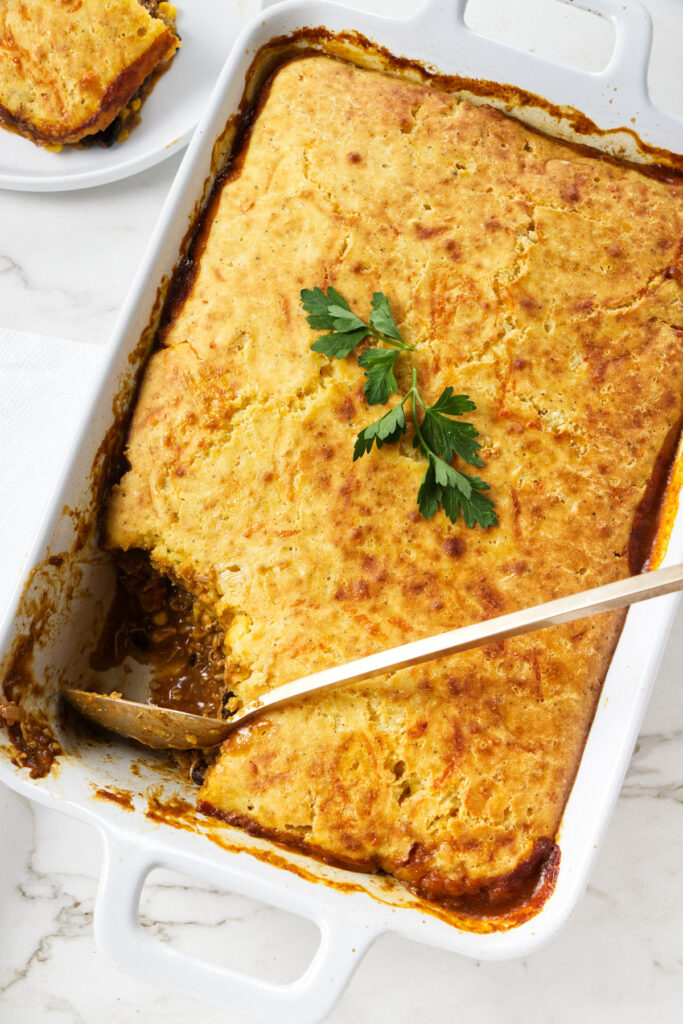 How to Make Mexican Chicken Casserole
With a prep time of only 20 minutes, this hearty, one-dish meal offers a big reward with little effort required.
Scroll to the bottom of the page to view the entire Mexican chicken casserole recipe (and printable recipe card). Here's a quick summary of the cooking process:
Make the chicken casserole filling: Cook the onions and garlic. Add the seasoning, flour, and salt, then pour in the enchilada sauce. Let it thicken for a few minutes, then remove it from the heat and mix in the rest of the filling ingredients. Pour it into the casserole dish.

Make the cornbread topping: Combine the dry ingredients in a bowl. In a separate bowl, mix together the milk, butter, and eggs. Fold the wet mixture into the dry ingredients, then fold in the shredded cheese.

Bake the casserole: Pour the batter on top of the chicken mixture and transfer the dish to the oven.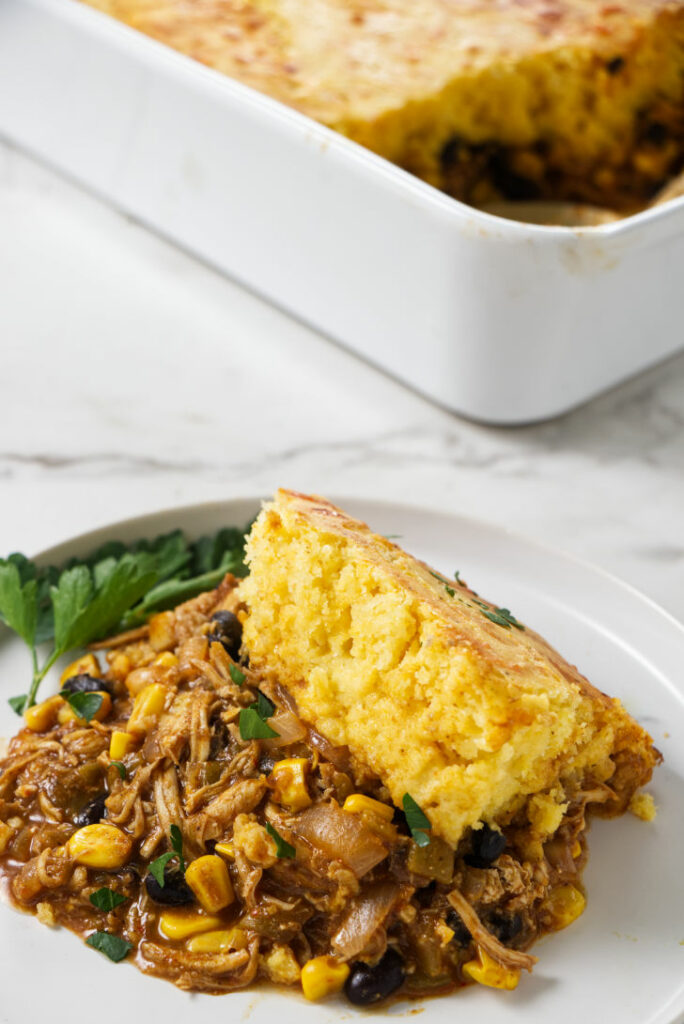 Recipe Tips
We like using Spiceology's El Mariachi seasoning but you can also substitute that blend with the following spice mix:

1-1/2 teaspoons ground cumin
1 teaspoon chili powder
1/2 teaspoon dried oregano


Both frozen corn and canned corn work well.

If your skillet isn't large enough to hold the entire chicken mixture, transfer the sauce to a large bowl and stir in the chicken, corn, beans, chiles, and cheese.

Store leftovers in the refrigerator for up to one week.
Frequently Asked Questions
What to serve with Mexican chicken casserole?
Our Mexican chicken casserole recipe is so good with a variety of sides! We like to serve it with Spanish rice, mole sauce and this chili relleno dip, but any dishes with Mexican-inspired flavors will work well.
What chicken is best for shredding?
You can shred either dark meat or light meat as long as it is cooked thoroughly. Rotisserie chicken always shreds easily. Grilled chicken breast or chicken legs will also shred well if you cook them long enough.
How do I reheat chicken casserole?
To reheat this Mexican chicken casserole, cover it with foil and heat in a 300°F oven until it is warmed through. The foil will prevent the cornbread topping from overcooking.
Helpful Tools
Some of the following are affiliate links. If you click on these links and purchase something, we may receive a small commission. You don't pay any extra but it will help us keep the lights on.
Some Other Recipes We Are Sure You Will Love
Mexican Steak Ranchero is a flavor-packed, easy-to-prepare meal for any night of the week. Beef steak is cooked until tender in a tomato sauce base with aromatics and veggies.
Homemade Kamut Flour Tortillas are surprisingly easy to make! Our Kamut flour tortillas only require a few minutes of prep and four simple ingredients for homemade tortillas everyone will love.
Our Corn Casserole is a delicious twist on a classic favorite, our corn casserole features savory, creamy corn filling with a touch of honey and bits of sun-dried tomatoes.
Connect With Savor the Best:
Please follow us on our social media accounts
Facebook * Instagram * Pinterest * Youtube * Twitter
Did you make this recipe? We would love to hear from you. Drop us a comment below.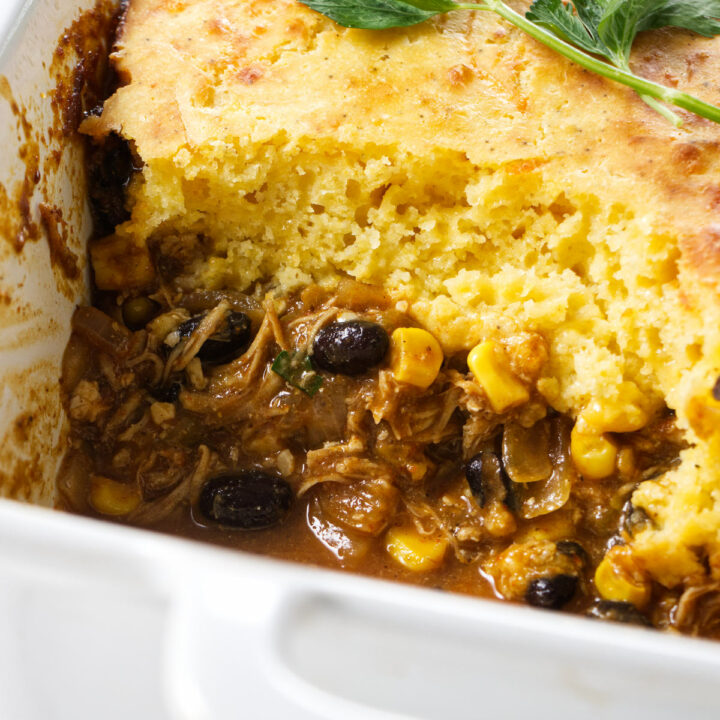 Mexican Chicken Casserole
This Mexican chicken casserole is a cross between a tamale pie and a chicken enchilada. It uses pre-cooked shredded chicken for convenience, and the cornbread topping gives it a delicious crust. This dish is perfect for a quick and easy weeknight meal.
Ingredients
Casserole
1 tablespoon cooking oil
1 onion, diced
2 garlic cloves, minced
1 tablespoon El Mariachi seasoning (see notes)
2 tablespoons flour
1/2 teaspoon salt
1 can (20 ounces) enchilada sauce
3 cups cooked shredded chicken
1-1/2 cups frozen corn
1 can black beans, drained
1 can (7-ounces) diced green chiles
1 cup grated Cheddar cheese
Cornbread Topping
1-1/2 cups cornmeal
1 cup all purpose flour
3 tablespoons sugar
2 teaspoons baking powder
3/4 teaspoon baking soda
1-1/2 teaspoons salt
1-1/4 cups buttermilk or milk
6 tablespoons butter, melted
2 eggs
1 cup grated Cheddar cheese
Instructions
For the Chicken Casserole
Preheat the oven to 350°F.
Spray a 13 x 9-inch casserole dish (3-1/2 quart dish) with non-stick cooking spray.
Heat the oil in a large 12-inch skillet or Dutch oven. Add the onion and cook until soft. Stir in the garlic and cook for 30 seconds until the garlic is fragrant. Add the seasoning blend, flour, and salt. Stir for 30 seconds to 1 minute then pour in the enchilada sauce. Cook, stirring constantly until slightly thickened, about 3 to 5 minutes.
Remove from heat and stir in the shredded chicken, corn, beans, chiles, and cheese.
Transfer the mixture to the casserole dish.
Make the Cornbread Topping
Combine the cornmeal, flour, sugar, baking powder, baking soda, and salt in a medium-sized bowl.
In a separate bowl, combine the milk, melted butter, and eggs.
Fold the wet mixture into the dry mixture then fold in the shredded cheese.
Pour the batter over the top of the chicken casserole and spread it out.
Place in the oven and bake for 30 to 40 minutes or until a toothpick inserted in the center of the cornbread comes out clean.
Let the casserole sit for 10 minutes before slicing.
Notes
You can substitute the El Mariachi seasoning with the following blend:
1-1/2 teaspoons ground cumin
1 teaspoon chili powder
1/2 teaspoon dried oregano
You can substitute a can of corn for the frozen corn.
If your skillet isn't large enough to hold all the ingredients when you stir the chicken into the sauce, transfer the sauce to a bowl and stir the chicken, corn, beans, chiles, and cheese together in the bowl.
Recommended Products
As an Amazon Associate and member of other affiliate programs, I earn from qualifying purchases.
Nutrition Information:
Yield:

10
Serving Size:

1
Amount Per Serving:
Calories:

537
Total Fat:

22g
Saturated Fat:

11g
Trans Fat:

1g
Unsaturated Fat:

9g
Cholesterol:

114mg
Sodium:

1397mg
Carbohydrates:

58g
Fiber:

6g
Sugar:

13g
Protein:

28g
Nutrition information is a guideline only, is calculated automatically by third-party software, and absolute accuracy is not guaranteed.