This cornbread Dressing has a rich buttery flavor, crisp toasted top, and a soft center. Nuggets of pork sausage add savory depth to the dish, while toasted pecans impart a crunchy texture. This is a large batch of dressing: perfect for a crowd.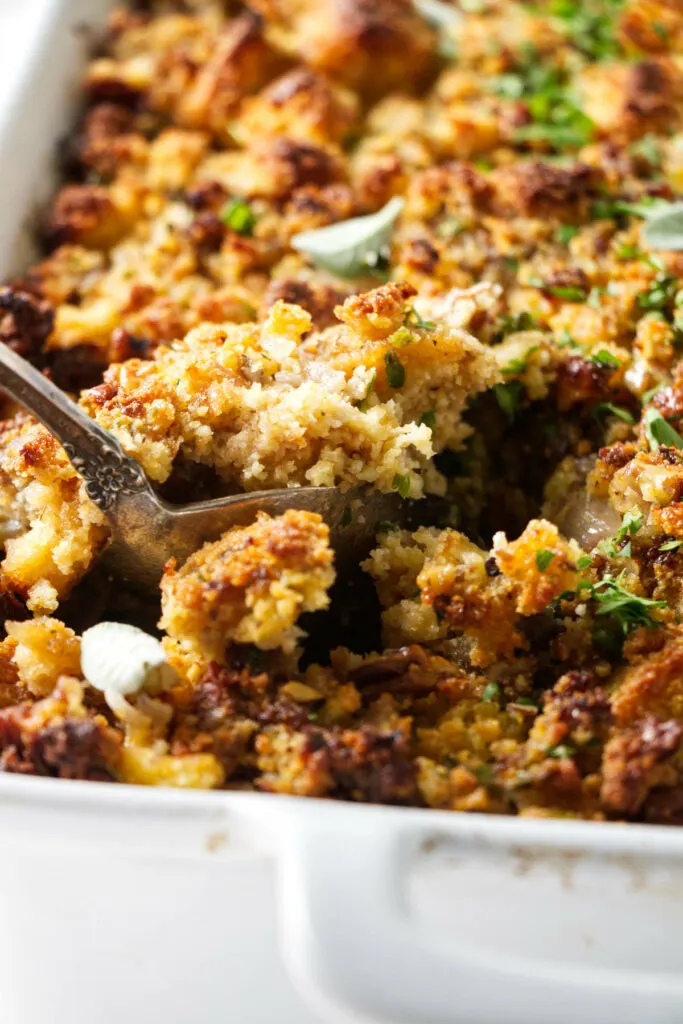 Cornbread dressing with sausage and pecans is the ultimate holiday comfort food, and it has a perfect blend of richness, moisture, and crunch all in one bite. Serve it alongside ricotta mashed potatoes and corn casserole for the win.
A holiday table just isn't complete without dressing (or stuffing, if you prefer to call it that). Our old-fashioned sage stuffing is always a hit, and you can't go wrong with our mushroom stuffing or sourdough stuffing.
But this savory Southern cornbread dressing is sure to be a favorite. It has all the holiday flavors and is so easy to make.
Start with your favorite cornbread recipe, or use store-bought (and if you want to use a box mix, there is no shame in that). Make our jalapeno cheddar cornbread if you want to pull out all the stops.
Why This Recipe Works
This savory cornbread dressing with sage and pork sausage combines several flavors and textures. It is sweet, savory, rich, and buttery.

The recipe makes a large batch that is perfect for a crowd (or enough for leftovers).

The browned sausage adds a meaty, savory, salty flavor that contrasts with the mild sweetness of the cornbread.

Toasting fresh cornbread lets it dry out so it can absorb more moisture and maximize the flavor.

Adding half and half creates a decadently rich and moist dressing and gives it the richness of bread pudding.

Allowing the cornbread to soak in the egg mixture improves the flavor and texture.

This recipe is perfect for making ahead of time, as it reheats well.
Ingredients Needed
Here is a list of the ingredients you will need to make this Southern cornbread and sausage stuffing. Scroll down to the printable recipe card for all the details.
Cornbread
Chicken broth
Half and half
Butter
Eggs
Ground sausage
Onions
Celery
Herbs and seasonings: Thyme, sage, parsley, salt, pepper.
Pecans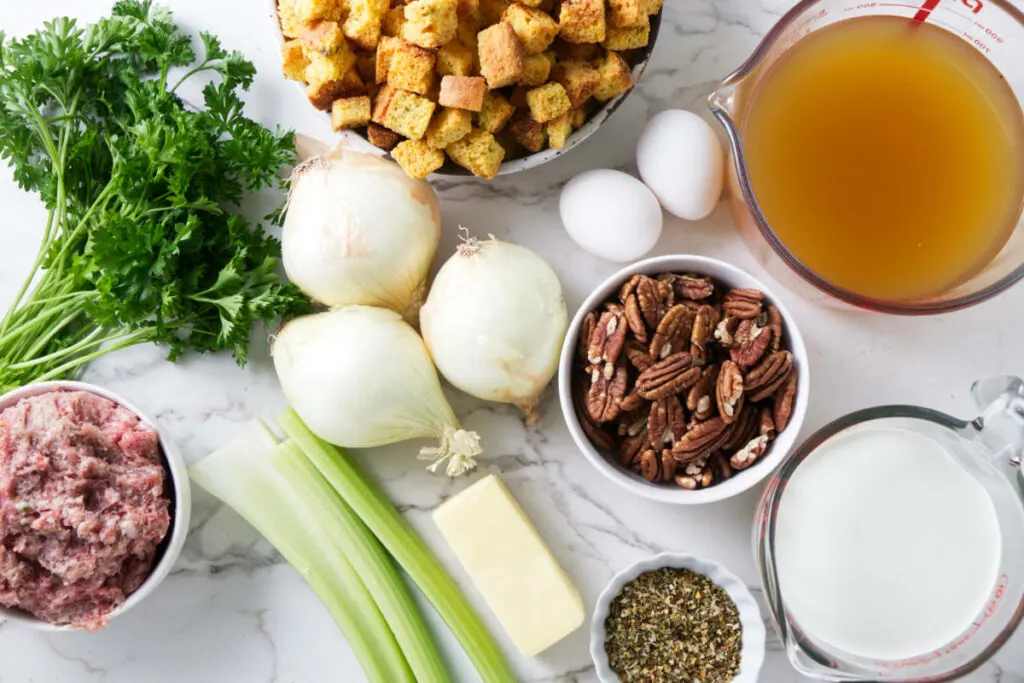 How to Make Cornbread Dressing with Sausage
Here is a brief overview of how to make the cornbread dressing recipe. Scroll down to the printable recipe card for all the details.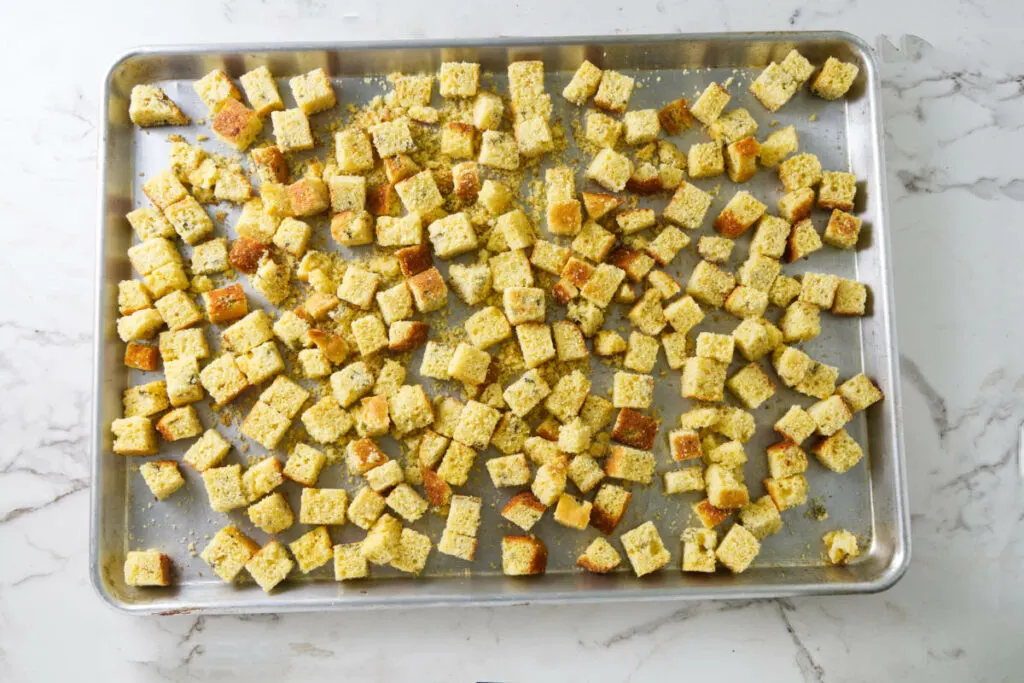 Slice cornbread into small cubes and spread them out on a large baking sheet. Toast them in the oven to dry them out.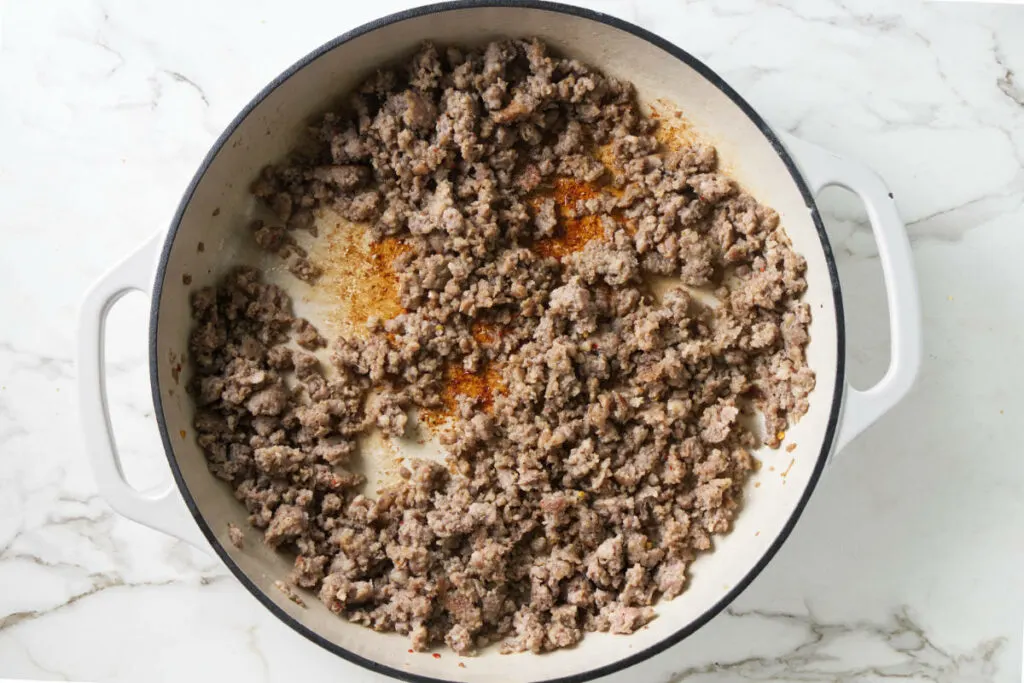 Cook the sausage in a large skillet. Scoop the browned sausage out and set it aside on a plate.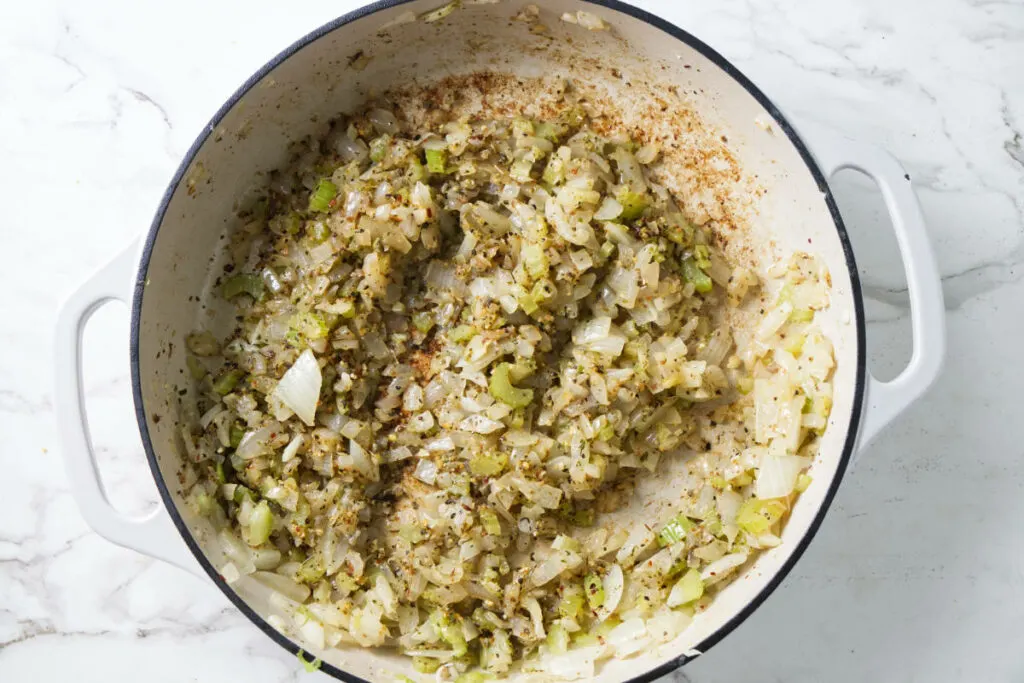 Add the onions, celery, and herbs to the same skillet you cooked the sausage. The veggies will sweat and loosen up the brown bits left behind from the sausage.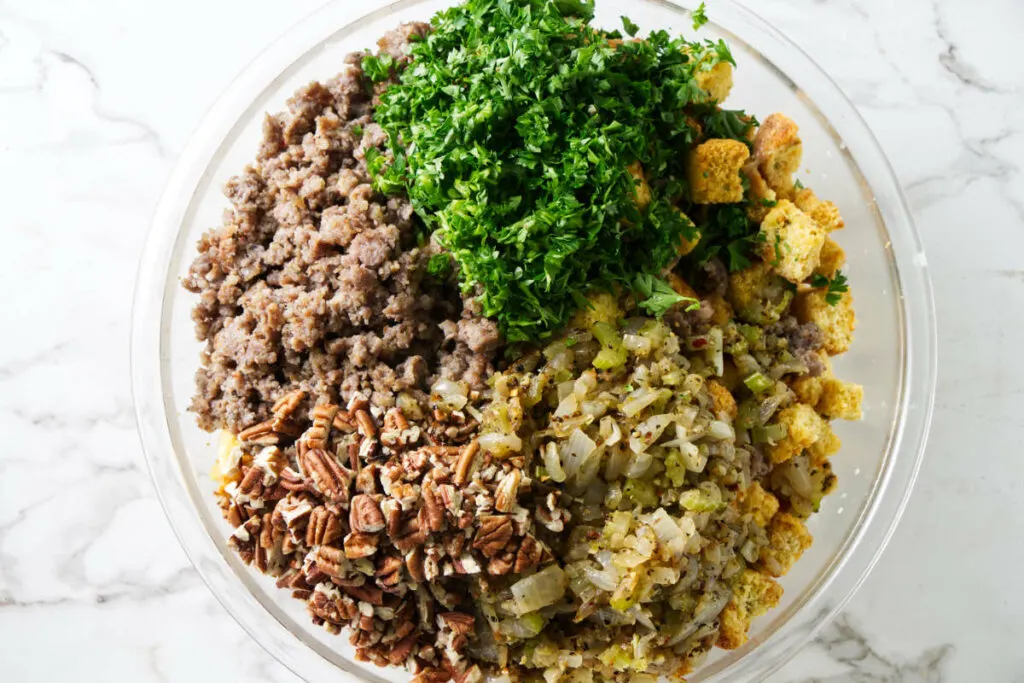 Combine the liquid ingredients in a large bowl. Stir in all the ingredients. Mix well, then cover the bowl and let it soak for at least one hour. Transfer to a casserole and bake.
Recipe Variations
Any of the following ingredients are delicious additions to cornbread and sausage stuffing:

Craisins
raisins
diced Granny Smith apples
sauteed mushrooms
almond slivers
Make it vegetarian and omit the sausage.
For a gluten-free version, make the cornbread with gluten-free flour.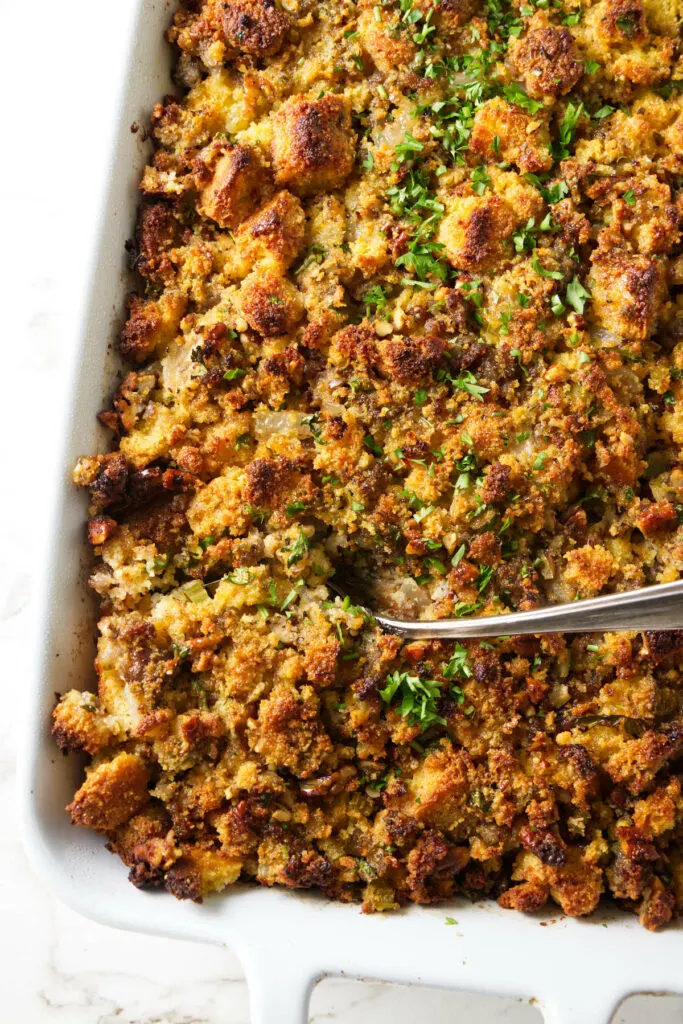 Tips for Success
Mix the dressing in a large bowl. A full recipe makes about five quarts, so use a six-quart mixing bowl if you have one. You can also split the mixture in half and place it in two bowls.

Make two batches of our cornbread recipe if you want to use homemade cornbread for your stuffing.

Prepare the cornbread croutons in advance before moving on to the other ingredients.

Refrigerate the unbaked dressing overnight for optimum flavor. If you are in a hurry, you can move straight to the oven, but letting it sit to absorb all the liquid will make the best cornbread stuffing.

Use two 9 X 9 pans or one 10 X 15 casserole dish to cook the dressing (this recipe makes a large batch).

Double the herbs if you are using fresh instead of dried herbs.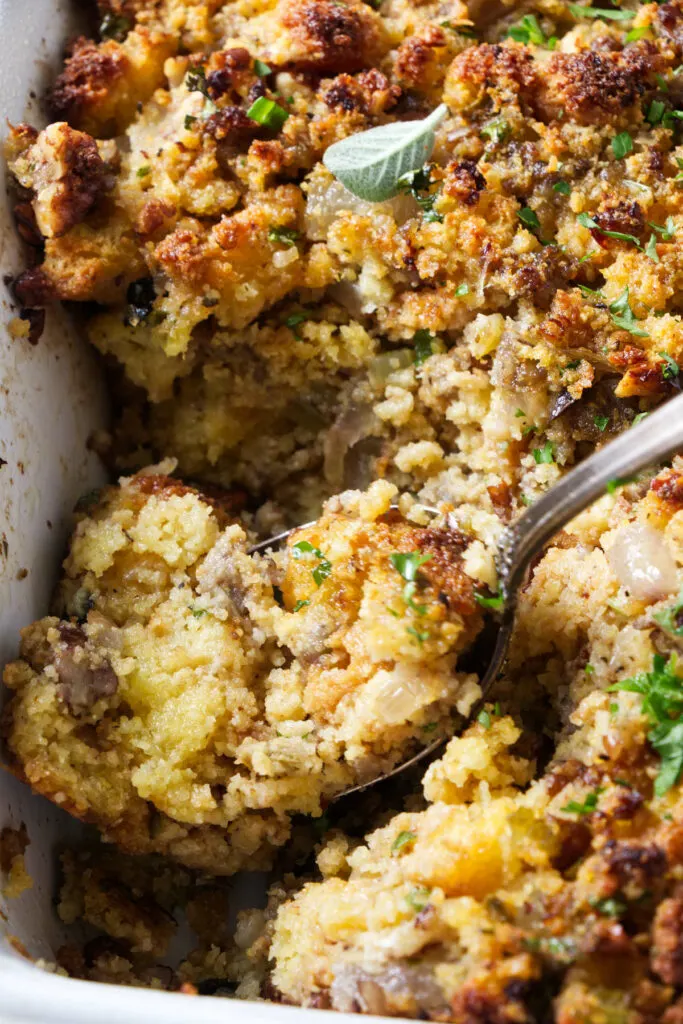 Frequently Asked Questions
Is there a difference between stuffing and dressing?
The only difference between these identical dishes is their cooking method. Stuffing cooks inside the turkey cavity, and dressing is baked in a separate dish. This recipe is technically a cornbread dressing. However, we use the two terms interchangeably.
Do I have to dry out the cornbread?
Drying the cornbread prevents the dressing from turning mushy. Toasted or stale cornbread will also give the dressing a better texture.
Do I have to use eggs in cornbread dressing?
Yes, eggs hold everything together and give the dressing the right texture.
Our homemade cornbread dressing isn't just a southern dish. It is enjoyed all over the country. But no matter where you are from, I think you will agree that this dressing is the ultimate holiday comfort food.
This recipe was inspired by The New Best Recipe cookbook.
Helpful Tools
Some of the following are affiliate links. We may receive a small commission if you click on these links and purchase something. You don't pay any extra, but it will help us keep the lights on.
More Holiday Recipes You Will Love
Top off your annual Thanksgiving celebrations with our dry brined turkey recipe or our simple roasted turkey and cranberry chutney.
Serve our sweet potato casserole, Brussels sprouts with cranberries, or our healthy green bean casserole for side dishes.
Finish your holiday dinner with our pumpkin pecan cheesecake, Costco pumpkin pie, or caramel apple pie.
Connect With Savor the Best:
Please follow us on our social media accounts
Facebook * Instagram * Pinterest * Youtube * Twitter
Did you make this recipe? We would love to hear from you. Drop us a comment below.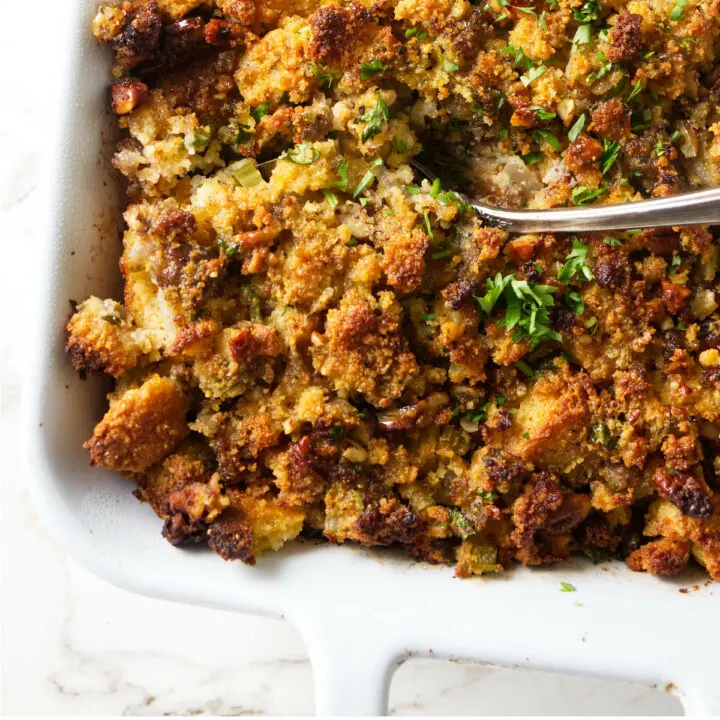 Cornbread Dressing for a Crowd
Total Time:
3 hours
40 minutes
This cornbread stuffing has a rich buttery flavor, crisp, toasted top, and a moist interior. Chunks of pork sausage add a savory depth of flavor, while toasted pecans add a nutty crunch.
This recipe makes an extra large batch with 14 to 16 servings.
Make the cornbread ahead of time or purchase 18 ounces of store-bought cornbread croutons. If you make your own cornbread, you will need to make two batches of our buttery cornbread recipe.
Ingredients
12 cups cubed cornbread**
3 cups chicken broth
2 cups half and half
8 tablespoons butter, melted
3 eggs
1-1/2 pounds ground sausage (optional)
3 medium onions, chopped
3 to 4 celery ribs, chopped
1 tablespoon dried thyme
1 tablespoon dried sage
2 teaspoons ground black pepper
1-1/2 teaspoons salt
1-1/2 cups pecans, toasted and chopped
1/2 cup chopped fresh parsley
optional: 4 tablespoons butter, melted (to drizzle over the top)
Instructions
Before you start: you will need a very large bowl (about 6 quarts) to mix the dressing. If you don't have a large enough bowl, divide the mixture among two bowls. See the notes for options to use as a baking dish.
Make the Cornbread Croutons
Heat the oven to 300°F. Spread the cornbread cubes out on a large baking sheet (or use two half-sheet pans). Bake in the oven for 60 to 90 minutes or until dry like croutons.
Make the Cornbread Stuffing
Whisk the chicken broth, half and half, melted butter and eggs together in a large bowl.
Add the cornbread croutons and use a large spatula to gently fold the crouton mixture until they are all moistened. Initially, it will look like there is too much liquid but just let the croutons soak up the liquid.
Heat a large skillet over medium-high heat. Add the sausage and cook, stirring to break the sausage up, until browned (about 6 minutes).
Transfer the sausage to the bowl of cornbread (you don't need to stir it in yet).
Place the skillet back over medium-high heat and add the onions and celery. Cook, stirring occasionally, until soft. Stir in the thyme, sage, pepper, and salt. Cook for 2 more minutes, then transfer it to the top of the cornbread mixture.
Add the toasted pecans and chopped parsley to the cornbread mixture and gently fold everything together until well blended. Some of the cornbread cubes will crumble, but if you are gentle, there will be some larger chunks of cornbread to add texture to the dish.
Cover the bowl with plastic wrap and refrigerate for 60 minutes (or overnight) to give time for the cornbread to absorb the liquid and develop flavor.
Preheat the oven to 400°F.
Grease a 15 x 10-inch baking dish (or two 9-inch square baking pans) and transfer the cornbread stuffing mixture to the dish. If there is any liquid left in the bowl, drizzle it over the top of the stuffing.
Drizzle 4 tablespoons of melted butter over the top.
Bake for 35 to 40 minutes or until golden brown.
Notes
In order to get 12 cups of cubed cornbread, you will need to make two batches of our buttery cornbread.
This recipe makes an extra large batch of cornbread stuffing. We used a 15 x 10-inch baking dish that holds 5 quarts. If you don't have a large dish, you can use two baking dishes that hold 2-1/2 quarts each (9 x 9-inch dishes or two 11 x 7-inch dishes).
You can replace the dried thyme and sage with fresh herbs (just double the amount). Another delicious substitution is to replace the thyme, sage, salt, and pepper with 2 tablespoons of Greek Freak Mediterranean blend.
Recipe Variations:
Add 1 cup of dried cranberries or raisins.
Add 10 ounces of sautéed mushrooms.
You can make this vegetarian if you omit the sausage and replace the chicken broth with vegetable broth.
You can swap the toasted pecans for almond slivers or pine nuts (or omit them entirely if you like).
Inspired by and modified from The New Best Recipe cookbook
Nutrition Information:
Yield:

18
Serving Size:

1
Amount Per Serving:
Calories:

764
Total Fat:

45g
Saturated Fat:

15g
Trans Fat:

1g
Unsaturated Fat:

26g
Cholesterol:

153mg
Sodium:

1899mg
Carbohydrates:

72g
Fiber:

2g
Sugar:

3g
Protein:

20g
Nutrition information is a guideline only, is calculated automatically by third-party software, and absolute accuracy is not guaranteed.