Baked Mac and Cheese Bites are tasty little morsels that will disappear fast! With a creamy mac-and-cheese inside and a crisp, crunchy outside, these mac 'n cheese bites make a yummy appetizer everyone at the party will love! Pair them with the easiest buttermilk ranch dip for major flavor in every bite.
Our mac 'n cheese bites recipe calls for leftover mac and cheese for extra ease. Who knew you could take leftovers of a classic, kid-favorite dish, and turn it into an elevated party starter with just a few simple steps?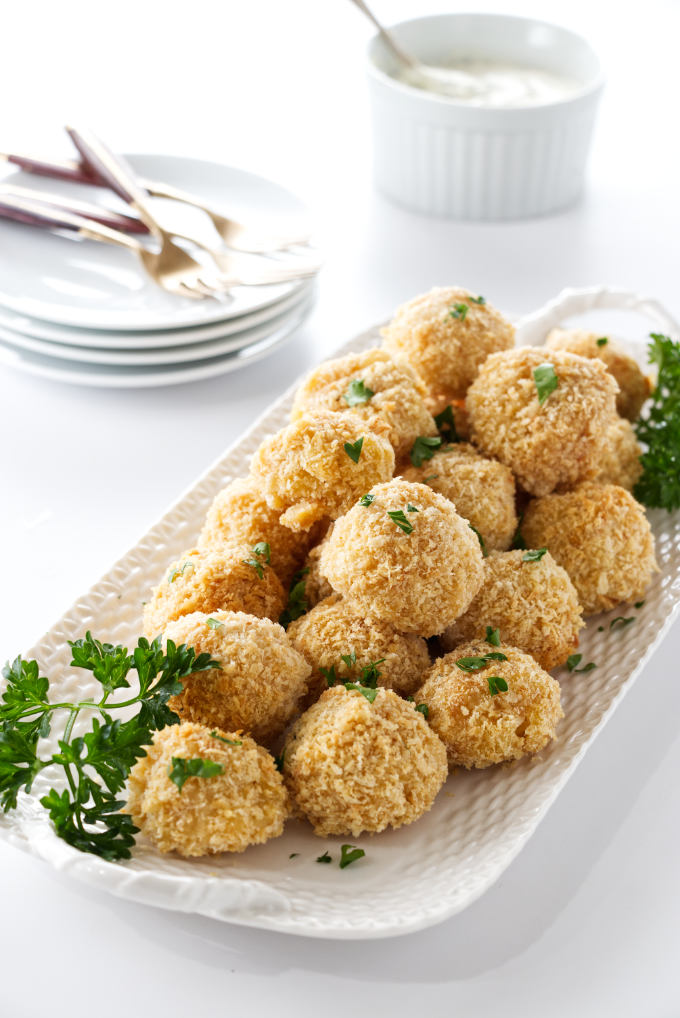 It's hard to outdo a classic mac and cheese casserole. That rich and gooey cheese sauce that smothers tender macaroni noodles… It's comfort food extraordinaire!
If you've made our Betty Crocker Mac and Cheese, you know it's a classic mac and cheese recipe that doesn't get much better. That is, until you try these baked mac and cheese bites!
Whether you use our recipe or your favorite mac and cheese (homemade or store-bought), these tender mac 'n cheese bites will leave you and your guests impressed, and hungry for more.
Why You'll Love Them:
Baked mac and cheese bites are fun and so easy to make! They're a great way to make use of cold, leftover mac and cheese, and turn it into something new and exciting. We love this twist on a classic and we know you will too!
These easy mac and cheese bites are:
simple to prepare, with only four ingredients for the bites (and two ingredients for the dip)!
oven-baked and not fried which means less fat
a wonderful way to make use of leftovers!
delicious, cheesy, fun finger food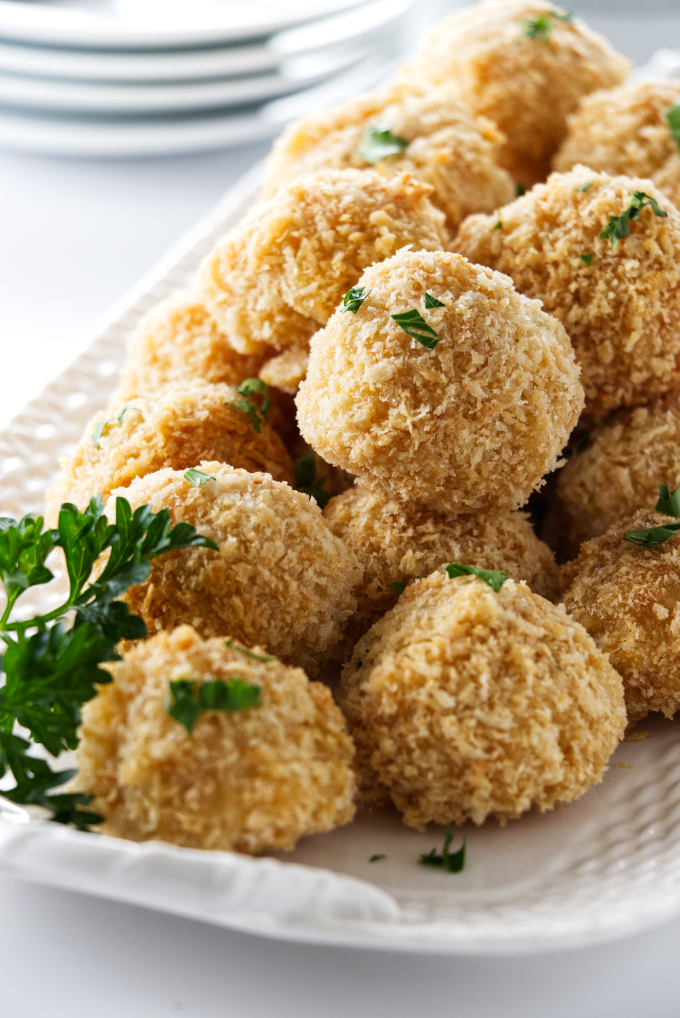 The Ingredients
To make baked mac 'n cheese bites and the buttermilk ranch dip, you will need:
Panko breadcrumbs
Cold leftover mac 'n cheese
Egg whites
Chopped parsley
Homemade buttermilk ranch salad dressing
Mayonnaise
As for required kitchen tools, we really recommend using a cookie dough scoop to get the bites uniform. And make sure the leftover mac and cheese is cold so you can easily scoop and shape it.
If you want to get fancy, use our seafood mac and cheese to make these little morsels.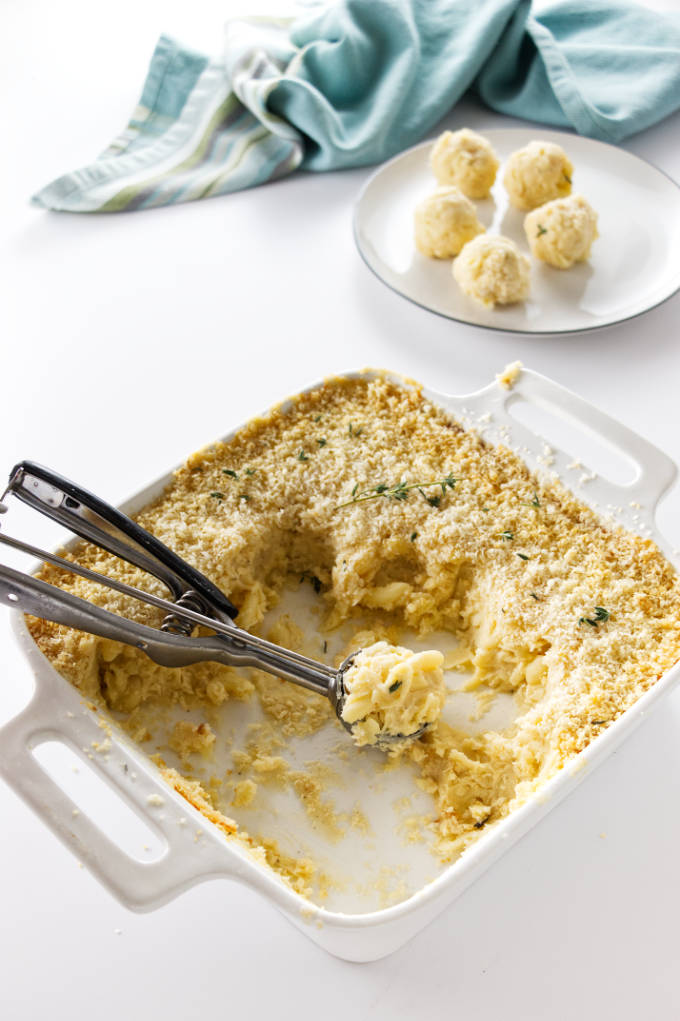 Let's Make Baked Mac and Cheese Bites:
These cheesy bites are rolled in toasted Panko breadcrumbs and oven-baked for a deliciously crisp and crunchy outer coating.
To prepare them, you will simply toast the breadcrumbs, roll and coat the mac 'n cheese bites, then bake them in the oven. It's that easy! Here is a quick overview. Scroll down to our printable recipe card for all the details.
Toast the breadcrumbs: Spread them in an even layer on a lined baking sheet, then toast in the oven.
Scoop and shape the mac 'n cheese: Use a cookie scoop to spoon out portions and roll them into a smooth ball.
Coat them in breadcrumbs: After you coat them, place them on a wire rack.
Bake the mac and cheese bites: Bake for 15-20 minutes or until they're golden brown.
Make the dip: Mix the dip in a bowl and serve it on the side with a garnish of chopped parsley.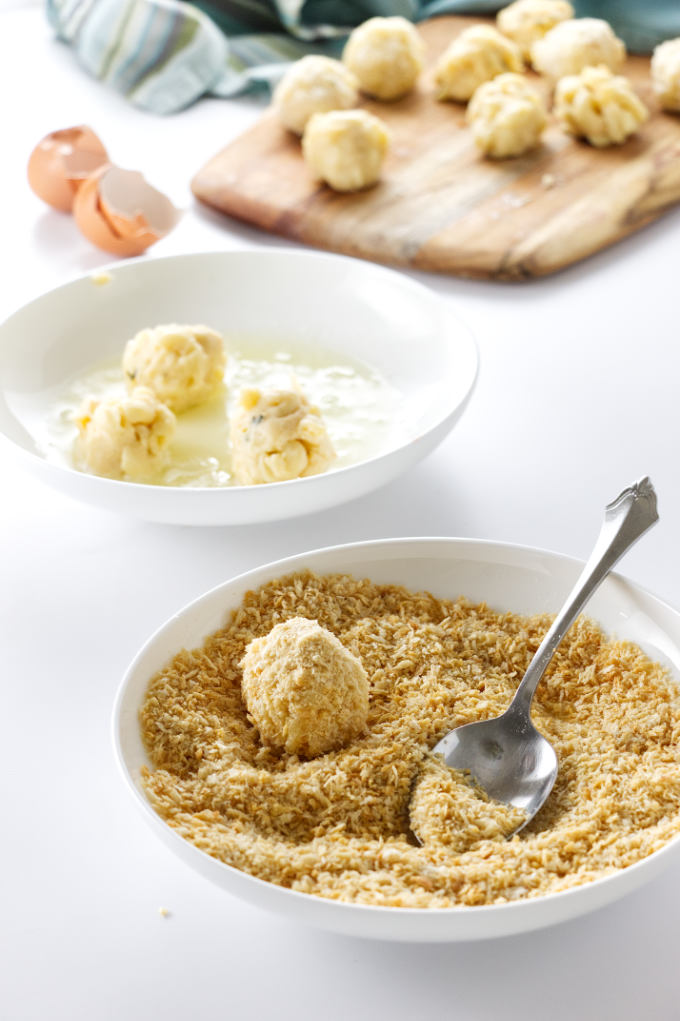 Tips for the Best Results
Make sure the leftover mac 'n cheese is cold, otherwise you won't be able to easily scoop it and shape it into balls.

The dip is simple but entirely optional! Baked mac and cheese bites are delicious plain, served with ketchup, or your favorite dip.

Serve the bites hot or at room temperature.
These easy baked mac and cheese bites with Panko are an incredible way to repurpose leftover mac and cheese!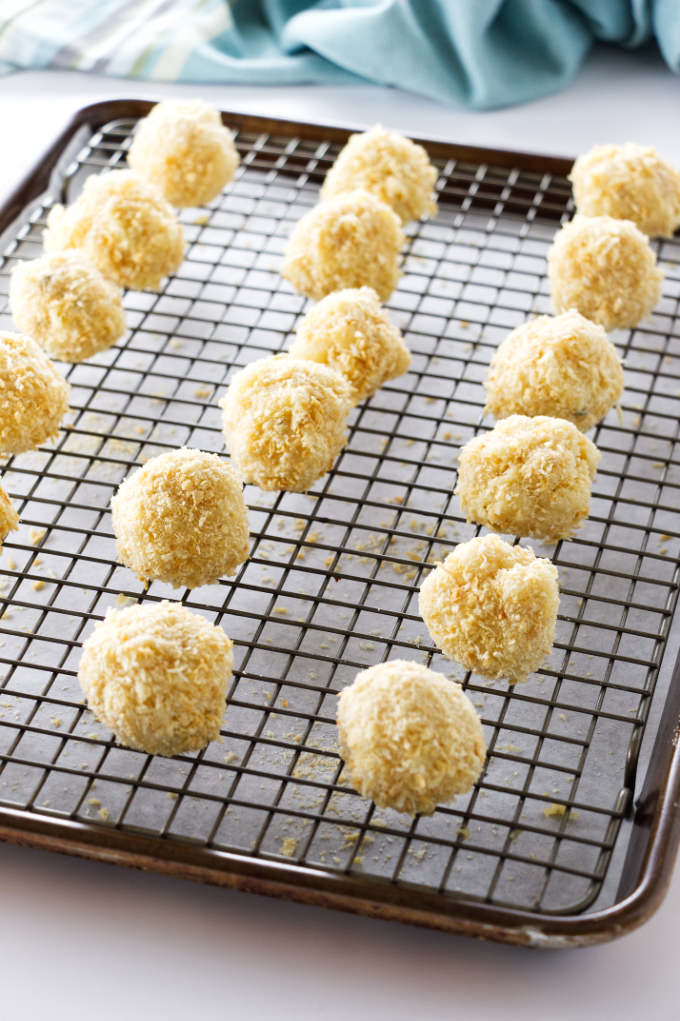 With a velvety, cheesy filling and a crispy outer layer, each baked mac and cheese bite is bliss!
Helpful Tools:
Some of the following are affiliate links. If you click on these links and purchase something, we may receive a small commission. You don't pay any extra but it will help us keep the lights on.
Some Other Recipes We Are Sure You Will Love:
This chipotle chicken pasta salad is a fantastic way to use up leftovers. It's great for lunch or supper and it keeps well for parties and picnics. The spicy chipotle sauce is offset by sweet, sun-dried tomatoes and a delicious crunch from fresh veggies.
These Olive and Cheese Pinwheel Appetizers make a quick, no-fuss party starter that only requires three ingredients! Olive tapenade is rolled up in pie dough with a three-cheese blend for a savory, cheesy appetizer that is ready in no time.
Our Herbed Olive Oil Dip is simplicity at its best. Our herbed olive oil dip is a mix of fresh herbs, garlic and high-quality olive oil. Serve it with crusty sourdough bread for a delicious party starter.
Our Garlic Shrimp and Butternut Party Bites are a Spanish tapas type of appetizer served skewer-style, with large garlic shrimp and roasted butternut squash cubes on a stick. They're classy and unique and will be enjoyed by all!
Connect With Savor the Best:
Please follow us on our social media accounts
Facebook * Instagram * Pinterest * Youtube * Twitter
Did you make this recipe? We would love to hear from you. Drop us a comment below.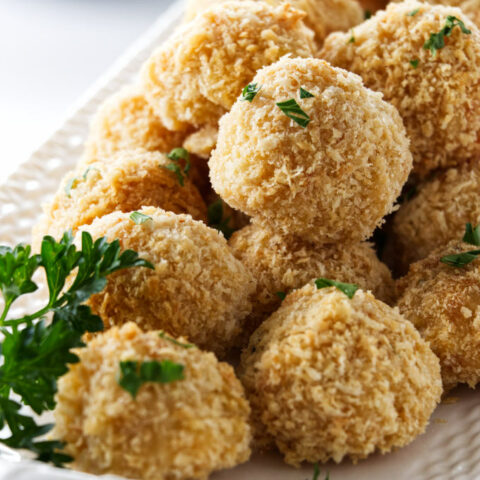 Baked Mac 'n Cheese Bites
A great party appetizer made easy with leftover mac 'n cheese. Oven-baked, not fried means less fat. The toasted breadcrumbs give these bites a crisp, crunchy coating with the warm, cheese filling inside.
Ingredients
1-1/2 cups Panko breadcrumbs
4 cups cold leftover mac 'n cheese
3 egg whites
2 tablespoons chopped parsley
For the Dip:
Instructions
Preheat oven to 400°F
Toast the Breadcrumbs:
Line a baking sheet with parchment paper. Spread breadcrumbs across the bottom in an even layer.
Bake for 3-4 minutes, stir the breadcrumbs, and bake another 2-3 minutes or until light golden in color. Remove from the oven and cool on the baking sheet.
Prepare the Bites:
Remove the leftover mac 'n cheese from the refrigerator and scoop into balls with a medium size (1-1/2 tablespoon) cookie scoop. Roll each scooped portion with your hands into a round, smooth ball and place it on a plate.
Transfer the cooled breadcrumbs to a shallow dish.
Add the egg whites to another shallow dish and whisk lightly with a fork
Place a wire rack on the rimmed baking sheet and keep close at hand.
Dip a ball of mac 'n cheese in the dish of egg whites, then place in the dish of toasted breadcrumbs. Roll the balls to coat them completely. Press down as you roll to adhere the crumbs.
Place on the wire rack. Continue dipping and coating the remaining balls and adding to the wire rack.
Transfer the baking sheet to the oven and bake for 15-20 minutes.
While the Mac 'n Cheese Bites are Baking:
In a small dish, combine the buttermilk ranch salad dressing with the mayonnaise, whisking to blend into a thick dip.
When the mac ' cheese bites have finished baking and golden brown, remove them from the oven and place on a serving plate and garnish with a sprinkle of chopped parsley.
Serve warm with the ranch dip along side.
Notes
The leftover mac 'n cheese must be cold to scoop and form into balls.
Serve these baked mac 'n cheese bites plain, with ketchup, or your favorite dip.
Serve hot or room temperature
Nutrition Information:
Yield:

24
Serving Size:

1
Amount Per Serving:
Calories:

101
Total Fat:

3g
Saturated Fat:

1g
Trans Fat:

0g
Unsaturated Fat:

2g
Cholesterol:

1mg
Sodium:

184mg
Carbohydrates:

14g
Fiber:

1g
Sugar:

2g
Protein:

3g
Nutrition information is a guideline only, is calculated automatically by third-party software, and absolute accuracy is not guaranteed.