Strawberry spoon cake is an easy recipe that's a culinary ode to fresh strawberries! A sweet and buttery cake batter is topped with sliced strawberries that bake into the cake and create a juicy and jammy strawberry sauce. Spoon servings into a bowl (hence the name) and top with scoops of vanilla ice cream for the perfect, minimal effort dessert.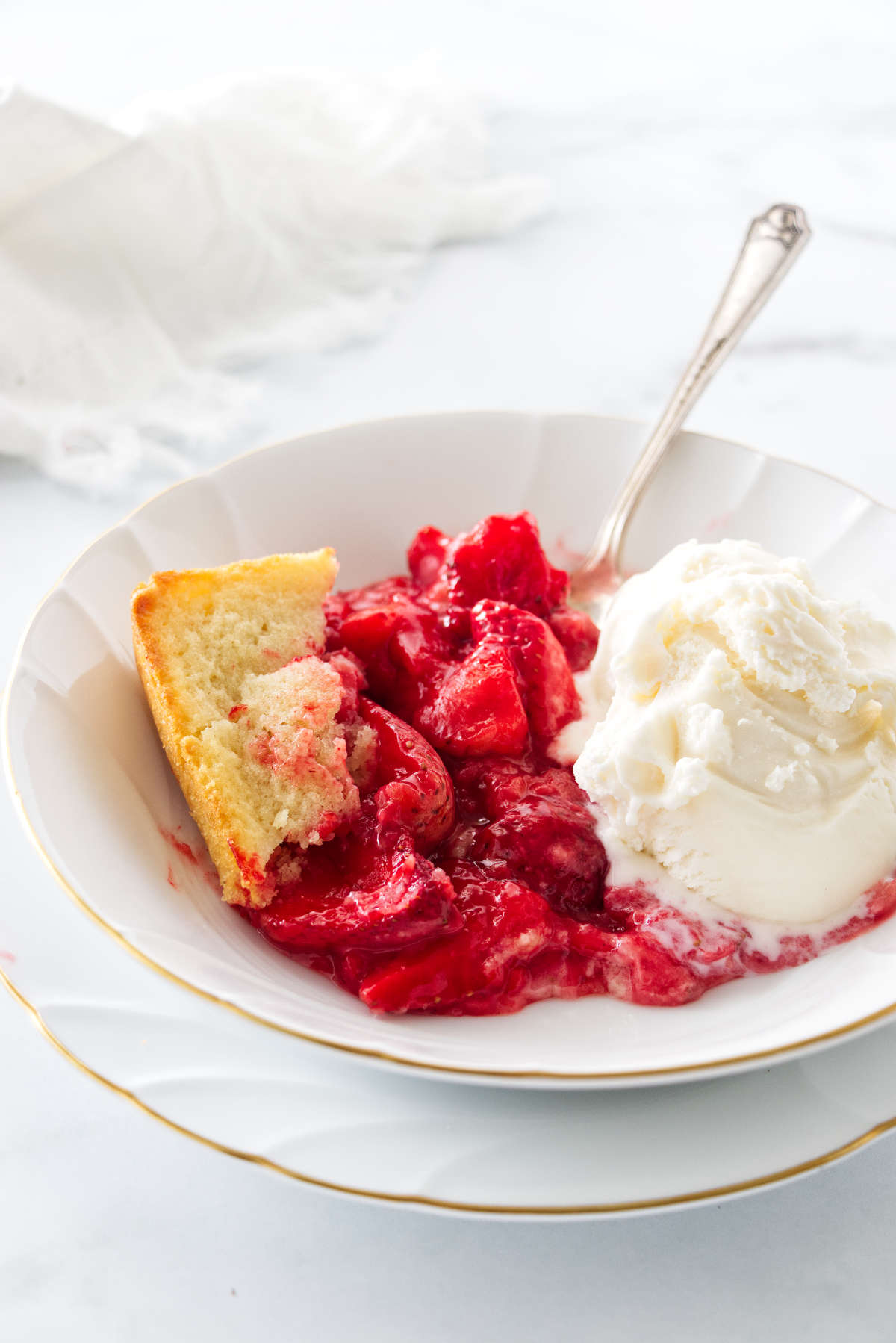 Our strawberry spoon cake recipe combines a moist and tender cake with sweet and juicy strawberries to create a delightfully unfussy cake with all the flavors of traditional strawberry shortcake.
While this cake can certainly be enjoyed year-round, summer is the time of year for all things strawberry (like strawberry rhubarb pie and strawberry chocolate pie), when the fresh berries are at their peak.
Why this Recipe Works
A buttery, vanilla cake with a top layer of jammy strawberries, all baked into one beautiful dish. This is an especially great recipe if, a) you love strawberries, and b) you're looking for an impressive dessert that doesn't require a whole lot of effort.
Here's why you'll love it:
Strawberry spoon cake is an easy strawberry dessert recipe made with simple ingredients
It's fruity and irresistibly delicious (watch as the whole thing disappears quickly!)
It's a versatile sweet treat that can work for a classy brunch, a special occasion meal, or as a simple summer cake enjoyed at a barbecue.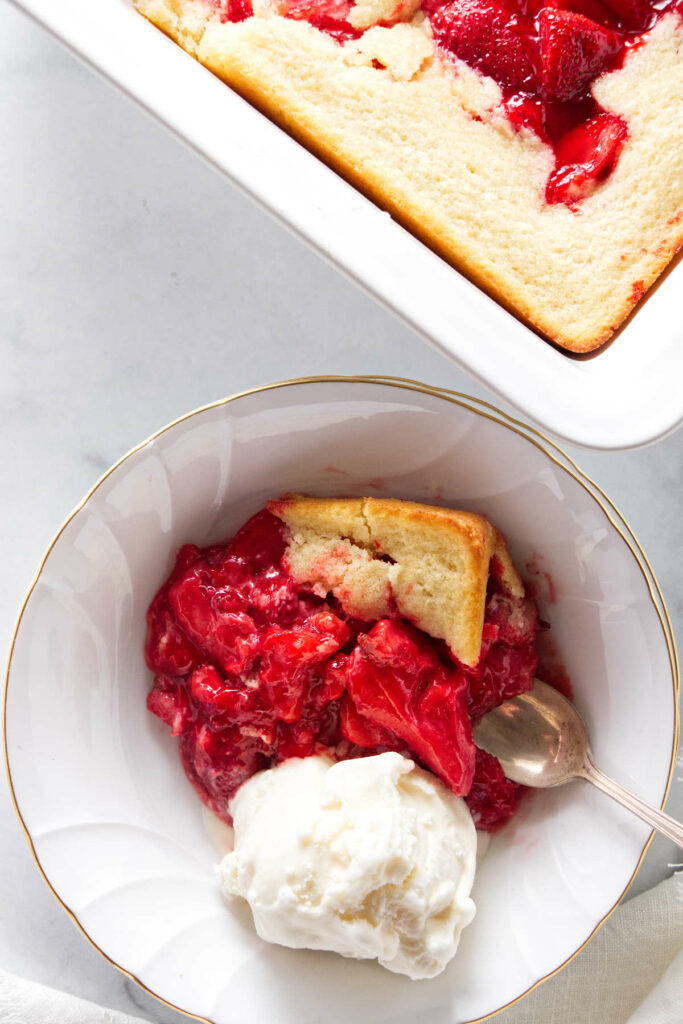 Why is it Called Spoon Cake?
Spoon cakes get their name from the best method of serving- scooped directly from the pan, fresh out of the oven, with a spoon. Strawberry spoon cake is somewhat like a cross between a cake and a pudding, since the fruity strawberries break down and create a jammy sauce that's simply irresistible.
Enjoy warm spoonfuls of this cake paired with vanilla ice cream or even chilled homemade whipped cream for a dreamy combination!
Our strawberry basil ice cream or vanilla lavender ice cream is also delicious with this cake 😉
The Ingredient List
A few basic pantry ingredients, milk, and egg, form the tender and moist cake, while fresh strawberries are the main ingredient for the delicious strawberry spoon sauce. You will need:
granulated sugar (for the cake and sauce)
cornstarch
fresh hulled strawberries, sliced
fresh lemon juice
red food color (optional)*
all-purpose flour
table salt
baking powder
butter, melted
egg
milk
vanilla extract
*We like to use a couple of drops of red food color in the sauce to give the cake a beautiful vibrant color. It's entirely optional, so feel free to omit it. Without the food color, the fresh strawberries will appear slightly dull after baking.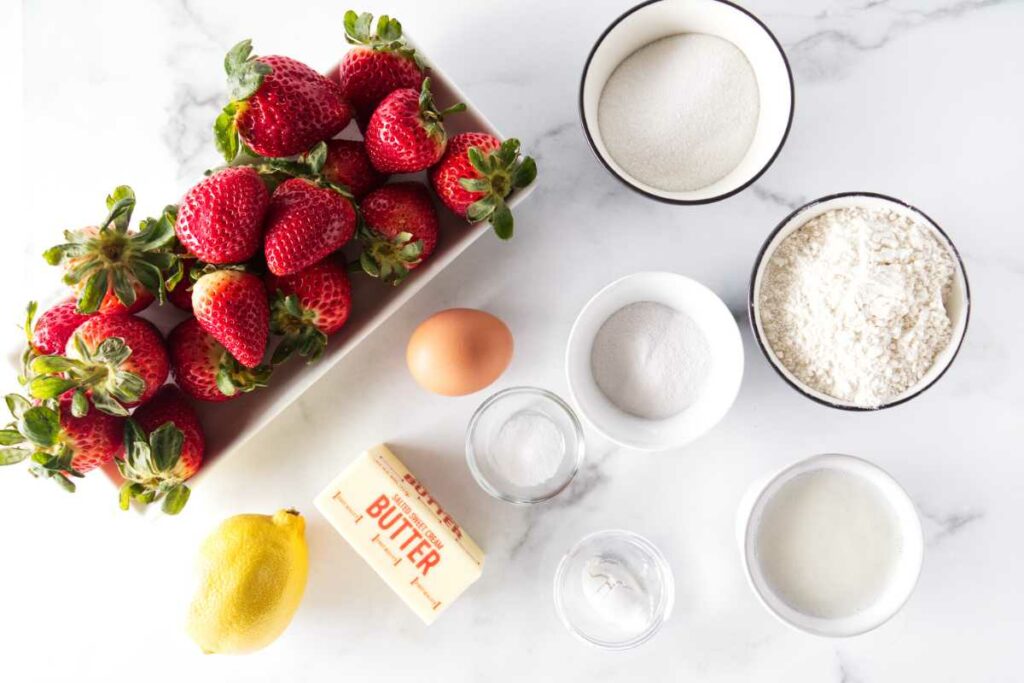 A Sweet Strawberry Spoon Cake Recipe
While the sweet flavor of our strawberry spoon cake shines, you'll also love the fact that it's a low-lift dessert! Here's a brief summary of the steps involved, but be sure to view the printable recipe card at the bottom of the page for all of the details.
Before you begin: Heat the oven and grease a baking dish or 8-inch round cake pan.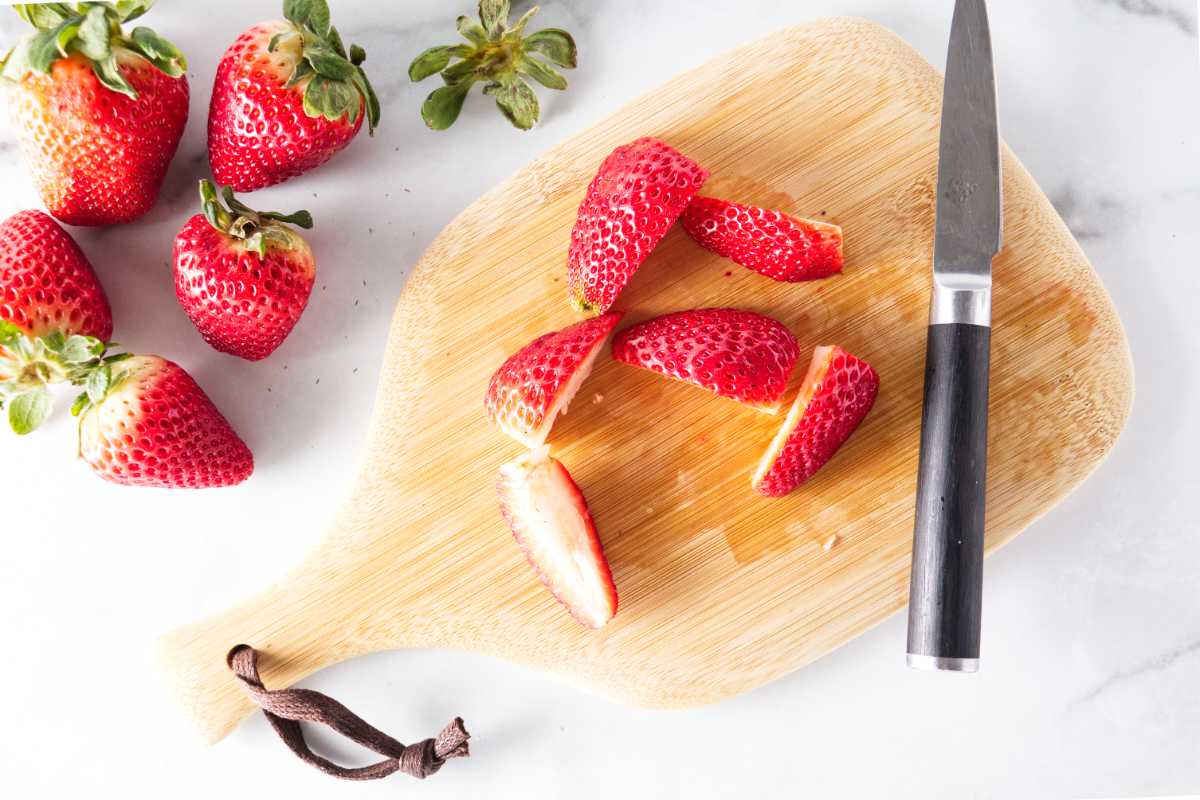 In a medium bowl, combine the sugar and cornstarch, then add the strawberries, lemon juice and food coloring.
Mash the berries lightly with the back of a fork to release some of their juices. Set aside.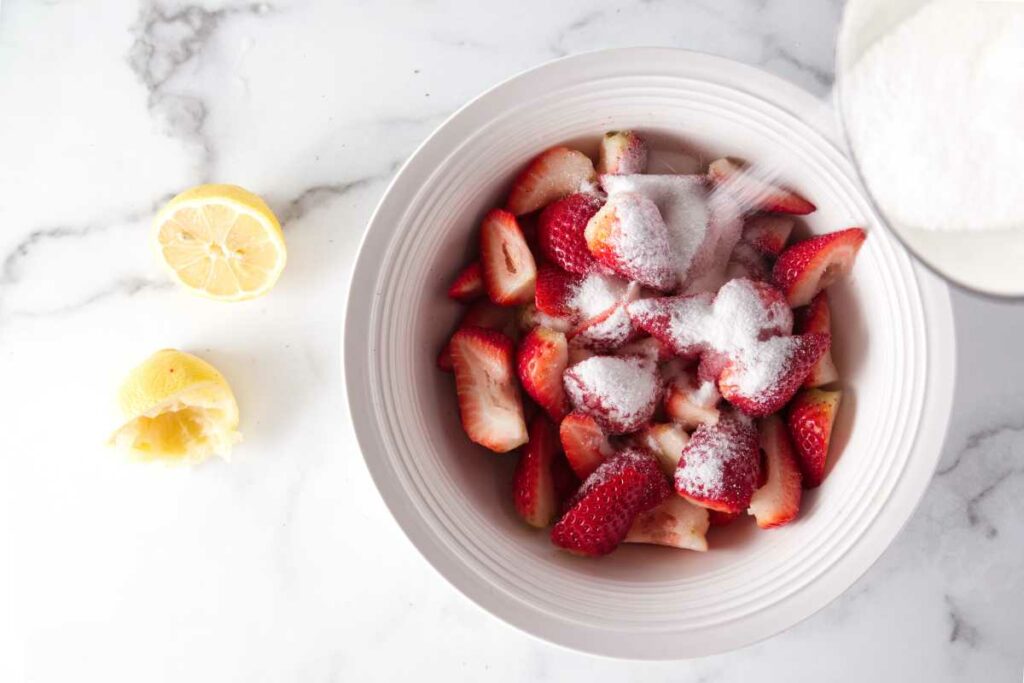 In a mixing bowl, add the flour, salt and baking powder and whisk to combine. In a large bowl, whisk together the wet ingredients. Sift the flour mixture into the wet mixture and whisk until combined.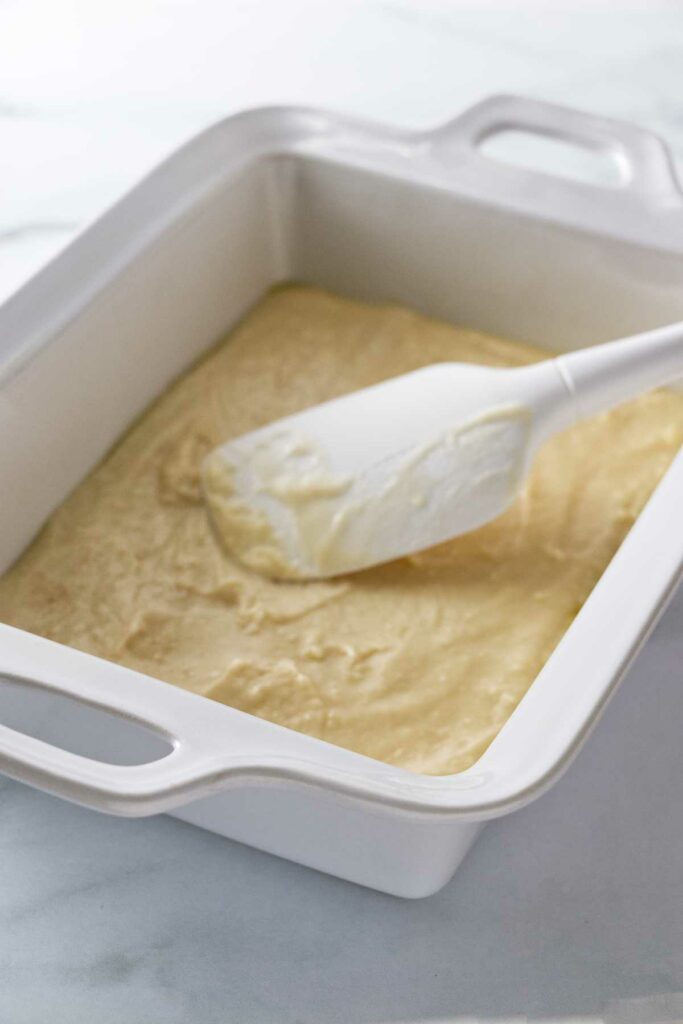 Transfer the cake batter to your greased baking dish and spread in an even layer.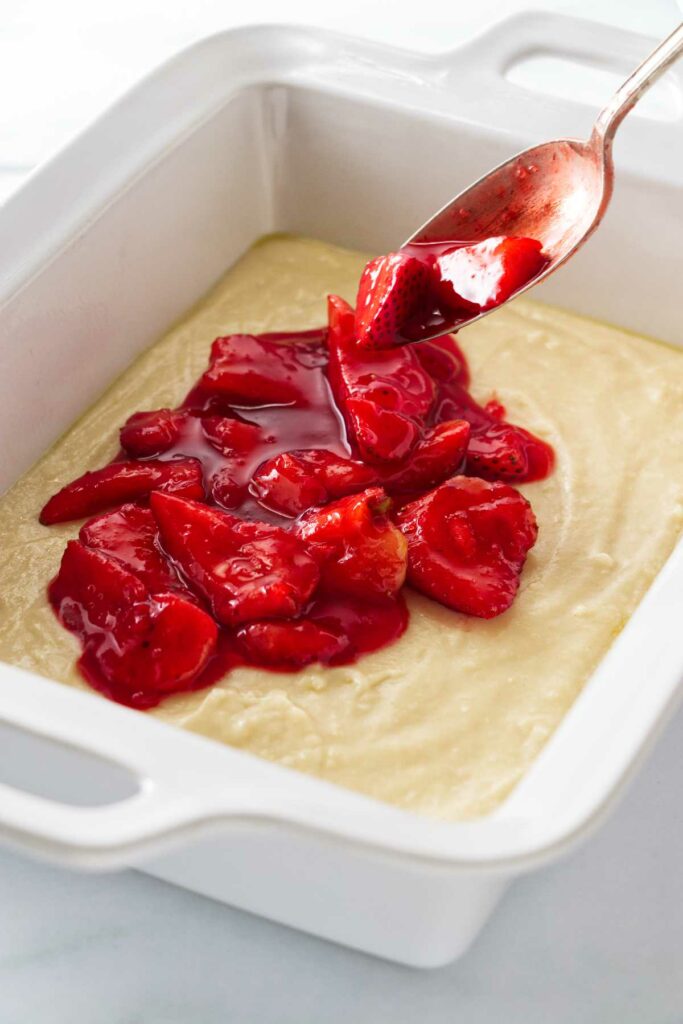 Spoon the strawberry sauce and juices on top of the cake batter.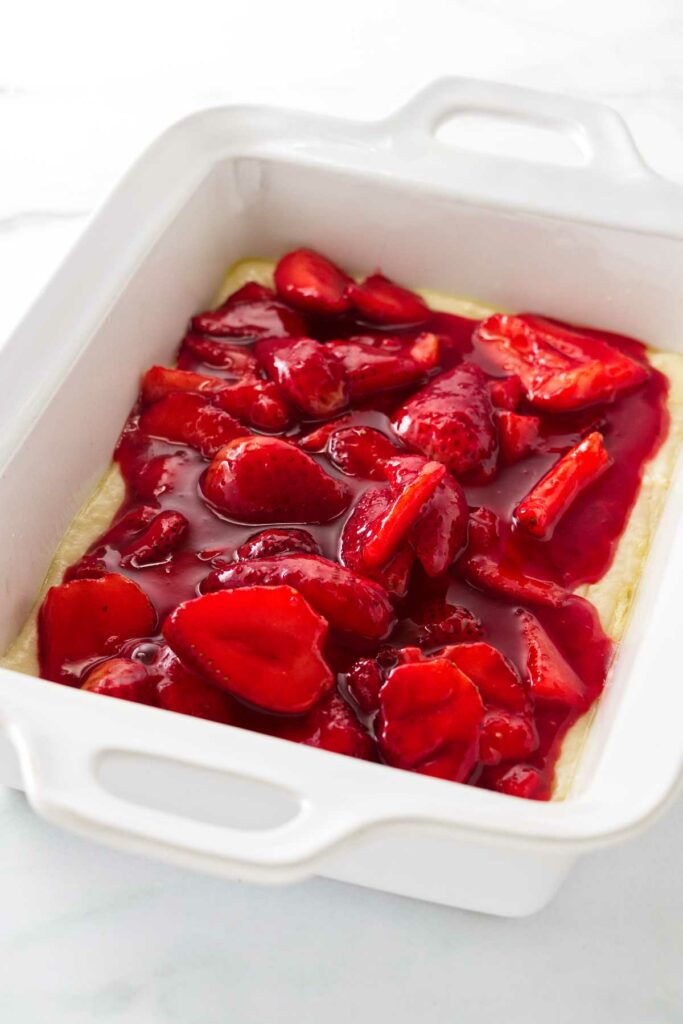 Transfer to the oven and bake for 25-30 minutes.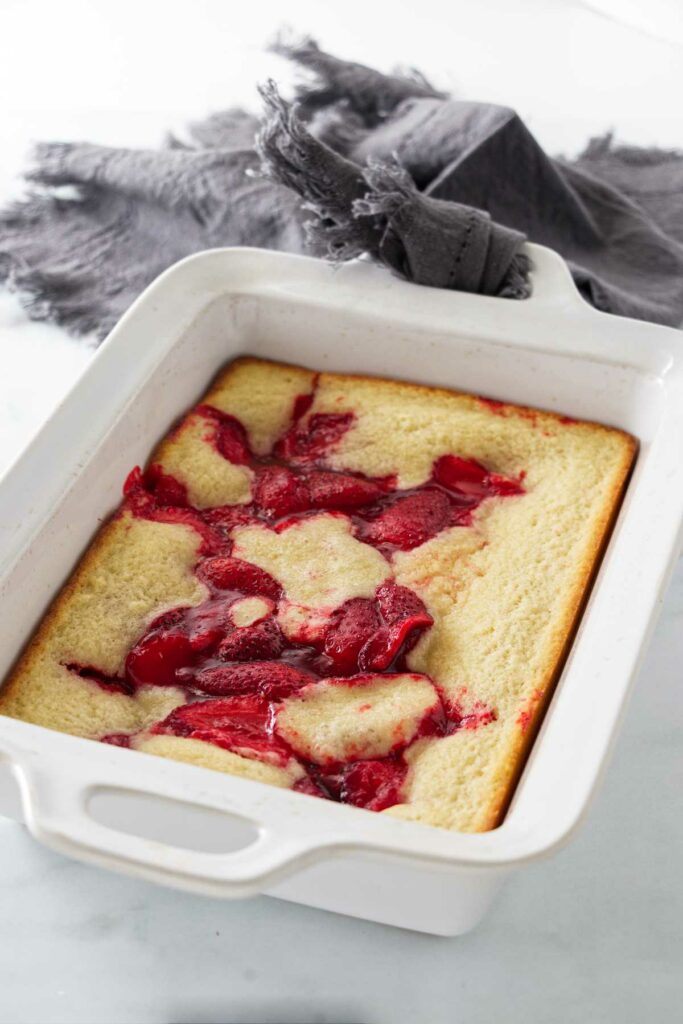 Let it cool for 5 minutes when done baking. Spoon into bowls warm and serve with vanilla ice cream.
Tips for the Best Results
When slicing the strawberries, it helps to cut them somewhat thick, so they hold their shape during baking.

Feel free to substitute frozen and thawed strawberries in this strawberry spoon cake recipe.

Let the sugar-coated strawberries sit for 10-15 minutes. This will draw out their juices and create a sweet syrupy sauce. It's easy to set them aside and let the berries macerate while you prepare the cake batter.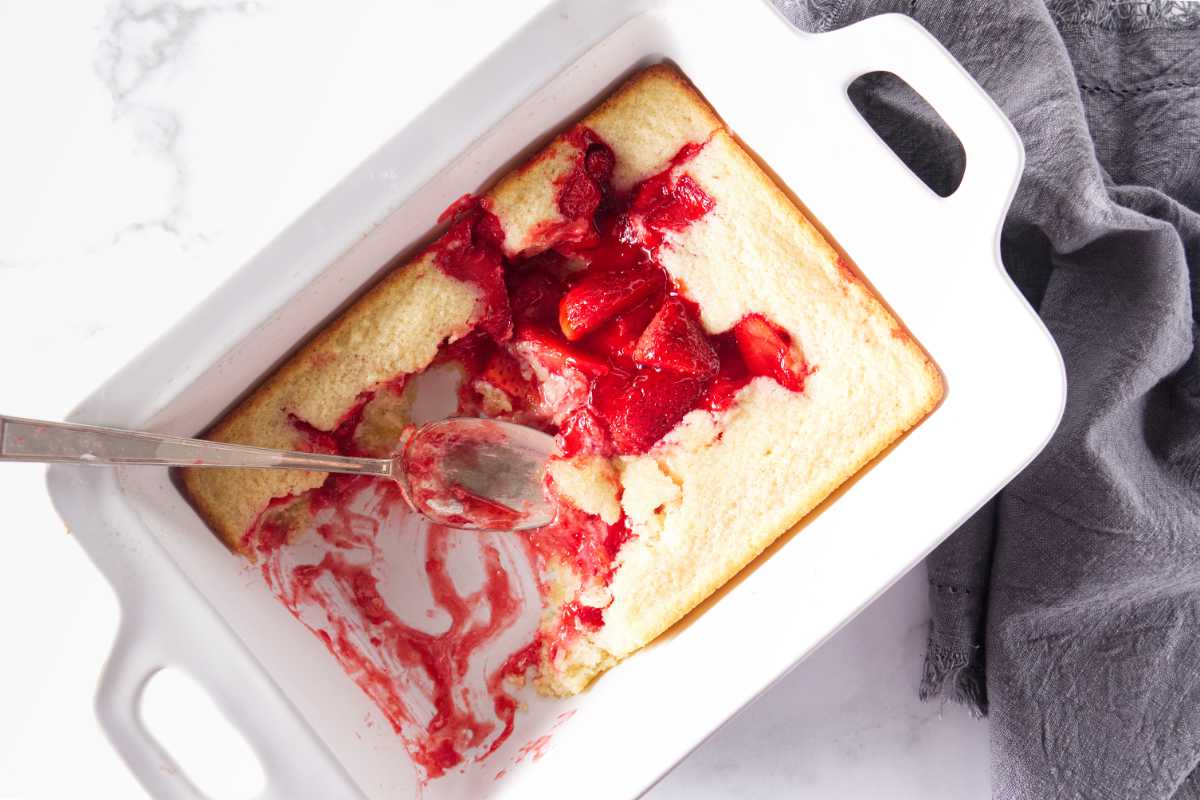 This strawberry spoon cake is such a treat! The sweet strawberry sauce and tender vanilla cake create an epic combination. So gather up those spoons and dig in! Bowls optional. 😉
More recipes using strawberries:
⭐️ Helpful Tools
Some of the following are affiliate links. We may receive a small commission if you click on these links and purchase something. You don't pay any extra, but it will help us keep the lights on.
😋 More Recipes You Will Love:
Cold Oven Pound Cake is an old-fashioned favorite! This dense, tender and buttery cake has a delicate crumb and incredible flavor. The batter is thick and rich and makes a beautiful Bundt cake!
Strawberry Rhubarb Muffins pair a tender crumb with the tart and sweet flavor of the classic strawberry rhubarb combination. A fruity jam filling and a crunchy streusel topping take these muffins to the next level.
Vanilla Panna Cotta with Strawberry Sauce is a light and decadent dessert with bold flavors. A sweet vanilla custard and fruity strawberry sauce makes this the perfect dessert year-round!
Connect With Savor the Best:
Please follow us on our social media accounts
Facebook * Instagram * Pinterest * Youtube * Twitter
Did you make this recipe? We would love to hear from you. Drop us a comment below.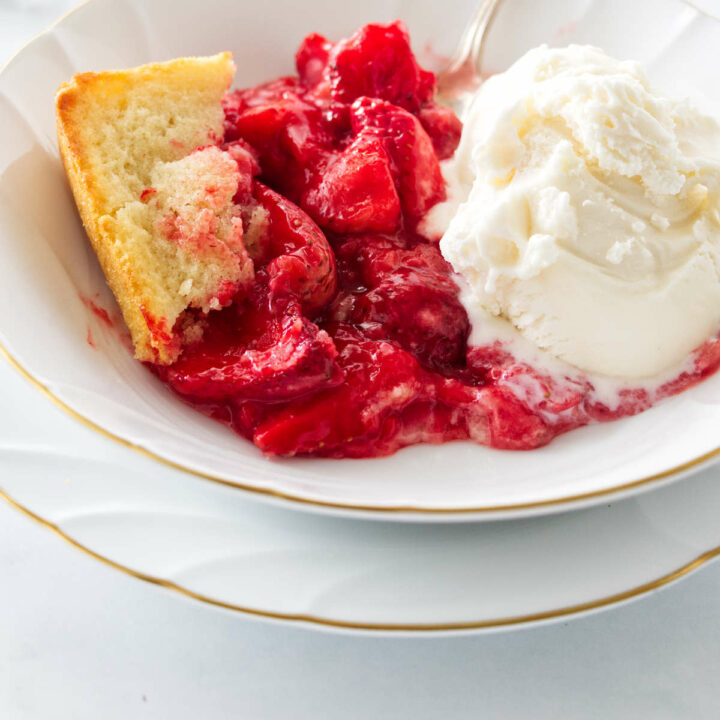 Strawberry Spoon Cake
This is an easy dessert that is especially delicious with fresh strawberries. The cake batter is topped with sliced strawberries that bake into the cake, creating a sweet, jammy sauce that bakes into the tender cake.
Ingredients
Strawberry Spoon Sauce
½ cup granulated sugar (100 grams)
2 teaspoons cornstarch
2 cups sliced fresh strawberries
2 tablespoons lemon juice, freshly squeezed
1-2 drops of liquid red food color (optional)
For the Cake
1 cup (120 grams) all-purpose flour
½ teaspoon table salt
1 teaspoon baking powder
½ cup butter, melted
½ cup sugar
1 egg, lightly beaten with a fork
½ cup milk
1 teaspoon vanilla extract
Instructions
Heat the oven to 350°F. Grease a 1-½ quart baking dish or 8-inch cake pan. We used a 7-½ x 9-inch baking dish in the photos.
Make the Strawberry Spoon Sauce
Stir the sugar and cornstarch together in a bowl (this will distribute the cornstarch throughout the sugar and prevent clumps). Add the strawberries, lemon juice, and food coloring (if using).
Mash the strawberries lightly with a fork to release some of their juice, and stir to combine. Set aside (the berries will continue to macerate and release their juices while you make the cake batter.
Make The Cake
In a medium bowl, combine the flour, salt, and baking powder. Stir to combine.
In another bowl, whisk together the melted butter, sugar, egg, milk, and vanilla extract. Sift the flour mixture over the wet ingredients. Whisk just until combined.
Tip the batter into the prepared baking dish and spread evenly into the corners.
Spoon the strawberry sauce (along with the juices) over the top of the batter.
Transfer the cake to the oven and bake for 25 to 30 minutes.
Remove from oven and allow to cool slightly about 5 minutes. Spoon into bowls and serve each serving with a scoop of vanilla ice cream.
Notes
Slice the strawberries fairly thick so they will hold their shape during baking.
Frozen, thawed strawberries may be used in this recipe.
Allowing the sugar-coated strawberries to sit for 10-15 minutes will draw out the juices into a sweet syrupy sauce.
Nutrition Information:
Yield:

6
Serving Size:

1
Amount Per Serving:
Calories:

254
Total Fat:

17g
Saturated Fat:

10g
Trans Fat:

1g
Unsaturated Fat:

5g
Cholesterol:

73mg
Sodium:

403mg
Carbohydrates:

22g
Fiber:

2g
Sugar:

4g
Protein:

4g
Nutrition information is a guideline only. It is calculated automatically by third-party software, and absolute accuracy is not guaranteed.