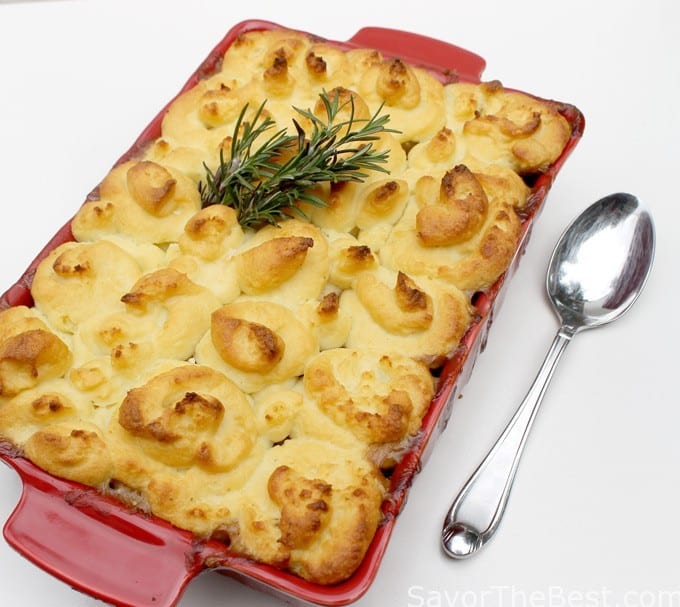 On Easter Sunday we had a nice family gathering for dinner and one of the entrées was roast leg of lamb, which was delicious served with roasted asparagus and rosemary potato gratin. There was enough leftover roast lamb to use to make this recipe for shepherd's pie.
Shepherd's pie is actually a lamb stew with a mashed potato topping, although it is often made with beef rather than lamb. I like the lamb version best and besides shepherd's herd sheep, cowboys herd cows. I think a beef shepherd's pie should be called a cowboy pie or maybe a cow-herder's pie? Ha, ha….whether lamb or beef they are both very good.
This recipe is from my cookbook entitled, My Irish Table, by Cathal Armstrong but I have adapted it slightly seeing as my lamb was already cooked.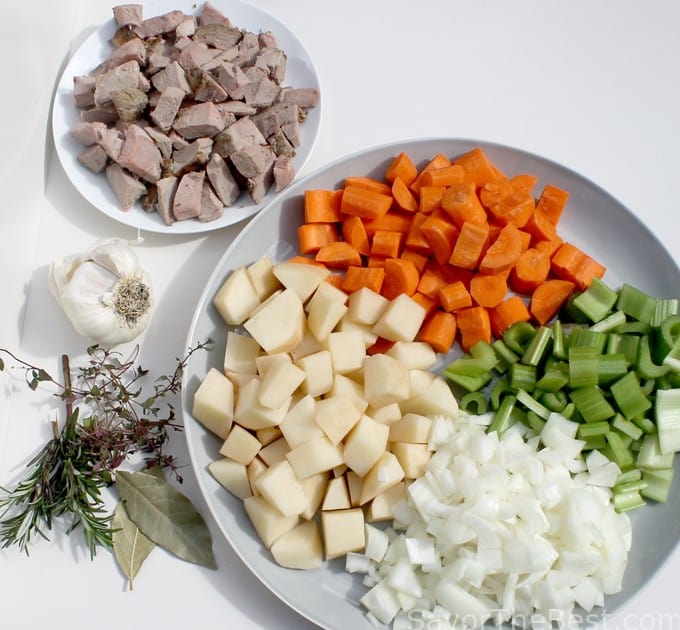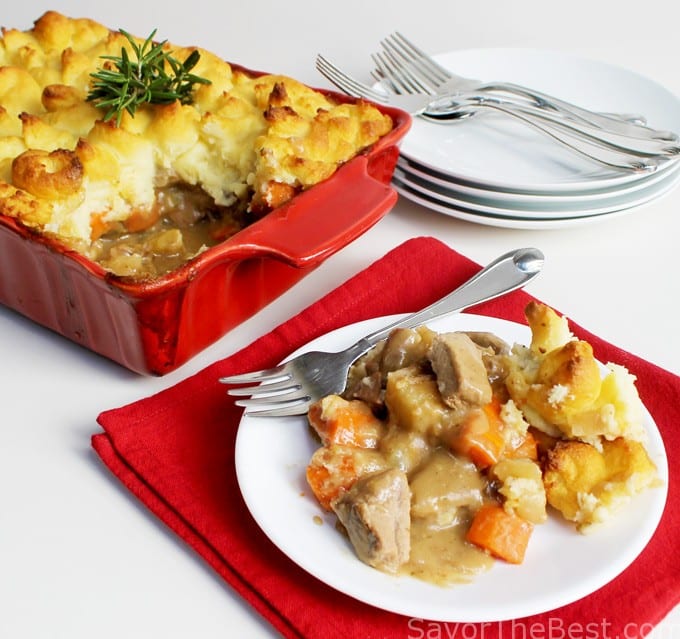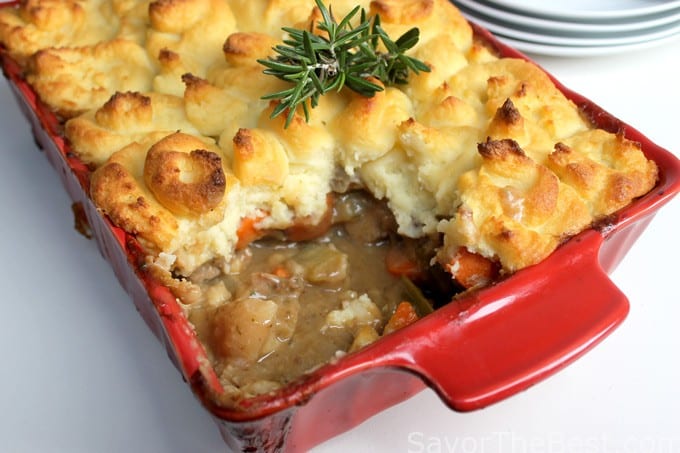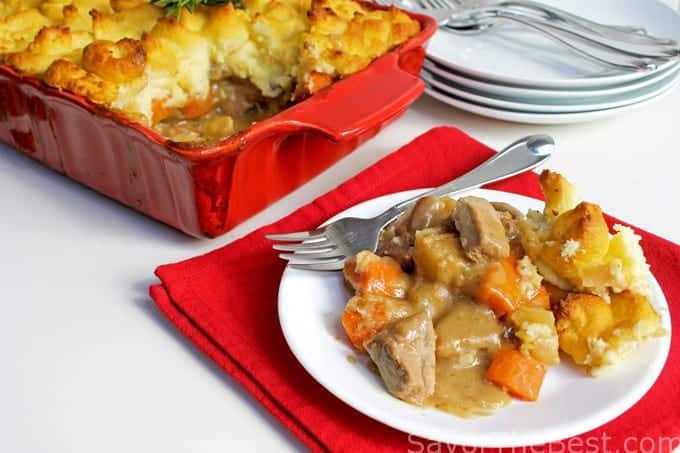 CONNECT WITH SAVOR THE BEST!
Be sure to follow us on our social media accounts
Facebook * Instagram * Pinterest * Twitter * Youtube
Did you make this recipe? We would love to hear from you. Drop us a comment below.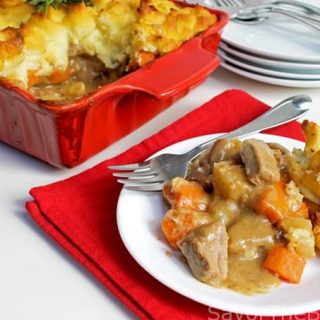 Shepherd's Pie
Total Time:
1 hour
20 minutes
This Irish recipe uses leftover cooked leg of lamb and vegetables with a creamy potato topping.
Ingredients
For the Stew
2 tablespoons olive, or coconut oil
1 yellow onion, chopped
4 carrots, peeled and chopped
4 celery stalks, chopped
3 cloves of garlic, chopped
2 tablespoons all-purpose flour
4 cups lamb stock or store-bought beef broth (I used a mix of beef broth and roast drippings)
3 russet potatoes, peeled and cut into 1/2-inch cubes (2 cups)
2 large fresh bay leaves
2 tablespoons chopped fresh thyme leaves
1 tablespoon chopped fresh rosemary leaves
1 tablespoon chopped fresh oregano leaves
1 1/2 pounds roasted leg of lamb shoulder, trimmed of all fat and cut into 1/2-inch cubes
Kosher salt and freshly ground black pepper
For the Mashed Potatoes
4 russet potatoes, peeled and quartered
1 tablespoon salt
1/2 cup unsalted butter
4 large egg yolks
1/2 cup heavy cream
Instructions
In a large Dutch oven or heavy bottomed skillet, heat the oil over medium-high heat and add the onion, carrots, celery and garlic, stirring occasionally, for 4 or 5 minutes until they are beginning to soften.
Sprinkle the flour over the vegetables, stirring as it browns lightly, for about 2 minutes. Add the lamb/beef stock or drippings from the roasted leg of lamb, scraping up any brown bits from the bottom of the pan. Stir in the potatoes, bay leaves, thyme, rosemary, and oregano. Add the cubes of roasted meat to the pan. Bring the liquid to a boil. Lower the heat to medium and cover the pot. Simmer for 15 minutes until the cubed potatoes are tender. Discard the bay leaves, taste and add the salt and pepper according to taste and transfer the stew to a 9x13-inch, oven-proof dish.
Meanwhile, add the quartered potatoes and salt to a saucepan and cover them with cold water. Bring the water to a boil, then lower the heat to medium and allow the potatoes to simmer uncovered until cooked through, about 40 minutes.
Preheat the oven to 425°F.
Drain the potatoes, return them to the pot, and stir them over the heat for a couple of minutes to dry them out a little. In a small dish, whisk the egg yolks and cream together and add the mixture and the butter to the potatoes. Mash the potatoes until they are smooth. Adjust the salt seasoning to taste and allow the potatoes to cool.
Fit a large pastry bag with a large star tip. Spoon the mashed potatoes into the bag. Moving in one direction, pipe large rosettes of potatoes over the stew mixture, in neat rows or around the perimeter of the baking dish. Fill in any holes with small dollops of mash potatoes so there isn't any place for the sauce to bubble up. If you don't want to pipe the potatoes on you can, instead, dollop the potatoes over the stew and spread it out evenly over the top.
Set the pie on a baking sheet that has been lined with foil it and bake for 30 to 35 minutes, until the potatoes are nicely browned and the filing is bubbling. Let the casserole rest for 15 minutes before serving.