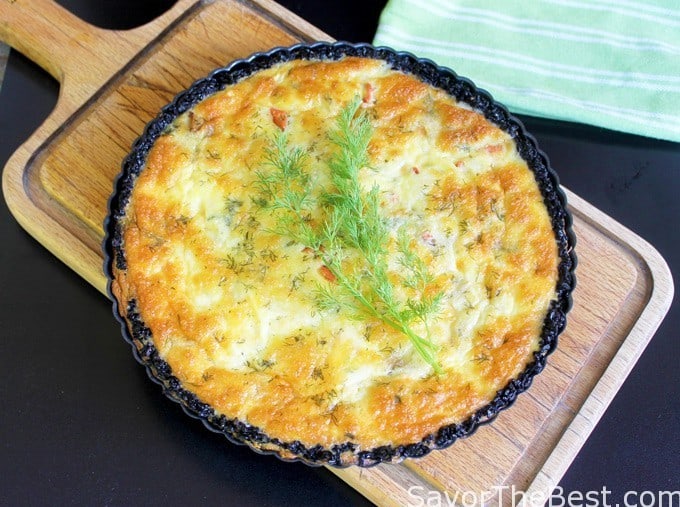 There is a little farm not too far from where we live and we have been buying fresh eggs from them every week. The yolks in these eggs are a beautiful orange color because the chickens roam around at their will. I am so spoiled now that I will never be happy with grocery-store eggs again. When Don brought home our supply of eggs this week he also had a small container of mushrooms that they grow on the farm. It was only a small container so I added them to this recipe of mushroom, smoked salmon quiche with black rice crust.
The mushrooms are weird looking and after slicing them up and sautéing them I had about a cupful to use in the quiche. I still had some black rice left over from when I made the black rice-mango salad. I mixed the rice with an egg white to keep it together and baked it for 15 minutes before putting the rest of the quiche together.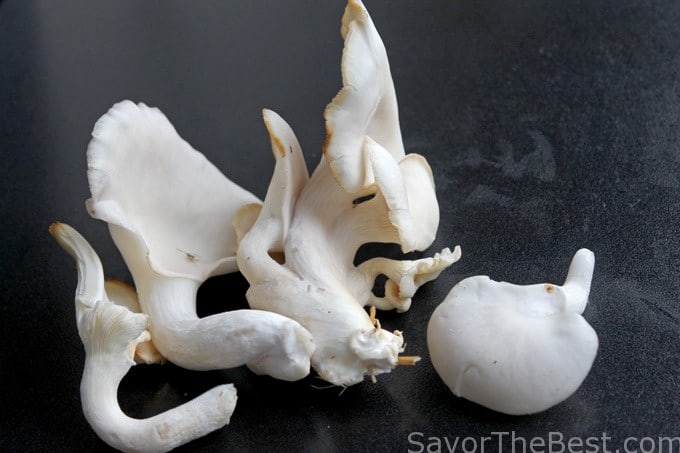 Mushrooms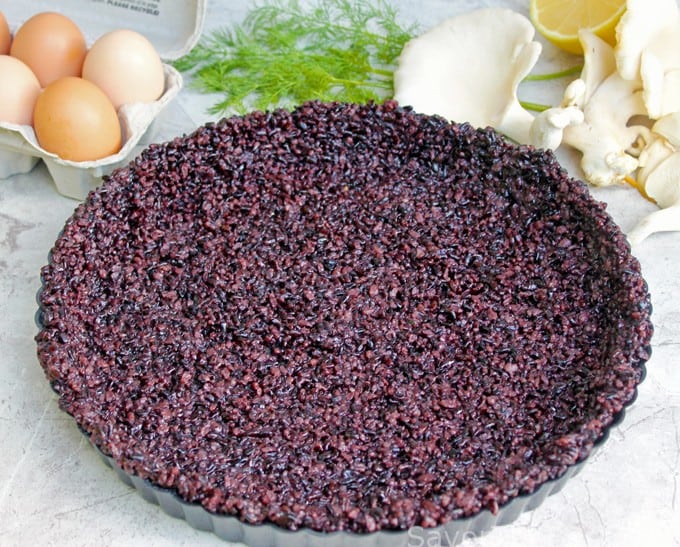 Black rice crust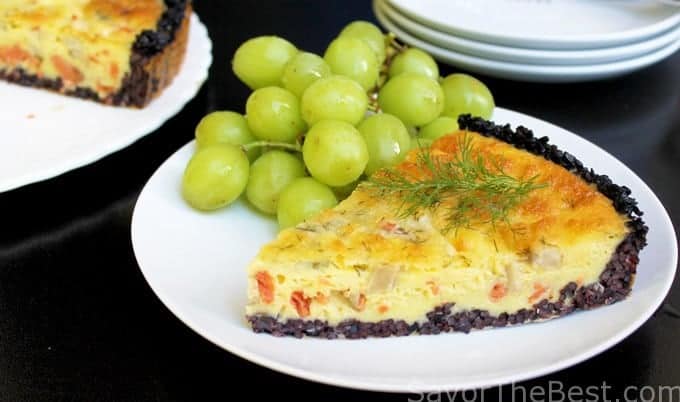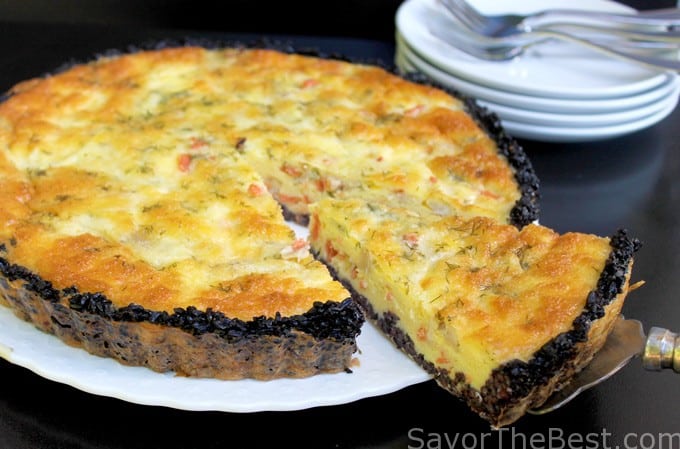 This made a great easy dinner along with a salad and some fruit and there is plenty leftover for lunches.
You might also like our Caramelized Onion and Swiss Cheese Quiche or a delicious Salmon Quiche with Potato Crust
CONNECT WITH SAVOR THE BEST!
Be sure to follow us on our social media accounts
Facebook * Instagram * Pinterest * Twitter * Youtube
Did you make this recipe? We would love to hear from you. Drop us a comment below.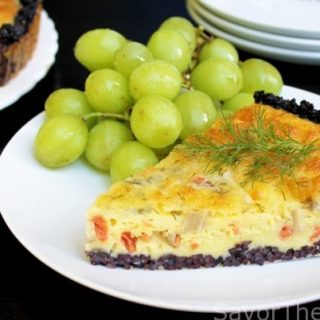 Mushroom-Smoked Salmon Quiche with Black Rice Crust
Yield: 8 servings
Prep Time: 30 minutes
Cook Time: 1 hour
Total Time: 1 hour 30 minutes
A creamy quiche made with mushrooms, smoked salmon and goat cheese with a crust made from black rice.
Ingredients
1-1/2 cups cold cooked black rice
1 egg white
2 tablespoons olive oil
1 cup sliced fresh mushrooms, any kind
2 cloves garlic, minced
2 scallions, sliced
2 tablespoons chopped fresh dill
6 ounces smoked salmon
5 ounces softened goat cheese (1/2 of a log)
1/2 cup sour cream
6 whole eggs
6 egg whites
1/4 teaspoon freshly ground black pepper
1 tablespoon chopped dill
Instructions
Preheat the oven to 350°F
In a small bowl, add the egg white and briefy whip it with a fork, add the black rice and toss together. Pour about half of the rice mixture into a 11" tart/quiche pan with a removable bottom. Using a fork or the back of a spoon, push and firm the rice up against the sides of the pan. Spread the remaining 1/2 of the rice over the bottom and press to firm. Place the pan on a baking sheet and place on the middle rack of the oven, bake for 12-15 minutes, then remove from the oven and cool before adding the remaining ingredients.
Add the olive oil to a small skillet over medium-high heat and add the mushrooms. Saute for 1-2 minutes then add the minced garlic and cook until just fragrant. Remove from the heat and distribute evenly over the cooled crust. Sprinkle the scallions and chopped dill on top of the mushrooms and place slices (or chopped) of salmon over them.
In a medium-size bowl, mix the goat cheese and the sour cream until blended. Add the whole eggs, one at a time, mixing well after each addition, stop the mixer and scrape down the sides and bottom of the bowl. Add the remaining egg whites, the black pepper and mix thoroughly.
Carefully pour the cheese/egg mixture over the vegetables, smoothing it out evenly and sprinkle additional dill over the quiche. Place in the oven on the middle rack and bake for 45 minutes or until golden and the center is slightly firm.
Allow to cool 5 minutes before slicing.
Notes
I have eliminated the addition of any salt as the smoked salmon is sufficiently salty.
Nutrition Information:
Yield: 10
Serving Size: 1
Amount Per Serving:
Calories: 226
Total Fat: 12.8g
Sodium: 354mg
Carbohydrates: 10g
Fiber: 1g
Sugar: 1g
Protein: 18g