Irish coffee is a popular drink that combines coffee, whiskey, and cream. This recipe for Irish Coffee Mousse captures all the flavors of the classic drink in a light and creamy dessert. This Irish coffee dessert is made from scratch without using pudding mix, so it's extra delicious.
This light and creamy Irish mousse is flavored with real Irish whiskey, just like Irish coffee.
The chocolate, cream, and whiskey combine to create a creamy, fluffy, and decadent treat. Plus, a generous measure of espresso coffee powder adds a decidedly coffee flavor. Serve this at your next party or gathering and everyone will love it!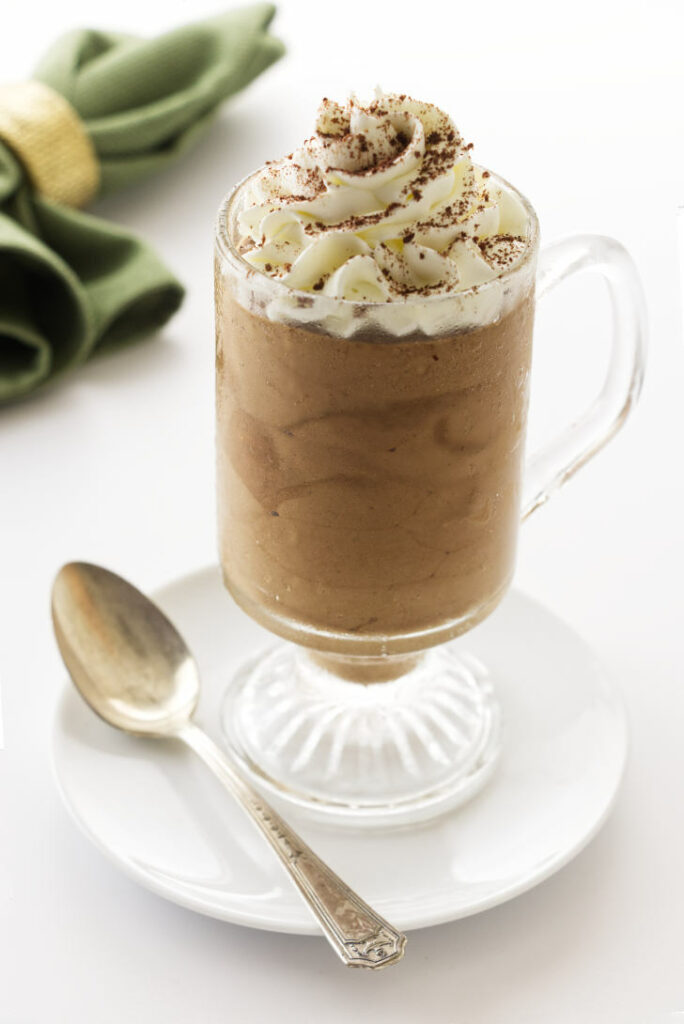 Whether you are celebrating St. Patrick's Day or any special day, this decadent, chocolate coffee dessert is a delightful way to finish off a fine meal!
Similar to our Chocolate Amaretto Mousse and Chocolate Amaretto-Espresso Mousse Cake, these elegant Irish coffee mousse desserts are rich and delicious. There is enough Irish whiskey to complement the flavor but not enough to give you a kick. We topped each serving with a pile of whipped cream and shavings of chocolate!
Why This Recipe Works:
Using chopped chocolate instead of cocoa powder gives the mousse a rich, creamy texture that melts on your tongue.

Real Irish whiskey gives this dessert the authentic flavor of Irish coffee.

There is an option for an alcohol-free version that tastes just as amazing.

Adding espresso powder along with brewed coffee gives just the right amount of coffee flavor without adding too much liquid that would prevent the mousse from setting.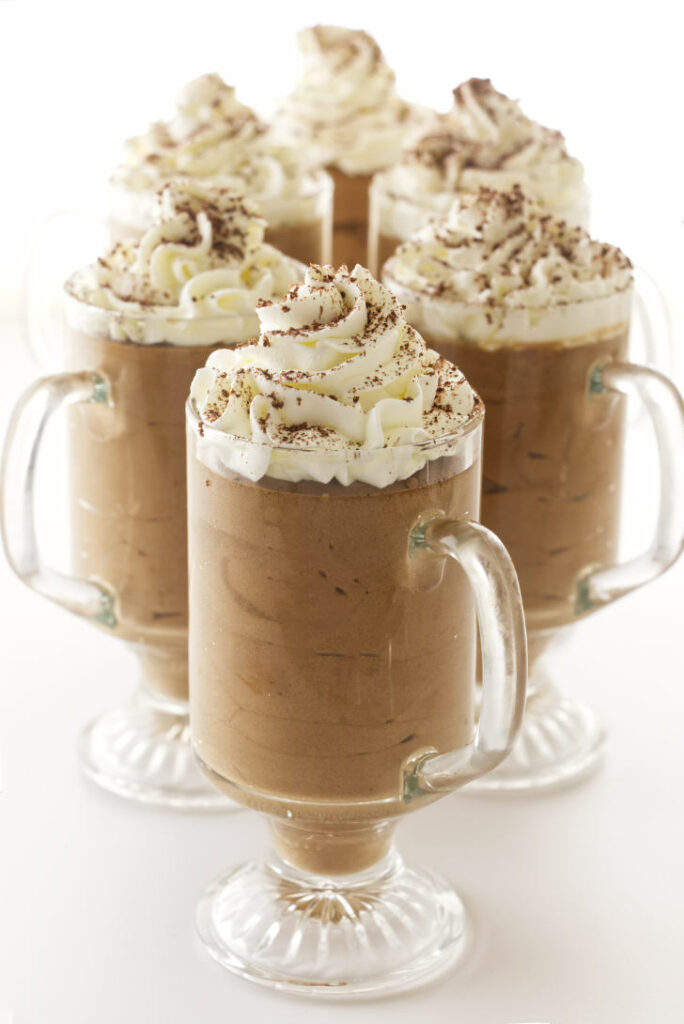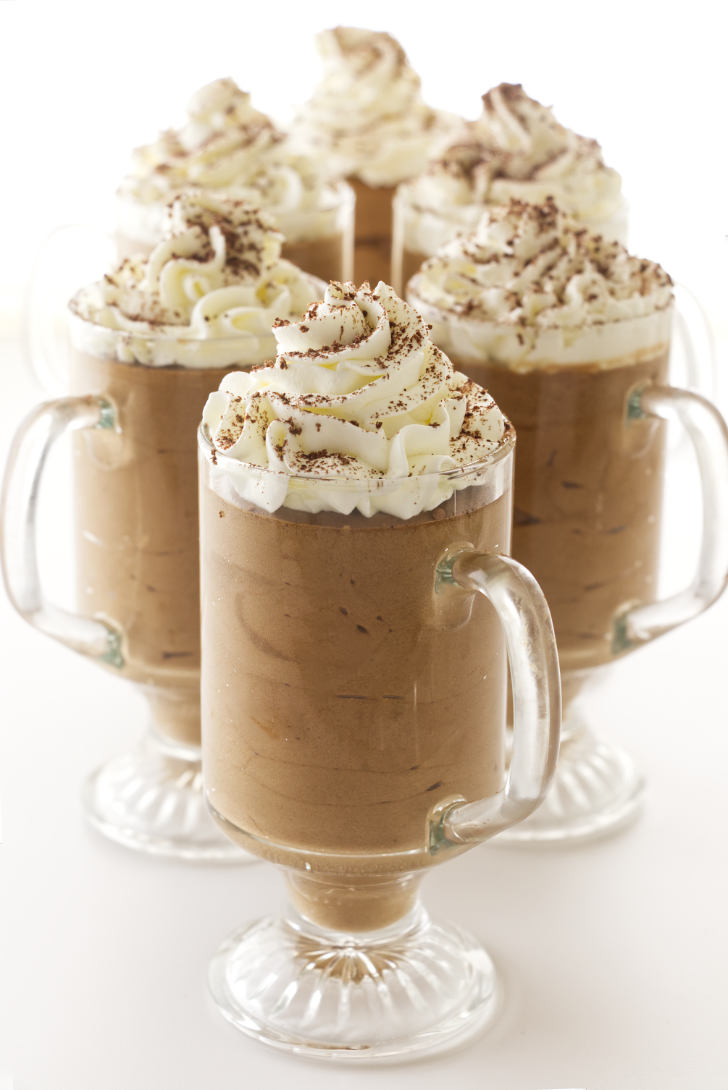 The Ingredients:
Milk chocolate. Chop the chocolate so it melts quicker.

Butter. You can use salted or unsalted butter.

Unflavored gelatine. We used gelatin powder in this recipe. Make sure the gelatin is not flavored.

Hot coffee. Save some of your morning brew and warm it up when you make this Irish dessert.

Espresso coffee powder. Espresso powder gives this coffee dessert an extra boost of coffee flavor.

Eggs. Separate the yolks and the whites.

Irish whiskey. Any brand will work: Jack Daniel's, Bushmills, Jameson… If you want to make this Irish dessert alcohol-free, you can use bourbon extract.

Sugar. Regular granulated sugar.

Vanilla. Vanilla extract enhances the flavors of the chocolate and the whiskey.

Heavy cream. Whipped cream gives the mousse a light, creamy texture. It also gets added to the top of the mousse, just like authentic Irish coffee.
We use unflavored gelatin in a number of our recipes here on Savor the Best. If you love recipes like this, purchase a larger container of gelatin instead of individual packets. The larger container is convenient and it will save you money.
Here are some recipes you can use the unflavored gelatin in: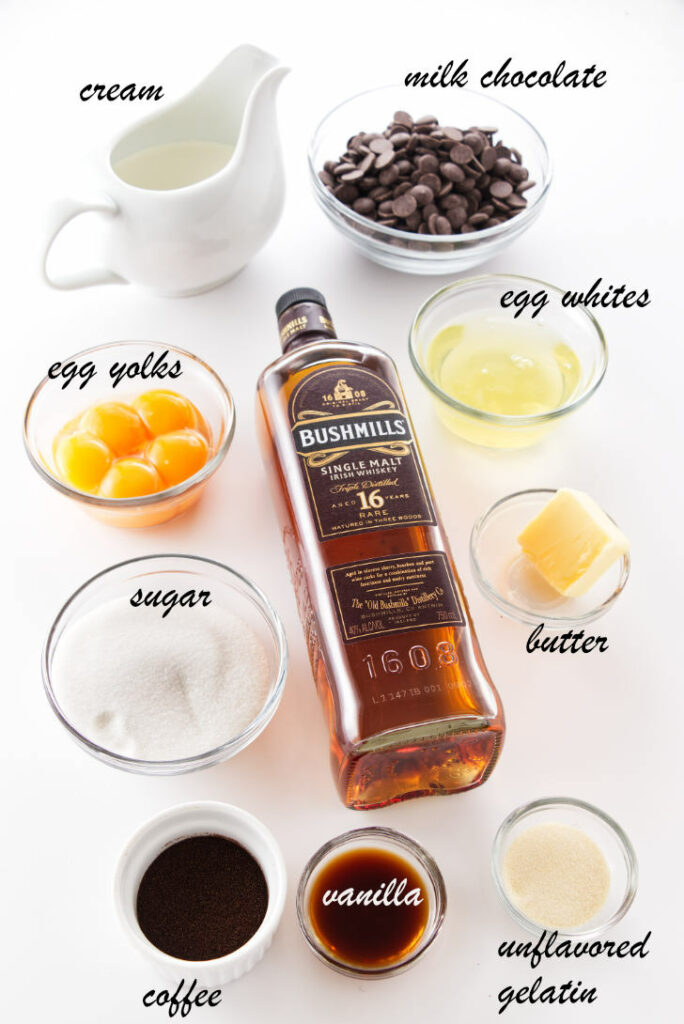 How To Make Our Irish Coffee Mousse Dessert:
This Irish whiskey dessert only takes 30 minutes but all mousses need to chill overnight to fully 'set' before serving. Here's a brief look at the instructions but please scroll to the bottom of the post for all the measurements and complete instructions.
Melt the chocolate and butter
Bloom the gelatin, then blend it with hot coffee and espresso powder.
Beat the egg yolks and add the gelatin/coffee mixture, Irish whiskey and the melted chocolate.
Whip the egg whites and sugar to stiff peaks and fold into the chocolate mixture
Beat the chilled cream and sugar to stiff peaks and fold into the chocolate mixture.
Spoon into six Irish coffee glasses and chill overnight. Serve with additional whipped cream on top.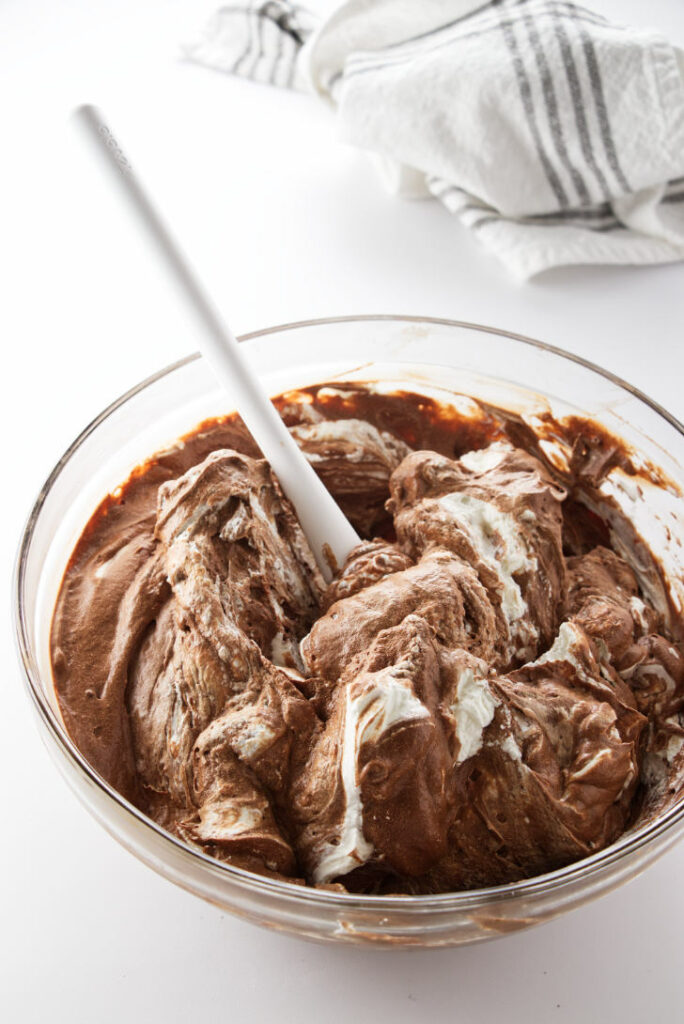 Frequently Asked Questions
Will the whisky in this Irish mousse dessert get me drunk?
There is only two ounces of whiskey in this Irish coffee mousse. When the whisky gets distributed into six or eight dessert cups, you will only have 1-1/2 to 2 teaspoons of whiskey per serving. Think of it as a flavoring such as vanilla. However, if you want to make this without the whiskey, check the notes in the recipe card and use bourbon extract.
What is the difference between mousse and pudding?
Mousse is light and airy while pudding is thick and creamy. Pudding gets cooked on the stovetop and is typically thickened with cornstarch and eggs. Aside from melting the chocolate, mousse does not usually require cooking.
Is it safe to eat mousse with raw eggs?
The FDA says it is safe to eat raw eggs if they are pasteurized in the shell. There are individuals that are at a higher risk for foodborne illnesses and they should use extra caution.
You can purchase Davidson's Safest Choice Pasteurized Eggs at most major grocery stores.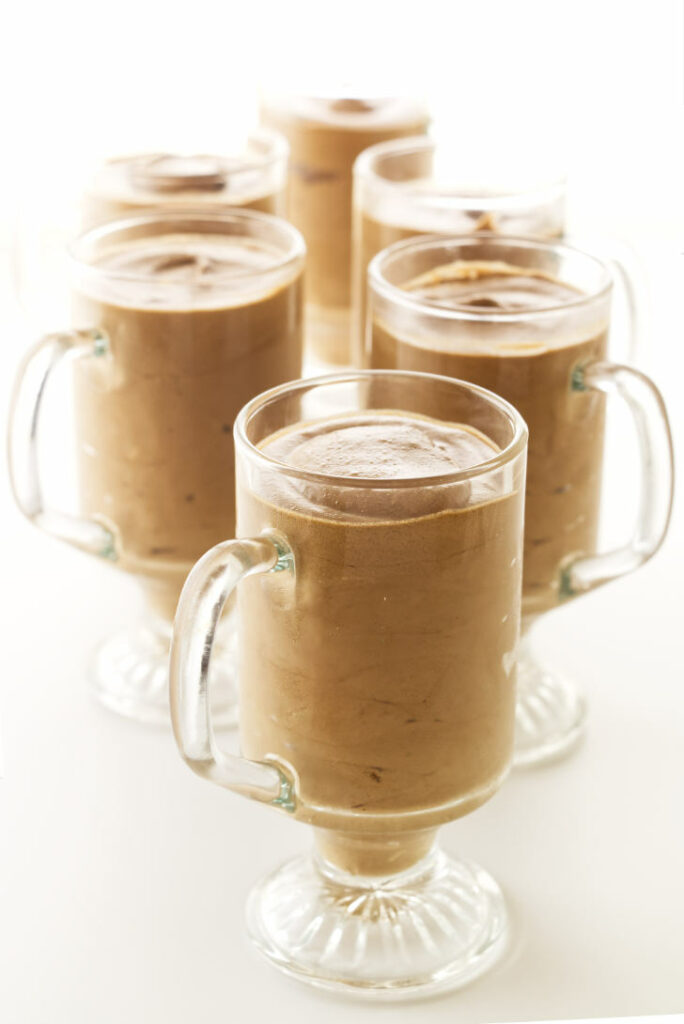 Options To Serve Irish Coffee Mousse In:
Irish coffee is typically served in a tall mug with a handle but if you do not have any on hand a dessert goblet works just as well (we used one with our lemon raspberry parfaits). Or you can use a wine glass as we did with our zabaglione. Even a small wide-mouth Mason jar makes a delightful serving.
No matter what vessel you use to serve this dessert in it will be delicious!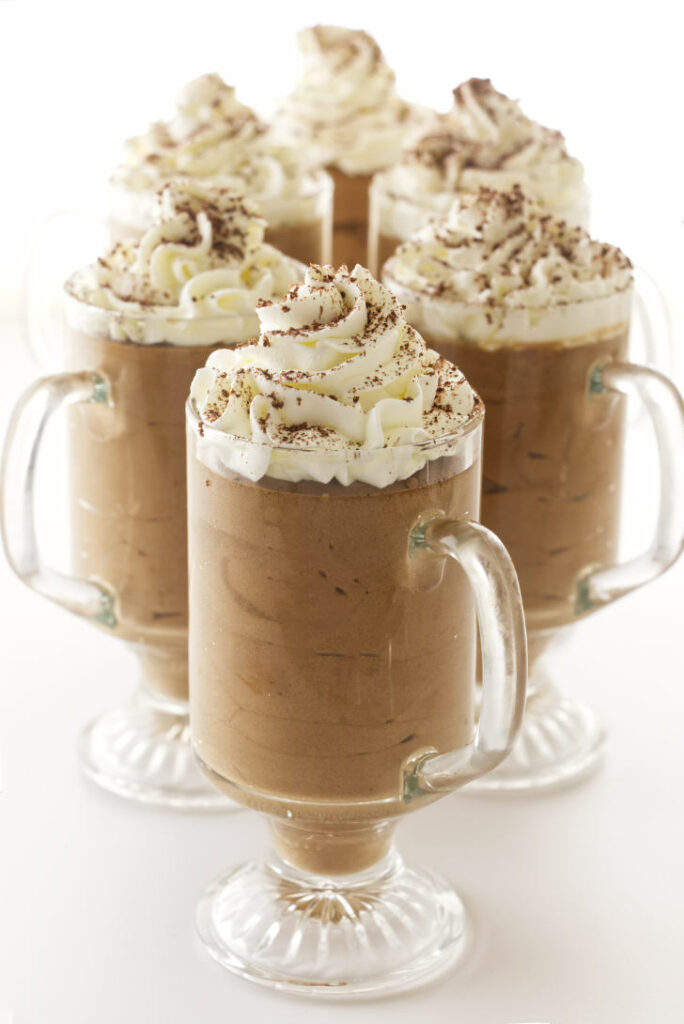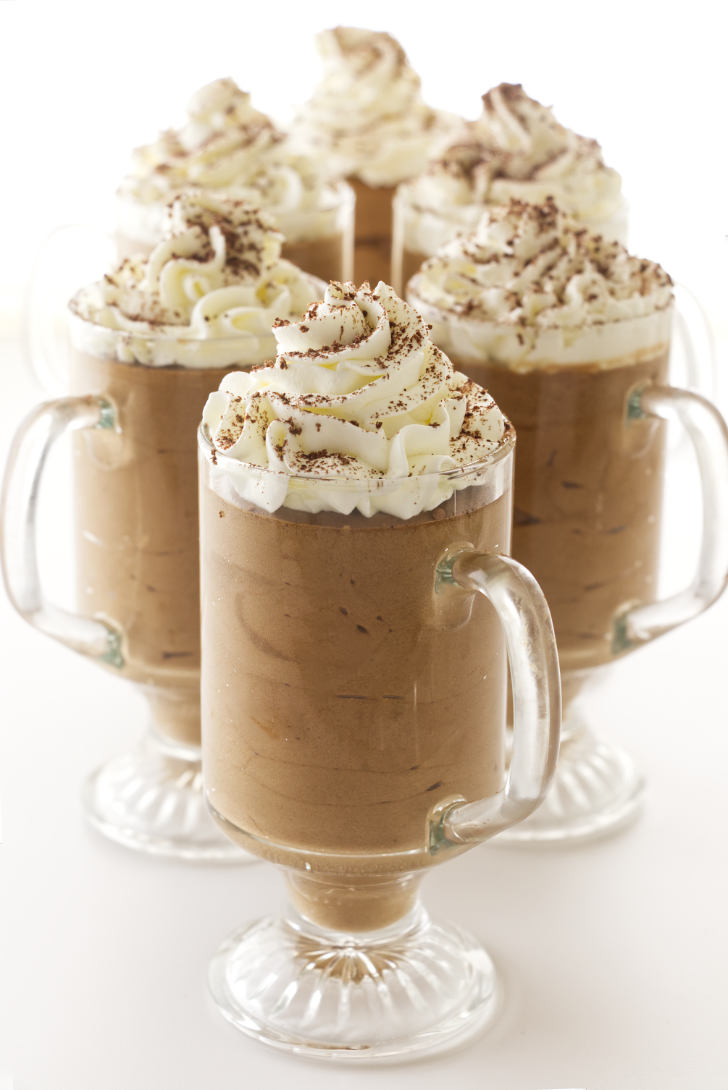 Topping and Garnishing Ideas:
Whipped cream mounded on each serving makes a dramatic presentation and makes this dessert look like classic Irish coffee. Be creative and as original as you want, here are a couple ideas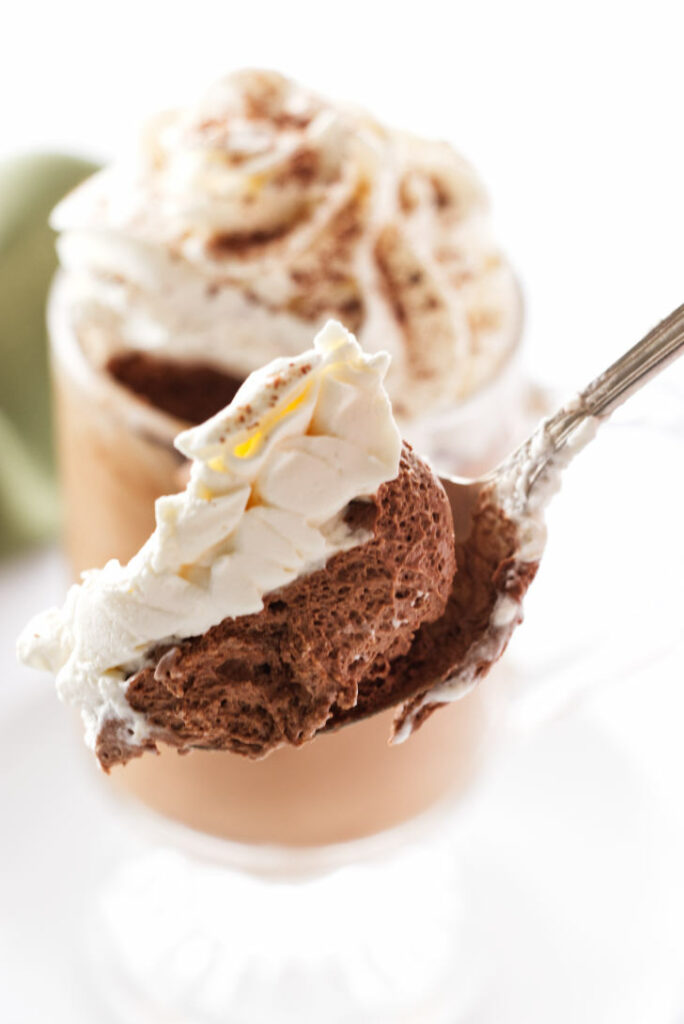 Some Other Recipes We Are Sure You Will Love:
A sweet chocolate cookie crust is the base for our No-Bake Chocolate Bailey's Cheesecake: We love Irish cream, which is rich, creamy, and undeniably delicious! This no-bake dessert also does not use gelatin to help set as there is enough chocolate to do the trick!
Our chocolate cake with cream cheese frosting is a deliciously decadent cake and it is so easy to make. The cream cheese frosting makes a beautiful contrast with the dark chocolate. Fill the cake with white chocolate mousse for an amazing dessert.
If you can't decide between cake or cheesecake, our blueberry coffee cake cheesecake is the perfect treat. It is a cross between a blueberry buckle, coffee cake muffins, and a cheesecake.
Connect With Savor the Best:
Please follow us on our social media accounts
Facebook * Instagram * Pinterest * Youtube * Twitter
Did you make this recipe? We would love to hear from you. Drop us a comment below.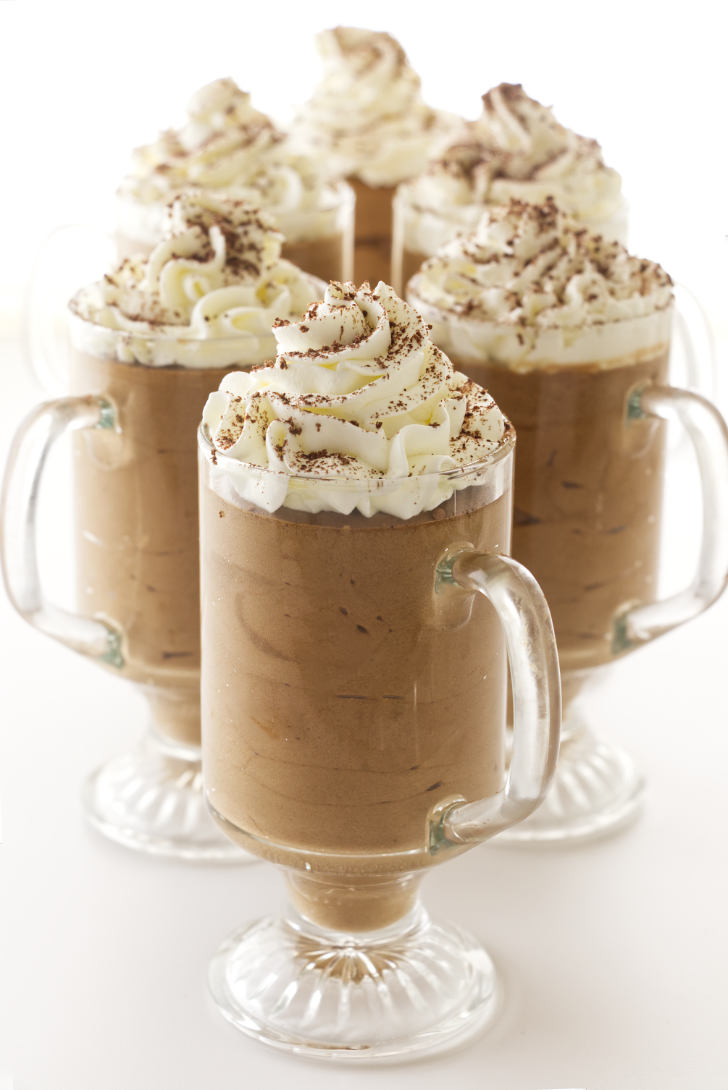 Irish Coffee Mousse
Irish Coffee Mousse is a light and creamy chocolate mousse that is flavored with real Irish whiskey, just like Irish coffee. This dessert is made from scratch without a pudding mix. The chocolate, cream, and whiskey combine to create a creamy, light, and decadent treat.
Ingredients
10 ounces milk chocolate, chopped
1 tablespoon butter
1 packet unflavored gelatine powder*
1/4 cup hot coffee
2 tablespoons espresso powdered coffee
5 extra-large egg yolks
1/4 cup Irish whiskey (see notes for no alcohol)
3 extra-large egg whites, room temperature
½ cup sugar, divided
2 teaspoons vanilla
1-1/2 cups well chilled heavy cream
Toppings/Garnish (optional)
1/2 cup heavy cream
1 tablespoon sugar
chocolate shavings
Instructions
Add the chocolate and butter to the top of a double boiler which is set over barely simmering water and allow to melt undisturbed.
While the chocolate is melting, sprinkle the gelatin into 1/4 cup of cold water and set aside for 1-2 minutes to bloom.
Pour the hot coffee into a small dish and add the espresso powder, stirring to dissolve. Add the softened gelatin, stir to combine with the espresso and set aside to cool.
In a large mixing bowl beat the egg yolks until they are thick and pale, beat in the cooled espresso mixture and the Irish whiskey, if using. Add the melted chocolate by spoonfuls, beating until the mixture is combined well.
In another bowl beat the egg whites until they just hold soft peaks, beat in ¼ cup of the sugar a little at a time and continue to beat the meringue until it holds stiff peaks. Beat in the vanilla. Stir one-third of the meringue into the chocolate mixture and fold in the remaining meringue.
In a chilled bowl beat 1-1/4 cups of the heavy cream until it holds soft peaks, beat in the remaining ¼ cup of sugar and beat the cream until it holds stiff peaks. Fold the whipped cream into the chocolate mixture, gently incorporating it completely.
Spoon or pipe the mousse into 6 footed hot drink mugs or stemmed wine glasses and chill overnight.
Toppings/Garnish:
Transfer the desserts from the refrigerator 20-30 minutes prior to serving.
Whip the 1/2 cup of cream and sugar until it holds stiff peaks. Top each serving with whip cream and grated chocolate.
Notes
For a very smooth textured mousse, pass the chocolate mixture through a fine-mesh sieve, scraping the outside of the sieve, then proceed with the egg whites and whip cream.
There are 2-1/2 teaspoons of gelatin in 1 packet of gelatin powder.
If you want to make this Irish coffee mousse without alcohol, eliminate the Irish whiskey, increase the coffee to 1/2 cup, and add 1 tablespoon of bourbon extract flavoring.
Nutrition Information:
Yield:

8
Serving Size:

1
Amount Per Serving:
Calories:

582
Total Fat:

43g
Saturated Fat:

26g
Trans Fat:

1g
Unsaturated Fat:

14g
Cholesterol:

242mg
Sodium:

117mg
Carbohydrates:

38g
Fiber:

1g
Sugar:

35g
Protein:

10g
Nutrition information is a guideline only, is calculated automatically by third-party software, and absolute accuracy is not guaranteed.