These healthy whole wheat pumpkin pancakes are low in fat and high in fiber and big on taste. I use whole wheat pastry flour in this recipe to lend a soft, tender texture to the pancakes. Whole wheat pastry flour is ground from a soft wheat berry and contains less gluten and protein than regular whole wheat flour. This creates a more tender, delicate crumb. Pastry flour is great for recipes like pancakes and scones where a higher amount of gluten would make them tough. It has a subtler flavor than regular whole wheat flour but still lends that earthy, nutty flavor that whole wheat has. Like regular whole wheat flour, since it contains the oils from the wheat germ it can get rancid and taste bitter.
If you have tried whole wheat in the past and found it bitter and unpleasant, it was probably old, rancid wheat. I store my whole wheat flours in the freezer or fridge so it lasts longer. If your not sure if your flour is good, just put a little on your tongue. If there is any bitterness detected then the oils have already started to turn bad. I don't think you would get sick if you baked with it but it definitely would make the food taste unpleasantly bitter.
Yield: 8 servings
Healthy Whole Wheat Pumpkin Pancakes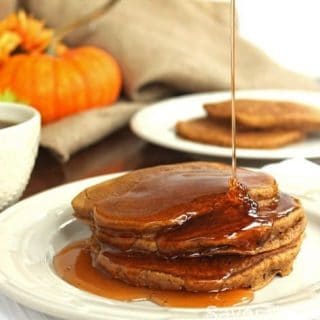 A healthy whole wheat pumpkin pancake low in fat and high in fiber. If you are trying to cut back on your sugar intake for breakfast then eliminate the sugar from the recipe. You can also serve these with warm applesauce instead of sugar-laden syrup.
Add a poached egg or two and you have a filling breakfast with plenty of protein.
Prep Time 10 minutes
Cook Time 10 minutes
Total Time 20 minutes
Ingredients
1 ½ cups (180 grams) whole wheat pastry flour
1 ½ teaspoons baking powder
½ teaspoon baking soda
1 ½ teaspoons cinnamon
¾ teaspoon salt
½ teaspoon ground nutmeg
¼ teaspoon ground ginger
1/8 teaspoon cloves
¾ cup pureed pumpkin
¾ cup almond milk
¼ cup sucanat* sugar (or brown sugar)
2 eggs
2 tablespoons olive oil
1 teaspoon vanilla
2 egg whites
Instructions
In a medium mixing bowl, combine the whole-wheat pastry flour, baking powder, baking soda, cinnamon, salt, and nutmeg. Whisk together to combine well.
In a separate bowl, whisk together the pureed pumpkin, almond milk, sucanat sugar, eggs, olive oil, and vanilla. Pour the pumpkin mixture into the flour mixture and gently stir until the flour mixture is moistened. Place the egg whites in a clean mixing bowl and whip them with an electric mixer until they reach soft peaks. Gently fold them into the batter.
Pre-heat a skillet over medium heat or heat an electric griddle to 375° and lightly oil it.
When the griddle is hot, spread ¼ cup of batter onto the griddle for each pancake. Cook until bubbles start to form on the surface of the pancake then flip and cook the other side until brown.
Notes
Sucanat is minimally processed sugar cane juice. It has fewer calories than regular sugar and a higher nutrient content since it retains vitamins and minerals. It also retains all of the molasses content for a lovely deep flavor and color. You can substitute it for dark brown sugar if desired.
Nutrition Information
Yield
8
Serving Size
1
Amount Per Serving
Calories 136
Total Fat 5g
Sodium 164mg
Carbohydrates 21g
Fiber 2g
Protein 2g
Nutrition information is a guideline only, is calculated automatically by third-party software, and absolute accuracy is not guaranteed.