Are you looking for an easy way to prepare carrots in just a few minutes? Here is how to steam carrots in the Instant Pot. It will free up space on the stovetop and save you some time.
Steaming carrots in your Instant Pot takes very little prep and preserves the nutrition in the carrots. You can use this recipe to blanch carrots before you freeze them or steam them a little longer to make a delicious side dish.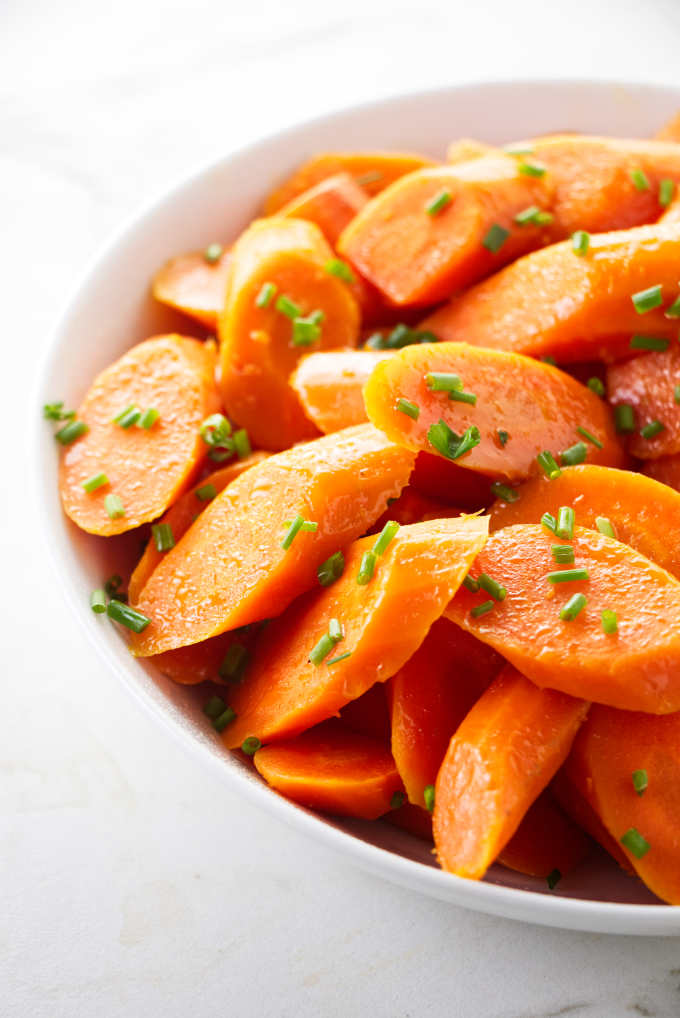 Steaming Carrots in the Instant Pot :
Steaming carrots is a great way to preserve nutrients, flavor, and texture. It also keeps the carrots a bright, vibrant orange. The Instant Pot uses steam under high pressure to practically "flash cook" the vegetables. It will take anywhere from less than 1 minute to 3 minutes for your carrots to steam.
You do have to wait for the water to boil before the Instant Pot builds up pressure. But you also have to wait for the water to boil when you steam your carrots on the stovetop. This method is:
Fast.
Frees up the stovetop.
Preserves nutrients.
Easily customizable with glazes and spices.
Excellent for freezing and meal prep.
Carrots are naturally sweet and they go with a lot of flavors. Try our honey sage carrots, mustard dill carrots, or our cilantro lime carrots for some great flavor inspiration.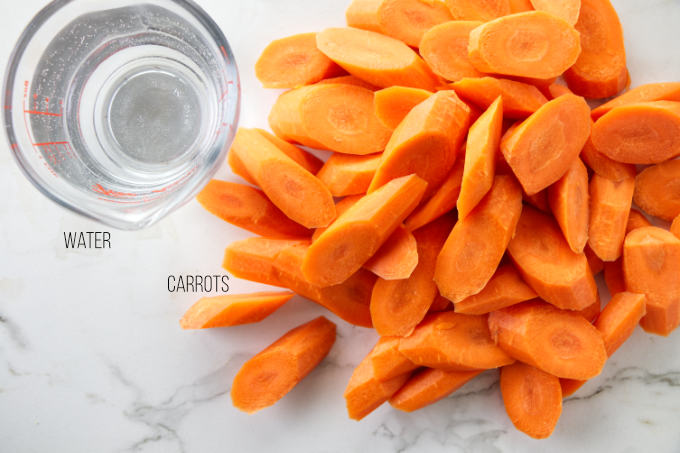 What Do You Need to Steam Carrots in Your Instant Pot?
Ok, this is hardly a list of ingredients. Unless you plan to add herbs and spices, you only need two things.
Carrots. You can use baby or large carrots. If you use large carrots, they will need to be peeled and cut into smaller pieces.
Water.
Of course, you will need an Instant Pot as well. We love using ours for a variety of side and main dishes. Such as this delicious Instant Pot pork fried rice recipe.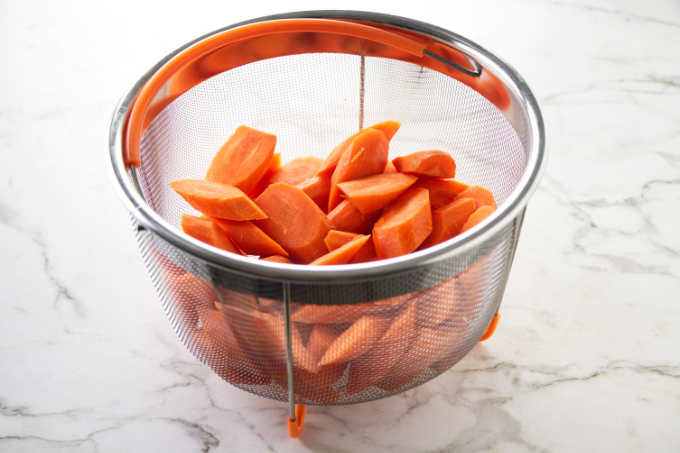 How to Steam Carrots in the Instant Pot
Add water to the inner pot of the Instant Pot.
Put the carrots into the steamer basket and place the basket inside the pot.
Close and seal the lid and select high pressure.
Set the timer for the desired result:
0 minutes for tender-crisp
1 minute for tender
2 minutes for soft
3 minutes for mash-able baby food
Once the timer finishes, immediately release the valve and let out the steam. Voila! Your Instant Pot steamed carrots are ready to serve or freeze.
Tips for Recipe Success:
Make sure you release the steam right away when the timer goes off. If you don't release the steam, the carrots will continue to cook and get mushy pretty quickly.
If the carrots are not as soft as you would like them then you can put the lid back on and set the timer for an additional 0-1 minutes.
The amount of time needed to cook the carrots will depend on how thick you slice the carrots. Slice them 1/2 inch thick for consistent results.
The carrots will continue to cook from residual heat even if you remove them from the pot. If you plan to freeze the carrots then plunge them in ice water as soon as the Instant Pot is finished cooking. That will stop them from cooking and keep them blanched for freezing.
Setting the Instant Pot to "0"

There are some instances that you will want to press "0" on the timer. While this initially might sound strange, setting the timer to zero blanches the carrots.
Selecting zero minutes gives the carrots just enough time to cook while the Instant Pot is building pressure. As soon as pressure inside the Instant Pot is reached, the timer goes off.
Zero minutes cooks them just enough to brighten the color but keeps them crisp. It is how I like to eat my carrots but you may like them a little softer. It is also the setting you want to use if you plan to blanch the carrots prior to freezing them.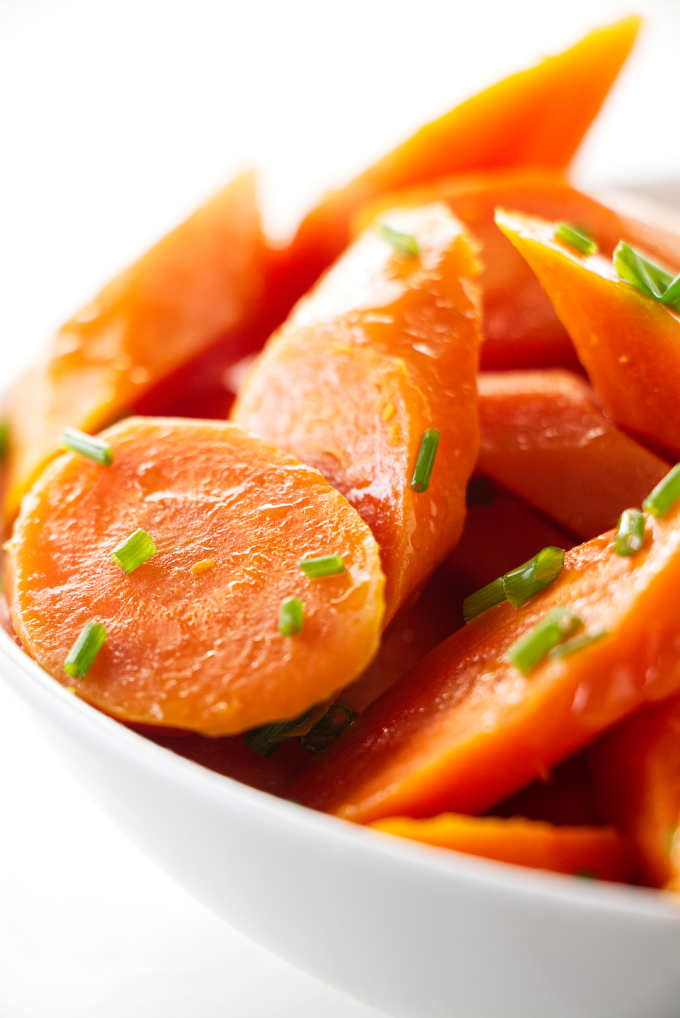 Frequently Asked Questions:
Why did my carrots take longer to cook?
Make sure you cut your carrots to 1/2 inch thick or about the thickness of baby carrots. If you have baby carrots that are unusually large then you may need to add a minute.

Another thing that can effect the cooking time in an Instant Pot is elevation. If you live over 5000 feet in elevation, you may need to add an additional minute.
Can I steam the carrots if I do not have a steamer basket for my Instant Pot?
Yes! Add carrots directly to Instant Pot right into the water. Follow the directions as usual. The carrots will release some color into the water but they will take the same length of time to cook. Take them out of the water as soon as they finish cooking.
Can I add seasoning to the carrots?
Yes, try tossing the carrots in olive oil or melted butter then adding your favorite seasonings.
Can I double the recipe?
Yes, you can! Use the same settings but be aware that it will take the Instant Pot longer to reach its target pressure.
How do I freeze carrots?
Follow the recipe and blanch carrots, setting the Instant Pot timer to 0 minutes. Cool completely. Dry the carrots and package them with ½ inch headspace. Blanched frozen carrots are good in the freezer for up to 6 months.
Helpful Tools:
Some of the following are affiliate links. If you click on these links and purchase something, we may receive a small commission. You don't pay any extra but it will help us keep the lights on.
Some Other Recipes We Are Sure You Will Love:
We always have broccoli in our house. Steamed broccoli is a fast and easy side dish that completes any meal. It's a life saver for those busy nights.
A honey and soy sauce glaze gives this Brussels sprouts and carrots recipe an elevated flavor. Roasting the vegetables amplifies the natural sweetness.
Our carrot soup is smooth and creamy but it doesn't contain any cream. It is a healthy, low fat soup and it only has 117 calories per serving.
Connect With Savor the Best:
Please follow us on our social media accounts
Facebook * Instagram * Pinterest * Twitter * Youtube
Did you make this recipe? We would love to hear from you. Drop us a comment below.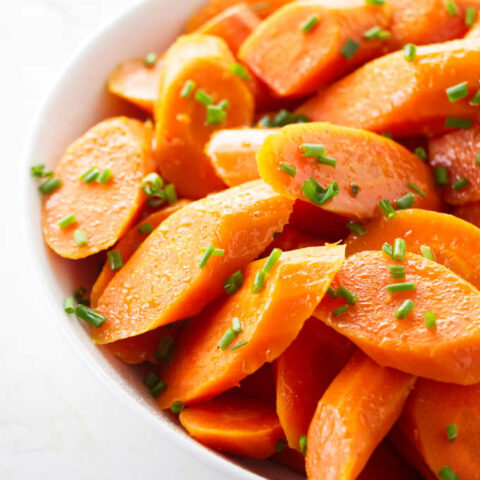 How to Steam Carrots in the Instant Pot
Yield: 4 servings
Prep Time: 5 minutes
Cook Time: 1 minute
Additional Time: 5 minutes
Total Time: 11 minutes
Steamed carrots make an easy side dish but it is also a great way to blanch them before freezing. Steaming carrots in the Instant Pot is easy, healthy, and frees up space on the stove. If you justs want to blanch the carrots, select "0" minutes.
This recipe works with large carrots or baby carrots.
Ingredients
1 pound carrots (baby carrots or larger carrots)
1-1/2 cups water
Instructions
Prepping the Carrots
If you are using large carrots, scrub them clean or peel them then slice them into 1/2 inch thick slices. If the carrots are large in diameter, cut them in half length-wise.
Add the water to the inner pot of the Instant Pot. Place the carrots in a steamer basket and set it in the Instant Pot.
Place the lid on the Instant Pot and make sure it is in the sealed position. Cook on high pressure with the timer set for one of the following choices:
Time Settings
0 minutes for tender-crisp (great for blanching)
1 minute for tender
2 minutes for soft
3 minutes for mash-able baby food
Quick Release
As soon as the Instant Pot finishes the cooking time, do a quick release of the steam. Check the carrots for doneness. If you like them softer, replace the lid and cook for another 0 to 1 minute on high pressure.
If you are just blanching the carrots to prep for freezing, run them under cold water or submerge them in ice water as soon as you take them out of the Instant Pot.
Notes
Zero minutes on the Instant Pot may sound strange but it is not a typo. If you select zero minutes, the pressure cooker will come up to pressure then beep an alert that it is finished. It gives enough time for the carrots to cook while the Instant Pot builds up pressure but doesn't let you keep cooking them once pressure is reached. Make sure you release the steam so they stop cooking.
When you remove the carrots from the Instant Pot, they will continue to cook (every so slightly) from residual heat. Plunging the carrots in ice water or running them under cold water as soon as you take them out of the Instant Pot will stop them from cooking. This is a good way to ensure they keep a firm texture if you plan to freeze them.
Nutrition Information:
Yield: 4
Serving Size: 1
Amount Per Serving:
Calories: 40
Total Fat: 0g
Saturated Fat: 0g
Trans Fat: 0g
Unsaturated Fat: 0g
Cholesterol: 0mg
Sodium: 71mg
Carbohydrates: 9g
Fiber: 3g
Sugar: 4g
Protein: 1g
Nutrition information is a guideline only, is calculated automatically by third-party software, and absolute accuracy is not guaranteed.