You will love this side dish of mustard-dill roasted carrots! They are simple, full of flavor and make a great addition to any meal. But, I have to admit that I hesitate at breakfast! 🙂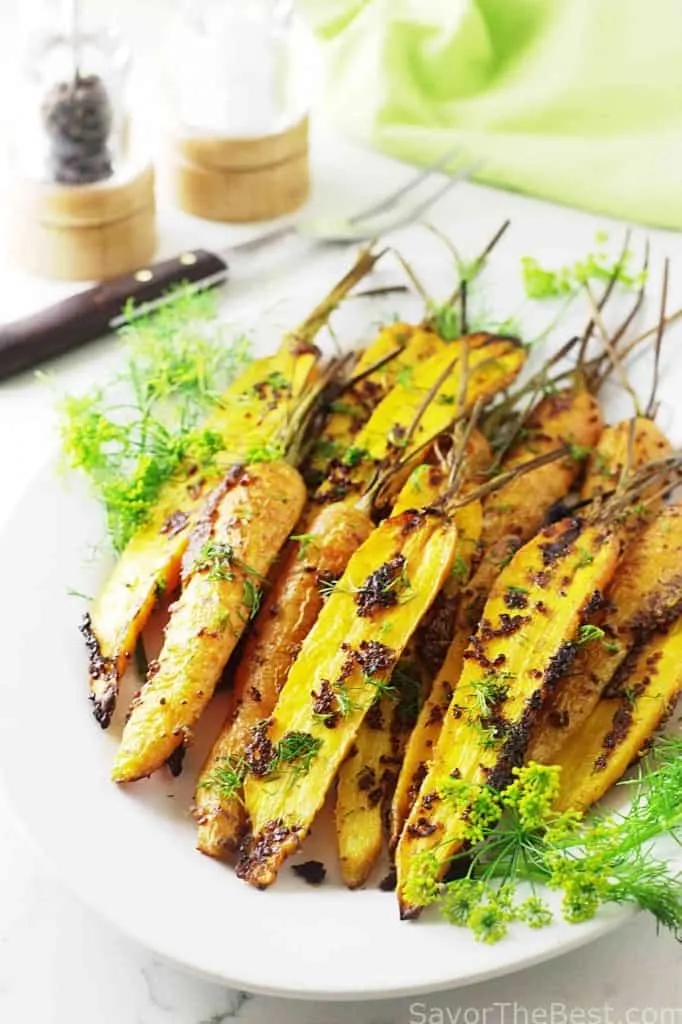 It takes just minutes to scrub these carrots, slice them in half and brush them with a wonderful concoction of whole-grain mustard, olive oil and golden balsamic vinegar. Pop them into the oven for a short roast and serve with a sprinkling of fresh dill. Perfection!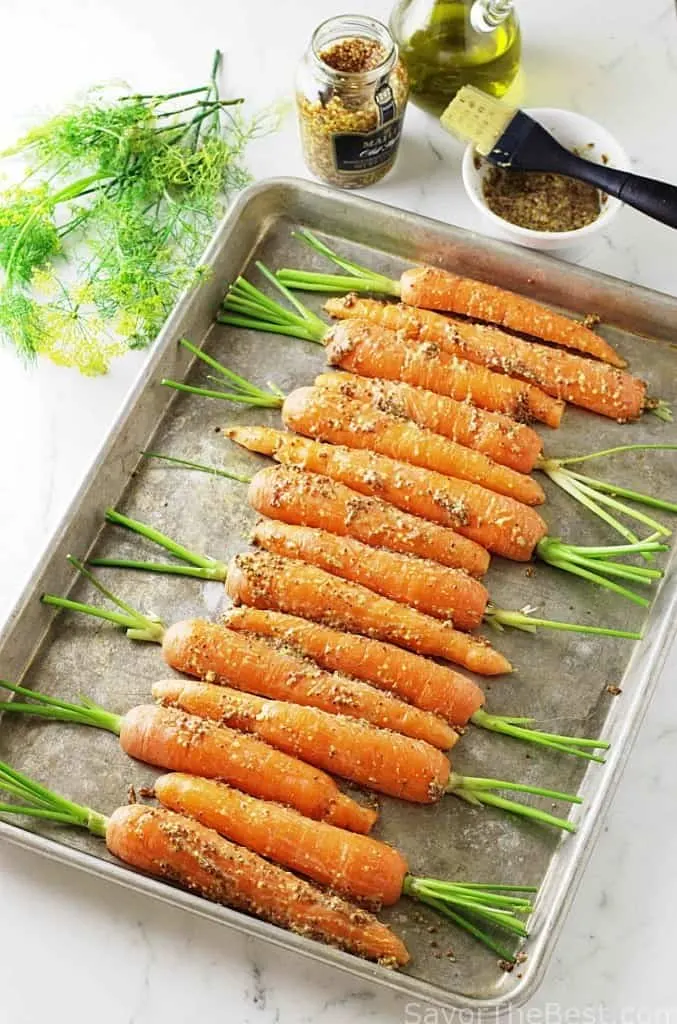 I can remember well, my dad planting carrots in our annual garden and how my sister and I would sneak out there after school and have a little snack crunching of freshly pulled carrots after washing them at the garden hose.
Also, the big red radishes. Have you ever ate a radish sandwich? It was made from Wonder bread slathered with mayonnaise and sliced freshly pulled radishes.
Oh, the things my parents would eat! I still love crunching on raw carrots and radishes! It is curious what memories are conjured up over certain foods.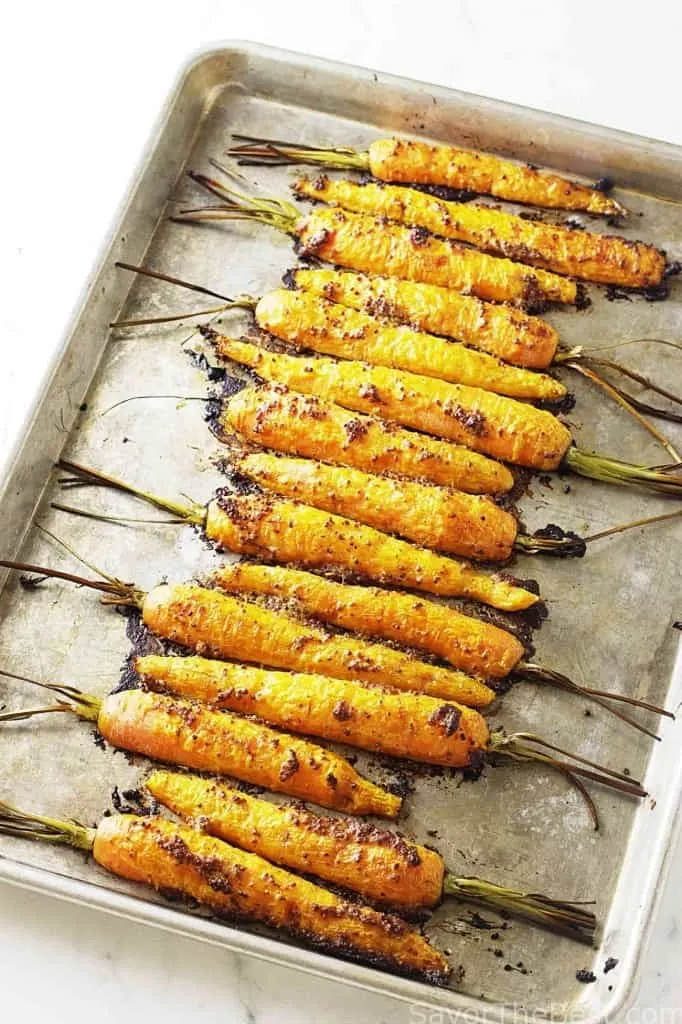 According to my Flavor Bible, carrots and dill are related and in this recipe they compliment each other beautifully! Roasting the carrots brings out their natural sweetness while the balsamic vinegar adds just a smidgen of acidity to their sweetness.
We used the golden balsamic variety of balsamic vinegar for this recipe which allows the carrots to retain their vivid color. If you don't have golden balsamic vinegar I would recommend using traditional red balsamic vinegar as a substitute.
Balsamic vinegar has a unique sweetness and lovely aromatics that make this recipe so tantalizing. If you were to substitute with a regular white vinegar, you would miss out on that complex flavor that only balsamic vinegar can bring.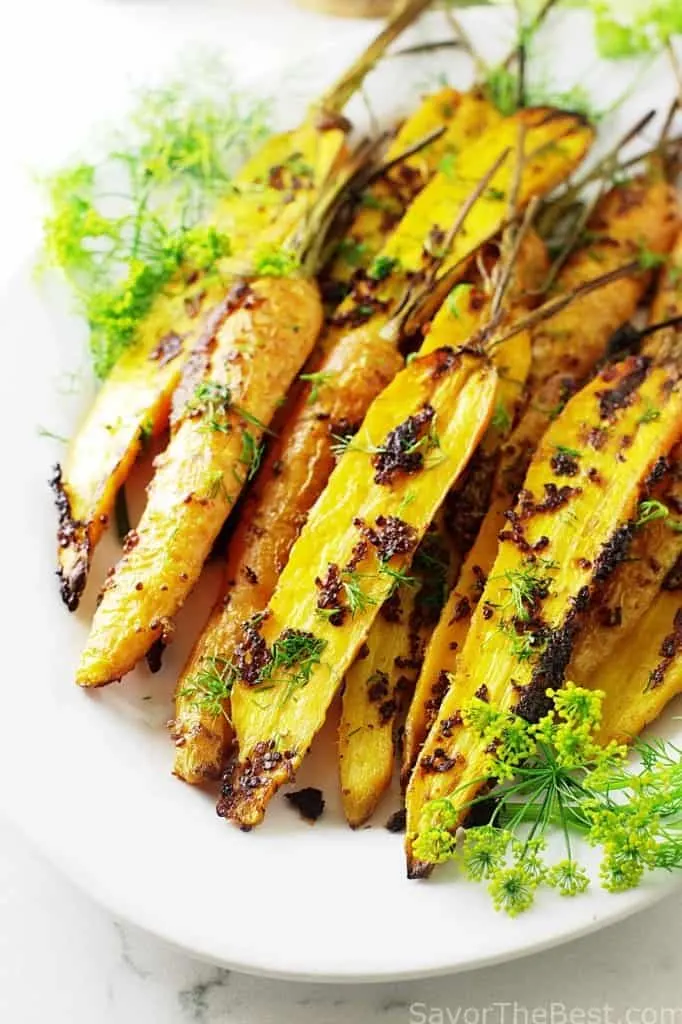 There are so many ways to enjoy this wonderful root vegetable but this mustard-dill roasted carrot recipe has got to be one of my favorites.
You might also like these side dishes:
Roasted Emmer and Winter Squash Rissoto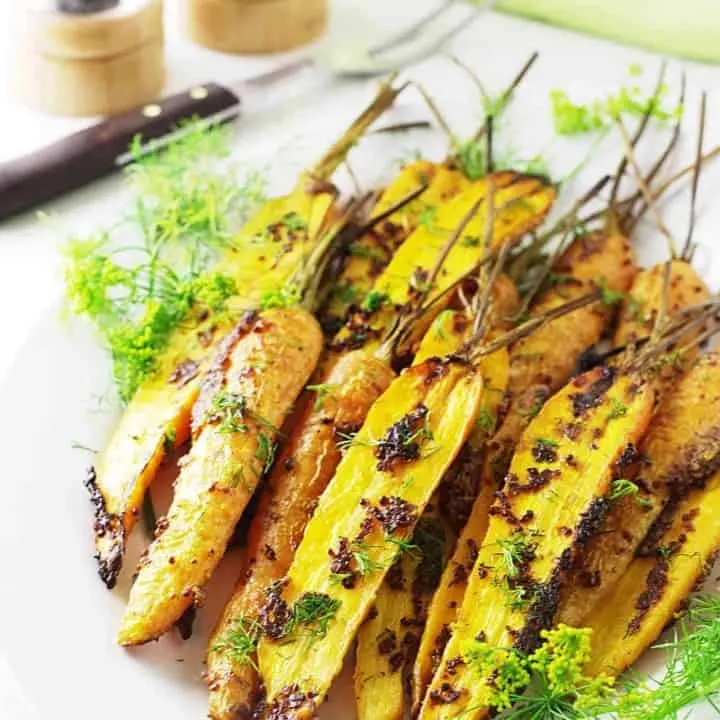 Mustard-Dill Roasted Carrots
Oven roasted mustard-dill carrots are brushed with a mix of whole-grain mustard, olive oil and golden balsamic vinegar then sprinkled with fresh dill. This is a very easy side dish recipe to add at any time.
Ingredients
3 tablespoons olive oil
3 tablespoons whole grain mustard
1 tablespoon golden balsamic vinegar
8 carrots, about 8-inches long
1/4 teaspoon sea salt
Fresh ground pepper
2 tablespoons fresh chopped dill
Instructions
Preheat the oven to 425°F
In a small dish, whisk together the olive oil, mustard and vinegar. Set aside.
Wash the carrots under cold water scrubbing off any soil, trim the top to 2-inches and remove any long-tailed roots. Peel with a vegetable peeler if desired. If the carrots are scrubbed well there is no need to peel them. Slice each carrot in half lengthwise.
Brush the mustard mixture on both sides of the carrots and place them cut side down on the prepared baking sheet. Sprinkle the carrots with the salt and grind the pepper on them. Transfer the sheet pan to the oven and roast the carrots for 25-30 minutes, until they are just tender when pierced with a fork at the top of a carrot.
Remove from the oven and transfer to a serving dish. Sprinkle the chopped dill over the top and garnish with dill sprigs.