This recipe for fresh fig cake with crumb topping is quick, easy, and the perfect way to use plump, ripe, fresh figs. Sour cream makes the crumb moist and gives it a lovely tang that goes well with the hint of lemon.
The sweet, crunchy, crumb topping turns this dessert into a fig coffee cake but that doesn't mean you have to serve it with coffee. Serve this fig cake as a dessert, a snack, or a sweet addition to an afternoon brunch.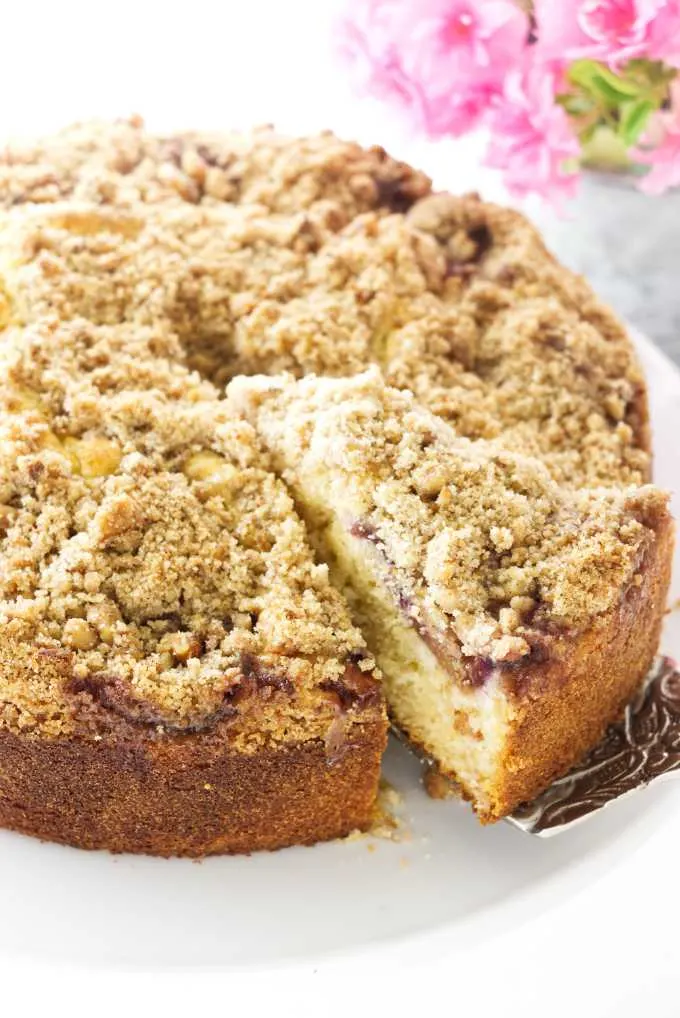 The sweet, juicy figs are the star of this cake. It doesn't even need a frosting as the crunchy streusel topping adds the perfect amount of sweetness. Although I wouldn't turn down a dollop of whipped cream! ?
If you have an abundance of fresh figs, this cake is a great way to use them. And if you want some more fig recipes, you will love our Goat Cheese Custard with roasted figs or our strawberry fig jam that uses fresh figs. Some terrific appetizer recipes with fresh figs include our fig and prosciutto flatbread and our fig and gorgonzola bites.
For a savory recipe, try these Bacon Wrapped Stuffed Figs that feature fat, fresh figs stuffed with blue cheese and thyme leaves. They are wrapped in smokey, salty bacon and baked until the cheese melts.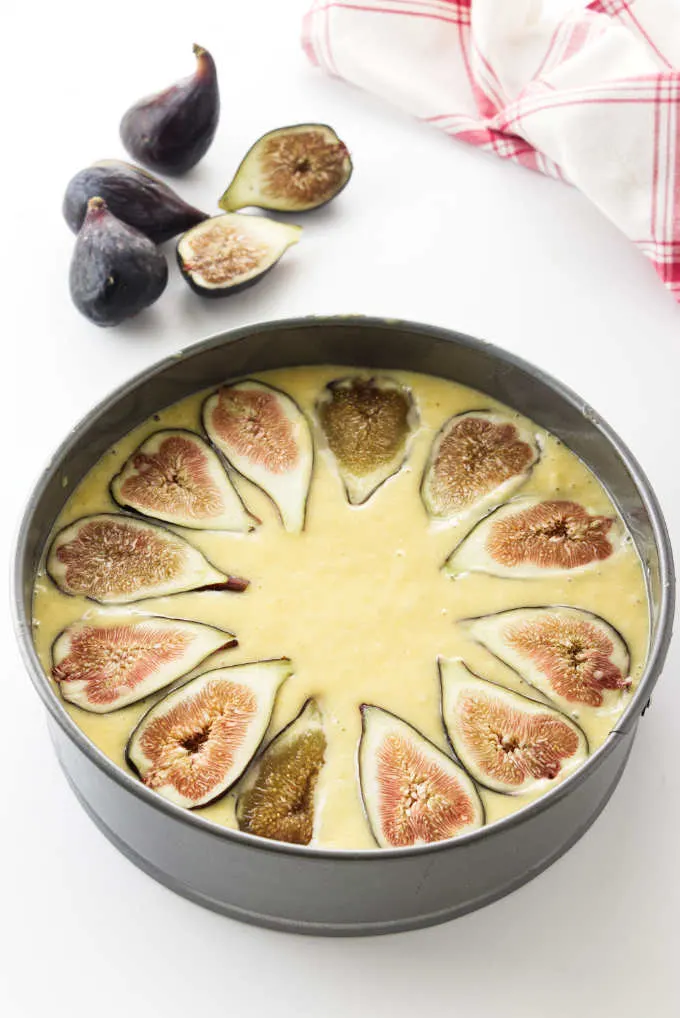 Ingredients for a Fresh Figs Cake Recipe:
Flour. All-purpose flour works fine in this recipe. You will need the flour for the streusel crumb topping as well as in the fig cake.
Sugar. Just standard, granulated, white sugar.
Cinnamon and nutmeg. Cinnamon gets added to the streusel topping and nutmeg gets added to the cake batter.
Butter. The butter is for the streusel topping. It is quicker and easier to mix the crumb topping using melted butter but if you want to do it the old-fashioned way as we did in our blueberry buckle, that works as well.
Pecans. Pecans add a lovely texture to the streusel topping. We have added it to several of our streusel crumb recipes. Check out our peach crisp.
Fresh figs. We used Black Mission figs but you can use any variety you find at the market. Calimyrna and Adriatic figs have green skin and a brighter red flesh than Mission figs. Don't let the green skin fool you into thinking they are not ripe.
Baking powder. Baking powder is used for leavening, structure, and texture. Make sure it is not expired and you store it in an airtight container.
Salt. The salt will enhance the flavors in the fig cake.
Vegetable oil. Vegetable oil gives the cake an extra moist texture and tender crumb.
Sour cream. Like the vegetable oil, the sour cream enhances the moistness of the cake but it also adds a lovely, slightly tangy flavor. It is a great addition to baked goods like chocolate cake as well.
Lemon. We used lemon juice and lemon zest for a vibrant lemony flavor that compliments the fresh figs. Our favorite tool for zesting lemons is a microplane.
Vanilla. I realize that real vanilla extract is pretty expensive but if you purchase it in a larger bottle, you can pay less than $2 per ounce.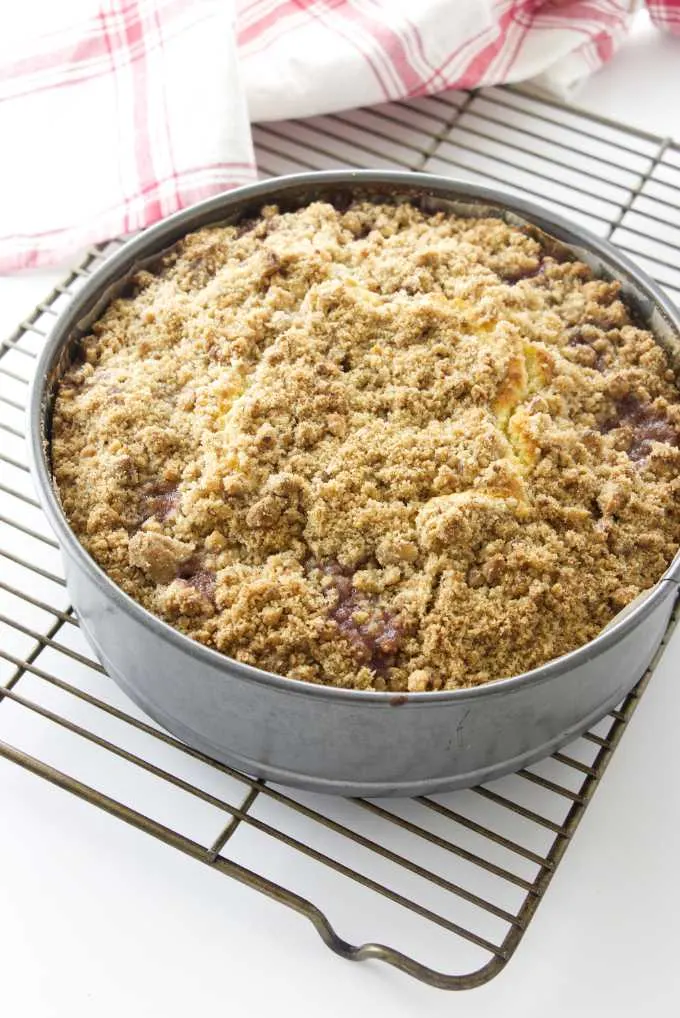 How to Make this Fresh Fig Coffee Cake
Combine the ingredients for the crumb topping and set it aside.
Sift the dry ingredients in a bowl.
Mix the wet ingredients in a separate bowl.
Fold the dry ingredients into the wet ingredients and stir in the lemon zest.
Pour the batter into a cake pan then top with a ring of fresh fig halves around the inside rim. Sprinkle the crumb topping over the figs and bake.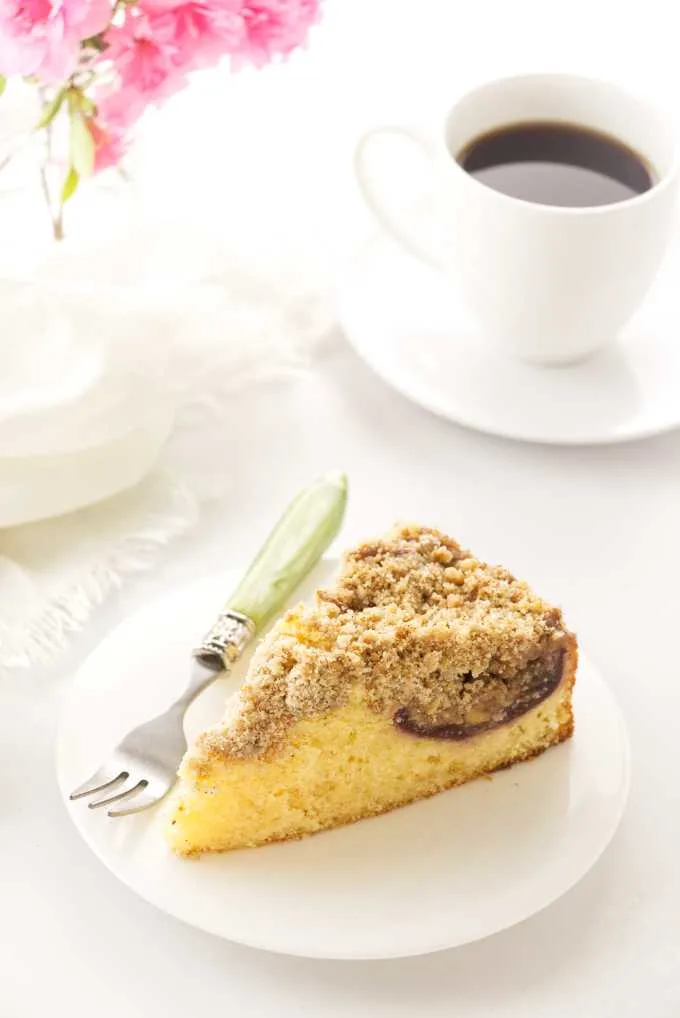 Tips for Success:
If you don't have a springform/cheesecake pan you can use a regular cake pan as long as the pan is at least 2 inches tall. Be sure to add a strip of parchment paper to the pan with an overhang so you can lift the cake from the pan after it has cooled.
Room temperature eggs and sour cream will contribute to a more delicate cake. Let them sit out on the counter for a while before you make this fresh fig coffee cake.
If you have small figs, you will want to use a few extra to fill in the gaps. You can always cover the entire surface of the cake if you have enough figs.
Bake the cake until a toothpick inserted in the center comes out clean or with just a few moist crumbs. I like to take the cake out of the oven when I still have crumbs sticking on the toothpick. If you leave the cake in the oven until the toothpick comes out completely clean then there is a chance you can over-bake the cake. Luckily, this fig cake is pretty moist even if you over-shoot the oven time a bit.
Make sure you zest the lemon before you juice it because it is difficult to zest the lemon after you squeeze all the juice out.
If you have a nut allergy, you can leave the pecans out.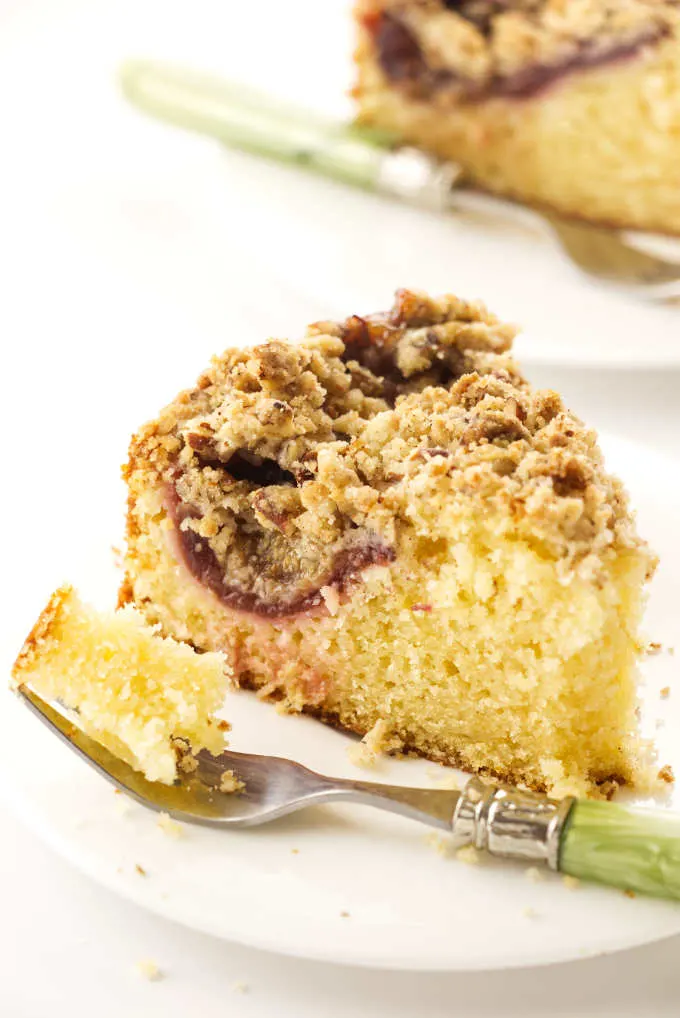 I hope you've enjoyed this fig cake recipe. It's one of the simplest recipes to make, but it is also absolutely delicious and perfect for any occasion. Serve as a coffee cake with brunch or an after-dinner dessert. Fig season ends in September so be sure to try out our other fresh fig recipes before then!
But don't forget that you can make some amazing fig recipes with dried figs all year long. Check out our fig and brie stuffed chicken or our dried fig jam.
Some Other Recipes You Will Love:
Fresh Pear Cake with Crumb Topping: Fresh sweet pears are nestled in a tender, moist cake. A crisp, buttery crumb topping finishes the cake.
Mango Mousse Cake: This light, luscious dessert has a thick layer of cloud-like, fresh mango mousse floating on a coconut infused sponge cake.
Old Fashioned Blueberry Buckle Recipe: A tender, moist cake with just a hint of lemon that lets the blueberries shine. The sweet streusel topping gives a sweet, caramelized crunch.
Connect With Savor the Best:
Please follow us on our social media accounts
Facebook * Instagram * Pinterest * Youtube * Twitter
Did you make this recipe? We would love to hear from you. Drop us a comment below.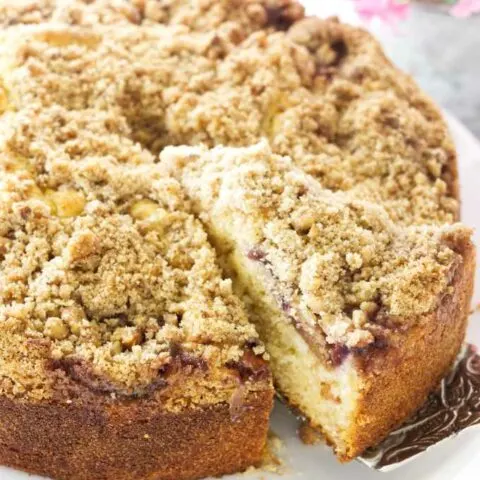 Fresh Fig Cake with Crumb Topping
Total Time:
1 hour
10 minutes
Our Fresh Fig Cake with Crumb Topping is moist and tender and just screams for coffee! A ring of sweet, juicy figs are arranged and baked on top of the batter which compliment the rich, lemon accented cake. A generous, crumb topping covers the sweet figs and bakes up crisp and crunchy.
Ingredients
For the Crumb Topping
3/4 cup all-purpose flour (90 grams)
1/2 cup granulated sugar (100 grams)
1 teaspoon cinnamon
4 tablespoons butter, melted
1/2 cup chopped pecans
For the Cake:
2 cups all-purpose flour
2 teaspoons baking powder
1 teaspoon salt
1/8 teaspoon freshly grated nutmeg
3 eggs, room temperture
1 cup granulated sugar
1 cup vegetable oil
1/3 cup sour cream, room temperature
1/4 cup fresh lemon juice
1 teaspoon vanilla extract
2 tablespoons lemon zest
Instructions
Prepare the Figs:
Rinse the figs under cold tap water and pat them dry with a paper towel. Clip the stems, slice each one in half. Place them on a plate and reserve.
To Make the Crumb Topping:
Combine the flour, sugar, cinnamon and nuts to a medium size bowl stirring well. Pour the melted butter over the top and blend until the mixture is crumbly. Set aside
For the Cake:
Preheat the oven to 350°F and coat a 9-inch springform/cheesecake pan with non-stick oil spray. Set aside.
Sift together the flour, baking powder, salt and nutmeg. Set aside.
Break the eggs into a large mixing bowl and with the whisk attachment of the electric mixer, whisk for 1 minute. Stop the motor and add the sugar, oil, sour cream, lemon juice and vanilla. Whisk on medium speed for 2 minutes.
Stop the mixer and add the dry ingredients, gently folding them in just until combined.
Fold in the lemon zest.
Pour the batter into the prepared pan and smooth the top.
Arrange the sliced figs on top of the batter around the inside rim of the pan. Sprinkle the crumb topping evenly over the top of the batter and figs.
Transfer to the oven and bake for 50 to 55 minutes until a wooden pick inserted in the center comes out clean.
Remove from the oven and set on a wire rack to cool.
To Serve:
When the cake has cooled, run a sharp knife around the inside of the springform pan to loosen the cake, release the side latch and lift off the pan rim.
Insert a thin sharp knife between the metal pan bottom and the cake to loosen the cake and gently slide the cake onto a serving plate.
Notes
Per a request from a reader, if you want more figs in this cake, you can fold 1 to 1-1/4 cups of chopped figs into the batter when you fold in the lemon zest (bake as usual).
The amount of figs needed will depend upon their size.
Begin checking for doneness at 45-48 minutes.
For a smooth side to the cake, when preparing the springform/cheesecake pan for the batter: line the inside rim of the pan with a strip of parchment paper.
Nutrition Information:
Yield:

12
Serving Size:

1
Amount Per Serving:
Calories:

493
Total Fat:

28g
Saturated Fat:

5g
Trans Fat:

1g
Unsaturated Fat:

21g
Cholesterol:

60mg
Sodium:

309mg
Carbohydrates:

57g
Fiber:

3g
Sugar:

33g
Protein:

6g
Nutrition information is a guideline only, is calculated automatically by third-party software, and absolute accuracy is not guaranteed.