Woohoo! What an amazing lunch we had today! This savory-sweet fig, Gorgonzola and prosciutto flatbread was outstanding! This flatbread has a nice soft and tender crust covered with garlic-infused Gorgonzola cream sauce. Studded with slices of sweet fresh Black Mission figs, snipped fresh oregano and finished off with strips of crisp, salty prosciutto and crumbles of Gorgonzola cheese.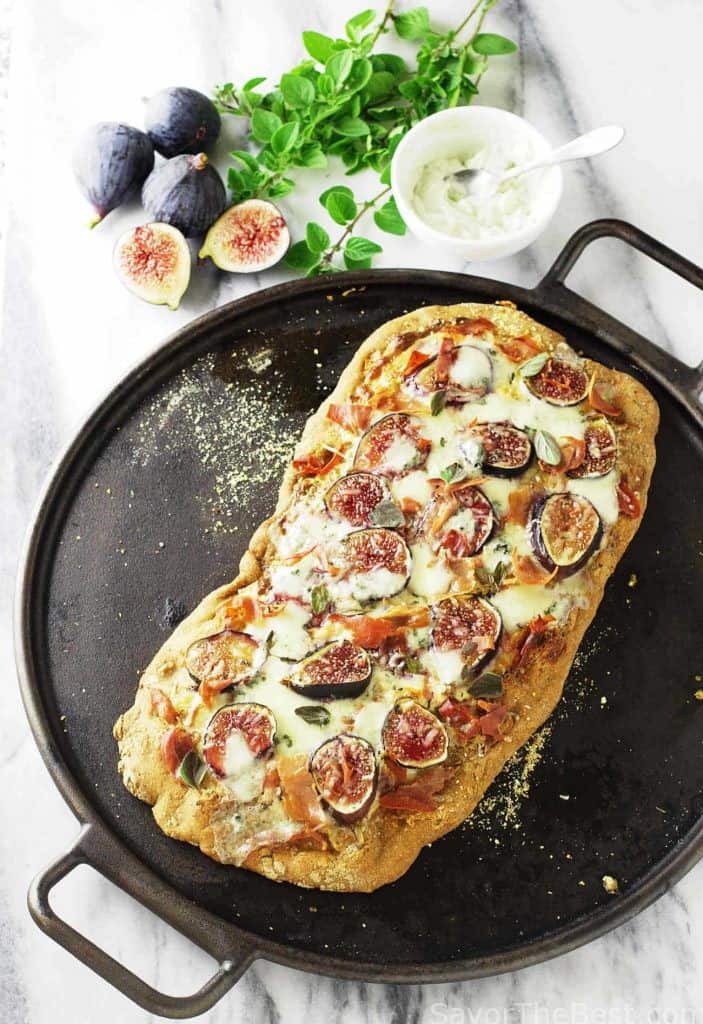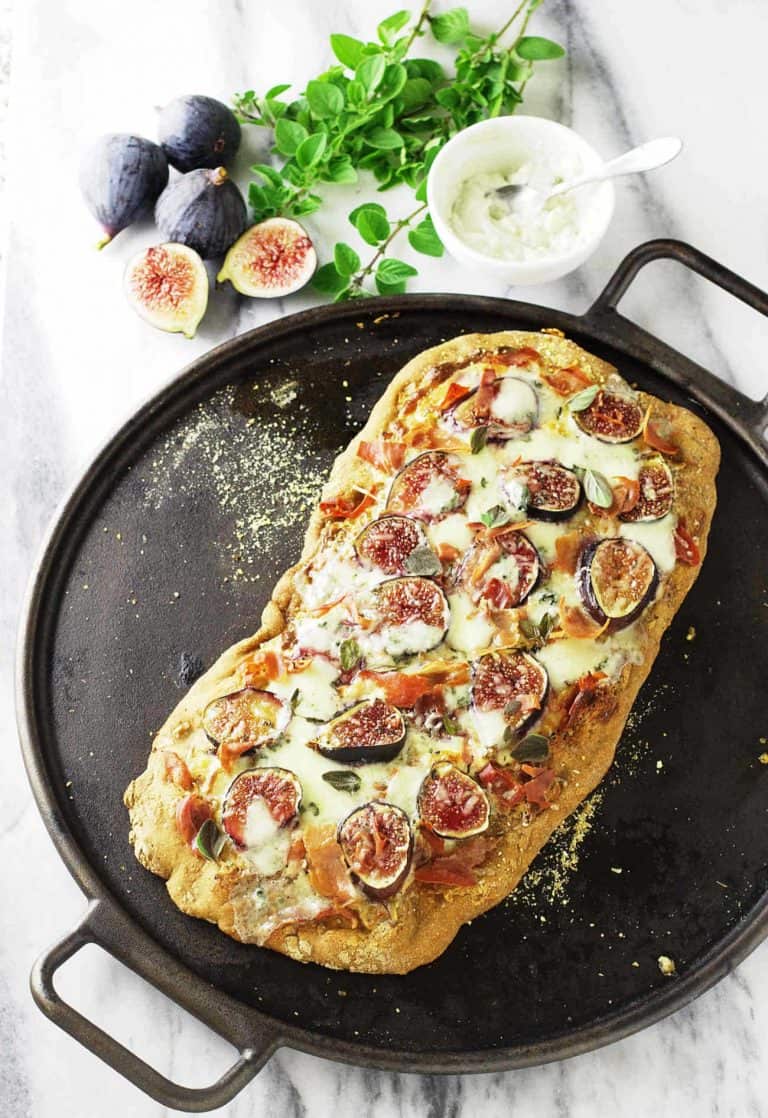 It was a beautiful day and Don and I took a little "Sunday Drive" to Portland, Oregon last week for a little shopping. We ate lunch at a bistro where we ordered a fig, gorgonzola and prosciutto flatbread that was truly amazing! As we munched away at the deliciousness I was taking mental notes to re-create it at home.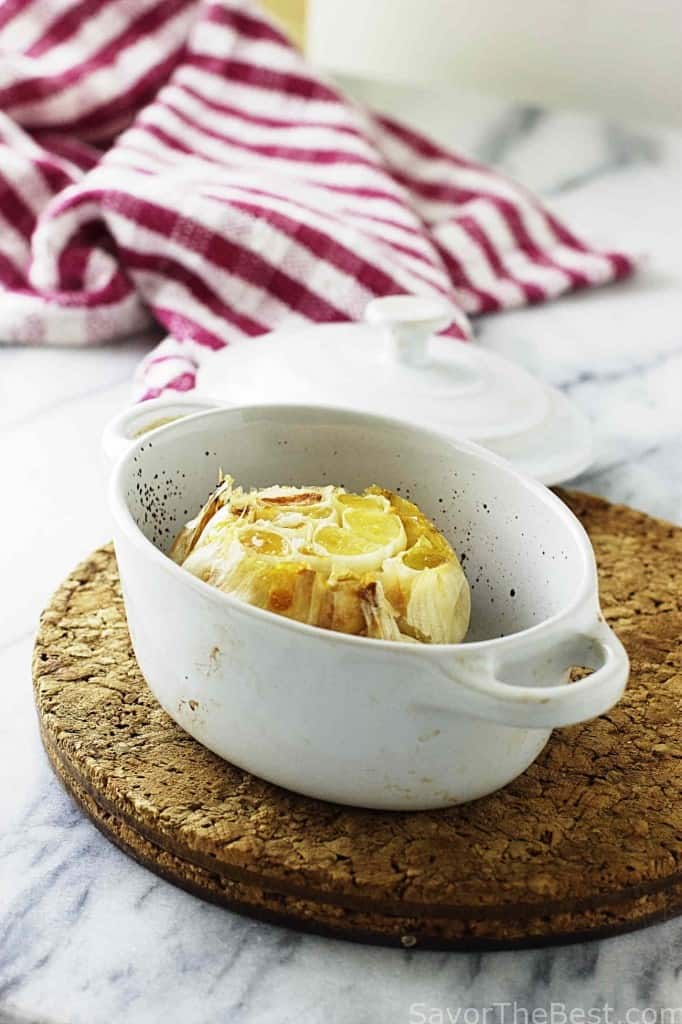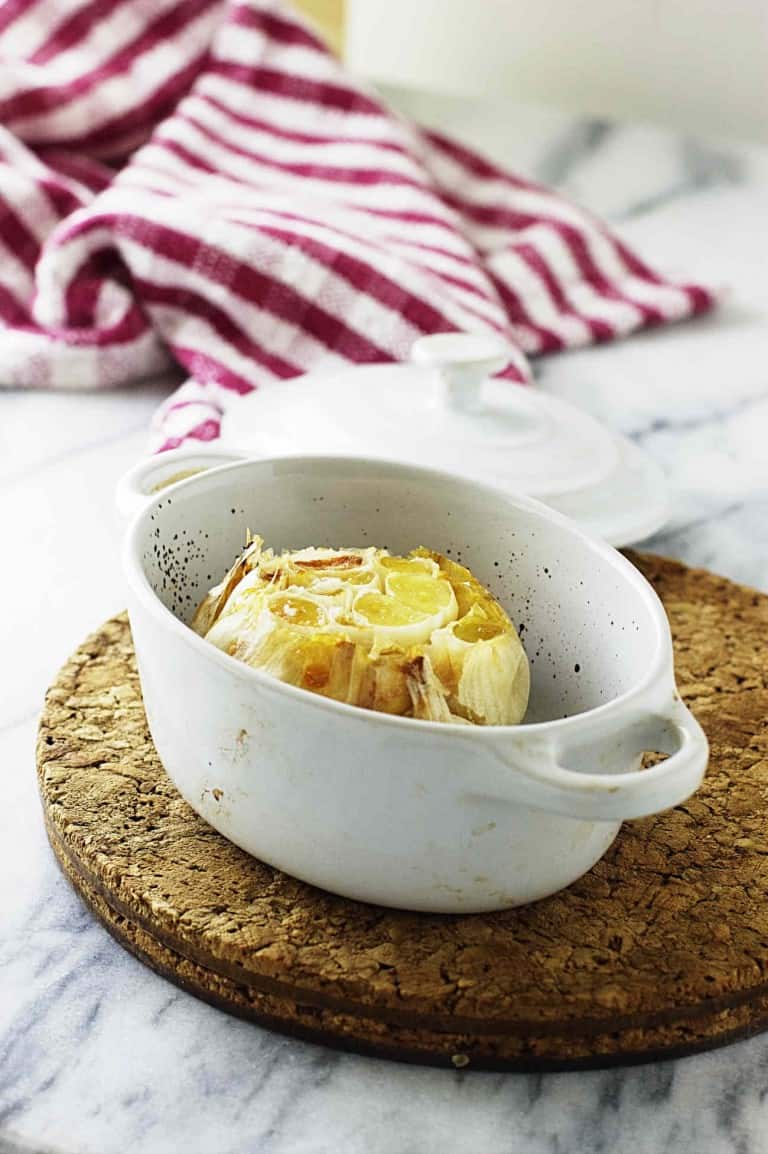 We recently posted our recipe for einkorn chicken-mushroom pizza where we used half of the recipe of our einkorn whole wheat pizza dough, then froze the other half. This flatbread recipe uses the remaining portion of that dough. So, I guess this could be a pizza but we are calling it a flatbread anyway.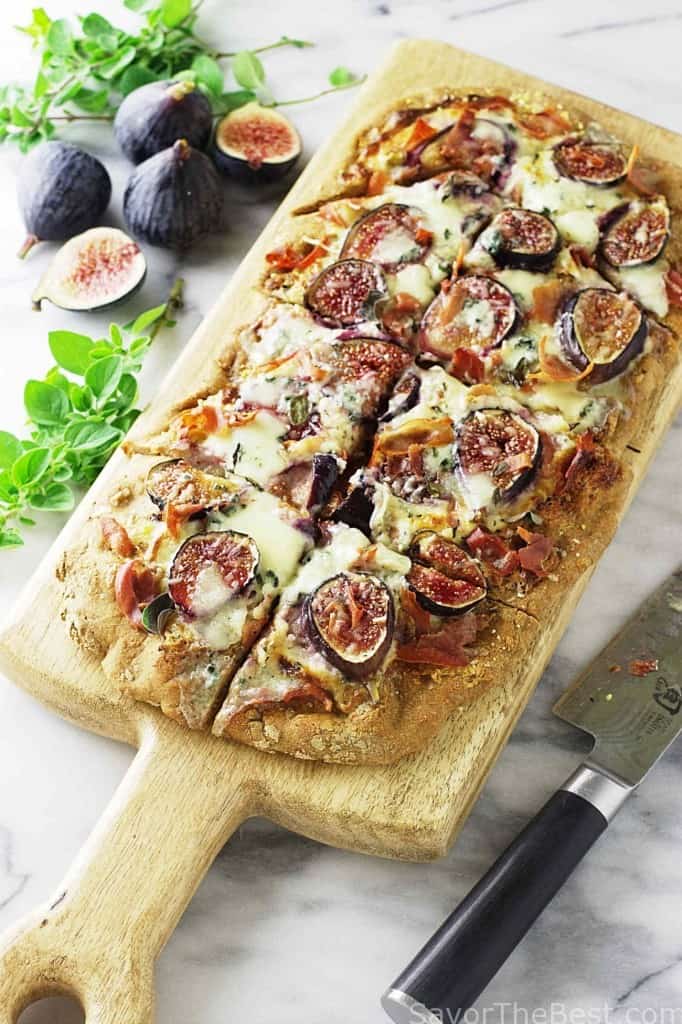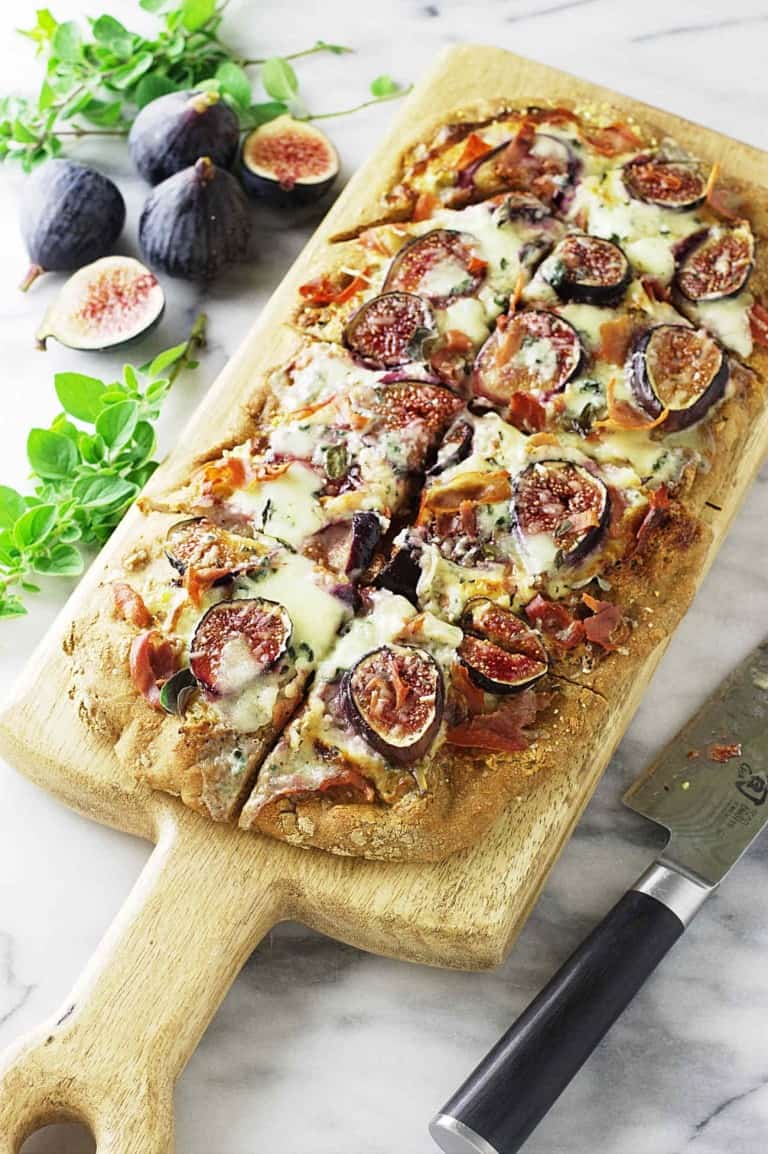 To make this luxurious garlic-infused Gorgonzola cheese sauce we first roasted an entire head of garlic, picked out the soft cloves and mashed them to a smooth paste.
The softened Gorgonzola, a bit of cream cheese and heavy cream was stirred into the mashed garlic. This sauce can be made in advance and reserved while the dough is thawing.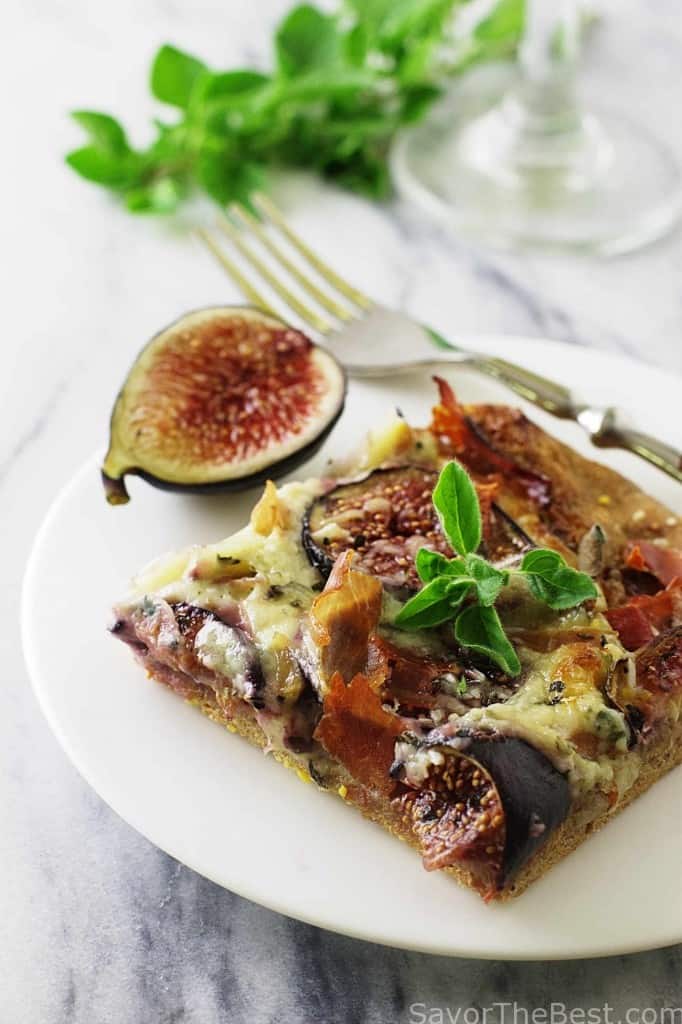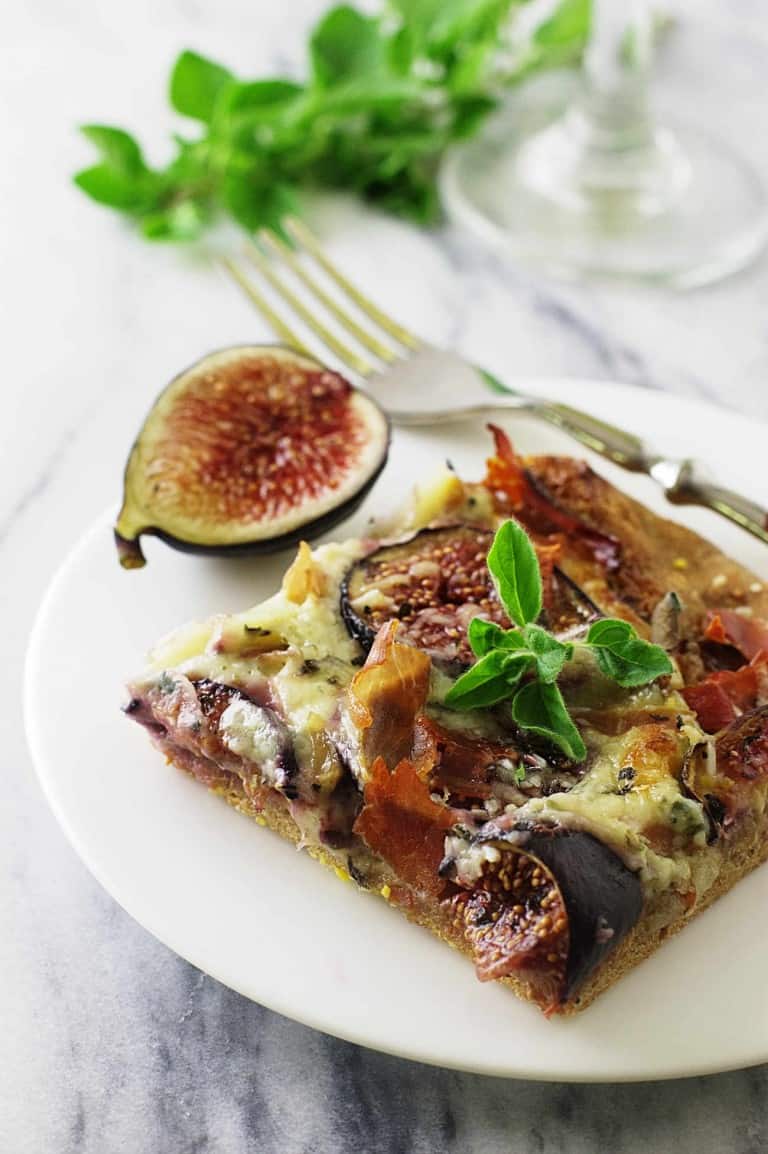 After the frozen dough was thawed it was shaped on a pizza peel that had been dusted with cornmeal. The einkorn pizza dough makes a tender, soft crust and has sprinklings of crunchy cornmeal from the pizza peel.
We love the flavor of einkorn for it's rich complexity and great nutrition profile. It is a perfect base for the sweet-savory toppings in this recipe.
The creamy sauce is smeared thickly over the dough and sprinkled with snipped oregano leaves, then fresh Black Mission figs are thinly sliced and added. Next, we added a generous amount of salty prosciutto strips that baked up into crisp, crunchy chips. Finally, this flatbread is topped with crumbles of gorgonzola cheese.
The flatbread was transferred from the peel to the hot pizza stone and baked at 400°F for 20 minutes, until the crust turned brown and the cheese melted and was all bubbly. A nice white wine was the perfect accompaniment to this lunch.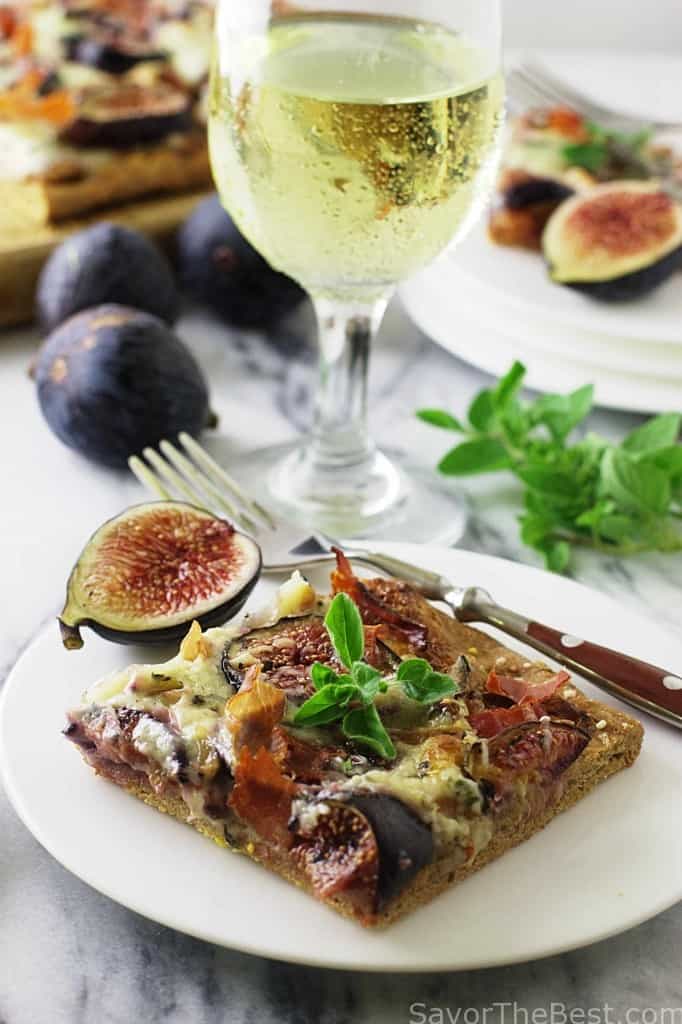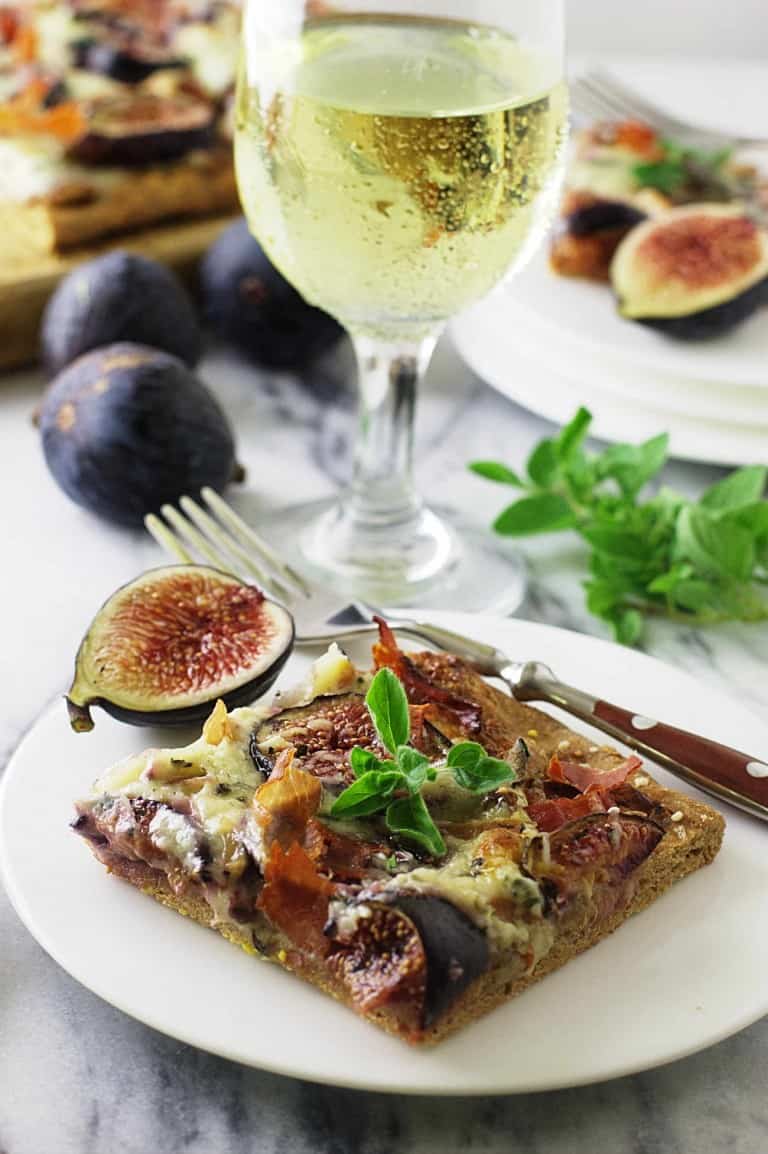 That was a nice day-outing but on the way home, we were driving in heavy traffic when all of a sudden the traffic stopped and we were rear-ended.
Luckily, no one was hurt and only a fair amount of damage was done to either car bumpers but it was so frightening to hear the screeching of brakes and feeling so helpless. We were very thankful that the car behind us had good brakes and did not hit us too hard.
You might also like: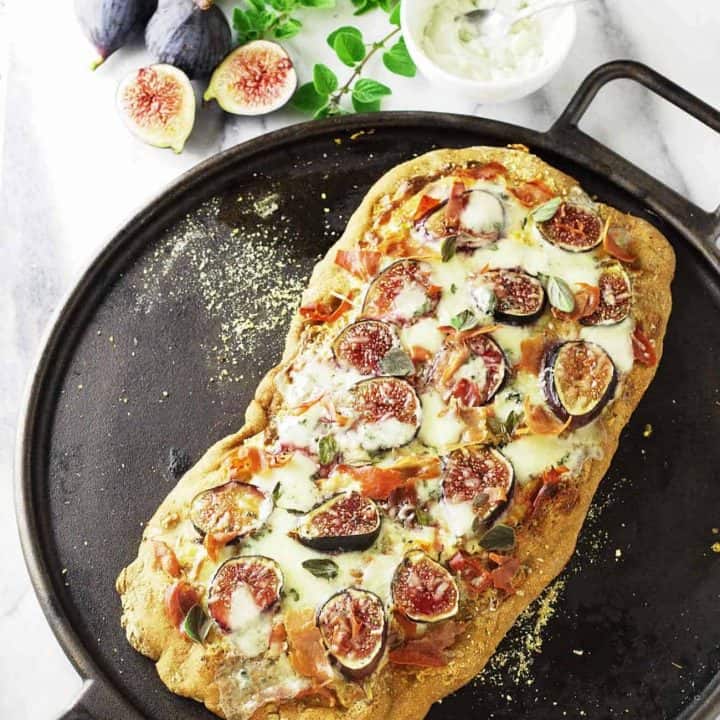 Fig, Gorgonzola and Prosciutto Flatbread
Total Time:
1 hour
30 minutes
This fig, Gorgonzola and Prosciutto flatbread is made with a thick einkorn whole wheat crust, roasted garlic Gorgonzola sauce, thin slices of Black Mission figs, salty prosciutto and fresh snipped oregano.
Ingredients
For the Gorgonzola Cream Sauce:
1 large head of fresh garlic
1 teaspoon olive oil
2 ounces Gorgonzola cheese, softened
2 ounces cream cheese, softened
1/4 cup milk
For the Fig, Gorgonzola and Prosciutto Topping:
1/2 recipe of Whole Grain Einkorn pizza dough
Gorgonzola-Garlic Sauce (above)
1/2 pint fresh figs, I used Black Mission, sliced 1/4-thick
1 tablespoon chopped fresh oregano leaves
3 ounces prosciutto, cut in 3x1-inch strips
4 ounces Gorgonzola cheese, crumbled
Fresh oregano sprigs for garnish
Instructions
Preheat the oven to 400°F
For the Gorgonzola Cream Sauce:
Remove as much of the loose papery skin as possible, from the garlic head. Slice off about 1/2-inch from the top of the garlic and place the garlic in a small covered dish. (see notes) Drizzle the olive oil over the cut area, cover the dish and transfer to the oven. Bake 35-40 minutes until the garlic is soft when a clove in the center is pierced. When cool enough to handle, pick the garlic out or, squeeze the bottom of each clove to squish the roasted garlic out. Add the garlic to a small dish and mash to a paste with a fork. Combine the Gorgonzola cheese, cream cheese and the cream with the mashed garlic and stir to a smooth sauce.
To assemble:
Form the pizza dough into a rectangle or the shape of your choice. Spread the garlic Gorgonzola cream sauce on the dough, sprinkle with snipped oregano and add the fresh figs liberally. Add the the prosciutto pieces over the top and scatter the crumbled Gorgonzola cheese.
Transfer to a pizza stone or baking sheet and bake for 20 minutes until the crust is crisp and brown. Enjoy
Notes
Alternative to roasting garlic in a covered dish:Wrap the garlic in aluminum foil and roast for 40 minutes.
Nutrition Information:
Yield:

8
Serving Size:

1
Amount Per Serving:
Calories:

259
Total Fat:

13g
Cholesterol:

31mg
Sodium:

827mg
Carbohydrates:

24g
Protein:

12g