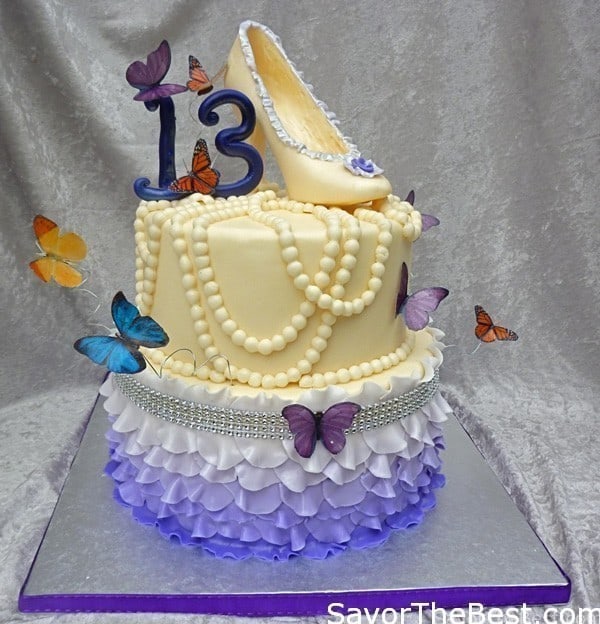 When my youngest niece turned 13, I had the privilege of baking her birthday cake. Her mother is an excellent cook who manages to accomplish more than the ordinary person would normally have time for, especially seeing as she has a very, very active 2-1/2 year-old toddler! I'm always delighted and honored when I get to contribute to any event that this party-planning queen puts out.
I wanted the cake to represent Cora's personality and interests. She is a delightful, sweet, and beautiful young lady with an interest in fashion. She has always been fascinated with butterflies and initially I planned to create a butterfly cake but I kept envisioning a fashion cake so I combined them for a uniquely "Cora" cake. When Cora saw this cake her eyes lit up and she was totally blown away! She is such a loving and appreciative young lady!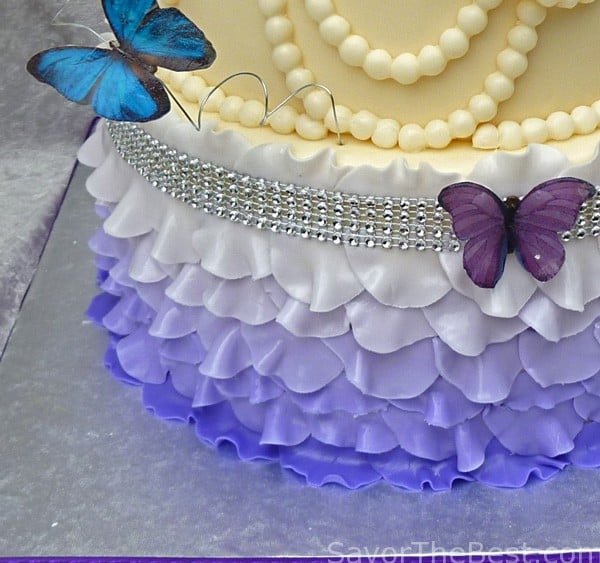 The cake is a vanilla butter cake with a hint of orange and it is filled with an orange creamsicle mousse. I covered the cake in my white chocolate/marshmallow fondant and used a bead mold to create the fondant pearls. The chocolate slipper was formed with a double-sided mold and decorated with fondant ruffles. I used a different ruffling technique for the ruffles on the bottom tier of the cake. Each of those ruffles are individually cut from a circle cutter and placed one by one after frilling the edges. The butterflies on the cake are made from rice paper that I printed on my edible ink jet. After cutting the butterflies out I painted them with some clear piping gel, gave them a bend in the center and let them dry. The piping gel brightened the colors and made them really pop. It also gave the rice paper a stiffness that allowed the butterflies to hold their shape after I bent them. I stuck them on a wire to make them fly over the cake. Sticking wire in a cake can sometimes transfer a metallic taste to the cake so in order to prevent that from happening, I dipped the ends of the wire in white chocolate and let it dry before sticking it into the cake.
Since this particular fondant takes a long time to dry, I used gumpaste to create the number 13. I finished the design with a sparkly ribbon to add some bling to the cake.