Our 6-inch white cake is an elegant, three-layer cake that will make a statement! This pure white almond-flavored cake tastes just as sophisticated as it looks, with a soft and tender crumb and a fluffy white almond ermine frosting.
It's a lovely choice for a small birthday gathering, celebratory dessert, or any occasion that calls for cake!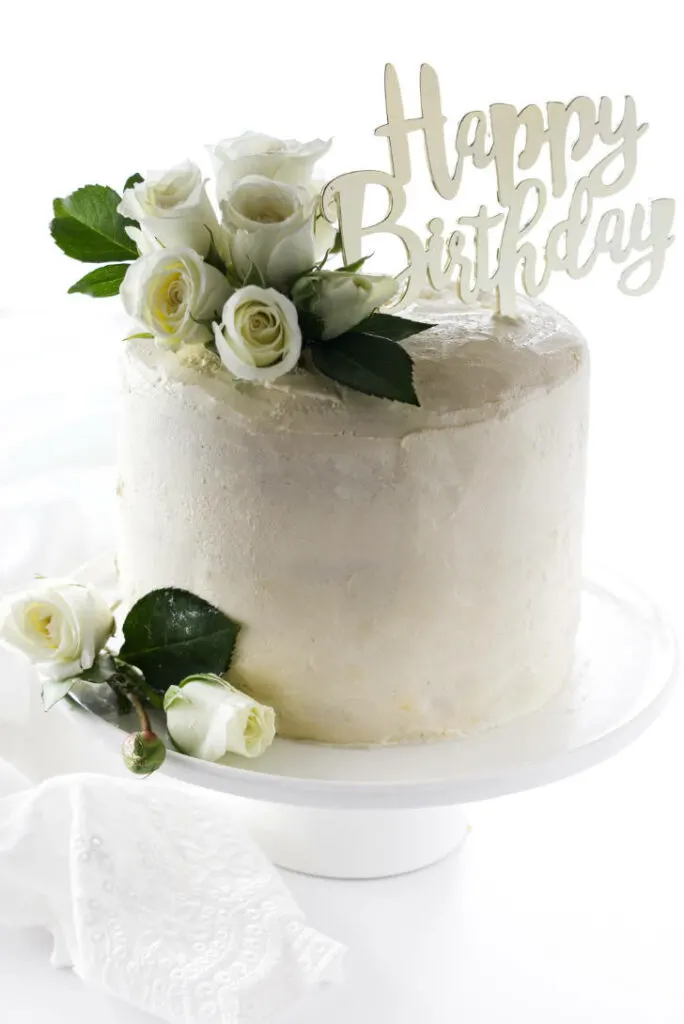 Similar to our six-inch yellow cake recipe, this smaller-sized white cake is just as dreamy. I don't know what it is but there's something about a six-inch cake that feels a bit more special, perhaps more personal?
Whatever it is, this small white cake is simultaneously elegant and cute, sophisticated and adorable, as mostly all mini desserts tend to be. (For proof, check out our No Bake Cheesecake with a Surprise Inside and these mini blueberry tarts).
Why This Recipe Works
Using only egg whites keeps the batter and cake white (you can make lemon curd with the yolks).

Our 6-inch white cake is anything but vanilla! To keep this a pure white cake (vanilla will add a tinge of color), almond is the prominent flavor.

Creaming the butter and sugar helps aerate the batter and gives the cake a tender texture.

Using room temperature ingredients contribute to a soft, tender texture.

Cake flour gives the cake a softer, more tender texture.
The light and moist, three-layer cake features a tender crumb and a delicious almond ermine frosting. If you're not familiar with ermine frosting, it's an old-fashioned frosting recipe that is silky and cloud-like and less sweet than traditional American buttercream. A splash of almond extract gives the frosting a soft nutty flavor.
Bottom line: this 6-inch cake recipe is birthday cake perfection!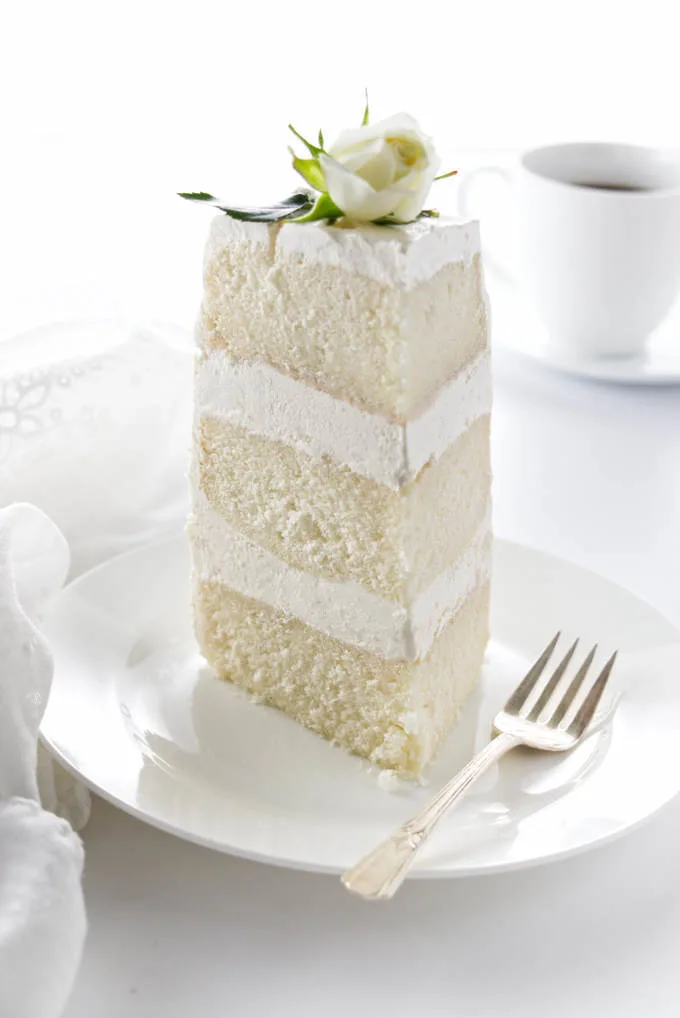 The Ingredient List
The ingredients for this 6-inch white cake are pretty basic. Here are a few ingredient notes:
You will only need egg whites for the cake (save the yolks and make our flourless chocolate truffle cake or eggs Benedict!).
Cake flour
Baking powder
Baking soda
Salt
Butter
Sugar
Egg whites
Vegetable oil
Almond extract
Sour cream
Whole milk
If you want to fill the layers with a cake filling instead of the ermine frosting, try our vanilla cake filling. white chocolate mousse, or a fluffy raspberry mousse cake filling.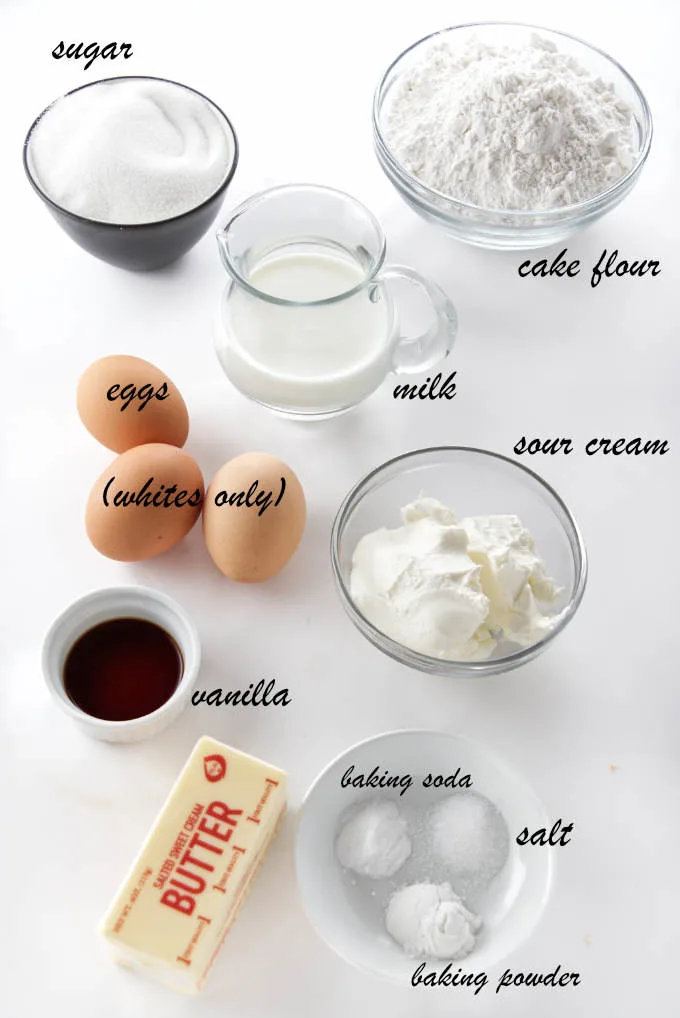 To make this 6-inch layer cake, you will also need three, 6-inch cake pans, a cooling rack, and an electric mixer.
How to Make a 6-inch White Birthday Cake
This smaller layer cake is easy to make! Here are the steps (scroll to the bottom of the page for all of the details in our printable recipe card):
Prepare: Preheat the oven and prep the cake pans.
Mix dry ingredients: Sift the dry ingredients to make sure there are no lumps.
Cream the butter and sugar: Cream the butter and sugar then gradually add the egg whites, extract, and sour cream.
Combine: With the mixer on low, add the dry ingredients, and mix until well combined. Slowly pour in the milk with the mixer on low.
Bake: Pour the batter evenly into the cake pans and bake until a toothpick inserted in the center comes out clean. Cool the cakes completely on a wire rack.
Frost: Make the ermine frosting and let the cakes cool completely before frosting.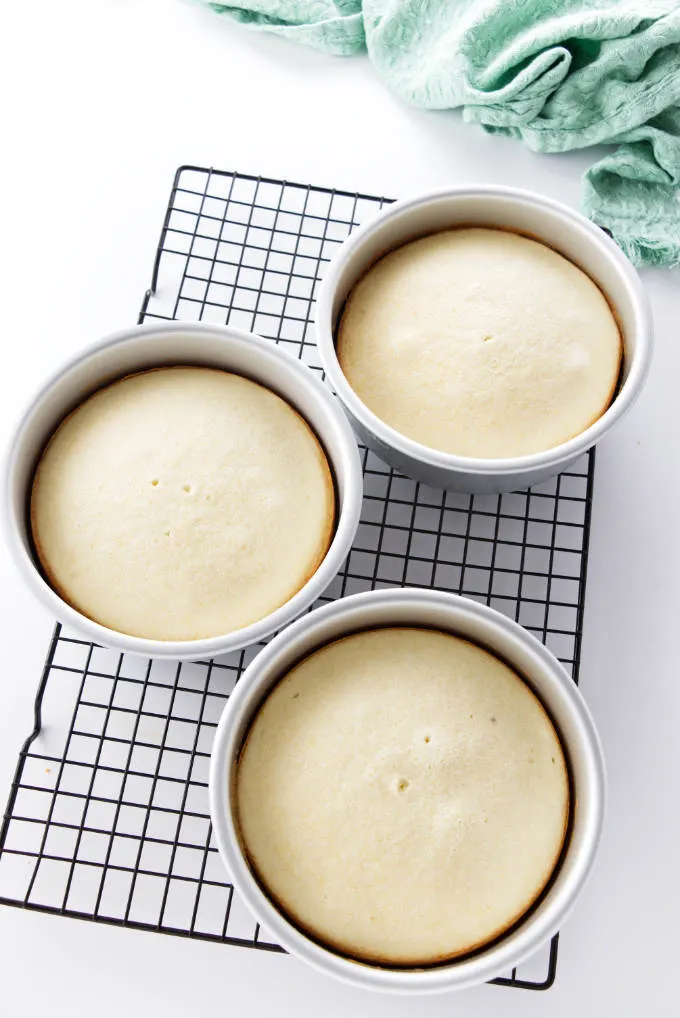 Tips for the Best Results
We mentioned it above but it's worth noting again… ingredients should be at room temperature! Room temperature butter is only 65°F to 68°F. It should feel slightly firm but you can still press your finger into the cube and make an indent.

Make sure you're using cake flour for the best results. Cake flour is what will create a moist and light mini white cake and you just won't get the same results with all-purpose flour.

We used almond flavoring for a pure white cake since vanilla extract will add a slight tinge to the cake. Other flavor add-ins for a pure white cake are rose water or culinary lavender flavoring.

Do not overmix the batter, mix only until the dry ingredients are fully incorporated.

To keep the cakes extra moist, wrap them in plastic wrap when they are completely cooled. Place them in the freezer and remove them when you are ready to frost the cakes.

One easy trick to removing the brown edges on the layer cakes is to first freeze the cake layers, then use a vegetable peeler or a sharp knife to shave off the brown from the bottom and sides of each cake. This will help ensure the inside of your white cake is pure white.
Frequently Asked Questions
How many will a 6-inch cake feed?
Our 6-inch white birthday cake is a three-layer cake that will give you up to 10 servings. A single layer 6-inch cake will only give you 5 servings.
How long do you cook a 6-inch cake?
Cook the three cake layers in the center of the oven for 18-21 minutes or just until a toothpick inserted in the center comes out clean. White cakes are prone to overcooking which will make them dry. Bake just until the toothpick is clean or has a couple of small crumbs on it.
How many cups of batter are in a 6 inch pan?
A 6-inch cake pan can hold between 2-1/2 to 4 cups of batter
There's so much to love about this mini white birthday cake! The recipe is easy and the cake itself is a dream.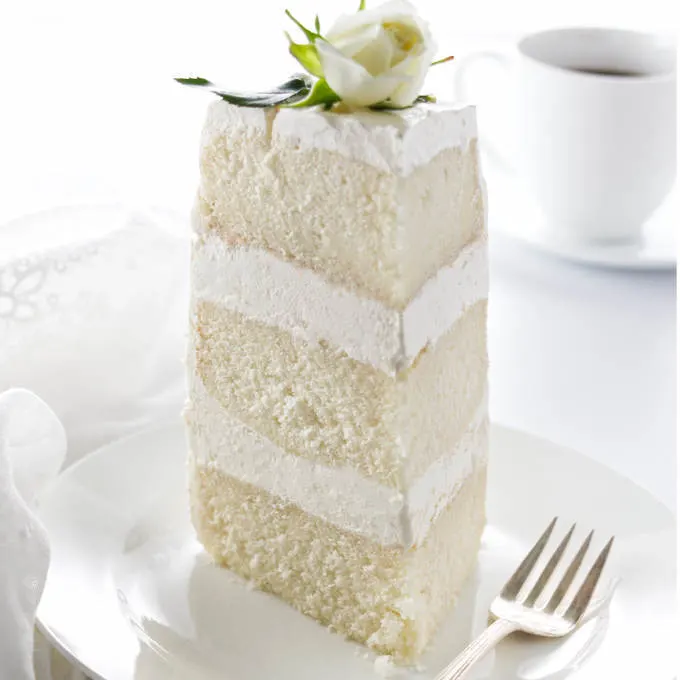 Some Other Recipes We Are Sure You Will Love:
Rich and not overpoweringly sweet, this Lemon Ricotta Cake is part cheesecake and part butter cake. It is creamy, lemony and delicious.
We cut a baked sponge cake into heart shapes for these individual Pistachio Rose Mascarpone Cakes. They are filled with a rosewater and mascarpone cream, and dusted with confectioners' sugar and finely-chopped pistachios and organic dried rosebuds.
White chocolate galore! White chocolate mouse, Italian meringue buttercream and white chocolate ganache! If you are a lover of white chocolate, this exquisite White Chocolate Cake is for you.
Connect With Savor the Best:
Please follow us on our social media accounts
Facebook * Instagram * Pinterest * Youtube * Twitter
Did you make this recipe? We would love to hear from you. Drop us a comment below.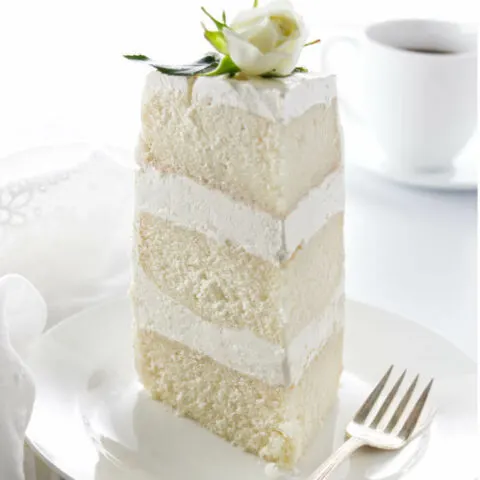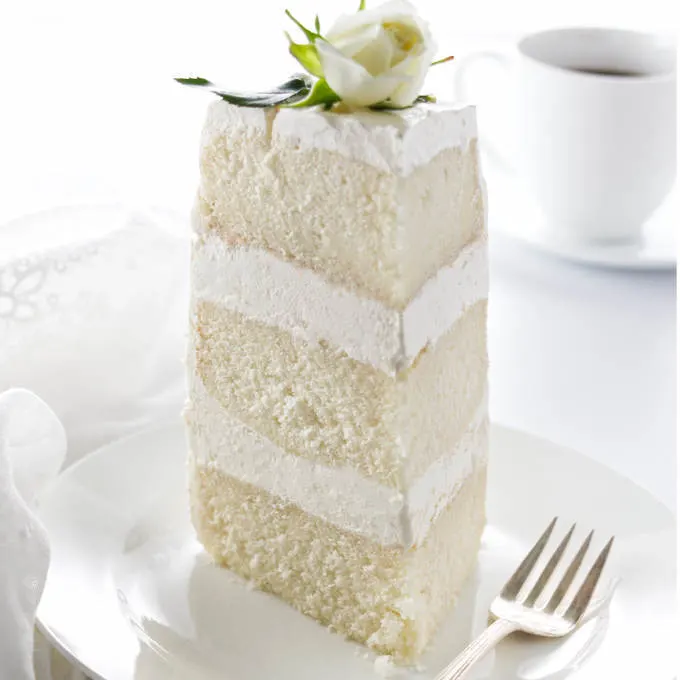 6-Inch White Cake
An elegant, three layer, 6-inch white cake that is perfect for a small birthday celebration. This pure white almond flavored cake is soft and moist with a tender crumb. We covered the cake with a fluffy white almond ermine frosting.
Ingredients
For the Cake:
1-3/4 cups (207 grams) cake flour
3/4 teaspoon baking powder
1/4 teaspoon baking soda
1/4 teaspoon salt
1/2 cup butter, softened (113 grams)
1 cup (200 grams) sugar
3 large egg whites
2 tablespoons vegetable oil
1-1/2 teaspoons pure almond extract or vanilla
1/2 cup sour cream (113 grams)
1/2 cup whole milk (113 grams)
Ermine Frosting
1/2 cup (60 grams) all-purpose flour
1-1/2 cups (300 grams) granulated sugar 300
1/8 teaspoon salt
1-1/2 cups whole milk (340 grams)
1-1/2 cups (3 sticks) butter, room temperature
3/4 teaspoon almond extract
Instructions
Preheat the oven to 350°F and coat three 6x2-inch cake pans with oil-spray. Line the bottom of each pan with parchment paper, then coat with oil spray.
Measure the cake flour, baking powder, baking soda and salt into a bowl. Whisk to combine, then reserve until needed.
Using an electric hand mixer, beat the butter on high speed until smooth and creamy, about 1 minute. With the motor running on medium speed, gradually add the sugar then increase the speed to high and beat for 2 minutes until creamed.
Stop the motor and scrape down the sides and bottom of the bowl. Add the egg whites, oil and the almond extract. Beat on medium-high until combined then beat in the sour cream. Scrape down the bottom and sides of the bowl.
With the mixer set on low, add 1/3 of the dry ingredients then 1/3 of the milk. Repeat with another 1/3 of the flour and milk then add the last bit of flour and milk. Mix until just combined. Do not over mix and be sure to scrape the sides and bottom.
Divide the batter evenly into the prepared cake pans. Transfer to the middle of the oven and bake about 18-21 minutes or until a toothpick inserted into the center of the cake comes out clean or with a crumb or two. Set the cake pans on a wire rack and allow to cool completely before removing from the pans.

For the Ermine Frosting

In a medium saucepan, whisk the flour, sugar and salt together.
Add the milk, stirring to combine. Cook over medium heat, stirring continually until the mixture becomes thick and pudding-like. Remove from the heat and transfer to a shallow dish. Cover with plastic wrap, set on the countertop or the fridge, and allow to cool to room temperature (or to about 65°F).
Using a stand mixer or hand-held mixer, beat the butter until it is light and fluffy, about 3-5 minutes. Add the cooled cooked mixture a tablespoon at a time, beating well after each addition until all of the cooked mixture is incorporated into the butter.
Add the almond extract and continue beating the frosting until it is creamy and fluffy, about 5 minutes.
Notes
Ingredients should be at room temperature
We used almond flavoring for a pure white cake. Vanilla extract will add a slight tinge to the cake. Other options for a pure white cake would be rose water or culinary lavender flavoring.
Do not overmix the batter, mix only until the dry ingredients are fully incorporated
To keep the cakes moist, after they have cooled to room temperature, wrap them in plastic and freeze. Remove the cakes from the freezer when ready to frost.
To remove the brown edges and make pretty white slices on the inside of the cake you can remove the brown on the bottom and sides by shaving the (frozen) sides with a vegetable peeler. I use a small handheld mandoline to shave off the brown from the bottom of the layers. You can also use a sharp knife.
A small addition of oil will add extra moistness to the cake.
Nutrition Information:
Yield:

8
Serving Size:

1
Amount Per Serving:
Calories:

429
Total Fat:

20g
Saturated Fat:

10g
Trans Fat:

1g
Unsaturated Fat:

8g
Cholesterol:

41mg
Sodium:

285mg
Carbohydrates:

53g
Fiber:

2g
Sugar:

5g
Protein:

9g
Nutrition information is a guideline only, is calculated automatically by third-party software, and absolute accuracy is not guaranteed.