This Broccoli and Kale Salad is anything but your typical garden side salad. Served with a homemade Lemon Honey Mustard Dressing, this colorful combination brings together a delightful mix of textures and flavors.
Think of it as a celebration of all things green—with a little extra pizzazz. Hearty kale, crunchy broccoli, and a handful of other colorful veggies make this a nutritious superfood salad perfect for fueling your day.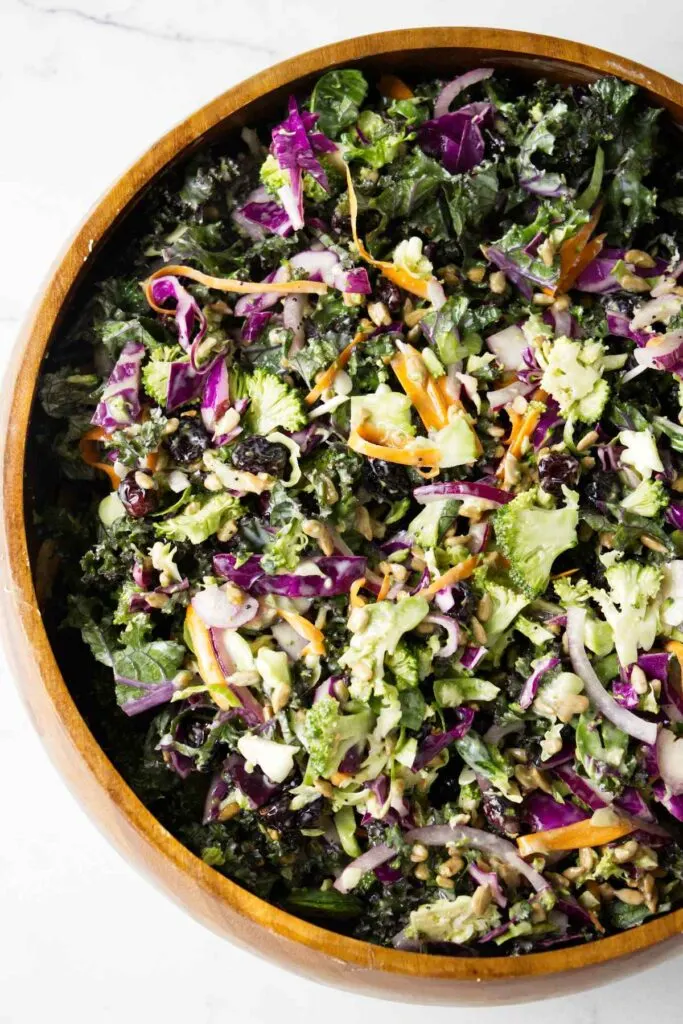 A bonus with this recipe is that you can make it in advance without worrying about it getting wilty.
Here is Why This Kale and Broccoli Salad Recipe Works
Make-Ahead Marvel: One of the best things about this crunchy green medley is its make-ahead friendliness. Kale and broccoli are sturdy greens that hold up well, so you can prep this broccoli and kale slaw in advance without worrying about it turning into a wilted mess. That's a lifesaver for busy weekdays or meal prep!
Nutrient-Packed: This isn't just a salad; it's a nutrient powerhouse. The kale and broccoli are loaded with vitamins, minerals, and fiber. It's a delicious way to do good by your body.
Customizable: You can customize it with your favorite add-ins like nuts, seeds, or different dried fruit.
Ingredients for Broccoli and Kale Salad
Here is a list of the ingredients you will need for this recipe. Scroll down to the printable recipe card for all the details.
Kale
Broccoli
Brussels sprouts
Red cabbage or radicchio
Carrot
Onion
Dried cranberries
Toasted sunflower seeds or pumpkin seeds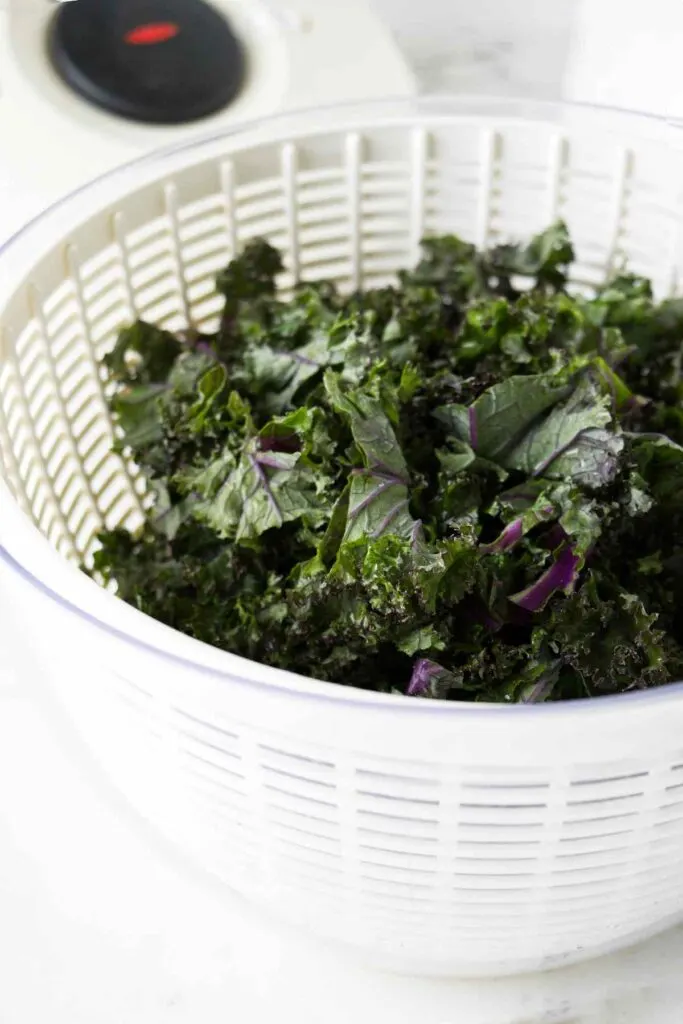 Substitutions for the Slaw Salad
You can replace the dried cranberries with any of these: Dried cherries, golden raisins, dried chopped apricots, goji berries, chopped dates, or dried chopped mango.

You can replace the sunflower seeds with any of these: Chopped almonds, chopped walnuts, pine nuts, cashews, or macadamia nuts.

You can also swap the dressing for a Caesar dressing, our orange champagne dressing or your favorite vinaigrette.
How to Make this Broccoli Kale Salad with Cranberries
Here is a brief overview to get an idea of what to expect with this broccoli salad with kale. Scroll down to the printable recipe card for all the details.
Toss the veggies, dried fruit, and seeds in a bowl.
Blend the dressing, then toss with the salad.
Serve on chilled plates.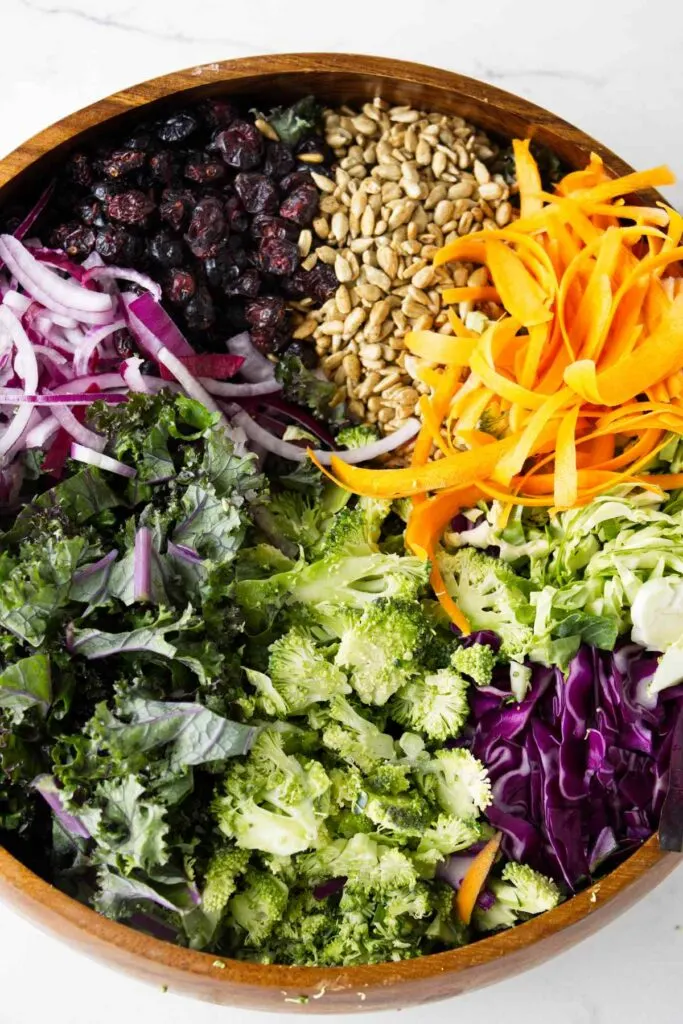 Tips for Success
Prep the Greens: For the best texture, remove the kale stems and chop the leaves into small pieces.

Toasting Nuts: Don't skip toasting the seeds or purchase them already toasted. Toasting brings out the natural oils and flavors, making them even more delicious.

Use a Blender for Dressing: A blender or immersion blender emulsifies the ingredients more effectively than hand-mixing, giving you a creamy consistency.

Dress in Stages: If you're serving this Broccoli Kale Medley all at once, it's best to add half the dressing first, toss, and then add more as needed.

Make Ahead: As you already know, this broccoli slaw salad holds up well over time, but if you're storing it longer than a couple of days, keep the vinaigrette and the nut/cranberry toppings separate until you're ready to serve.

Customize: Don't hesitate to swap in your favorite fruits, nuts, or seeds to make the salad uniquely yours.

Rinse and dry the veggies. I used a salad spinner to dry the kale.
Serving Suggestions
You can turn this kale and broccoli salad into a hearty meal if you toss it with sliced chicken cutlets, steak bites, or grilled shrimp.
You can also serve it alongside your favorite soups or stews. Try it with minestrone soup, vegetable beef soup, or our lentil sausage soup.
It also makes a great side dish to a larger dinner spread. Try it alongside a sous vide flat iron steak, chicken with artichokes, or shake-n-bake pork chops.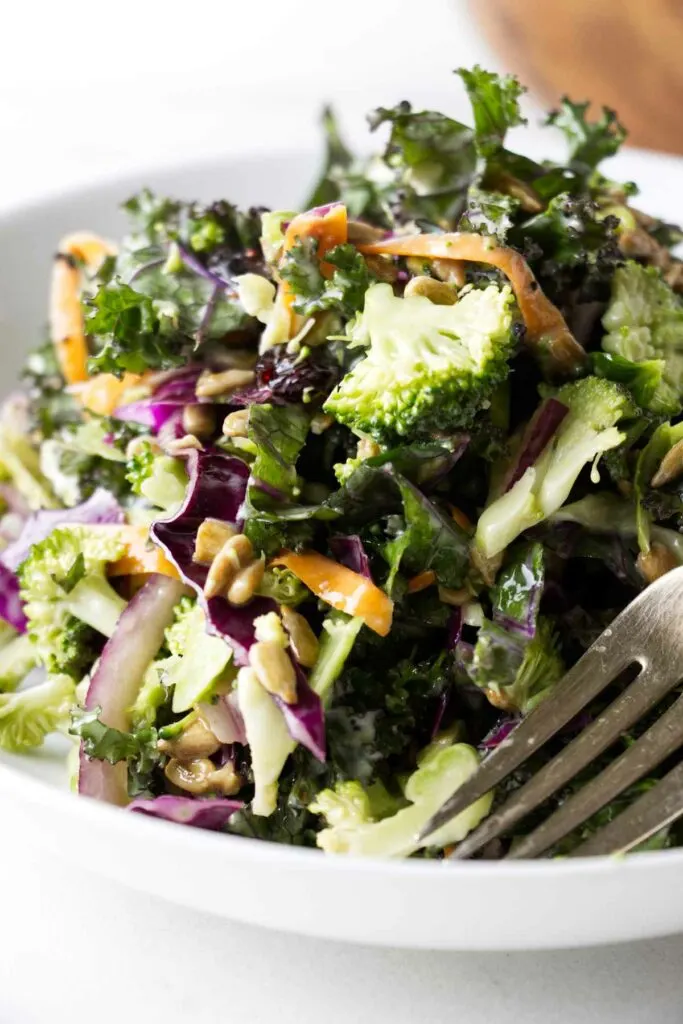 Storing the Salad
This kale and broccoli salad can be stored in an airtight container for up to four days. When you're ready to use it, give the salad a good stir before serving.
More Salad Recipes
Frequently Asked Questions
Is the salad gluten-free?
The main ingredients are all gluten-free, but always check the ingredient list on pre-packaged items to be sure.
Can I use fresh fruit instead of dried cranberries?
Yes, fresh fruit like pomegranate seeds or blueberries work well in this salad. You can also use slices of apple or mandarin oranges, but the salad doesn't last as long with fresh fruit.
Is raw kale good in salads?
Absolutely! Kale is the perfect green for a hearty salad. It has a crunchy texture and a slightly bitter flavor that pairs well with sweet fruits and crunchy nuts. Plus, kale is sturdy enough to hold up well under dressing for a longer period than many other greens.
There you have it. A versatile, vibrant, and nutritious dish that is perfect for making ahead and taking on the go. It's a recipe that really embraces the simplicity of whole foods and is easy to customize.
This Broccoli Kale Salad was inspired by a delicious find at Costco, and I couldn't resist putting my own twist on it. While the store-bought version is a convenient grab-and-go option, making it from scratch lets you customize the ingredients.
More Recipes You Will Love:
Connect With Savor the Best:
Please follow us on our social media accounts
Facebook * Instagram * Pinterest * Youtube * Twitter
Did you make this recipe? We would love to hear from you. Drop us a comment below.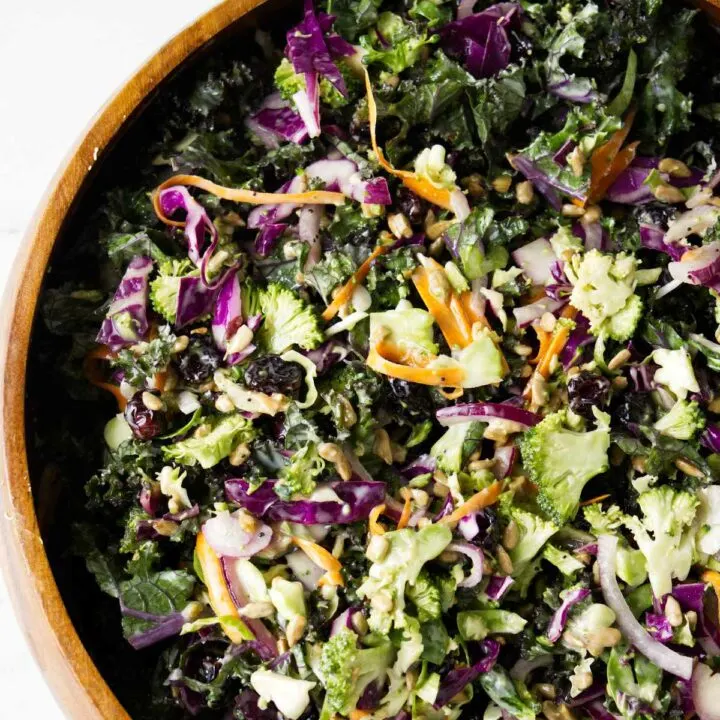 Broccoli Kale Salad
This is the ultimate Broccoli and Kale Salad recipe that's perfect for any occasion. Nutrient-packed and make-ahead friendly, this salad is a blend of flavors and textures you won't want to miss.
Feel free to customize it to your liking. We have suggestions in the notes below, but you can take it in any direction that inspires you.
Ingredients
1 bunch fresh kale, stems removed and chopped, about 3 cups
1 cup broccoli floretts
1 cup shaved brussel sprouts
1 cup chopped red cabbage or radicchio
1 carrot, shredded
1/2 medium onion, thinly sliced
1/2 cup dried cranberries
1/2 cup toasted sunflower seeds or pumpkin seeds
Dressing
1/4 cup fresh lemon juice
2 tablespoons honey
2 cloves garlic, minced
1 tablespoon Dijon mustard
1/4 teaspoon sea salt
1/2 cup avocado oil or olive oil
1 tablespoon Chia seeds or poppy seeds
Instructions
Toss all the veggies in a large bowl along with the cranberries and sunflower seeds or pumpkin seeds.
For the Salad Dressing
Add all the ingredients for the dressing to a jar and seal the lid. Shake well until emulsified.
Pour the desired amount over the salad, toss, and serve. Store any leftover dressing in the fridge.
Notes
Ideas for substitutions:
You can replace the dried cranberries with any of these: Dried cherries, golden raisins, dried chopped apricots, goji berries, chopped dates, or dried chopped mango.
You can replace the sunflower seeds with any of these: Chopped almonds, chopped walnuts, pine nuts, cashews, or macadamia nuts.
Nutrition Information:
Yield:

8
Serving Size:

1
Amount Per Serving:
Calories:

313
Total Fat:

22g
Saturated Fat:

3g
Trans Fat:

0g
Unsaturated Fat:

18g
Cholesterol:

0mg
Sodium:

633mg
Carbohydrates:

28g
Fiber:

6g
Sugar:

14g
Protein:

6g
Nutrition information is a guideline only. It is calculated automatically by third-party software, and absolute accuracy is not guaranteed.