This Super-Foods Salad with a Lemon Honey-Mustard and Chia Seeds Dressing is nutritious and healthy! It is also a Costco copy-cat.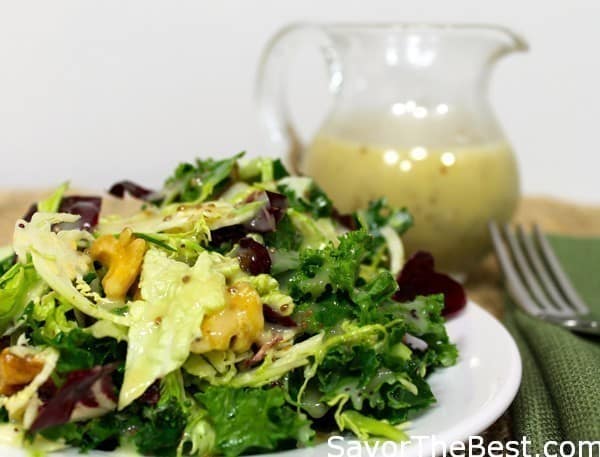 Costco has a packaged Super-Foods Salad with a Lemon Honey-Mustard and Chia Seeds Dressing salad kit in their produce section that I often buy. It is filled with a wonderful and healthy mix of kale, radicchio, brussels sprouts, cabbage and broccoli. The package also has a small package of cranberries and pumpkin seeds and some packages of prepared salad dressing.
I love the Costco salad mix but, I confess, I do not like the salad dressing and it always goes in the garbage. I have concocted my own salad dressing which I pour on whenever I buy their salad mix.
Today, I decided I would also make my own salad from scratch. I will admit though that it is much more convenient to purchase the salad kit even if the dressing does get tossed.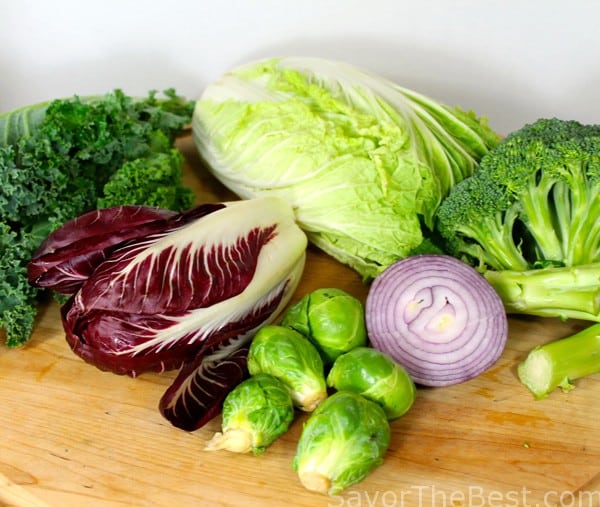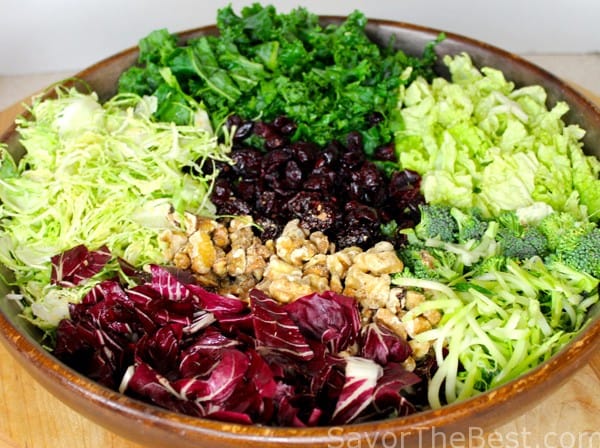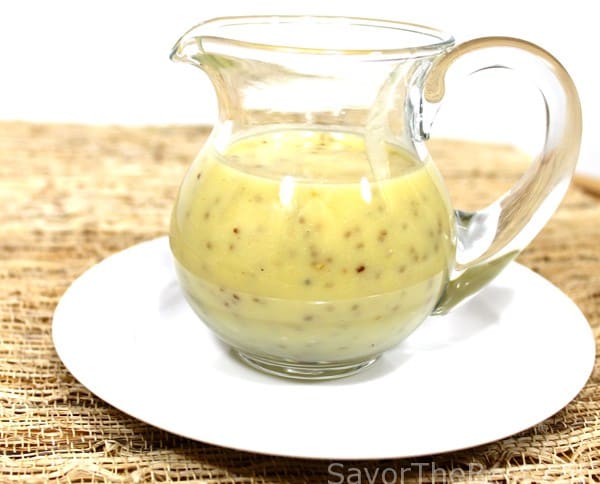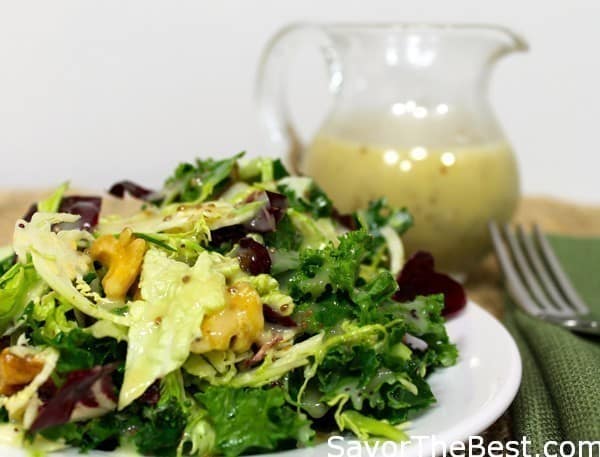 CONNECT WITH SAVOR THE BEST!
Be sure to follow us on our social media accounts
Facebook * Instagram * Pinterest * Twitter * Youtube
Did you make this recipe? We would love to hear from you. Drop us a comment below.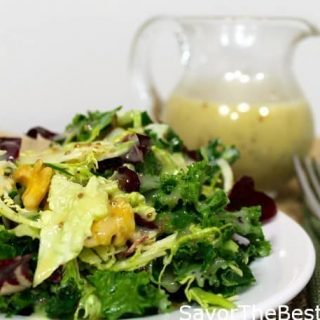 Super-Foods Salad with a Lemon Honey-Mustard and Chia Seeds Dressing
A healthy salad of antioxidant super foods with a tangy, sweet dressing containing Chia seeds.
Ingredients
1 bunch fresh kale, stems removed and cut into pieces, about 2 cups
1 cup broccoli floretts
1 cup shaved brussel sprouts
1 cup chopped radicchio
1/2 medium onion, thinly sliced
1 cup chopped Napa cabbage
1/2 cup dried cranberries
1/2 cup toasted walnuts
Lemon Honey-mustard Salad Dressing with Chia Seeds
2 cloves garlic, minced
2 tablespoons Dijon mustard
2 tablespoons honey
1/4 teaspoon sea salt
1/2 cup fresh lemon juice
1 cup avocado oil or olive oil
1 tablespoon Chia seeds
Instructions
Into a large mixing bowl, add the kale, broccoli, brussels sprouts, radicchio, onion and cabbage. Toss well to combine and sprinkle the cranberries and toasted walnuts on top.
Lemon Honey-Mustard with Chia seeds Salad Dressing
In a mini-prep blender, add the garlic, mustard, honey salt and lemon juice and process till well blended. While the blender is running, slowly add the oil and process till thick and creamy.
Transfer to a container and stir in the Chia seeds. Refrigerate, makes about 1-1/2 cups.
Pour desired amount over the salad mixture, toss and serve. Or, divide the salad mix into 6 salad plates, top with 1 tablespoon of the dressing and serve.