What would our world be without these wonderful creamy quiches! They are such an open canvas for creativity and they come in all flavors and varieties. I have yet to meet a quiche that I did not like! This savory spinach-gouda quiche with quinoa crust is So-o-o good and full of flavor! It is high on my list of favorites.
What is a quiche?
Quiches are egg and cheese based pie-type, one-crust custards that can be savory and cheesy with meats and vegetables or sweet and custardy with fresh or dried fruit and spices. Or….whatever you can create. Quiches come to America by way of France who has perfected the mighty quiche.
Our recipe for spinach-gouda quiche is a savory quiche with a crust made of cooked quinoa rather than wheat flour. Quinoa is one of those ancient grains that has become popular in our modern times. Technically, quinoa is a seed but I like to think of it as a grain.
Quinoa, a gluten-free option for the crust
Quinoa is high in protein and is healthy and nutritious. It is also gluten-free which makes this quinoa-crust quiche a good option for anyone on a gluten-free eating plan.
The subtle smokey flavor of the gouda cheese is the star in this quiche. There is a goodly amount of calories in cheese so we used whole milk rather than calorie-laden heavy cream in an attempt to balance out the calories and we can't taste any difference.
Fresh leeks, spinach and smokey gouda cheese are included in the filling along with seasonings and lots thyme freshly picked from my garden.
I especially love the way this quiche baked into layers with crust, creamy cheese custard, spinach and a crisp crunchy top with a dusting of paprika.
The chopped spinach was stirred into the creamy filling mixture and poured over the leeks and cheese in the quinoa crust. During the cooking process, the spinach floated to the top in a pretty green layer that I could not have achieved by just sprinkling the spinach on top.
Perfect for breakfast, lunch, or dinner:
Quiches are always welcome whether it is breakfast, lunch, brunch or dinner. They can be enjoyed piping hot, room temperature or even refrigerator-cold. They are easy to prepare and can be a full meal with a salad or fruit along side.
A dollop of sour cream topped off each serving of our spinach, gouda quiche and it was a very welcome start to a big work day last Saturday morning.
Saturday morning?? Ah, well…. Don has been working the past three-plus weeks on re-building our huge, weather-worn, 20-year old deck.
Our wonderful daughter, Dahn, organized a work crew made up of her husband Jon, son Joshua and brother Burl, to give her dad a much appreciated helping hand with this job.
This quiche was devoured on Saturday morning as an early breakfast before attacking the big backyard deck project.
They arrived Saturday morning at 7 o'clock and worked all day in the blazing sun until 5:30 in the afternoon. We had been having several days of 85-95° and it was 85° on Saturday.
That is a virtual heat-wave for Washington and those poor guys really suffered in the heat.
A big thank you-shout-out for these guys! There is still a ways to go to finishing the deck but they gave it a great gung-ho start and saved Don about a week's worth of work!
SOME OTHER RECIPES WE ARE SURE YOU WILL LOVE:
Cedar planked salmon with hazelnut vinaigrette
Green onion and goat cheese tart
CONNECT WITH SAVOR THE BEST!
Be sure to follow us on our social media accounts
Facebook | Twitter | Youtube | Pinterest | Instagram
If you make one of our recipes, snap a photo and tag it @savorthebest on Instagram and hashtag it #savorthebest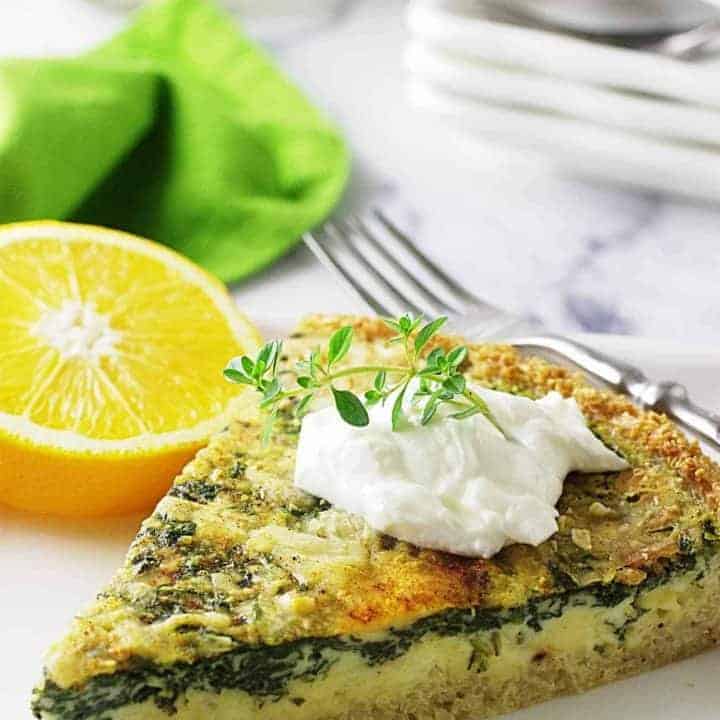 Spinach-Gouda Quiche with Quinoa Crust
Yield: 8 servings
Prep Time: 30 minutes
Cook Time: 45 minutes
Total Time: 1 hour 15 minutes
Our spinach-gouda quiche is a savory quiche with a crust made of cooked quinoa rather than flour which makes it gluten-free and a good option for anyone on a gluten-free eating plan. Fresh leeks, spinach and smokey gouda cheese are included in the filling along with seasonings and lots of fresh thyme. If you want to reduce the fat and calories a bit you can replace the cream cheese with cottage cheese.
Ingredients
Preheat the oven to 400°F
For the Crust:
2 eggs
1 1/2 cups quinoa, cooked and cooled (see notes for instructions to cook)
1 teaspoon ground cumin
1/2 cup freshly grated parmesan cheese
For the Filling:
1 tablespoon olive oil
1 leek, rinsed and thinly sliced, white and light green part only
4 tablespoons fresh thyme leaves, divided
6 ounces of smokey Gouda cheese, coarsely grated (1 1/2 cups)
4 large eggs, room temperature (see notes)
1 tablespoon Dijon mustard
4 ounces cream cheese, softened
2 cups whole milk (or half and half)
1/2 teaspoon sea salt
1/4 teaspoon black pepper
Lemon zest from 1 medium lemon
1 10-ounce package frozen chopped spinach, defrosted with excess water removed (see notes)
2 ounces parmesan cheese, freshly grated (1/4 cup)
1/4 teaspoon paprika powder
Fresh thyme sprigs for garnish
Instructions
For the Crust:
In a medium-sized bowl, whisk the eggs together, add the cooled quinoa, cumin and parmesan cheese and stir until well combined. Transfer the mixture to an 11-inch tart pan with a removable bottom and spray with oil. Using the back of a dinner fork or a tablespoon, press the mixture up the sides of the tart pan. Smooth the remaining mixture on the bottom of the dish, pressing down slightly. Place the quiche pan on a rimmed baking sheet and transfer to the oven and bake for 15 minutes. Remove and cool on a wire rack.
Reduce the oven temperature to 325°F
For the Filling:
To a small skillet set over medium heat, add the olive oil and when it is hot, add the leeks. Cook, stirring frequently until they are softened but not brown. Remove from the heat and scatter the leeks evenly over the bottom of the cooled quinoa crust. Sprinkle 2 tablespoons of the fresh thyme leaves over the leeks and add the grated smokey Gouda cheese in an even layer.
In a large bowl, beat the eggs, mustard and the cream cheese together until smooth. Add the milk, salt, pepper and lemon zest and stir in the drained spinach, breaking up the clumps.
Pour the filling mixture over the cheese, distribute the parmesan cheese over the top and sprinkle with the paprika powder.
Bake in the center of the oven for 45-50 minutes until golden brown and set with the center still a little jiggly. It will continue to firm up while cooling. and golden brown. Allow to cool slightly before serving.
Notes
To cook quinoa: Add 1/2 cup uncooked and rinsed quinoa to 1 cup of boiling water. Place a lid on the pan and cook for 15 minutes. You will have 1 1/2 cups of cooked quinoa. Be sure to let the quinoa cool down before using it in the recipe.
To quickly bring refrigerator-cold eggs to room temperature, place the eggs in a bowl and cover with warm tap water. Let sit for 5 minutes before using.
My way to squeeze the liquid from defrosted spinach: Place a fine-mesh strainer in the bottom of your sink and add 1/2 of the spinach. With your fist, press down on the spinach, turning it over and pressing down again removing excess moisture. Transfer to a dish and repeat with remaining spinach. Break up the spinach with a fork before adding to egg mixture.
Nutrition Information:
Yield: 8
Serving Size: 1
Amount Per Serving:
Calories: 278
Total Fat: 16g
Saturated Fat: 9g
Cholesterol: 106mg
Sodium: 364mg
Carbohydrates: 20g
Fiber: 2.4g
Protein: 14.5g