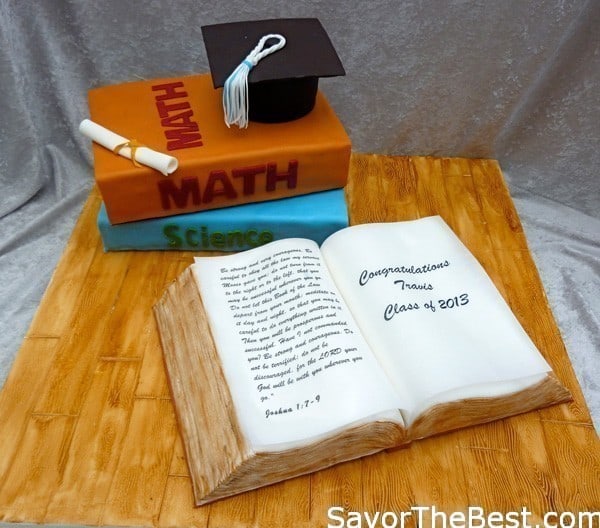 When my nephew Travis, graduated from high school I designed his cake to look like books sitting on a desk with an open bible in the foreground.
The two books in the background are made from sheet cakes that I cut to size and covered in fondant then pasted on the fondant book titles. The graduation cap is a 6-inch round cake covered in fondant with a fondant tassel topping it off. I used a garlic press to create the tassel strings and I cut and rolled some white fondant to resemble the graduation diploma.
The open bible started out as a sheet cake. After I carved it into the shape of a bible, I covered it in fondant then scored lines in the sides to resemble the pages. Once I brushed on some brown and gold food coloring, the lines popped out and looked like stacked pages. The two top pages are sheets of rice paper that I ran through my edible ink jet printer. I finished the look by covering a board in fondant then used an impression mat to create the look of wood grain.
This was a really fun cake to create!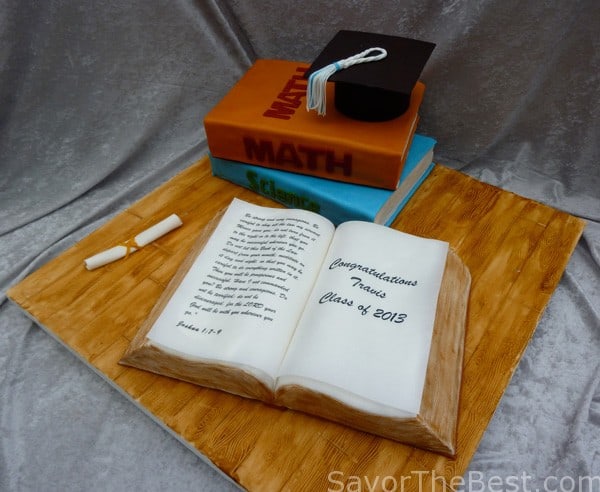 CONNECT WITH SAVOR THE BEST!
Be sure to follow us on our social media accounts
Facebook * Instagram * Pinterest * Twitter * Youtube
Did you make this recipe? We would love to hear from you. Drop us a comment below.