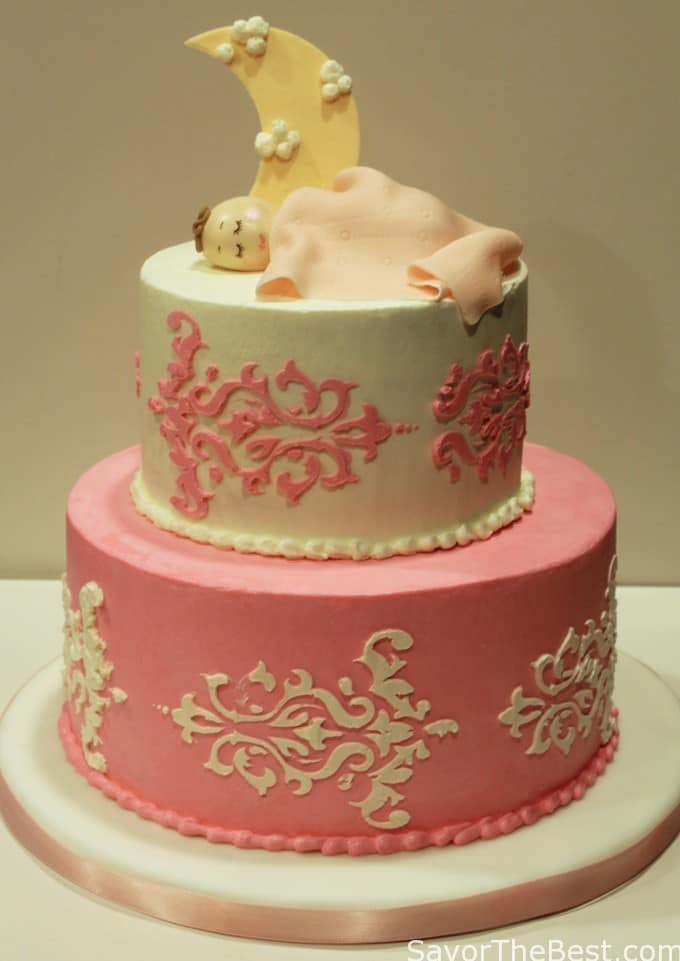 When one of my co-workers hosted a baby shower for her niece, she asked if I could make a cake for the shower. This shower cake was for a soon-to-be baby girl so I decorated it in pink and white. I used a stencil to create the decorations on the sides of the cake. In order to keep the stencil from sticking to the soft buttercream, I placed the cake in the freezer for about 20 minutes. This allowed the buttercream to firm up and give me time to wrap the stencil around the cake. I used an offset spatula to plaster the buttercream over the stencil then I smoothed the buttercream out before pealing the stencil off. The nice thing about having the base layer frozen is that it makes it easy to remove the stenciled image if it smudges. I know some people don't have to freeze their cake before applying the stenciled image but I am pretty sure that they use a shortening based frosting. I used an Italian Meringue Buttercream on this cake and it is a soft, melt-in-your-mouth, buttercream that will easily stick to the stencil unless it is firmed up in the freezer.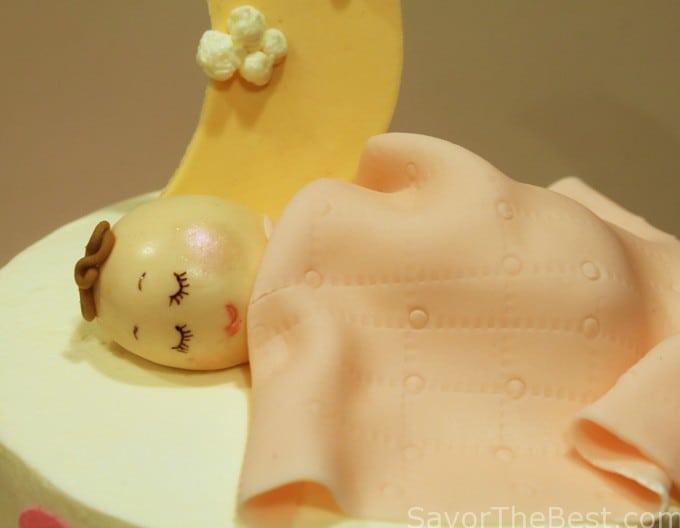 The cake was a red velvet cake except I was light-handed with the red food coloring so that it would be a pink cake instead of a red cake… gotta make it girly!
Red velvet cake just screams "cream cheese frosting" but I didn't think I could do the stenciling pattern on the cake with cream cheese frosting so instead I filled the cake with the cream cheese frosting and then frosted the outside of the cake with the Italian Meringue Buttercream. The combination made for a heavenly treat.
The sleeping baby on the top of the cake was made from fondant and the moon was made with sugar paste.