This date cake recipe is a deliciously moist, sticky texture cake with the perfect amount of citrus. Finished with an easy toffee sauce, this is a simple recipe that you can make any day of the week. It is a lovely addition to your dessert, brunch, or even lunch box. A dollop of whipped cream would elevate this dessert to a new level.
The dates in the cake are chopped and soaked, adding more natural sweetness and moisture. We gave the date cake a boost in flavor by soaking the dates in orange juice instead of water. It provides the cake with a hint of orange citrus flavor that goes well with the dates.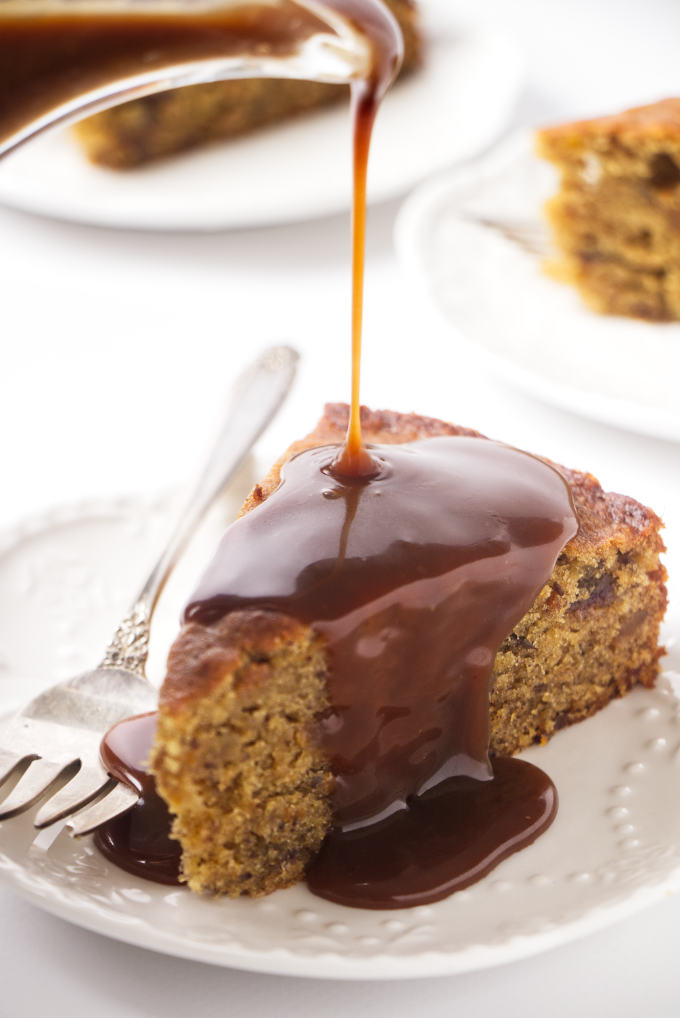 The addition of homemade toffee sauce rounds out the flavor of the date cake, giving it another dimension of sweetness without being overpowering.
You can make the cake a couple of days in advance without fear of having it dry out.
Why We Love This Orange Date Cake Recipe:
It makes a great snack cake for lunch, or you can dress it up as a fancy holiday dessert.
Not overly sweet and an excellent cake for brunch or tea.
The dates add some extra sweetness and richness to the cake.
It stays moist for a few days (if it lasts that long).
Serve it with toffee sauce for a rich, insanely delicious dessert.
Ingredients:
Dates. The dates add moisture and a deep caramel flavor to the cake.
Orange Juice. Instead of soaking the dates in hot water, we used orange juice for an extra layer of flavor.
Baking soda. The baking soda isn't used for leavening in this recipe. Instead, we are taking advantage of the chemical reaction it creates to get the dates super soft.
Flour. All-purpose flour works just fine. If you want to use cake flour then that works as well.
Baking powder. The baking powder is used for the leavener and gives the cake a light texture.
Salt. Salt enhances the flavors and brings out the caramel notes in the cake.
Butter. You can use salted or unsalted butter. Salted butter will not add too much salt to the recipe.
Brown Sugar. Brown sugar compliments the flavors and plays an important role in the texture of the cake.
Eggs. Let your eggs come to room temperature before you begin. A quick way to bring the eggs to room temp is to place them in warm water for a few minutes.
Vanilla extract. Vanilla enhances the flavors.
Orange zest. The zest of one orange will give the cake an extra hint of citrus.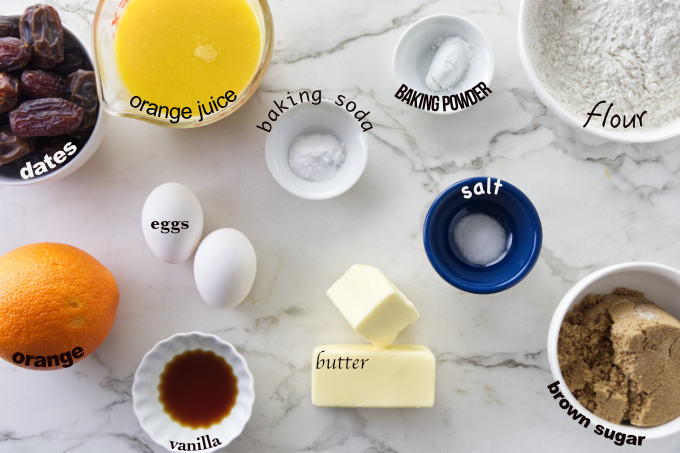 How to Make Toffee Date Cake
Preheat oven to 350°F. Spray a 9-inch round pan with nonstick spray and line with parchment paper.
Combine the orange juice, chopped dates, and baking soda in a saucepan and bring to a boil. Remove from heat and allow the dates to soak for 20 minutes.
Beat the butter and sugar in a mixing bowl then add the eggs.
Add the vanilla, orange zest, and dates along with all the soaking liquid. Fold in the dry ingredients.
Pour the batter into the pan and bake until a toothpick inserted in the center comes out clean.
Serve the cake with warm toffee sauce.
If you want to get extra toffee goodness inside the cake, poke some holes in the warm date cake and pour half the sauce on top. Serve the remaining toffee sauce on the side. If you have leftover toffee sauce use it on top of our fresh fig cake, spoon a bit into a banana mug cake, or drizzle it on some chocolate stout ice cream.

Soaking the dates will get them soft. The process is even faster if you add baking soda and heat the mixture. After it sits for a while, the dates break down and turn into a gooey, mushy puree. It doesn't look pretty but it adds so much flavor and moisture to the cake.

Add the eggs one at a time and let them emulsify into the batter. Room temperature eggs will incorporate better than cold eggs and give the cake a better texture.

Our microplane is one of my favorite tools. It does a fantastic job at making super fine bits of orange zest that get distributed all over the batter. Fine bits of orange zest are so much nicer than larger chunks that you would get with a knife or channel zester. The orange zest really helps the citrusy orange flavor pop in this orange date cake.

Add half of the flour and stir it in before you add the rest. Using this technique to add the flour will help keep the cake tender and reduce gluten formation.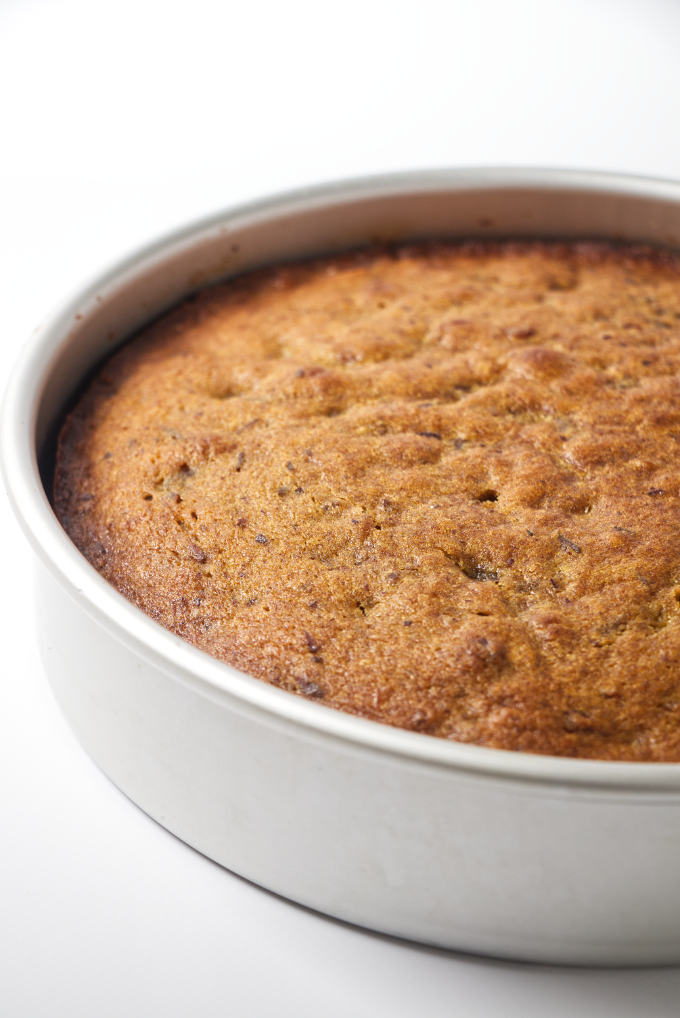 Tips and Tricks:
Chopping the dates will leave a bit of a sticky mess on your knife. You can coat the knife in cooking oil before you begin. We don't recommend purchasing pre-chopped dates because they tend to be dry and hard. However, if you do get pre-chopped dates, make sure you let them soak a bit longer to soften up.
The orange juice and date mixture will foam when you add the baking soda. Make sure your saucepan is large enough to accommodate the chemical reaction.
Put the date puree in the fridge to cool down quickly if you don't have time to wait for it to come to room temperature.
Frequently Asked Questions:
Can I substitute the sugar for more dates?
Not without changing the texture of the cake. The sugar in the cake is not just for sweetness. Sugar keeps baking soft and moist by binding to water and locking in moisture in baked goods. Sugar also helps create a tender texture, deep color and flavor, and a crunchy bite.
Can I use prunes instead of dates?
Prunes, or dried plums, have a similar texture and will make a decent substitute. Dates will give the cake a unique rich, caramel flavor that the prunes will not replicate.
Can I add nuts to the recipe?
Yes, you can add half a cup of chopped pecans or walnuts before pouring the cake batter into the pan.
Can I bake this in muffin tins or a loaf pan?
Yes, you can make this recipe as muffins or a loaf cake but adjust cooking times accordingly. The muffins will cook faster than the cake. Check them for doneness after 15 – 20 minutes. The loaf pan will take longer to bake than the cake pan. Check for doneness after 45 – 60 minutes.
How long does date cake last?
Date cake should stay moist for three days wrapped in plastic wrap on the counter. You can store it for up to 5 days in the fridge. Store the toffee sauce separately in the fridge and warm it up when you are ready to serve it with the cake. It can last longer in the fridge.
.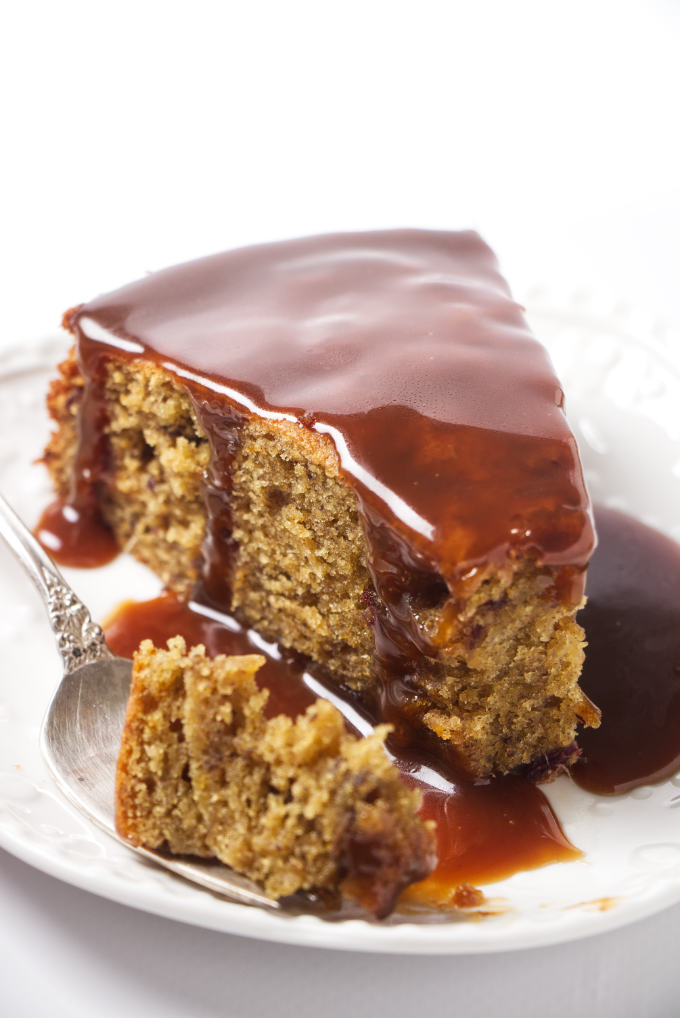 Helpful Tools:
Some of the following links are affiliates. If you click on these links and purchase something, we may receive a small commission. You don't pay any extra but it will help us keep the lights on.
Some Other Recipes We Are Sure You Will Love:
This Instant Pot hot fudge cake makes its own fudge sauce while it cooks. This is a cake you need to eat with a spoon and plenty of ice cream.
Our stout gingerbread cake has a rich, robust flavor from the stout beer. This is another cake that would taste fantastic with a bit of sticky toffee sauce ;).
This chocoflan cake is impossibly delicious and so fun to make. It is part chocolate cake and part flan and both parts bake at the same time in a large bundt pan.
Connect With Savor the Best:
Please follow us on our social media accounts
Facebook * Instagram * Pinterest * Youtube * Twitter
Did you make this recipe? We would love to hear from you. Drop us a comment below.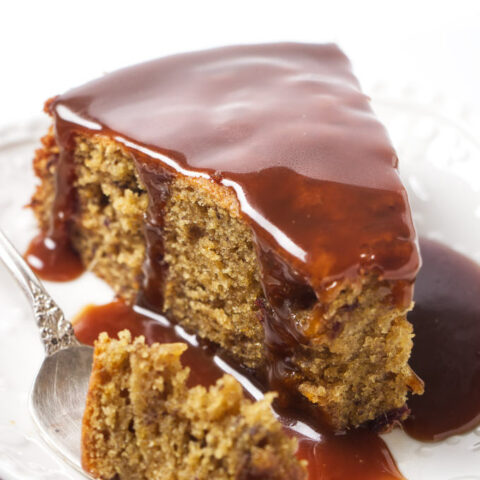 Date Cake
This is a super moist and tender cake that we serve with sticky toffee sauce for an amazing dessert. There is a hint of orange from the orange juice and zest that adds great flavor and compliments the dates.
The cake is quite delicious by itself but when you serve it along with the toffee sauce it makes a very rich dessert. It is rich enough that you could get 12 servings from this cake but you may want to come back for seconds.
Ingredients
10 ounces dates, pitted and chopped (about 2 cups packed)
1-1/2 cups orange juice
1 teaspoon baking soda
1-3/4 cups flour
1 teaspoon baking powder
1/2 teaspoon salt
3/4 cup (12 tablespoons) butter
3/4 cup brown sugar
2 eggs
2 teaspoons vanilla extract
2 teaspoons orange zest
Topping
Instructions
Preheat oven to 350°F. Spray a 9 inch round pan with nonstick spray and line it with parchment paper.
Place the chopped dates, orange juice, and baking soda in a saucepan. Bring to a boil then turn off the heat. Let the dates soak for 20 minutes and let it come to room temperature.
Sift the flour, baking powder, and salt together. Set aside.
Place the butter and sugar in a mixing bowl. Beat on medium speed until light and creamy.
Beat the eggs in, one at a time, beating well after each addition. Add the vanilla, orange zest and the dates along with all the soaking liquid. Beat well until incorporated.
Fold in half of the flour mixture until only a few streaks of flour show. Fold in the rest of the flour until well combined.
Spread the batter in the pan and bake for 35 to 43 minutes or until a toothpick inserted in the center comes out clean.
Serve warm or cold with sticky toffee sauce.
Notes
Soaking the dates in hot orange juice helps soften them. Adding baking soda to the liquid breaks the dates down much more efficiently and turns the mixture into a gooey, sticky puree. The date puree makes the cake super moist.
The orange juice will foam up quite a bit when you add the baking soda. Make sure your saucepan is at least 2 quarts to give room for the foam reaction. You can stick the mixture in the fridge to cool down quicker.
The dates will stick to your knife when you chop them. A little oil on your knife will help a bit. You could also purchase dates that are already chopped but they are a bit dryer and may need a few extra minutes of soaking time.
A microplane does a great job at zesting the orange and creates smaller particles of zest that will distribute more evenly throughout the cake.
Recommended Products
As an Amazon Associate and member of other affiliate programs, I earn from qualifying purchases.
Nutrition Information:
Yield:

12
Serving Size:

1 slice
Amount Per Serving:
Calories:

598
Total Fat:

2g
Saturated Fat:

0g
Trans Fat:

0g
Unsaturated Fat:

1g
Cholesterol:

31mg
Sodium:

252mg
Carbohydrates:

129g
Fiber:

5g
Sugar:

30g
Protein:

15g
Nutrition information is a guideline only, is calculated automatically by third-party software, and absolute accuracy is not guaranteed.