This Gingerbread Bundt Cake will become your favorite spiced dessert this holiday season! It's easy to make, perfectly spiced, and super moist, everything you're looking for in the perfect winter dessert!
We even have a delicious variation if you want to make a gingerbread stout cake.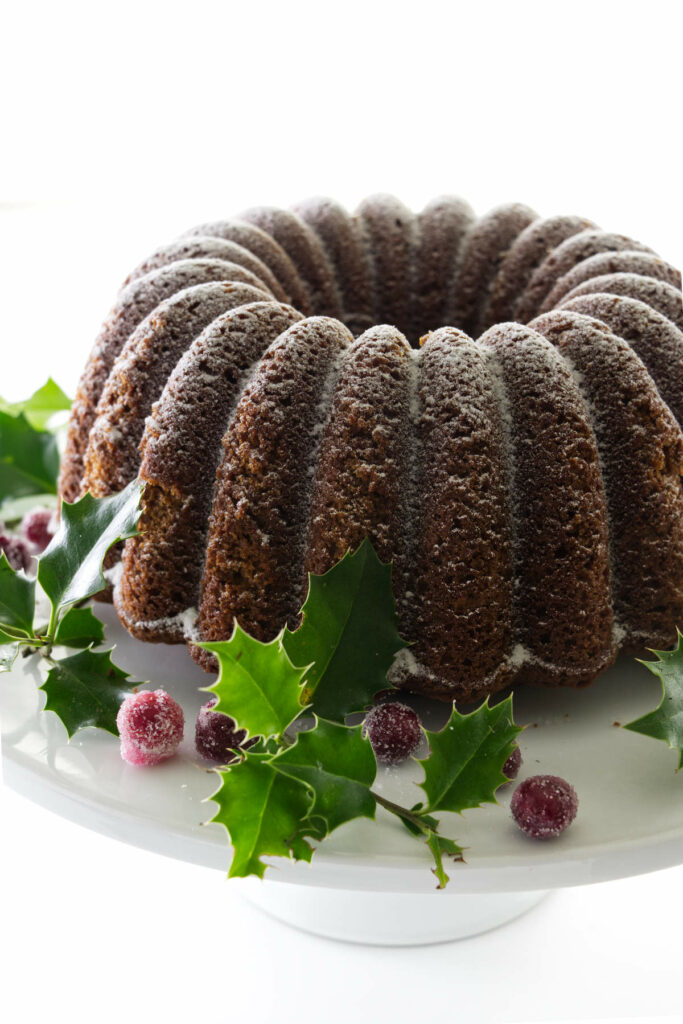 The holidays and gingerbread go together like Frosty and a top hat, don't they? Whether making gingerbread cookies or putting together a fun gingerbread house, the warm gingerbread scent and flavor will lift your spirits.
Gingerbread houses and cookies are time-consuming but well worth the effort. This gingerbread bundt cake takes less hands-on time, has all of the spicy gingerbread goodness, and is pretty enough to sit at the center of any holiday table.
Why This Recipe Works
Perfect as a holiday dessert! Dress it up with a dusting of powdered sugar, sugar-frosted cranberries, and sprigs of fresh holly for a beautiful centerpiece dessert that's bursting with warm holiday spices!

Easy to make and beginner friendly. You don't have to be an expert baker to pull this beautiful, delicious bundt cake off.

Versatile. If you replace the water with stout beer, you can adapt this recipe to make a stout gingerbread cake.

Moist and flavorful. The cake is bursting with flavors and super moist.

Perfect with toppings and glazes. Top the cake with some homemade whipped cream or a spoonful of lemon dessert sauce.

It stores well. This cake can be made ahead and frozen or stored in the refrigerator or at room temperature for up to a few days without sacrificing texture or flavor.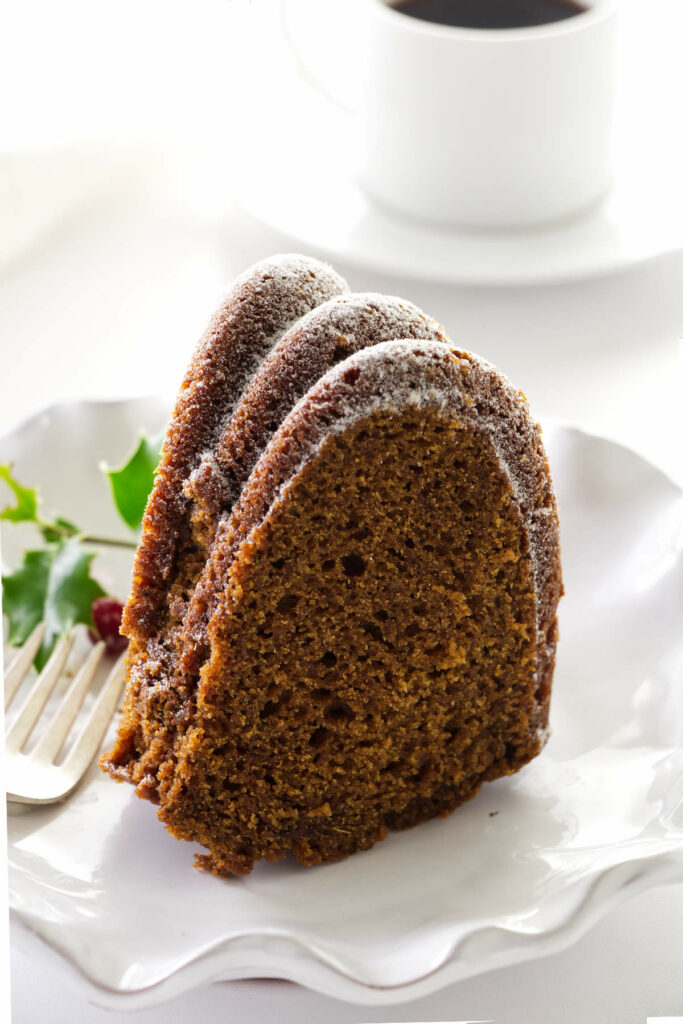 Ingredients Needed
Here is a list of the ingredients you will need for this gingerbread bundt cake. Scroll down to the printable recipe card for all the details.
Flour. Use all-purpose flour to give your cake a spongy crumb.
Baking powder.
Baking soda.
Spices: ground ginger, cinnamon, nutmeg, allspice, cloves, black pepper, salt
Eggs. Use room-temperature eggs. These will act as a stabilizer and help bind all your ingredients together.
Sour cream. This helps keep your bundt cake tender and moist. You could also use plain greek yogurt for the same effect.
Oil. Use a light-tasting vegetable oil like light olive, canola, or avocado.
Brown sugar. Use either light or dark brown sugar.
Molasses. This sweet and dark syrup will give your cake that classic gingerbread taste. Avoid blackstrap molasses, which is more often used for savory type dishes and has a stronger bitter taste.
Optional: Stout beer. The original recipe calls for water, but if you want a more intensely flavored gingerbread cake, swap the water for dark stout Guinness beer. You won't taste the beer, but it will add depth and richness to the cake.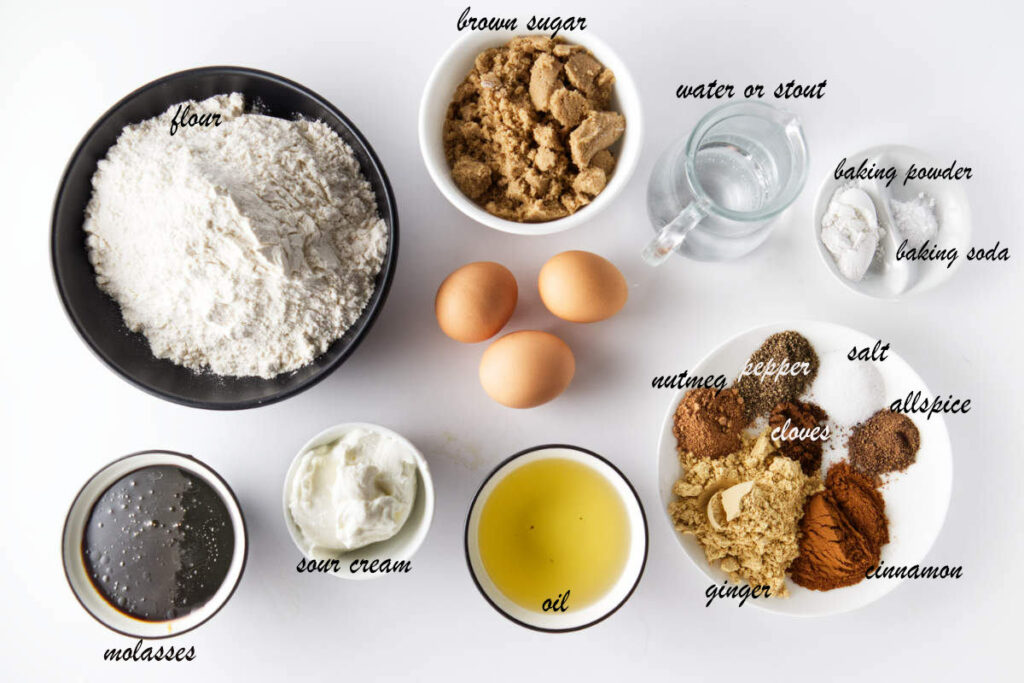 How to Make Gingerbread Bundt Cake
Here is a quick overview of the process for making this gingerbread bundt cake at home! Make sure to scroll down to the printable recipe card for all the details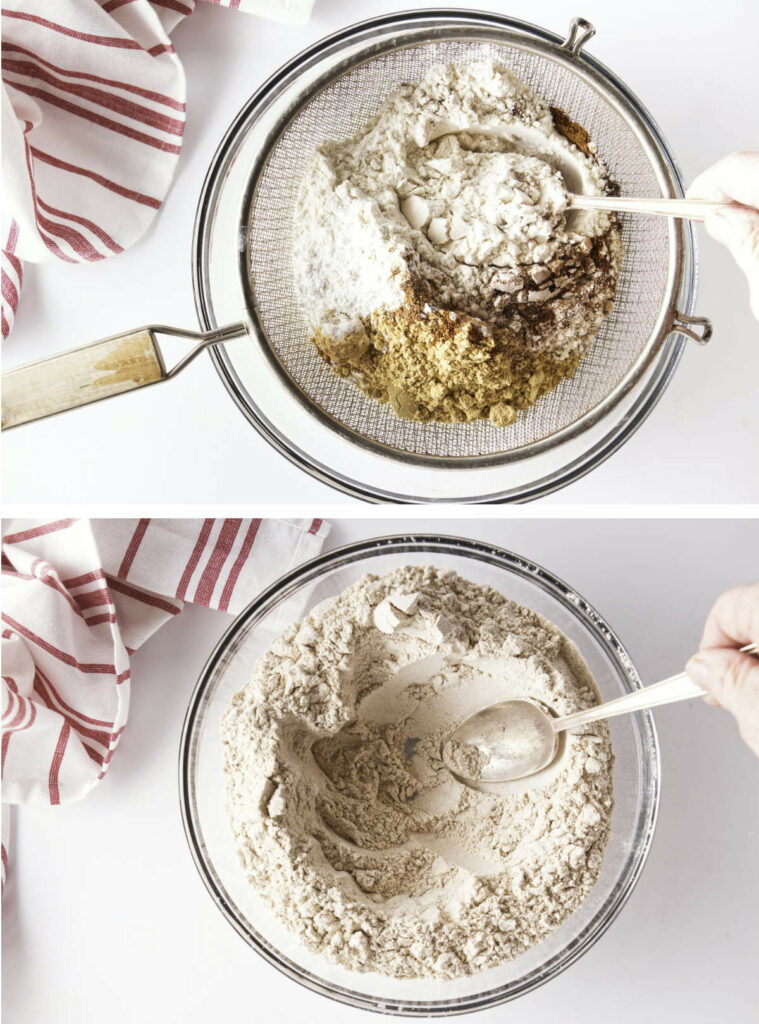 Coat a 10-cup bundt pan with nonstick spray or a flour-oil baking spray. Sift the flour, spices, salt, baking powder, and baking soda together in a large bowl, then set aside.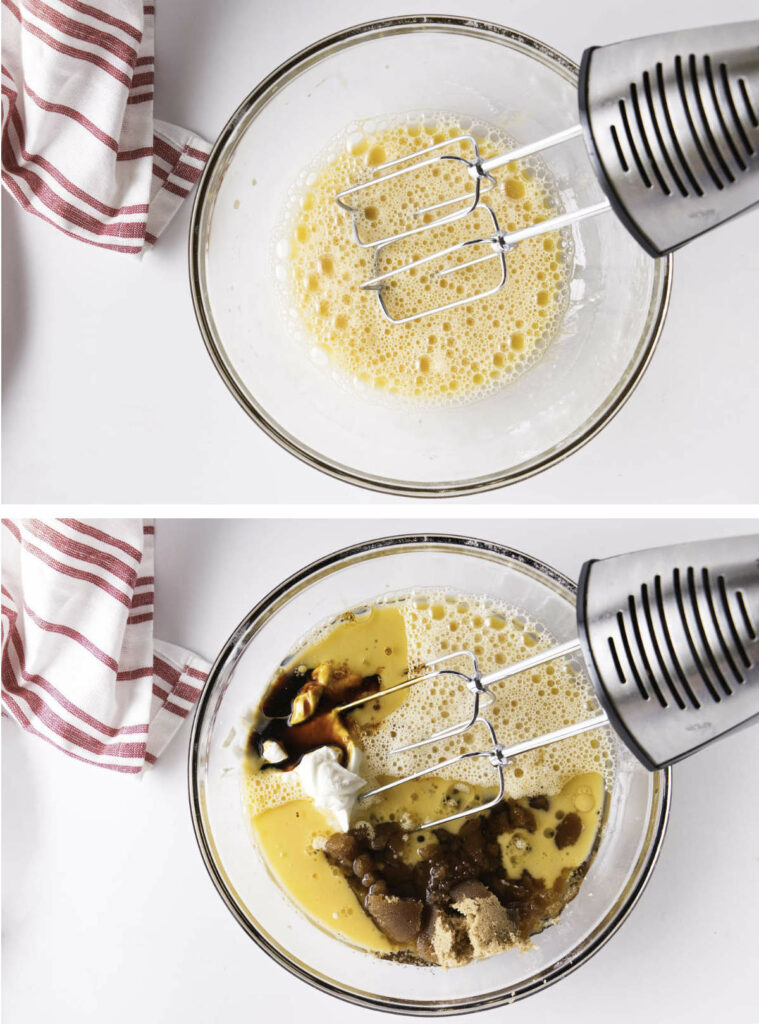 In another bowl, whisk the eggs until frothy, then add the sour cream, oil, sugar, and molasses. Whisk until well blended.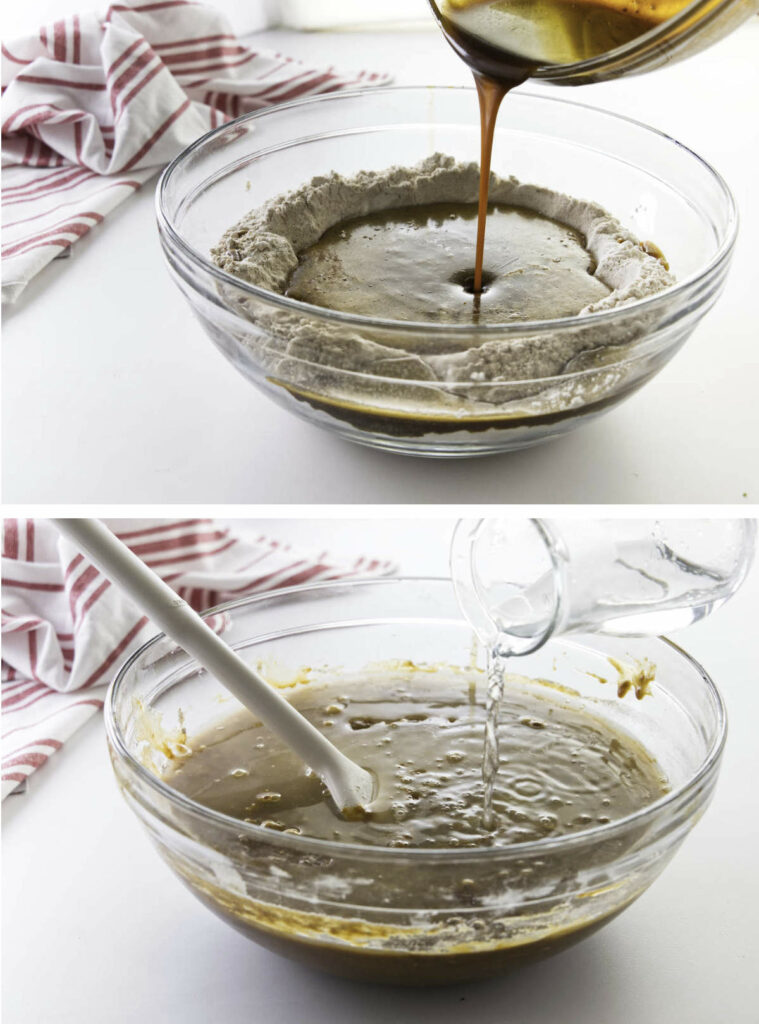 Pour the egg mixture into the flour mixture and stir until just barely combined. Add the water
Stir until just well combined. Add the water (or stout) and stir well.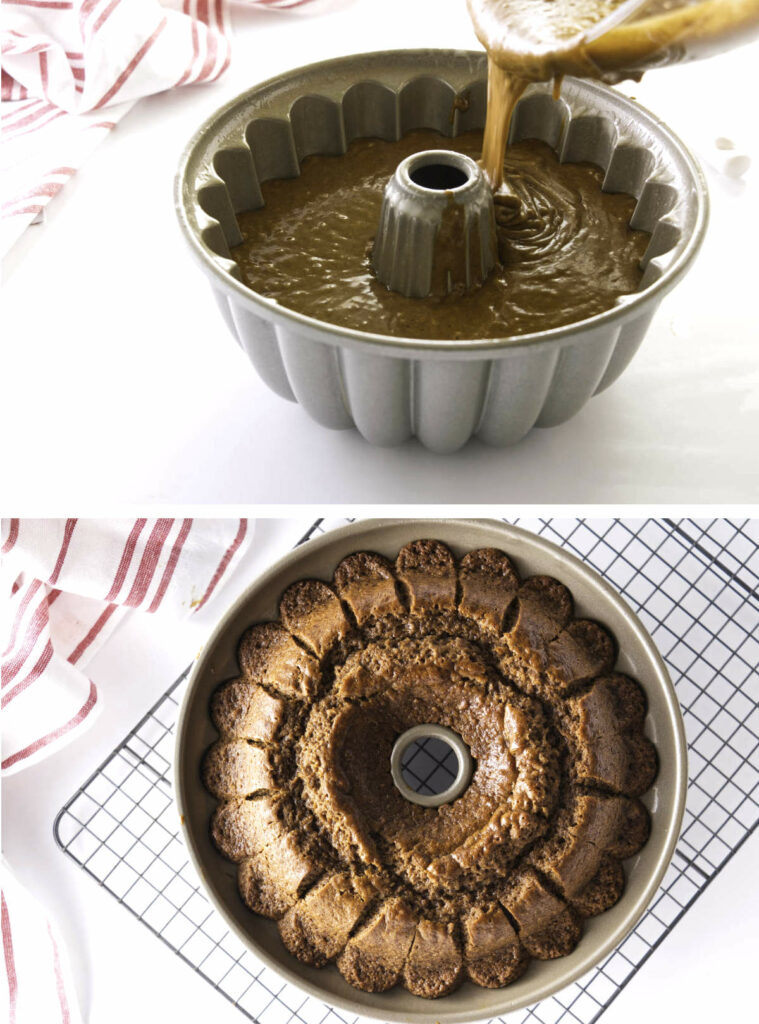 Pour the batter into a 10-cup bundt pan and bake until a toothpick inserted in the center comes out with just a few moist crumbs. Check out the printable recipe card below for all the details.
Let the cake cool in the pan for 10 minutes, then flip it upside down to remove the cake. Let the cake finish cooling on a wire rack.
Tip: Insert a toothpick into the center of the cake to check for doneness. If the toothpick has wet batter on it, bake the cake longer. If the toothpick is completely clean, it may be overbaked and dry. Instead, look for a few moist crumbs sticking to the toothpick.
Tips for Success
This is everything you need to know to make the best gingerbread bundt cake this holiday season!
Use a kitchen scale or spoon flour to your measuring cup and level using a spoon instead of just scooping it out. This improves accuracy when measuring your dry ingredients.

Let the refrigerated ingredients come to room temperature to ensure the batter mixes evenly.

If you don't like a particular spice, it's fine to take them out of the recipe and add more of the ones you love.

We like to top this bundt cake with whipped cream, but we included instructions for a simple glaze, similar to our apple bundt cake.
What Molasses Should You Use For Gingerbread?
To get the best gingerbread flavor, use dark or medium molasses, as light molasses tends to give off a more subtle spice to your cake. Avoid blackstrap molasses, as it's too bitter for sweet gingerbread desserts.
What is the best way to keep cake from sticking to a bundt pan?
Coat your bundt pan with a liberal mixture of softened butter or shortening and flour or with a flour- oil baking spray. We like to grease the pan, then sprinkle flour in it and tip it around, so the flour sticks to the grease. The flour helps the cake release much easier.
Storage Tips
You can enjoy your gingerbread bundt cake for days after making it. Store it in an airtight container at room temperature for 2 days and or up to a week in the fridge.
You can also freeze this bundt cake and store it in the freezer for up to three months. Just gently wrap it in plastic and store it in an airtight container or freezer bag. To reheat, allow the cake to thaw in the refrigerator or at room temperature.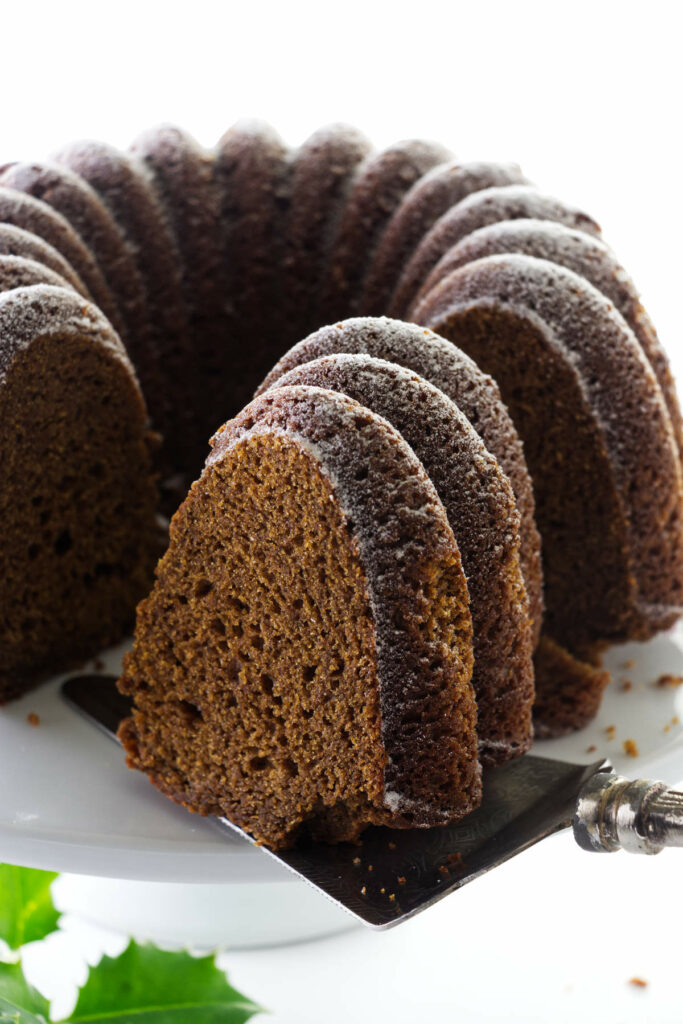 Frequently Asked Questions
What is the difference between a bundt cake and a regular cake?
The main difference between a bundt cake and a regular cake is that a bundt cake is baked in a bundt pan. A bundt pan has a large hole in the middle, that's why the cake comes out in a large donut-like shape.
Should you let bundt cake cool before flipping it?
Yes. To get your bundt cake out in one piece, allow your cake to cool down for about 10 minutes. Next, place a wire cooling rack on the base and flip the pan to release the bundt cake. Finish the cooling process on the wire rack.
Helpful Tools
Some of the following are affiliate links. We may receive a small commission if you click on these links and purchase something. You don't pay any extra, but it will help us keep the lights on.
Some Other Recipes We Are Sure You Will Love:
Since lemons never go out of season, this lemonade bundt Cake is easy to make and perfect for potlucks.
This gluten-free chocolate bundt cake is gluten-free and dairy-free and full of decadent chocolate flavor. Topped off with chocolate ganache, everyone will love this deliciously rich cake.
Another cool weather favorite, this caramel apple cake is covered in caramel sauce and pecans for a beautiful and festive fall treat!
Eggnog Tart: This holiday eggnog tart is a rich, silky smooth custard tart made with your favorite eggnog flavors. Finish it with a light dusting of grated nutmeg on top.
Connect With Savor the Best:
Please follow us on our social media accounts
Facebook * Instagram * Pinterest * Youtube * Twitter
Did you make this recipe? We would love to hear from you. Drop us a comment below.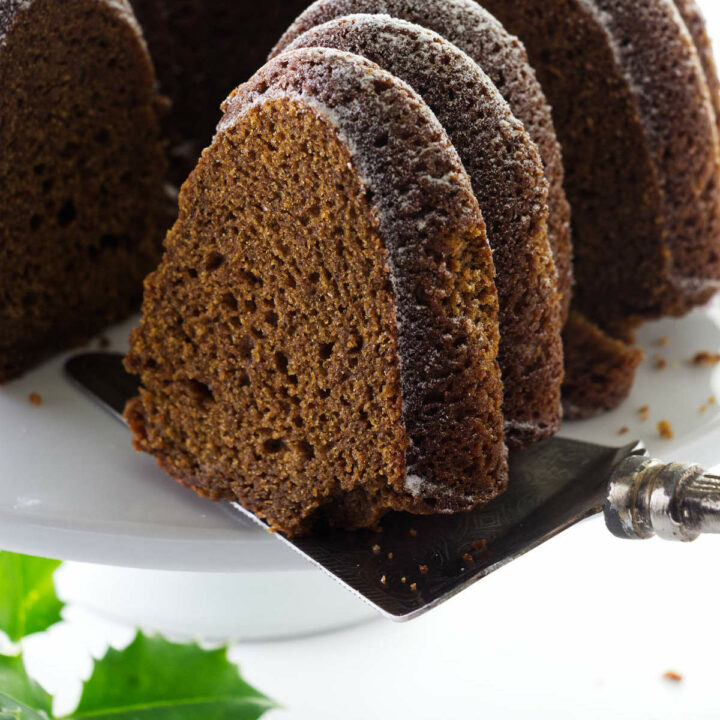 Gingerbread Bundt Cake
Total Time:
1 hour
20 minutes
This gingerbread cake is moist and flavorful with a warm spice profile that is perfectly balanced and complimented with molasses. A touch of freshly ground black pepper raises the flavor bar and enhances the cake's deliciousness.
If you want to add additional complexity to the flavor, swap out the water for a strong stout beer.
Ingredients
3-1/3 cups (400 grams) all purpose flour
1 tablespoons ground ginger
2 teaspoons cinnamon
1 teaspoon nutmeg
1/2 teaspoon cloves
1/2 teaspoon allspice
1 teaspoon freshly ground black pepper
1/2 teaspoon salt
2 teaspoons baking powder
1/4 teaspoon baking soda
3 eggs, room temperature
1/2 cup sour cream
1 cup vegetable oil
1 cup (200 grams), brown sugar, light or dark
1 cup molasses, not blackstrap molasses
1 cup water
:Optional Glaze:
1 cup powdered sugar (113 grams)
2 tablespoons orange juice
1/2 teaspoon vanilla extract
Instructions
Preheat the oven to 325°F. Coat a 10-cup Bundt pan with non-stick spray.
In a large bowl sift together the flour, spices, salt, baking powder, baking soda set aside.
In a large bowl, sift the flour, spices, salt, baking powder and baking soda together and set aside.
In another bowl, whisk the eggs until frothy. add the sour cream, oil, sugar and molasses and whisk until well blended.
Make a well in the center of the flour/spice mixture and pour the egg/molasses mixture into the well. Stir with a silicon or rubber spatula just until well combined. Add the water and stir well.
Spoon the batter into the prepared bundt pan and transfer the pan to the oven. Bake until a toothpick inserted into the center of the cake comes out with a few crumbs on it, about 50-52 minutes.
Transfer to a wire cooling rack, run a knife around the edge between the pan and cake to loosen, also loosen the cake around the top edge of the center cone of the pan. Cool in the pan for 10 minutes, then flip the cake upside down and lift off the pan. Finish cooling the cake on a wire rack.
Make the glaze:
Combine the powdered sugar, orange juice, and vanilla in a small bowl and whisk it until it is smooth. If you want a thinner glaze to add a smidgen more juice.
Drizzle the glaze over the cake.
Notes
We recommend using a kitchen scale to weigh the ingredients.
Grease and flour the pan well or coat it with a flour-oil spray. Bundt pans can be particularly fussy if you don't coat them in flour before adding the batter. The flour will help the cake release from the pan much easier.
Let the cake cool in the pan for 10 minutes before removing it.
To store, cover the cake with plastic wrap and keep the cake at room temperature or in the refrigerator for up to 4 days. To freeze, wrap in plastic wrap, place in an airtight container and freeze for up to 2 months.
Nutrition Information:
Yield:

12
Serving Size:

1
Amount Per Serving:
Calories:

577
Total Fat:

22g
Saturated Fat:

3g
Trans Fat:

1g
Unsaturated Fat:

17g
Cholesterol:

52mg
Sodium:

244mg
Carbohydrates:

93g
Fiber:

1g
Sugar:

66g
Protein:

5g
Nutrition information is a guideline only, is calculated automatically by third-party software, and absolute accuracy is not guaranteed.
This post was originally published on December 20, 2020.