Ah, tamales! Those delightful pockets of corn masa and filling are a favorite in many households. But just like any leading star, tamales deserve a supporting cast to truly shine on the dinner table. "What to eat with tamales?" you might ask. Whether you're hosting a cozy family dinner or a larger gathering, choosing the right side dishes can elevate your meal to a whole new level.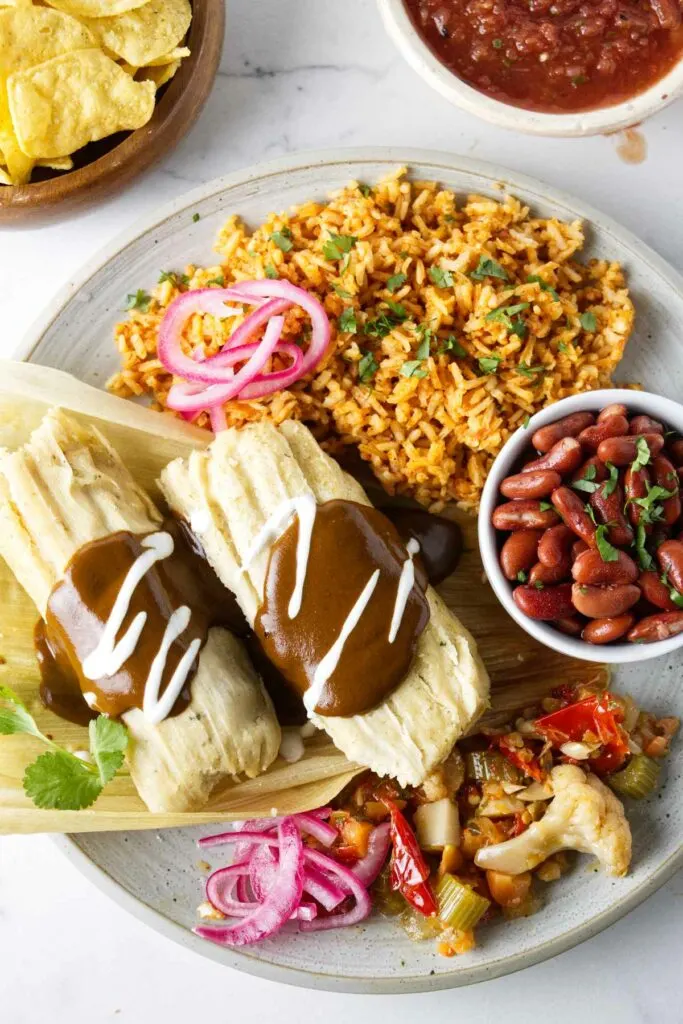 We're diving into side dishes that perfectly complement the rich and savory flavors of our Mexican tamales recipe. These warm and comforting sides will not only balance out the meal but also bring a burst of flavor and texture to each bite. So, when you eat your tamales, serve some of these fabulous side options.
Sides to Serve with Tamales
You've got these delicious tamales ready to go, but do you know what to serve with tamales? The sides, of course! Think of them as the best buddies to your tamales, helping them shine even brighter on your plate. We've got some fantastic side dish recommendations coming up that are not only tasty but really elevate those tamale flavors.
Mexican Rice: The Perfect Side with Homemade Tamales
When you serve up a tamale dinner, it's almost a given to have a side of Mexican rice. This classic dish is the perfect accompaniment to tamales, as it brings a balance of flavors and textures to the table.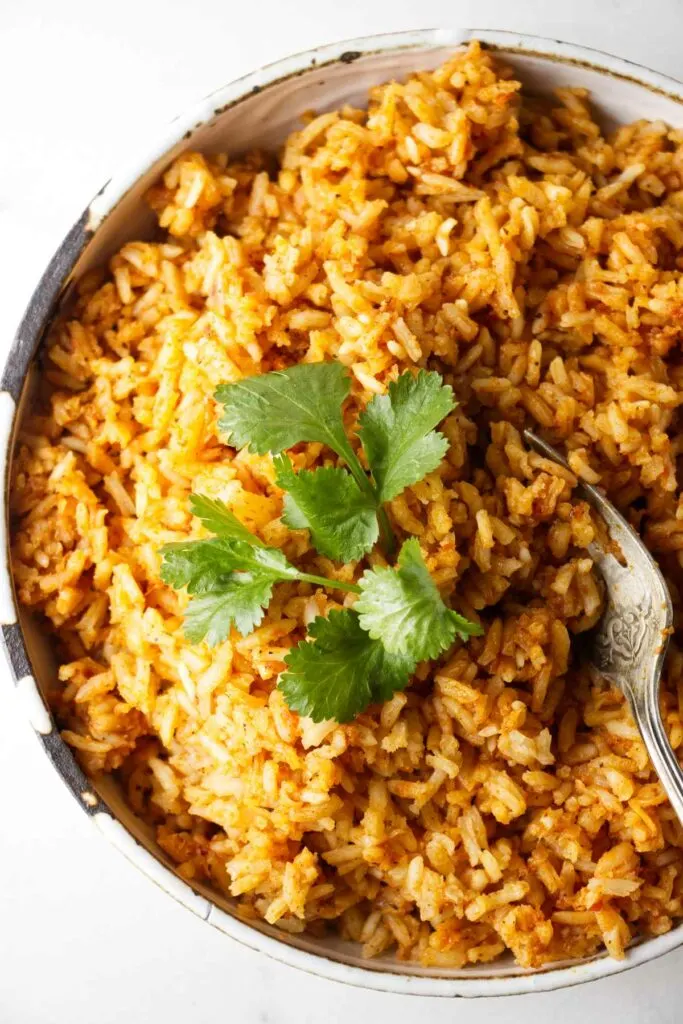 This humble dish, with its rich golden hue and aromatic spices, perfectly complements the robust flavors of tamales. While tamales are undoubtedly the main event, Mexican rice helps the entire meal come together in harmony.
Refried Beans: A Must Eat Side
Let's talk about a side dish that's both hearty and heartwarming: Instant Pot refried beans. These creamy, rich beans are more than just a delicious filler on your plate. When you serve them with tamales, they truly come into their own.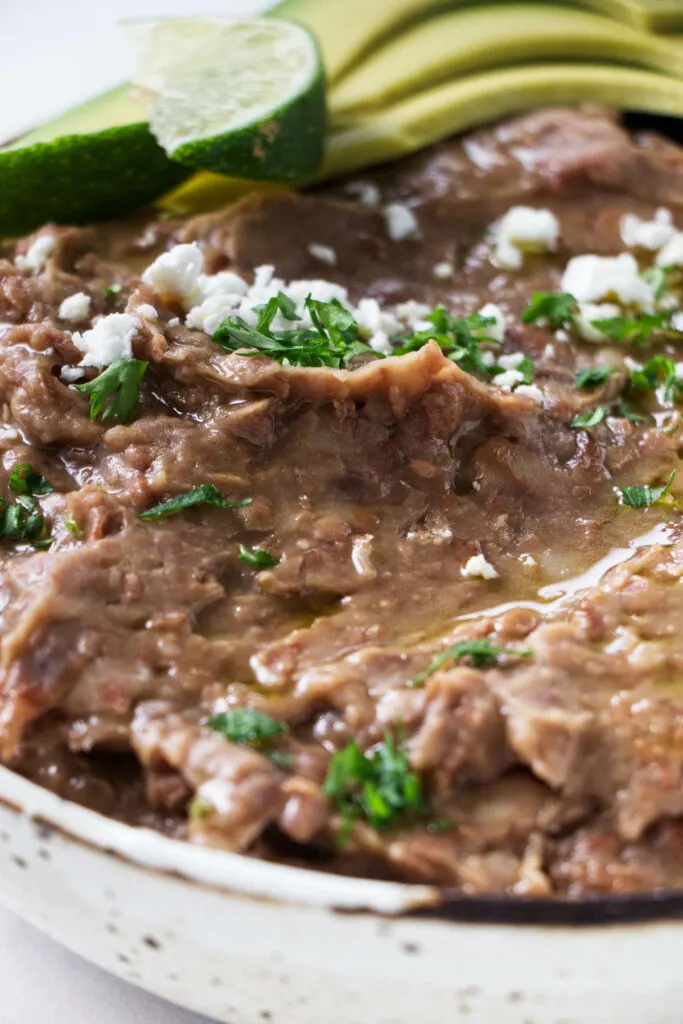 The smooth texture of refried beans contrasts nicely with the tamale's grainy masa, making each bite a balanced fusion of flavors and textures. The earthy, savory notes play off the varying fillings of tamales, whether spicy or mild, creating a balance that's hard to resist.
Mexican Street Corn Salad
Next up, we have a vibrant and zesty Mexican street corn salad. This side dish brings a burst of freshness to the table that pairs wonderfully with tamales. The crunchy corn kernels, combined with tangy lime and a sprinkle of chili, provide a lively counterpoint to the soft and hearty texture of the tamales.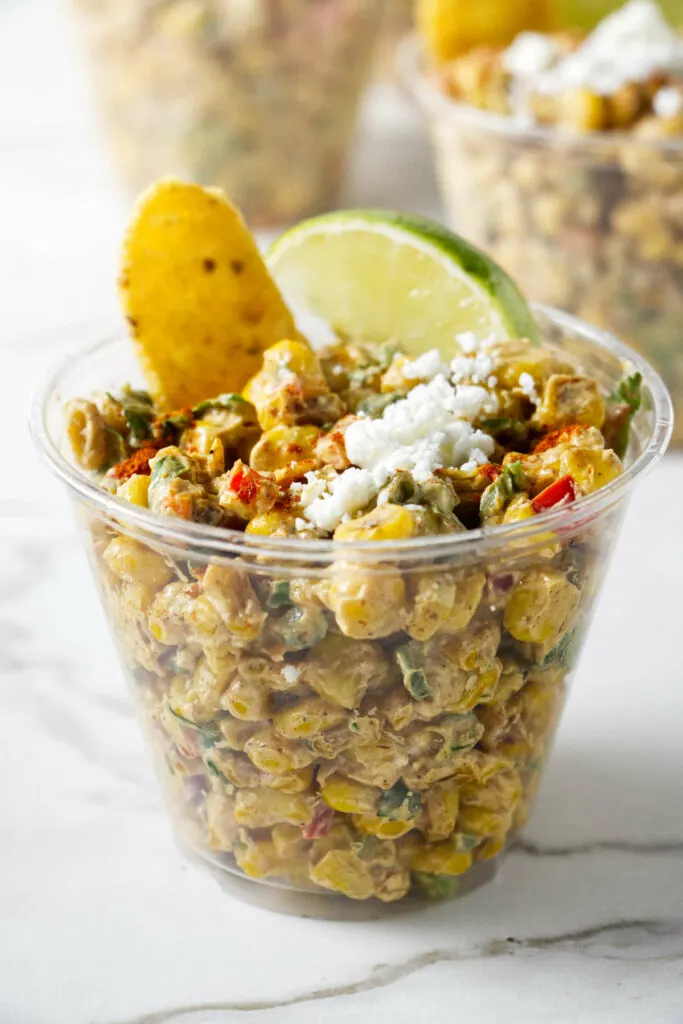 When you serve this salad, its refreshing citrus notes and subtle heat beautifully elevate the deep and savory notes of a tamal, creating a well-rounded meal.
Eat Tamales with Pickled Red Onions
I love to serve tamales with a pickled veggie. The sharp acidity and bright crunch of pickled red onions cut through the denseness of tamales.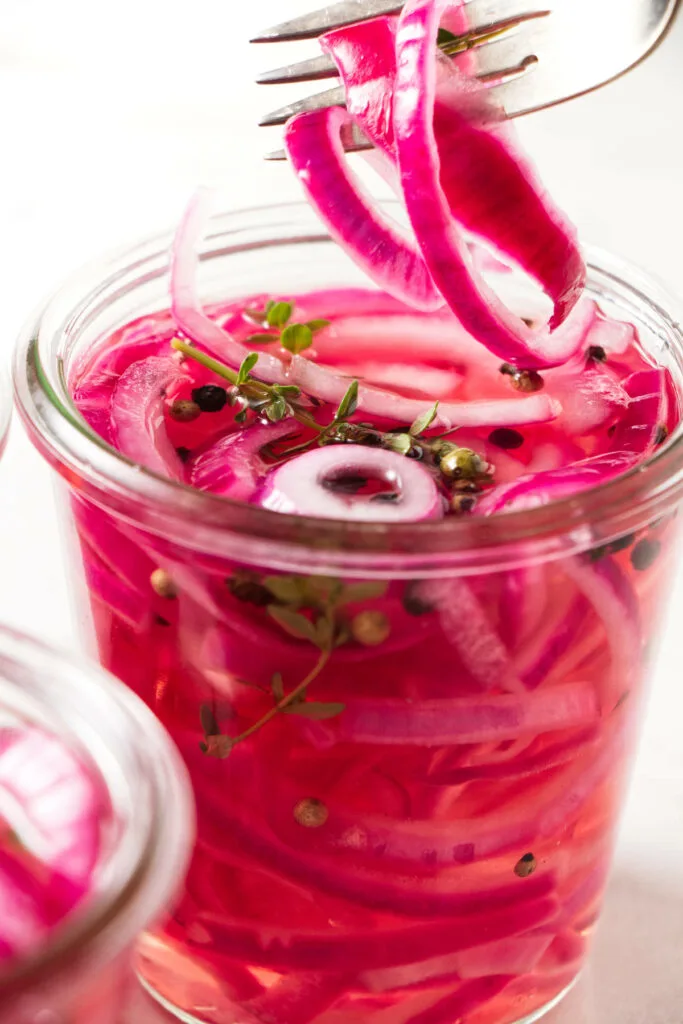 The tangy acidity balances the deep, savory flavor of the tamales, keeping the meal light and refreshing. Adding pickled red onions not only introduces a burst of color to your plate but also adds a balance of flavors to the tamales.
Serve Tamales with Guacamole
Is it really Mexican food without a side of guacamole? There's something special about a fresh batch of guacamole.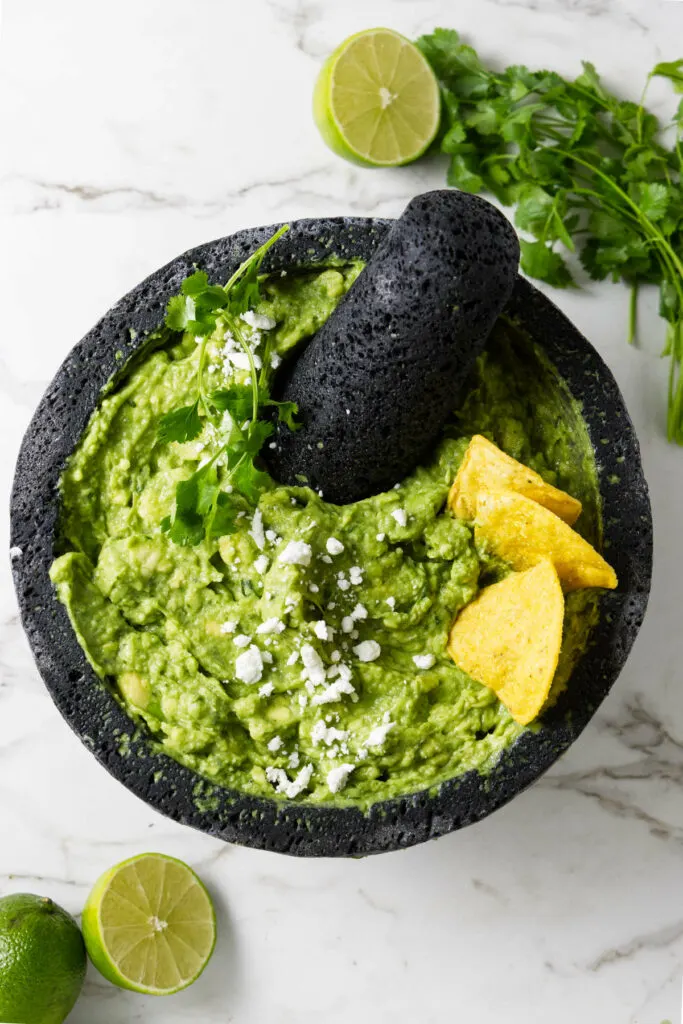 The creamy blend of avocados, lime, and spices complements tamales perfectly. We used a molcajete to make our guac! This traditional stone tool amplifies flavors, resulting in a guacamole that's incredibly rich and textured.
More Mexican Favorites to Pair with Tamales
Hungry for more Mexican inspired pairings for your tamales? Dive into our Mexican cuisine category! Here, you'll find a variety of dishes that complement tamales beautifully and showcase the diverse flavors of this rich culinary heritage. Whether you're searching for appetizers, main courses, or even more side dishes,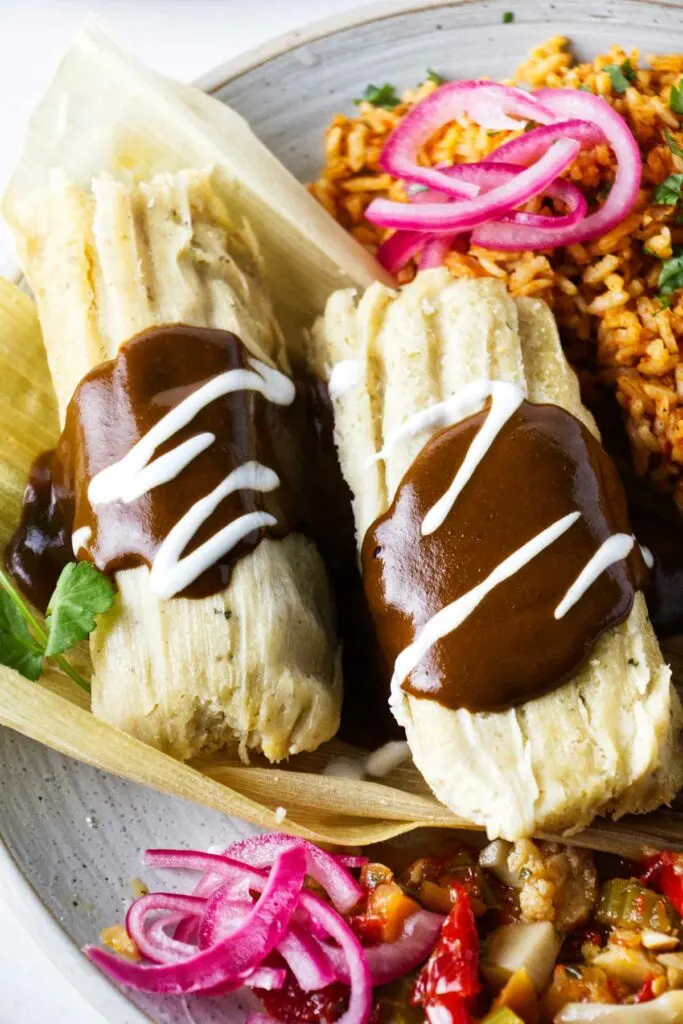 Our collection provides a wealth of suggestions to elevate your tamale spread. Before you explore deeper into our Mexican category, here is a short list of more things to serve with tamales.
Crisp side salad
Corn on the cob
Pinto beans
Black beans
Coconut rice
Mexican beef soup
Queso
And if you want to know what sauce goes with tamales, we have a few suggestions like pico de gallo, spicy salsa, corn salsa, mango salsa, salsa verde, and more.
Storing Leftovers
Leftovers can be a blessing, offering you a delicious encore of your meal for another day. But when it comes to storing those extra side dishes, keep in mind that not all sides are created equal in terms of storage longevity.
For instance, while some dishes may retain their flavors and textures beautifully in the fridge, others, like guacamole, can be a bit more finicky and may not fare as well over time.
Most side dishes will last for up to three days in the refrigerator when stored properly. Package them in airtight containers to retain maximum freshness.
Guacamole, being more sensitive, can brown quickly due to oxidation. To prolong its vibrant color and flavor, press a piece of plastic wrap directly onto the surface before sealing it in a container.
By the way, did you know there are several ways to cook tamales? Check out our post about "how do I cook tamales?"
Frequently Asked Questions
Are tamales a full meal?
Tamales can definitely be considered a full meal. They provide a good balance of carbohydrates (from the masa) and protein (from fillings like meats or cheeses). However, they are often part of a larger meal context and are commonly served with side dishes like Mexican rice, refried beans, guacamole, salsas, and salads, which add variety in flavor and texture.
Are tamales eaten for lunch?
Yes, you can eat tamales for lunch. In many areas, especially in Mexico and Central America, tamales are enjoyed at any time of the day, including breakfast, lunch, dinner, or even as a snack.

For lunch, they might be served with a side dish or two, like a salad or beans, to create a more filling meal. In some places, tamales are also a popular street food, making them a convenient and delicious option for a quick lunch on the go.