This spicy peanut sauce is quick and easy to make and it is far better than the store-bought stuff. It is a terrific dipping sauce for pork or chicken satay or you can toss it with noodles for an amazing lunch.
Fast and easy Spicy peanut sauce
This really is a quick and easy sauce to make. All you have to do is toss everything in a food processor or blender and give it a quick blitz. That's it!
Make it as spicy as you like:
Have you ever been asked in a Thai restaurant how spicy you want your dish? They usually grade the spice level on a scale of 1 to 5 with 5 being REALLY HOT. A 5 is way too hot for me. That much heat will destroy my taste buds and ruin my dinner. I just can't go that hot.
How hot do you like your food?
You can adjust the spice level of this spicy peanut sauce to your taste buds. If you make this peanut sauce exactly as the recipe is written then the spice level will be moderately hot. I would grade it a 2 to a 2.5 on a scale of 1 to 5.
That is hot enough to give it a little zippy spicy heat without destroying your taste buds. The spice level comes primarily from the cayenne pepper but the garlic chili paste also gives it a nice heat level.
I have found that it is easier to adjust the cayenne pepper in the recipe if you want it more or less hot. It only takes 1/4 teaspoon to give it a bit of spice.
If you like a mild spice level (more like a 1 on a scale of 1-5) then do not add the splash of cayenne pepper. However, if you like things really hot, sprinkle in a bit more cayenne but just use a pinch at a time. A little goes a long way.
The garlic chili paste does add a bit of heat but it also adds some great flavor. It has a complex sweet heat that balances the flavors and turns this spicy peanut sauce into an amazing and versatile sauce.
Uses for spicy peanut sauce:
Use this spicy peanut sauce for all types of dishes including:
Tips for spicy peanut sauce:
Peanut butter:
Use your favorite brand of peanut butter. We like this recipe best when I use natural peanut butter with chunks but it still tastes great with a commercial brand of peanut butter.
If you use a commercial brand of peanut butter then it will not separate if it sits for a while. Natural peanut butter has a tendency to separate after a couple of days and needs to be stirred before using. That doesn't bother me. I just give it a stir and then lick the spoon clean 🙂
Rice wine vinegar:
Don't use regular white vinegar in place of rice wine vinegar. The rice wine vinegar has a milder and slightly sweet flavor.
Sesame oil:
Toasted sesame oil gives the spicy peanut sauce a unique depth and distinctive flavor. A little goes a long way to enhance the flavor. It is best to store your sesame oil in the fridge because it can go rancid if you store it for too long in your cabinets.
Garlic chili paste:
As I mentioned above, the garlic chili paste is a huge component to the flavor profile. It doesn't just add heat to the peanut sauce, it adds a unique flavor. It is somewhat similar in flavor to Sriracha and you can substitute Sriracha if you don't have any garlic chili paste.
Soy sauce:
If you want to make this spicy peanut sauce gluten free you can use tamari sauce.
Ginger:
Fresh ginger is worlds better than the powdered stuff. Use a fine microplane grater to grate the ginger so you don't have any large clumps.
A tip on fresh ginger.
Now that I have touched on using fresh ginger, here is a tip for storing it. I store fresh ginger root in the freezer. It will last several months in the freezer and the frozen ginger will grate super easy.
SOME OTHER RECIPES WE ARE SURE YOU WILL LOVE:
This Thai yellow curry paste rivals your favorite restaurant and it lasts a long time. I make a batch then portion it out into smaller servings and freeze it for quick and easy curry meals.
Add some spicy peanut sauce to this Thai spicy shrimp rice bowl. The sauce goes really well with shrimp.
This Saigon chicken salad has tender, flavorful chicken, a lot of crisp veggies, some sweet mango slices, and fresh herbs. It's a great full meal salad.
CONNECT WITH SAVOR THE BEST!
Be sure to follow us on our social media accounts
Facebook * Instagram * Pinterest * Twitter * Youtube
Did you make this recipe? We would love to hear from you. Drop us a comment below.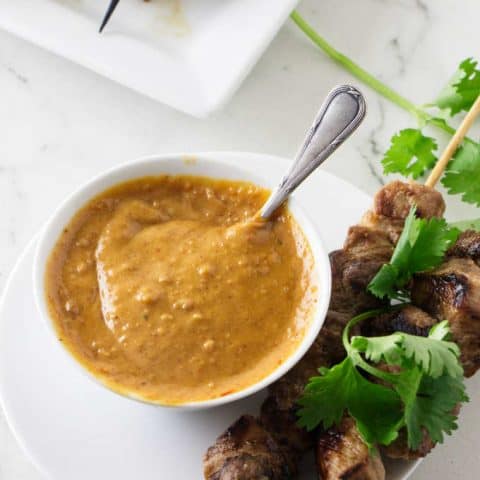 Spicy Peanut Sauce
Yield: 1-1/2 cups
Prep Time: 10 minutes
Total Time: 10 minutes
This spicy peanut sauce is quick and easy to make and it is far better than store-bought brands. Adjust the heat level to your liking.
Ingredients
1/2 cup peanut butter
3 tablespoons rice wine vinegar
2 tablespoons sugar
2 tablespoons sesame oil
2 tablespoons garlic Chili Paste (like Sambal Oelek)
1 tablespoon soy sauce
2 teaspoons grated fresh ginger
1/4 teaspoon cayenne pepper
2 to 4 tablespoons of water, depending on desired consistency
Instructions
Place all the ingredients in a blender or food processor and process until smooth.
Adjust the consistency to your liking by adding more water a teaspoon at a time if you want it thinner.
If you don't use the sauce right away store it in a covered dish in the refrigerator.
Recommended Products
As an Amazon Associate and member of other affiliate programs, I earn from qualifying purchases.
Nutrition Information:
Yield: 24
Serving Size: 1 tablespoon
Amount Per Serving:
Calories: 50
Total Fat: 4g
Saturated Fat: 1g
Trans Fat: 0g
Unsaturated Fat: 3g
Cholesterol: 0mg
Sodium: 100mg
Carbohydrates: 3g
Fiber: 0g
Sugar: 2g
Protein: 1g
Nutrition information is a guideline only, is calculated automatically by third party software, and absolute accuracy is not guaranteed.