Fancy. Refreshing. Easy. And so, so good. This cucumber lemon water makes a healthy and delicious drink to quench your thirst. It just might become your favorite way to stay hydrated.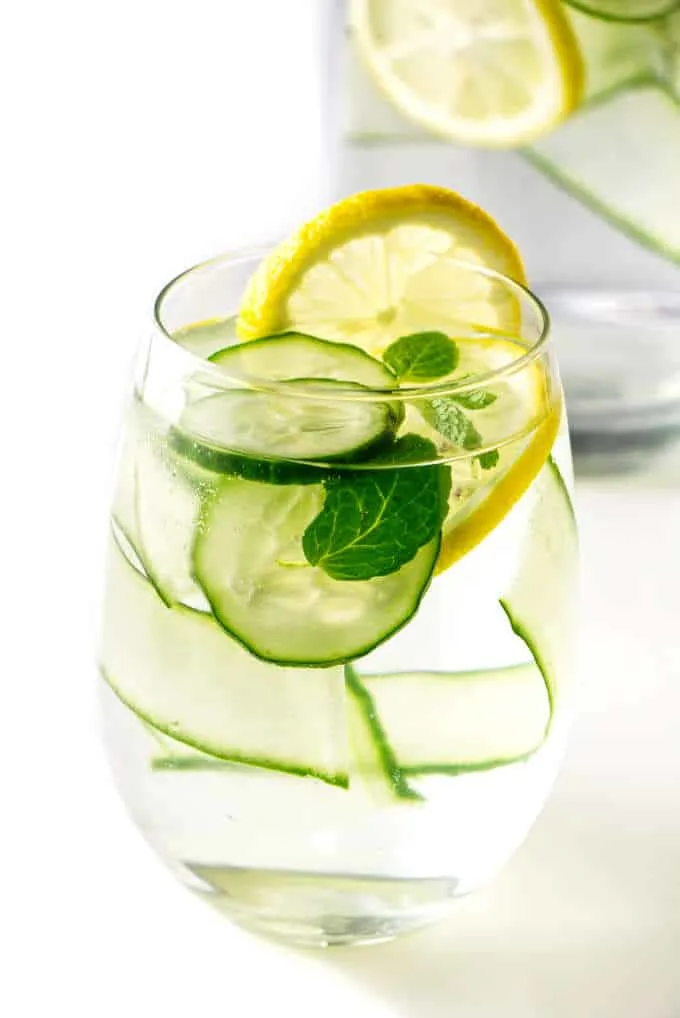 We're always being told to drink more water, right? Everywhere we turn we hear that water is the solution to all our problems. Well, maybe not all, but water does do wonders for our bodies. But sometimes it can be a bit, well, boring.
So what do you? Change up your game and sip on infused water. Specifically, this easy-to-make and easier-to-enjoy homemade cucumber lemon water.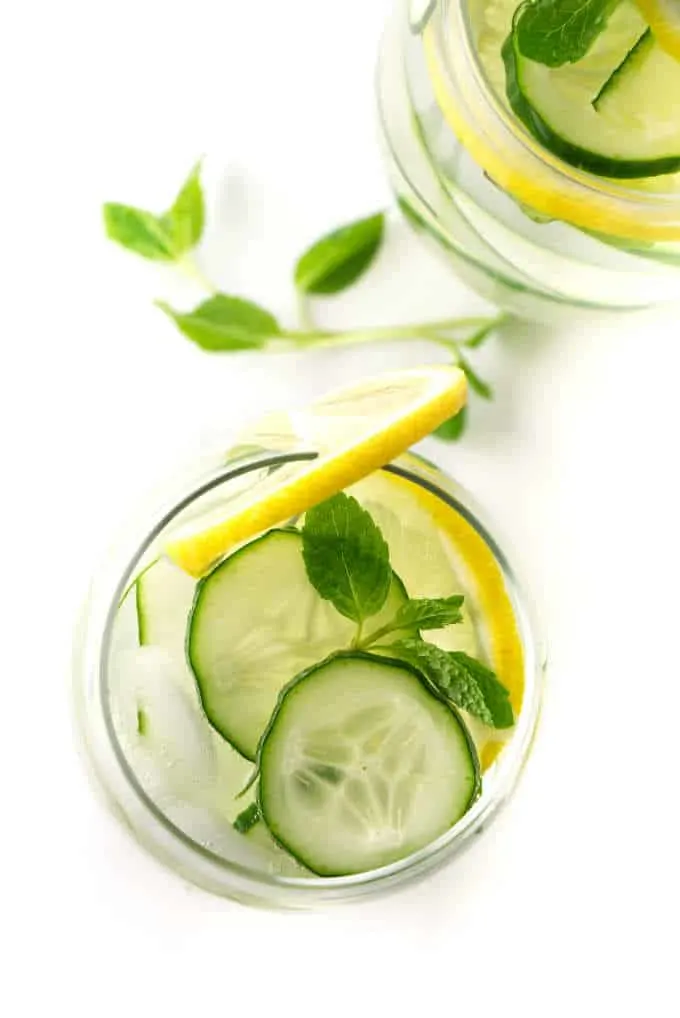 There's something amazingly magical about cucumber and lemon coming together in water. The vibrant, yet not too overpowering flavors deliver a balanced taste in every sip.
It's basically spa water, without the spa.
Benefits of Cucumber Lemon Water
Let's start with the lemon. Lemons are great immune boosters as they're high in Vitamin C. It's also the perfect addition to your water if you're wanting to keep the calories and sugar content low without sacrificing the oomph.
Adding cucumbers will increase the flavor profile of your infused water while also adding additional antioxidants. Cucumbers are also high in nutrients that help maintain a healthy complexion. Win win.
Infusing water with natural flavors like cucumber, lemon, and mint makes it taste great without adding sugar or calories. It is just plain water with a healthy infusion of flavor. It will help you drink more water which is always a good thing.
Why you should drink more water:
Promotes a healthy habit.
Aids digestion.
Detoxifies your body.
It helps your body function properly.
Aids in weight loss and prevents over-eating.
It helps with vitamin and nutrient absorption.
Tips for keeping your infused water tasting great.
Just note that the rind from the lemons will release a bitter flavor into the water after a few hours. To prevent this bitterness, you can remove the rind from the lemon slices prior to adding them into your healthy spa water. Or, do what I do and remove them after a few hours.
Replace the sliced cucumbers and lemons after 2 days. The sliced fruit will start to get mushy and deteriorate if you leave it in the water too long. Do the same with your fresh mint leaves.
How to make cucumber lemon water.
It really is as simple as slicing up a lemon and cucumber, adding a few mint leaves, and letting the ingredients work their magic in filtered water. And if you're looking for a water filter pitcher, here's a great one: Brita Stream 10-cup pitcher.
Place sliced cucumber and lemon in a pitcher along with some fresh mint leaves.
Add some ice and fill the pitcher with filtered water.
For extra flavor infusion, smash everything up a bit with the back of a long spoon.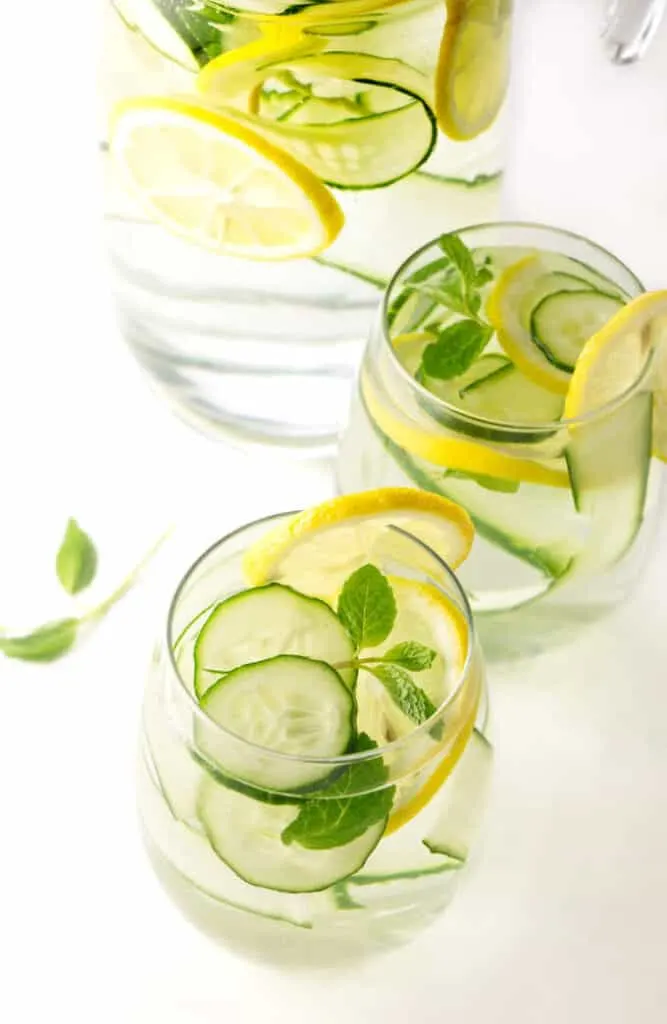 No need to wait for summer, enjoy this fantastically flavored alternative to plain water all year round!
How much water should you drink?
A popular recommendation for how much water a person should drink is eight 8-ounce glasses of water per day. Another recommendation is to drink half your body weight in ounces. For example, if you weigh 200 pounds, you should drink 100 ounces of water per day.
But in reality, water requirements will vary from person to person. It can even vary depending on your activity, environment, and health circumstances.
The above guidelines are a great starting point but you may need to modify it based on your exercise level, health condition, or the environment.
More Drink Recipes
SOME OTHER RECIPES WE ARE SURE YOU WILL LOVE:
This spinach salad is a full meal and a healthy one at that! It is loaded with fiber, protein, and nutrients. The best part? It's delicious!
This healthy carrot soup is smooth, thick, creamy and delicious. You might think it is loaded with heavy, fattening cream but it isn't. It only has 120 calories per serving.
Start your day on a good note and try one of our healthy breakfast ideas. We have a huge list of great breakfasts that won't make you fall off your healthy eating habits.
Connect With Savor the Best:
Please follow us on our social media accounts
Facebook * Instagram * Pinterest * Youtube * Twitter
Did you make this recipe? We would love to hear from you. Drop us a comment below.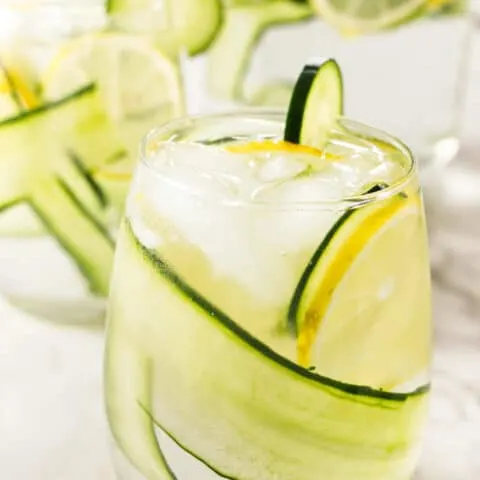 Cucumber Lemon Water
Cucumbers, lemons, and mint infuse flavors into fresh water to make it taste like you're at the spa. This is a great way to add interest and flavor to your water so you will drink more throughout the day.
Ingredients
1 cucumber, sliced
1 lemon, sliced
Fresh mint leaves
1 to 2 liters filtered water
Instructions
Place the cucumber, lemon slices and mint in a pitcher. Scrunch the mint leaves slightly so they release their flavor.
Fill with ice and cold water and let infuse for 30 to 60 minutes.
Keep in the refrigerator for up to 2 days.
Drink ice cold and refill the water when it gets low.
Notes
The lemon rind will start to release a bitter flavor after a few hours. If you don't like the bitterness from the rind you can remove the rind before placing the lemon slices in the water.
If you don't remove the rind from the lemons, take them out of the water after a couple of hours to prevent the water from getting bitter.
Recommended Products
As an Amazon Associate and member of other affiliate programs, I earn from qualifying purchases.
Nutrition Information:
Yield:

10
Serving Size:

1
Amount Per Serving:
Calories:

1
Total Fat:

0g
Saturated Fat:

0g
Trans Fat:

0g
Unsaturated Fat:

0g
Cholesterol:

0mg
Sodium:

9mg
Carbohydrates:

2g
Fiber:

0g
Sugar:

1g
Protein:

0g
Nutrition information is a guideline only, is calculated automatically by third-party software, and absolute accuracy is not guaranteed.