These festive treats of Watermelon Radish and Goat Cheese Crostini will be a delicious addition to your holiday party appetizers. Crunchy little toasts covered with a creamy goat cheese mixture that includes bits of preserved lemon and fresh snipped chives. Thin slices of watermelon radishes shaped into a flower adds a zesty crown to each bite-size toast.
Crostini is Italian-speak for 'little toasts' and there are endless ideas to create festive appetizers for any occasion. Our watermelon radish and goat cheese crostini will brighten the party appetizer tray and bring happy smiles to your guests.
What are Watermelon Radishes?
Watermelon radishes do not resemble anything like the small, red radishes I have often grown in my backyard garden. These unusual radishes are an heirloom variety of the daikon radish and they originated in China. Watermelon radishes are in the same family as broccoli and cabbage and thrive in cool soil.
Watermelon radishes are usually harvested and available in the produce market during the spring and fall. These radishes can be as small as the red garden radish or as large as a turnip or rutabaga. They have a light green, cream-colored outer skin with purplish coloring at the top.
Watermelon radishes are often mistaken as rutabagas unless the market cuts one in half to expose their beautiful pink or magenta color. That lovely color is the reason they are called 'watermelon' radishes. They have a mildly spicy flavor and do not taste anything like a watermelon.
TIP: When buying watermelon radishes, check out the root-tail, the radishes that have a pinkish color to the root-tail will be the prettiest inside.
Why not include these watermelon radishes when planting your backyard garden?…watermelon radish seeds are as easy to grow as the ordinary red radish.
How to use Watermelon Radishes:
Include thin slices with crackers and your favorite dip as an appetizer.
Add them to salads. The light spicy taste of these radishes are so delicious in our Beet, Fennel and Watermelon Salad. We cut thin slices of the radish and made them into 'flower' garnishes.
Add paper-thin slices to roast beef sandwiches for a spicy, wonderful crunch.
Cut them a little thicker and add to a stir-fry.
Get creative and enjoy these tasty treats!
How to make our Watermelon Radish and Goat Cheese Crostini:
We blended soft goat cheese with a little cream cheese until smooth and creamy. Then we stirred in bits of our Preserved Lemons, a little garlic and mild snipped fresh chives. We spread each crispy slice of toast with the cheese mixture and added a thin slice of vibrant watermelon radish twisted into a flower.
The Bread:
Choose the long, thin Italian or French bread loaves and cut them into 1/4 or 1/2-inch slices.
Brush both sides of the slices with olive oil and place them on a baking sheet in a single layer. Toast them for about 8 minutes until they are golden brown.
Flip them over and toast the opposite side to a golden brown.
The toasts should be crisp and crunchy. Let the toasts cool completely while preparing the radishes and the cheese mixture.
The Watermelon Radishes:
Scrub the radishes under cold water to remove any soil, trim the top and the tail off. Use a vegetable peeler to remove a thin layer of the radish skin, but, peeling the radish is optional as it is not necessary to do so.
Slice the radish into paper-thin rounds. A mandoline is an ideal tool but a sharp knife will also work. Reserve the slices on a plate.
The Goat Cheese Mix:
Blend the softened goat cheese, cream cheese and cream together until smooth and creamy. Stir in the grated garlic and the preserved lemon bits. If you do not have a jar of preserved lemons on hand substitute with a teaspoon of lemon zest. Next, fold in the snipped chives.
Assembling the Watermelon Radish and Goat Cheese Crostini:
Spread the top side of each toast with a generous tablespoon of the goat cheese mixture. To create the radish flowers, cut each radish slice from the center to the edge and fold the slice into a cone shape. Place the flower seam-side down on top of the cheese-covered toasts.
To create double flowers, cut and shape smaller rounds and place inside the larger flowers. Garnish each crostini with a sprig or two of either arugula or frisée and transfer them to your prettiest serving plate.
If you have any of the watermelon radish slices left, make a small bouquet to garnish the appetizer plate. Or simply wrap them in a paper towel and place them in a small closable plastic baggie. They will keep refrigerated for at least a week in the refrigerator.
MORE APPETIZER RECIPES WE ARE SURE YOU WILL LOVE:
Sun Dried Tomato Bruschetta: These crunchy bread toasts are topped with a feta cream mixture and chopped sun-dried tomatoes. We added a sprinkle of chopped fresh oregano to give it an extra touch. This is so, so simple to make and will be a huge hit with the gang.
Tuna Crudo: Your sashimi-loving guests will love these Tuna Crudo appetizers! They are delicate slices of raw tuna, drizzled with a light lemon vinaigrette and served with cucumber slices in Belgian endive boats. Easy and Elegant!
Gorgonzola Chorizo Stuffed Dates: These gorgonzola-chorizo stuffed dates are a taste sensation with the creamy-tangy gorgonzola, the spicy chorizo sausage, and the sweet moist dates. A lemon-tarragon vinaigrette is spooned over the dates adding another element to this appetizer which can also be served as a salad or starter.
Mascarpone and Smoked Salmon Bruschetta: Crunchy bruschetta appetizer with creamy mascarpone cheese, capers, lemon juice, onion and fresh dill arranged on top of thin delicate slices of smoked salmon.
CONNECT WITH SAVOR THE BEST!
Be sure to follow us on our social media accounts
Facebook * Instagram * Pinterest * Twitter * Youtube
Did you make this recipe? We would love to hear from you. Drop us a comment below.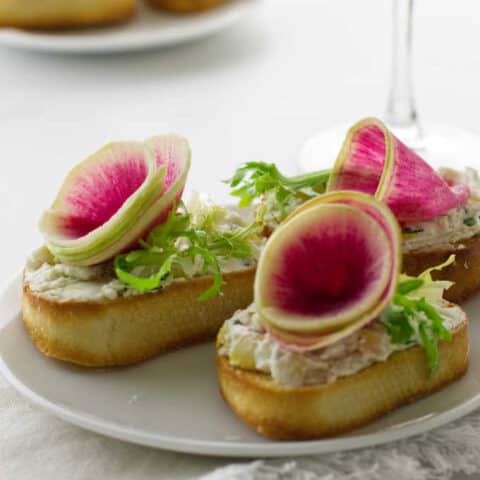 Watermelon Radish and Goat Cheese Crostini
Yield: makes 24 crostini
Prep Time: 30 minutes
Total Time: 30 minutes
Watermelon radish and goat cheese crostini: The watermelon radish has a mildly spicy flavor and creates a colorful, festive appetizer. A creamy goat cheese mixture gets a bit of tang from the preserved lemon.
Ingredients
One long baguette
Extra virgin olive oil
1 or 2 small to medium watermelon radishes
8 oz. log soft goat cheese, softened
4 oz. cream cheese, softened
2 tablespoons heavy cream
1 clove garlic, grated
1/2 preserved lemon peel, rinsed and finely chopped (see notes)
2 tablespoons snipped fresh chives
Arugula or Frisée as garnish
Instructions
Preheat the oven to 400°F
For the Bread:
Cut the bread 1/4 to 1/2-inch slices. Brush bread slices lightly on both sides with olive oil and arrange on a baking sheet.
Toast until golden and crisp, 12-15 minutes, flip them over halfway through. Transfer to a wire rack and allow to cool.
For the watermelon radishes:
Trim the top and bottom off the radishes and peel with a vegetable peeler.
Using a mandolin set on the lowest setting, or a sharp knife, slice the radishes paper-thin. Reserve the slices on a plate.
For the Goat Cheese Spread:
Blend the softened goat cheese, cream cheese, and cream together until smooth. Stir in the garlic, preserved lemon peel, and the chives.
To assemble:
Spread a thick layer of the goat cheese mixture on each slice of toast.
Cut each radish slice with a cut from the center of the slice to the edge and create a cone by overlapping the cut edges. Place seam side down on top of the goat cheese covered crostini.
Continue until each crostini has a radish flower. Garnish with arugula or Frisée and arrange on a serving plate.
Notes
You can substitute fresh lemon zest for the preserved lemon.
Recommended Products
As an Amazon Associate and member of other affiliate programs, I earn from qualifying purchases.
Nutrition Information:
Yield: 24
Serving Size: 1
Amount Per Serving:
Calories: 91
Total Fat: 5g
Saturated Fat: 3g
Trans Fat: 0g
Unsaturated Fat: 2g
Cholesterol: 11mg
Sodium: 149mg
Carbohydrates: 8g
Fiber: 1g
Sugar: 1g
Protein: 4g
Nutrition information is a guideline only, is calculated automatically by third-party software, and absolute accuracy is not guaranteed.