This Watercress and Roasted Beet Salad makes me happy! I love the spicy, peppery taste of watercress and the sweetness of roasted beets. Combine those unique flavors with a tangy, creamy feta cheese dressing and, voilà! An award-winning, fresh springtime salad!
Just a few simple ingredients of crisp watercress, roasted beets, a creamy, feta cheese dressing and you can have an elegant starter salad for a really special dinner.
What is watercress?
This crisp green plant gets it's spicy, peppery taste from its cousins the radish, horseradish, and mustard. Watercress is a fast-growing plant that grows in the wild along the edges of creeks and streams. The hollow stems of the plant keep the succulent leaves afloat. Because the stems are also tough and chewy they are usually discarded during preparation for eating.
Watercress is found growing wild in the early spring from April through June. However, it is also grown commercially in greenhouses and available throughout the year.
To make our Watercress and Roasted Beet Salad:
Our watercress and roasted beet salad is a simple salad using just the leaves and the short tender portion of the stems. First, we cut the roasted, chilled beets into bite-size cubes. Next, they are arranged on a mound of feta cheese salad dressing with the watercress added on top with a drizzle of olive oil. All the components can be made in advance and held in the refrigerator until ready to assemble and serve.
Other uses of watercress:
Combining watercress with field greens is another avenue to enjoy this lovely crisp green herb. Watercress is not just for salads though. The zesty taste of this vibrant leafy green is wonderful in:
Omelets

Sandwiches

Pasta

Pesto
What's the big deal with beets?
Oh, yes! Beets are a big deal! The nutrition level of beets is above and beyond the clouds. They are low in calories, high in fiber and have a microscopic amount of fat. I'm sure we have all seen the infomercial on television of the beet powder and their claims of the high nutritional value. I personally love the beet chips that I found in the bulk food section of my local market. So delicious, crisp and crunchy. They also have way fewer calories than a potato chip!
Growing up my mom would make pickled beets in Mason jars with the red beets. She would save the pickling liquid and add peeled, hard-boiled eggs. We loved those bright red-colored eggs! Sometimes, for a dramatic special effect, she would just crack the shells of the eggs but not remove the shells then add them to the jar. After sitting in the liquid, they would be a beautiful marbleized red/white egg.
Not all beets are red; they grow in yellow, white, candy-striped, orange and purple/red. Enjoy the earthy, rustic flavor of beets in any of the following:
Salads

Juiced

Sautéed as side dishes

Pickled

Dips

Pasta
Don't throw out those beet tops as they are also very nutritious. They can be steamed, sautéed, braised, added to soups and stir-drys or eaten raw in salads. Try sautéing them with olive oil and sprinkling with bacon crumbles.
To prepare our Watercress and Roasted Beet Salad:
First, the leafy green tops of the beets were cut off about on inch from the top of the root. The long tail was left uncut to keep the juices from leaking out. After scrubbing the beets to remove any soil, they were drizzled with olive oil, wrapped in foil and roasted in a hot oven for almost an hour. You will know they are cooked properly when a sharp knife inserted right at the top slides into the beet with just a little resistance.
After the beets have cooled enough to handle the skins should wipe off easily with a paper towel and cold running water. Place the peeled beets on a paper towel-lined plate and refrigerate until icy cold. When chilled they can be cut any way you want, slices, wedges, cubes or julienned. I like the cubes for this watercress and beet salad.
Cooked beets will keep for up to a week in the refrigerator, so with planning, this can be a really easy and quick salad to put together.
TIP:
Here is a tip I learned from my son, Burl: When preparing the watercress in advance, leave the root ball attached until ready to assemble the salad. Rinse the greens with cold water and shake gently to remove excess. Wrap the entire plant loosely in several layers of paper towels. Sprinkle the towel lightly with cold water and slip the bundle into a closable plastic bag and refrigerate until ready to use.
I have found that this technique also works really well with those tiny packages of expensive fresh herbs. I just remove them from their package, rinse/dry and wrap them. They stay crisp and fresh three times longer than in their packaging.
More Salad Recipes to Consider:
Have you made this Watercress and Roasted Beet Salad? We would love to hear from you.
Tag us on Instagram. Like us on Facebook.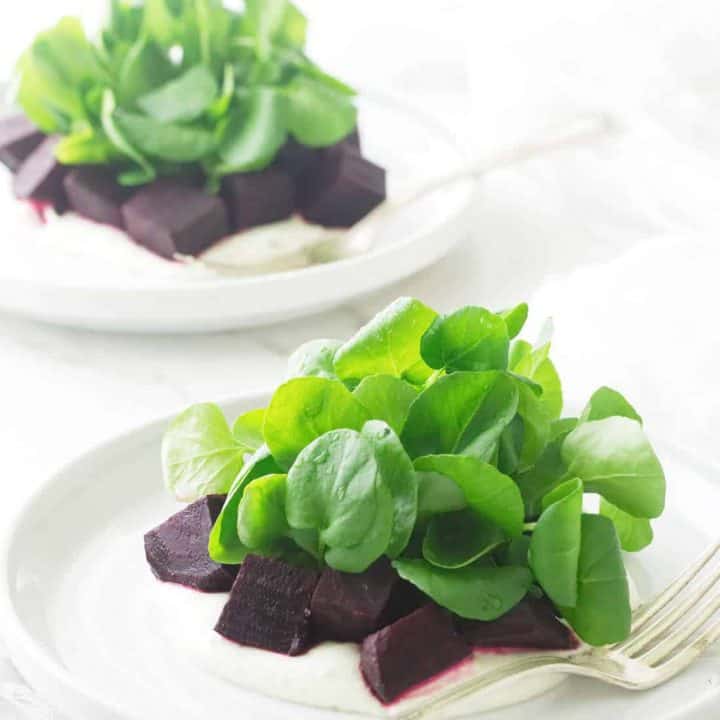 Watercress and Roasted Beet Salad
Total Time:
1 hour
5 minutes
Our Watercress and Roasted Beet Salad uses crisp watercress leaves and icy-cold cubes of roasted red beets. They are arranged on a salad plate with a mound of feta cheese salad dressing and a drizzle of olive oil. The components can be made in advance and refrigerator separately until ready to assemble and serve.
Ingredients
1/3 cup olive oil, divided
3 pounds red beets
Salt and freshly ground black pepper
2 bunches watercress, thick stems discarded
8 ounces Feta Cream Salad Dressing
Instructions
Preheat the oven to 400°F
Reserve 2-3 tablespoons of the oil for drizzling on the finished salads. Toss beets in remaining olive oil in a medium mixing bowl. Season with salt and pepper. Wrap in aluminum foil. Roast in the oven 50-55 minutes until tender. Remove from oven and let cool 8-10 minutes.
Using a paper towel, carefully remove the skins under cold tap water. They should peel off easily. When cool enough to handle, cut the beets into 1-inch cubes. Place on a plate lined with a paper towel and refrigerate until icy cold.
Rinse the watercress and shake the water off. Remove and discard any wilted or yellowish colored leaves. With a sharp knife, remove and discard the tough stems just below the leaves.
Place 2-3 tablespoons of creamy feta cheese dressing in the center of each salad plate, spread in about a 4-inch puddle. Arrange the beet cubes on the dressing leaving space in the center for the watercress. Place one-fourth of the watercress in the middle of the dressing and drizzle lightly with olive oil. Serve immediately.
Nutrition Information:
Yield:

4
Serving Size:

1
Amount Per Serving:
Calories:

267
Total Fat:

20g
Saturated Fat:

13g
Trans Fat:

0g
Unsaturated Fat:

22g
Cholesterol:

61mg
Sodium:

933mg
Carbohydrates:

37g
Fiber:

7g
Sugar:

30g
Protein:

14g
Nutrition information is a guideline only, is calculated automatically by third party software, and absolute accuracy is not guaranteed.