Ready or not, Valentine's Day is upon us! It is not too late to bake up a batch of Rose Pistachio Biscotti Cookies for your sweetheart! These pretty heart-shaped cookies have a delightful rosewater flavoring, ground pistachios and the crunch of biscotti.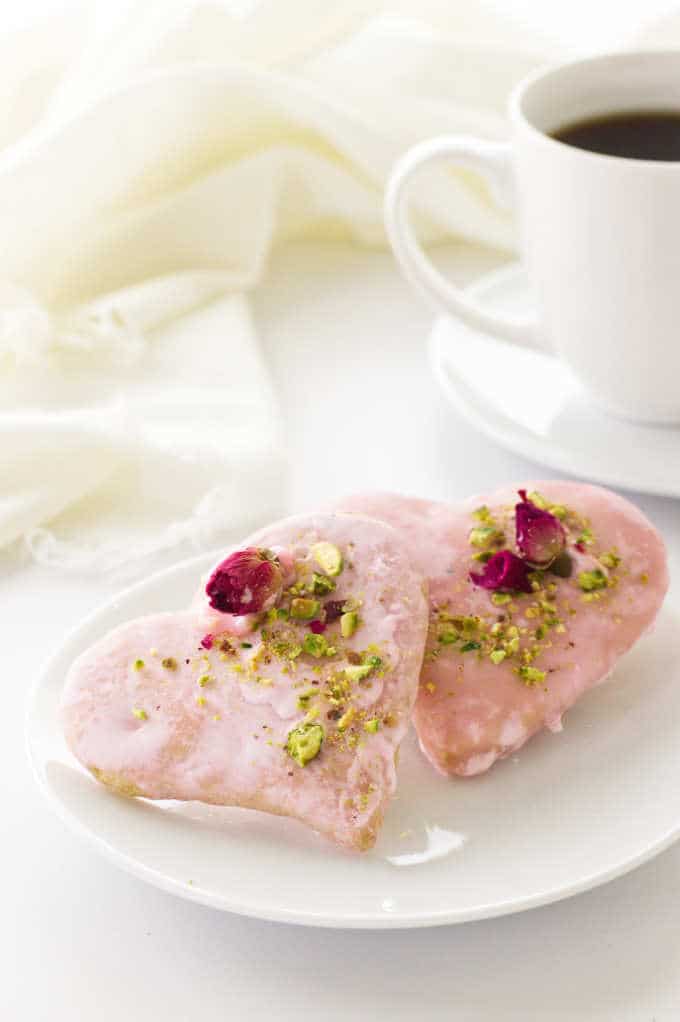 Who would have thought that the typical biscotti recipe could be transformed into such a delightful, sweet treat! These heart-shaped cookies have a rosewater glaze and decorated with chopped pistachios and edible dried rosebuds.
Initially, I intended these rose pistachio biscotti cookies as a Valentine's Day treat to our granddaughter, Cora. Cora is a sophomore in a college six hours from home so we do not see her often. She is a sweetheart and deserves a sweet treat!
This was a spur-of-the-moment idea and a big rush to bake, decorate and pack the cookies for mailing. Only while packing them up did I think maybe I can share these rose pistachio biscotti cookies with our blog readers so I quickly unpacked and photographed them.
About the ingredients.
Here is what you will need for the biscotti cookie dough.
Flour
Baking powder
Salt
Sugar
Eggs
When the cookies finish baking, you will want to let them cool before you put the glaze and decorations on them. Here is what you will need for the glaze.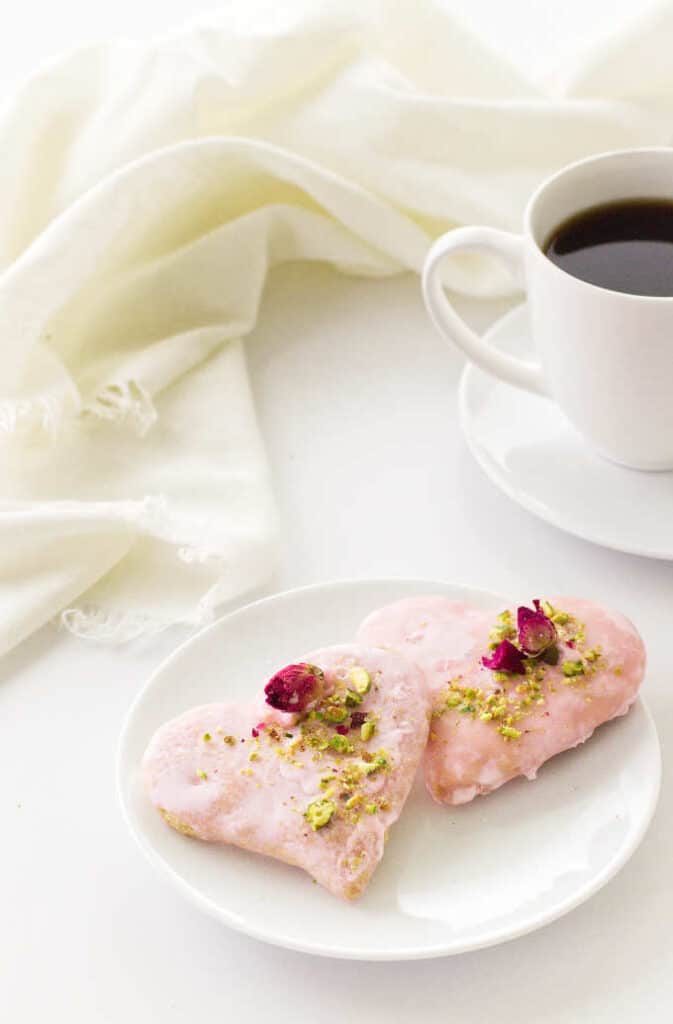 Is there a biscotti police that says Italian biscotti must be in long, thick sticks? Hmmm, I think not! We rolled the biscotti dough and cut out our Valentine's Day hearts instead.
These cookies are a spin-off from our Classic Almond Biscotti recipe. They are crunchy but not crack-your-teeth crunchy as the rose flavored glaze covering the cookie tends to soften the cookie slightly.
We switched out the almond extract for the rose water and the almonds with the pistachios. What a flavor combo! Yum! If you love this combination then you should check out our vanilla, rose, and pistachio cake or our cranberry pistachio biscotti.
How to make these Rose Pistachio Biscotti Cookies:
Here's a a quick look at the process. We used the traditional hand method of mixing the biscotti dough in our recipe. However, a stand mixer with the flat paddle attachment works just as well. Start mixing with the dry ingredients then add in the wet ingredients.
A food processor can also be used in the same manner but if you want a nutty dough, hold back the nuts and mix them in by hand. The sharp metal blade will chop them pretty finely.
Be sure to scroll down to the recipe card for the full recipe and instructions:
Make the biscotti cookie dough.
Instead of shaping it into a log for traditional biscotti, roll the dough out on a floured surface.
Cut the dough into heart-shaped cookies and place them on a cookie sheet and bake them.
Reduce the oven temperature to 300°F, flip the cookies over and bake them a second time. "Biscotti" translates to "twice baked"
Make the rose-scented glaze and spread it on the cookies.
Sprinkle chopped pistachios and rosebuds on the cookies while the glaze is still sticky.
Let the glaze dry and give these cookies to your valentine!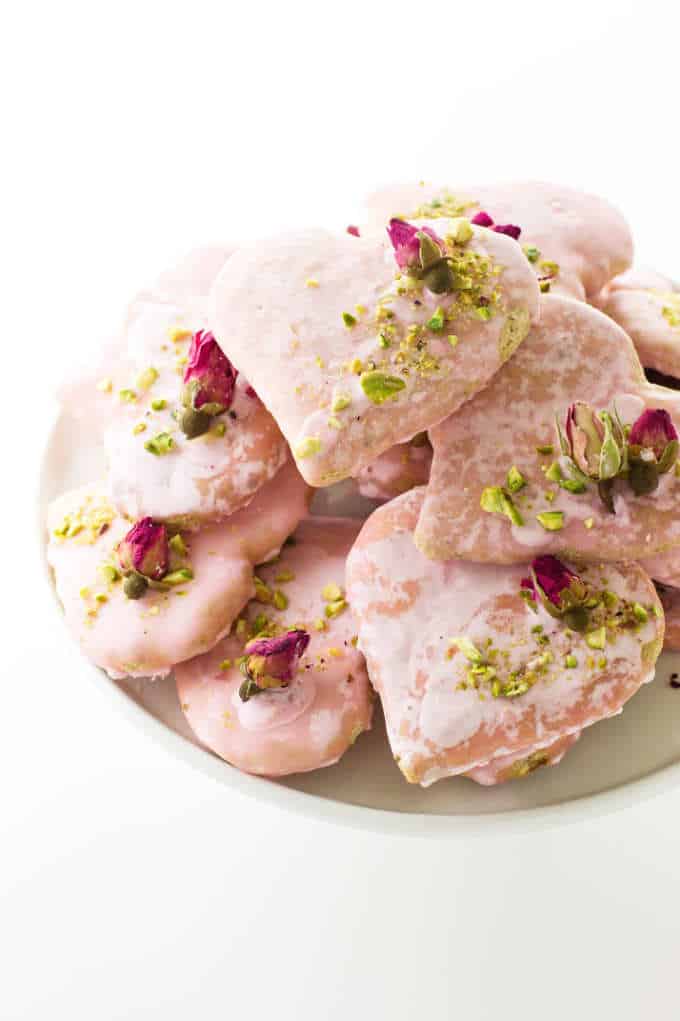 Happy Valentine's Day Everyone! ❤️
SOME OTHER RECIPES WE ARE SURE YOU WILL LOVE:
These Mexican tea cookies are not just for tea time. They are so good you will want to make them all the time. These rich cookies will melt in your mouth, thanks to all the butter.
Our lacy lavender cream horns start out as a crisp lacy cookie that we shaped into a horn. When it is cool, it gets filled with a delicious, sweet, lavender cream.
These gingersnap cookies are a snap to make. You can bake them so they are crisp all the way through or you can take them out of the oven a bit early for a chewy cookie.
CONNECT WITH SAVOR THE BEST!
Be sure to follow us on our social media accounts
Facebook * Instagram * Pinterest * Twitter * Youtube
Did you make this recipe? We would love to hear from you. Drop us a comment below.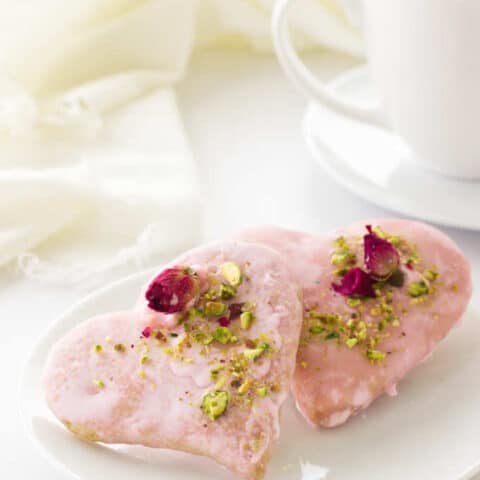 Rose Pistachio Biscotti Cookies
Yield: 36 Cookies
Prep Time: 20 minutes
Cook Time: 28 minutes
Total Time: 48 minutes
These pretty Valentine's Day, heart-shaped cookies have a delightful rose water flavoring, finely chopped pistachios and the crunch of biscotti. They are decorated with a pink glaze, dried rosebuds and chopped pistachios.
Ingredients
For the Rose Pistachio Biscotti Cookies:
2-1/4 cups (270 g) all-purpose flour, plus a bit more for the work surface
1/2 teaspoon baking powder
1/4 teaspoon fine sea salt or table salt
1 cup roasted pistachios, finely chopped, reserve 1/4 cup
1 cup (200g) granulated sugar
2 large eggs plus 2 egg yolks
1/2 teaspoon pure vanilla extract
1 teaspoon rose water
For the Cookie Glaze:
2 cups (250g) confectioners' sugar
1 teaspoon rose water
1 tablespoon light corn syrup (optional)
1 to 3 tablespoons water
Pink food grade coloring
1 cup dried red edible rosebuds
Instructions
For the Rose Pistachio Biscotti Cookies:
Preheat the oven to 350°F and line two 11 x 17-inch rimmed baking sheets with parchment paper.
Sift the flour, baking powder and salt into a shallow bowl and stir in the 3/4 cup of pistachios. (The remaining 1/4 cup pistachios will be used for decorating the cookies). Push the mixture into a mound and make a well in the center.
In a medium bowl, whisk together the sugar, eggs, egg yolks, vanilla and rose water.
Add the mixture to the well in the flour mixture. Using a spoon, spatula or a fork, stir the mixture into the flour in a circular motion, gradually incorporating the flour in small amounts in a wider path until the flour is completely mixed and smooth.
Roll and Cut the Dough:
Tip the dough onto a lightly floured work surface and knead it a couple turns, add additional flour to the work surface if necessary to keep the dough from sticking to the work surface. Pat the dough into a disk. Divide the disk-dough into two portions.
Dust the work surface lightly and roll one portion of dough into a circle 1/4-inch thick. Using a heart-shaped cookie cutter, cut cookies and place onto the parchment paper-lined baking sheet.
Repeat the rolling and cutting with the remaining portion of dough.

Bake the Cookies:
Transfer the baking sheets to the oven and bake the cookies for 12 minutes, remove from the oven and allow to cool on the baking sheet while the oven temp is adjusting.
Reduce the oven temperature to 300°F
Flip the cookies over and bake another 8-10 minutes until they are crisp. Transfer the cookies to a wire cooling rack and cool completely. When cool they should be crisp and crunchy.
To Make the Glaze:
Line a baking sheet pan with parchment paper and set a wire cooling rack over it.
Sift the confectioners' sugar into a medium size bowl. Add the rose water, corn syrup if using and 2 tablespoons of water then stir until well combined.
Add pink food color to desired shade.
Check the consistency of the icing and drizzle in more water if it is too thick. Only add 1/4 to 1/2 teaspoon of water at a time (a little goes a long way).
The glaze should be fairly thick but you should be able to slowly drizzle it off of a spoon. When it falls back into the bowl, it should fall in a ribbon-like pattern and take a couple of seconds before blending back into the rest of the icing.
Spread the glaze onto the cookies and place on the wire cooling rack. At first it will appear to be coated too thick but will drip and settle into a smooth glaze.
While the glaze on the cookies is still tacky, sprinkle the reserved chopped pistachios on the cookies and add decorative dried rosebuds.
Let the cookies dry completely before storing them.
Notes
A stand mixer with the paddle attachment or a food processor can be used instead of the traditional hand mixing method. Begin with the dry ingredients and after a good blending add the wet ingredients until a soft dough is formed.
When using a food processor to mix the biscotti dough, hold back the nuts and mix them into the soft dough by hand.
Roll the biscotti dough on a well-floured work surface to a 1/4-inch thickness.
Bake the cookies for 12 minutes, do not brown them.
Wait for your cookies to cool completely before icing them. If you add too much water just add a bit more confectioners' sugar to thicken the icing again.
Corn syrup gives the icing a slick shiny coat and keeps it from getting rock hard but it will firm up enough to stack the cookies on top of each other once the icing is dry.
If you are not using the icing right away, lay some plastic wrap directly on top of the icing so the air doesn't dry it out. It will store like that for 24 to 48 hours.
Add a few drops of food coloring if desired. If you use a lot of liquid food coloring you may need to stir in a bit more confectioner's sugar to thicken the icing again. (Gel food coloring will not thin the icing out).
Recommended Products
As an Amazon Associate and member of other affiliate programs, I earn from qualifying purchases.
Nutrition Information:
Yield: 36 cookies
Serving Size: 1 cookie
Amount Per Serving:
Calories: 110
Total Fat: 1g
Saturated Fat: 0g
Trans Fat: 0g
Unsaturated Fat: 1g
Cholesterol: 21mg
Sodium: 47mg
Carbohydrates: 23g
Fiber: 0g
Sugar: 12g
Protein: 2g
Nutrition information is a guideline only, is calculated automatically by third-party software, and absolute accuracy is not guaranteed.